Who is KW?
Founded in 1995, KW started as a small company with only three employees. They've always been focused on building premium products for street cars and racing applications. Today, KW automotive GmbH products can be found all over the world. They have over 200 employees in five different locations and continue pushing the suspension industry forward with innovative products. For those who want a quality suspension system at a lower price point, KW offers their ST Suspensions brand.
What does KW Suspensions Offer?
KW boasts the largest suspension program worldwide with an extensive lineup of springs, Coilovers, sport suspension systems, and related components. Its engineers have produced an unrivaled "inox-line" of Coilovers in three damping versions that each provide manual control over ride height.
KW Suspension helps develop products for world-class racing series and several automotive manufactures. KW's racing program is successfully used by numerous racing teams on race tracks all around the globe. Even so, you can still enjoy and appreciate KW's superior durability, performance, and ride comfort on your very own vehicle.
Innovative Testing Procedures
In 2006, a state-of-the-art 7-post driving dynamics test facility was put into operation at KW's headquarters in Fichtenberg. The purpose of the facility is to simulate different race track conditions to see how the products perform. There are only 15 of such hydraulic test facilities available around the world, most of which are used by Formula 1 teams for R&D purposes.
KW Suspensions uses this innovative testing space to develop new suspension set-ups. It also offers interested racing teams the possibility to carry out future vehicle setups with the help of its 7-post dynamics test. This saves both time and money for the teams, as vehicle-relevant race track attributes can be simulated at the facility without exposing their cars to unnecessary wear. It also gives KW Suspensions a leg up in terms of unprecedented testing opportunities for applications in the motorsports world and automotive industry as a whole.
Why Choose KW?
There are a ton of aftermarket suspension companies, all of whom claim to have a quality product which will improve the handling of your vehicle, so why you should pick KW? There are a few things that separate KW from the rest, but it all revolves around their build quality, performance, and engineering.
Build Quality
It doesn't matter how good your suspension system is, if it falls apart in one season. Build quality is a big focus for KW, and their design and material choices reflect the importance of build quality. By keeping all their manufacturing in-house, rather than outsourcing it to China or Taiwan, KW can maintain a much higher and more consistent build quality. All the materials they use for their products are designed to last for years to come. Small details like how the ride height is adjusted reflect the important of build quality.
Performance
Performance is the main reason any enthusiasts would install aftermarket suspension. For many vehicles, they design the suspension to be very compliant with the road and provide great ride quality. Unfortunately great ride quality typically leads to poor handling. With KW suspension, they keep ride quality comfortable (in some applications ride they significantly improve quality) with handling being massively improved. KW achieves this increase in handling by optimizing spring rates and damping per application with their advanced testing facility.
Engineering
While aftermarket suspension companies design and engineer their suspension systems by estimating what will work, KW tests extensively tests their products to make sure it works as promised. Their state-of-the-art test facility includes a 7-post hydraulic machine which allows KW to test suspension systems more accurately. Only 15 of these advanced hydraulic testers are available in the world, and most of them are in use by Formula 1 teams. By removing as many variables as possible during the engineering and testing process, KW can deliver a product unmatched in performance.
V1 Coilovers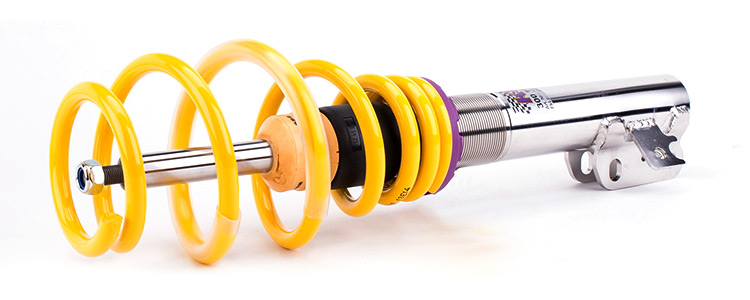 The V1 coilovers are perfect for anyone who wants to increase the performance of their vehicle without breaking the bank. These are KW's most affordable coilovers, and they feature factory-set pre-configured damping and ride height adjustment!
V2 Coilovers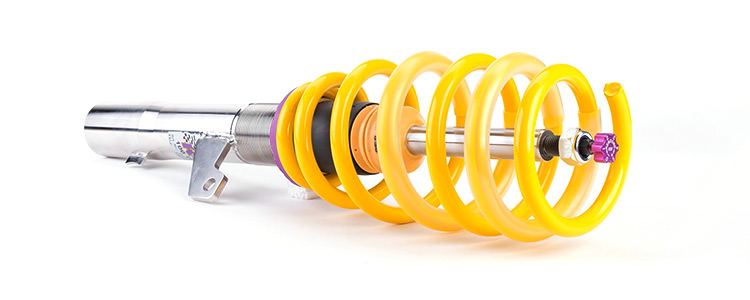 For those who want more adjustability to fine tune the handling of their vehicle, KW offers the V2 coilover. The V2 features 16 clicks of rebound damping adjustment, allowing you to give your car a stiffer or softer feel and change how it handles.
V3 Coilovers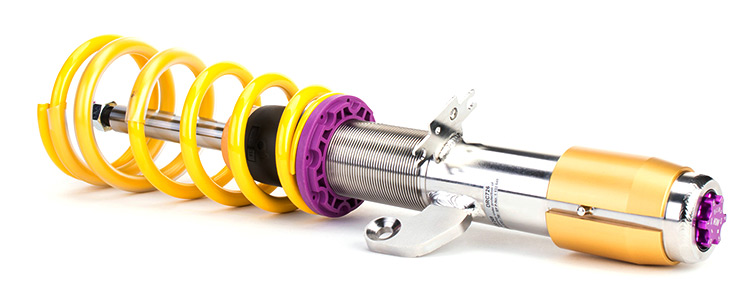 Rebound is a great feature to have, but if you really want to dial in the feel of your suspension, you also need compression damping adjustment. The V3 coilovers offers independently adjustable rebound and compression damping, and TVR-A technology!
V4 Coilovers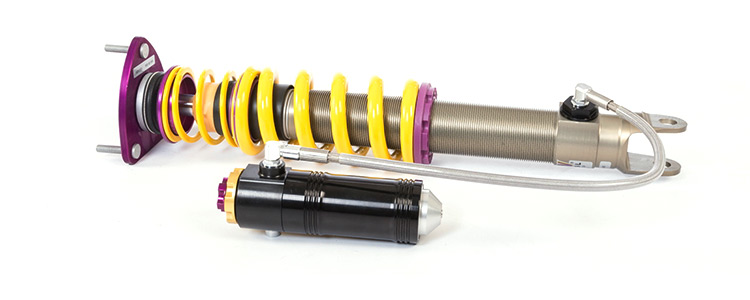 By changing low-speed damping and high-speed damping independently, you can get really get it dialed in for specific types of driving or specific race tracks. Combined with uniball top mount and an external reservoir, the V4 coilovers are for hardcore enthusiasts.
H.A.S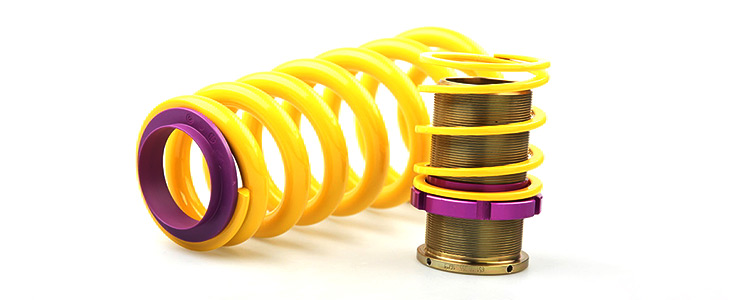 Not everyone wants to replace their suspension with a fully coilover. This is where KW H.A.S comes in. This allows for ride height adjustment without replacing the OEM dampers, which is very useful in vehicles with electronically controlled dampers.
DDC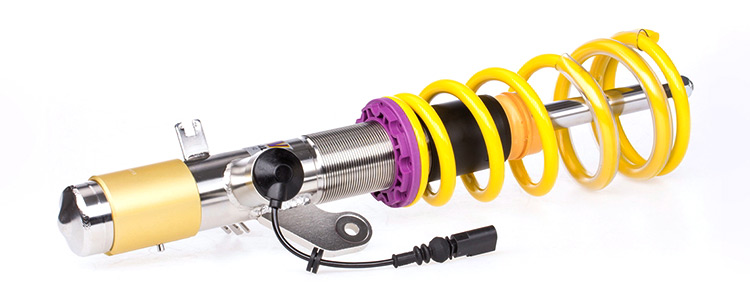 The DDC coilovers are for the enthusiasts who want to adjust their suspension electronically on the fly. This intelligent suspension solution can work with either KW application or your vehicles OEM adaptive suspension system (where applicable.)
Clubsport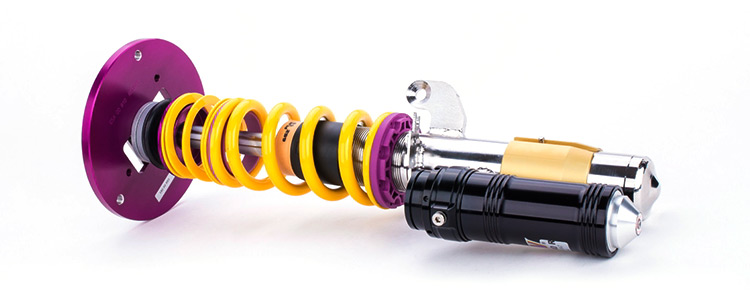 For the hardcore track enthusiast who still uses their vehicle for road use, KW offers their Clubsport coilovers. These combine KW's high-end racing technology with the maintenance-free KW OEM quality components. These offers independent damping adjustment, a uniball top mount, external reservoir, and more!
Competition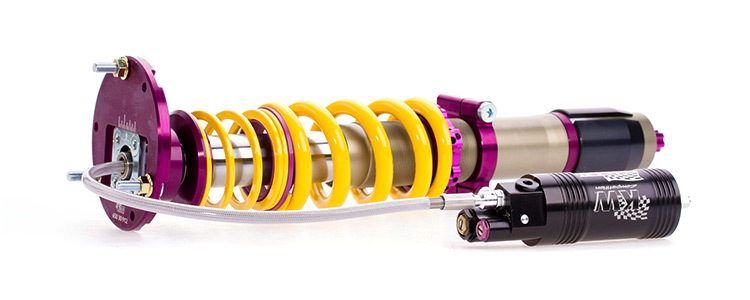 For absolute track performance and use amongst international race teams, KW offers their competition coilover. These are perfect for rally racing, endurance racing, drifting, hill climbs, and more. These are perfect for a racing application where mere seconds of time can determine who wins or loses.