Lamborghini built the Aventador SVJ to take challenges head-on with a combination of cutting-edge technology and extraordinary design language. It is made from ultra-lightweight materials developed for maximum performance with enhanced aerodynamics, including a fully redesigned front end, bigger side skirts, and an omega-shaped rear wing, incorporated into a carbon-fiber chassis. While the factory Leirion Y-spoke forged wheels are certainly fitting to the supercar, sometimes you just want to add some personalization to your ride. That's where ANRKY comes in with its well-regarded RETRO Series RS1 wheels. The RS1 wheel features a clean and simple design with a step lip that exudes a super retro aesthetic with a modern twist – a look that's perfect for supercars.
The 2020 Lamborghini Aventador SVJ pictured here is sitting on 20×9.5 / 21×13.5 ANRKY RETRO Series RS1 wheels wrapped in Pirelli tires. The Italian supercar is lowered on Novitec springs to give it an even more aggressive look when merely at a standstill. These wheels feature a mirror polished smoke center with a mirror-polished outer/inner and exposed ARP hardware with the center lock option. This finish combination pairs beautifully with the Aventador's Grigio exterior color to give it that clean look that grabs your attention without being over the top. It really looks as though these wheels were made for this car and like they say: if the shoe fits…
The Retro Series wheels from ANRKY are all vehicle load / G.A.W.R. specific and made from 6061-T6 heat-treated forged aluminum right here in the USA to stringent quality standards. The result is an incredibly strong wheel with a durable construction that can withstand spirited driving and offers the perfect balance of form and function. The spoke detail catches your eye and draws it in from the center section all the way out toward the wheel's rim. This three-piece wheel also spotlights intricate machining detail and stainless hardware for that elevated appeal. The RETRO Series RS1 wheel comes in sizes ranging from 19 to 22 inches and 5×108 through 5×130 PCD with a variety of finish options so you can tailor it to your unique taste.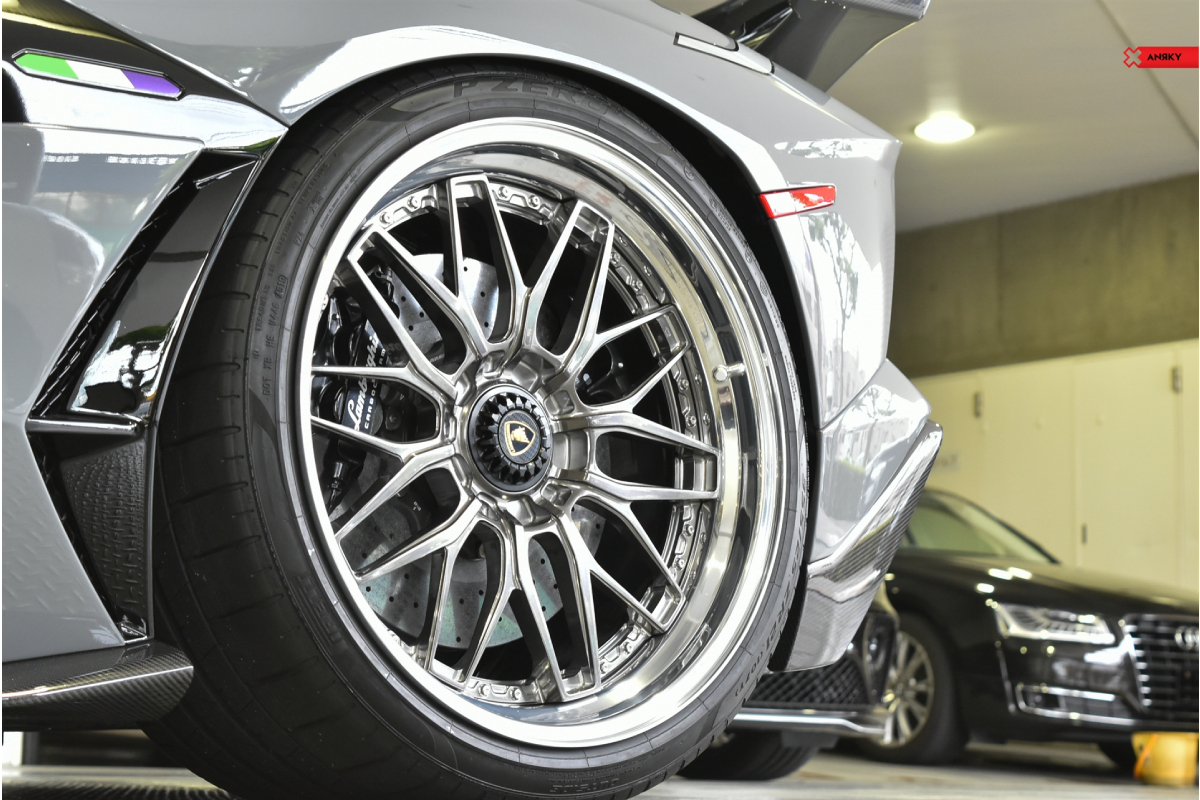 Featured Model: ANRKY Wheels RETROSeries RS1
Featured Size: 20×9.5 / 21×13.5
Featured Finish: Mirror Polished Smoke Center | Mirror Polished Outer | Mirror Polished Inner | Exposed ARP Hardware | Centerlock Option
Featured Fitment: Lamborghini Aventador SVJ
ANRKY RS1 Features:
Available In Sizes 19″ – 22″
5×108 – 5×130 PCD
Suv Load Rated
Type: 3-Piece Forged
Style: Split-Spoke
Exposed Arp Stainless Steel Fasteners
Standard Lightweight Backpad Pocketing
2 Center-Lock Options: Porsche & Lamborghini
2 Lip Options: J-Lip Or Rolled Step Lip
2 Center Cap Options: Shield Cap Or X Cap
Standard Satin Or Gloss Black Finished Inner
Black Or Silver Valve Stems
Black Or Silver Lug Bolts / Nuts
If you have any questions about ANRKY wheels, please do not hesitate to contact the Vivid Racing team. You can reach us by phone at 1-480-966-3040 or via email at sales@vividracing.com.