ANRKY Wheels comes from a long line of automotive enthusiasts passionate about the mechanical world. It is their unwavering dedication and appreciation for the field that earned them a top spot among the list of aftermarket wheel manufacturers. ANRKY is committed to filling a void it says exists within the wheel industry with fresh designs, cutting-edge engineering, and professional craftsmanship. The ANRKY AN32 from its SeriesTHREE boasts a winning combination of attractive styling, high strength, and performance to take your ride to the next level.
The stunning Ferrari F8 Tributo spotlighted in this post looks incredible wearing ANRKY's AN32 SeriesTHREE wheels. They are sized 20×9.5 at the front and 21×13.0 at the rear. While there is nothing necessarily wrong with the stock wheels, these three-piece forged wheels really elevate the sportiness and luxury of the F8 Tributo. The AN32 wheels on this mid-engine supercar feature a brushed clear face, mirror polished windows, mirror polished clear outer and inner, with exposed ARP hardware. The vehicle is also sporting a beautiful Nardo Inozetek wrap and sitting lowered on Novitec springs.
The AN32 SeriesTHREE wheels are uniquely designed and composed of three pieces crafted from 6061-T6 forged aluminum. They were manufactured in compliance with stringent quality standards to deliver the perfect harmony of aesthetics and performance in addition to reliable handling and durability. The striking split 5-spoke design really accentuates the big brakes on this Ferrari F8 Tributo and gives you a closer look at the contrasting sky blue calipers. And if that wasn't enough, this Italian beast will keep heads turned as it drives by with its R1 Titanium exhaust.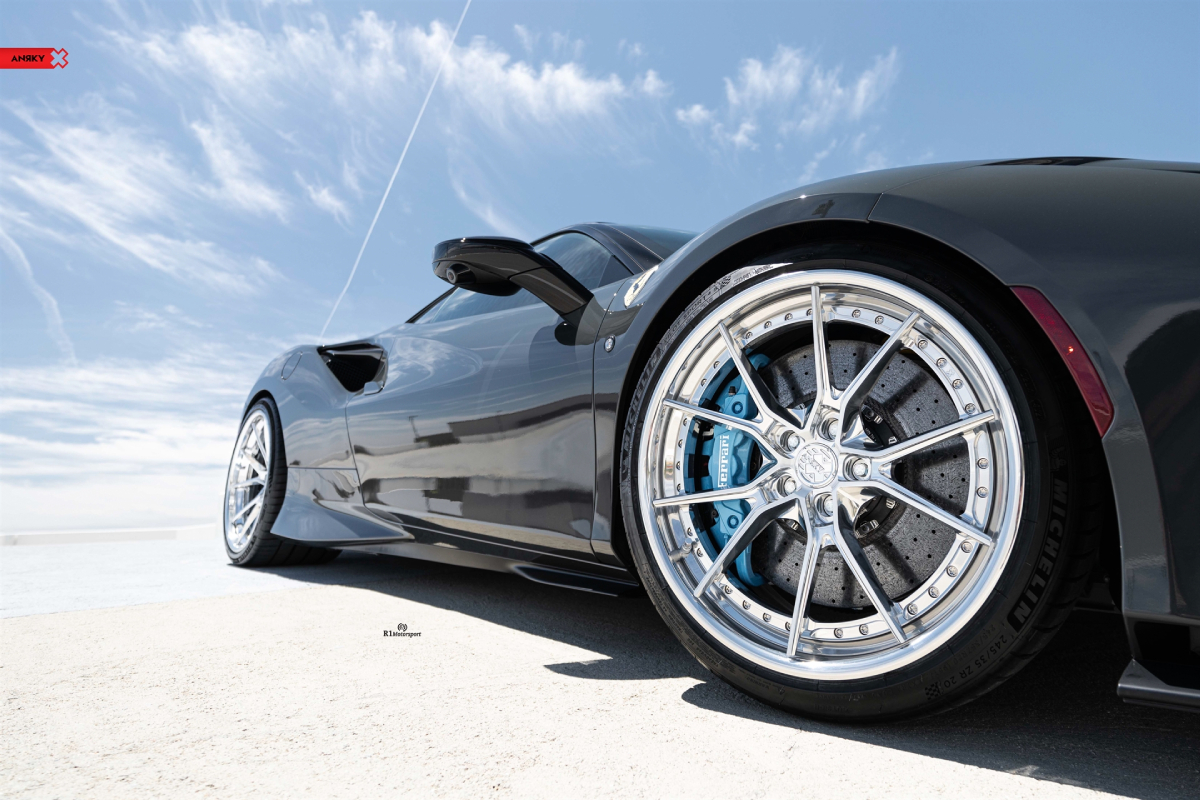 AN32 SeriesTHREE Wheel Features:
Available in sizes 20″ – 22″ & 24″
3-Piece Forged Contoured Center Disc
Widths range from 4.5″ – 15.5+" inch
50/50, exposed or hidden ARP hardware option
Available ARP titanium hardware option
Step lip construction
Engineered to be lightweight
Vehicle load / G.A.W.R. specific
6061-T6 heat treated forged aluminum
Engineered, machined, finished, and assembled in the USA
If you have any questions about ANRKY wheels, please do not hesitate to contact the Vivid Racing team. You can reach us by phone at 1-480-966-3040 or via email at sales@vividracing.com.