For the last 30-plus years, AEM Electronics has continued to build its reputation to maintain its status as an industry leader in the automotive performance market. AEM Electronics is known for manufacturing top-grade performance racing electronics to help drivers go faster, set records, and win. The company is proud to offer one of the finest lineups of products that are engineered to outperform the competition. That being said, AEM Electronics has just announced the availability of its new VCU300 Programmable Electric Vehicle Control Unit.
AEM EV's VCU300 is used in Ford Racing's CobraJet1400 EV drag concept and in the Huff Motorsports EV Dragster, which was the first EV dragster to post 200MPH in the quarter-mile. This vehicle control unit is built on OEM hardware and features OEM quality strategies to deliver the highest level of reliability and safety for both the programmer and driver. AEM's Vehicle Control Unit (VCU) is the missing link for high-performance EV street-conversion and motorsports applications. It lets the calibrator create custom torque management strategies that are applicable to a wide array of EV systems and component combinations. What's more, it integrates EV systems and unifies the tuning experience to offer conversion and motorsports-ready functions in a highly customizable and modern interface.
The VCU300 can manage four inverter/motor systems and communicate with up to three independent CAN bus networks. This product can also be used on direct-drive and indirect-drive EV setups. Launch control, torque time, CAN-controlled cooling pump support, and performance mode switching are all integrated and programmable using AEMcal software.
AEMcal software for the AEM VCU300 simplifies the process of customizing power delivery strategies and controlling ancillary subsystems of EV motorsports and conversion vehicles. AEMcal software eliminates the need for stacking multiple controllers to manage an EV's propulsion and ancillary systems. This is made possible through the utilization of an intuitive graphical interface that combines tables for the implementation of launch control, torque delivery, regenerative braking, traction control, speed limiting, and much more.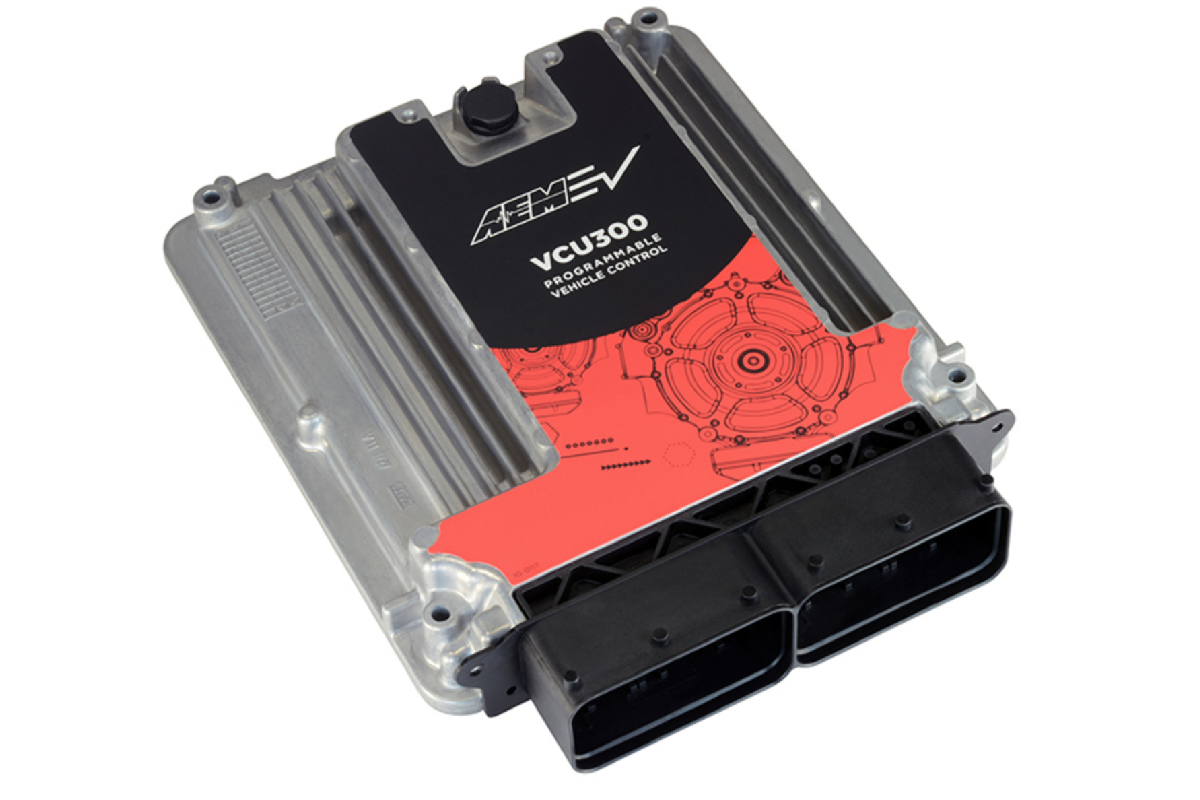 The AEM EV VCU300 features an IP69K (waterproof and dustproof) aluminum enclosure with a 196-pin connector that can withstand temperatures ranging from -40 degrees Celsius to 105 degrees Celsius.
Inputs: 31 Analog inputs; 8 Digital Inputs; 5 Frequency inputs
Outputs: 39 Low-side drivers; 2 High-side drivers; 3 Half-bridge channels, and 1 Main power relay
Features:
Built on OEM hardware with OEM control strategies
Uses proprietary AEMcal software for programming
Can control up to four independent electric motors/inverters
Link 3 independent controller area networks (CAN bus)
Primary Functions of the AEM VCU300:
Input characterization including accelerator pedal, brake switch, PRND switches, and other driver/vehicle inputs
Redundancy and arbitration features for all safety-critical inputs
Startup and shutdown sequencing of high voltage components, including independent contactor control for each inverter system
CAN message translation for BMS, inverter, PDUs, and other CAN accessories
Motor torque management dependent on vehicle operating states and other driver-selectable modes
Closed-loop motor speed regulation for indirect drive transmission applications
Dynamic torque limits that maximize safety and optimize performance
Accessory control of cooling pumps, cooling fans, lights and more
Diagnostics and fault detection including CAN message timeouts, thermal limits, contactor, and inverter enable cross-checks
If you have any questions about AEM Electronics or its products, please do not hesitate to contact us. You can reach us by phone at 1-480-966-3040 or via email at sales@vividracing.com.