aFe Power has just announced that its Silver Bullet Throttle Body Spacer is now available for GM 1500 trucks, including the Chevy Colorado and the GMC Canyon. Silver Bullet throttle body spacers create turbulence in your vehicle's airflow at the point just before entry to the engine – thus, increasing performance, as well as improving throttle response and fuel efficiency. If you are looking to enhance your overall driving experience, then look no further. aFe Power has what you need with its expertly crafted throttle body spacers tailored to seamlessly fit your GM 1500 pickup with proven results.
The aFe Power Silver Bullet throttle body spacers utilize a unique serrated/helix design to create turbulence in the intake manifold. The agitated airflow increases the air pressure in the combustion chamber, which results in better performance, more power gains, and improved throttle response. The serrated/helix design also reduces the annoying intake whistle often found in helix-only throttle body spacers.
Silver Bullet throttle body spacers are crafted from durable 6061-T6 billet aluminum for its lightweight construction, high strength, dazzling finish, and ideal fitment. Installation is a breeze as this throttle body spacer uses all of your GM truck's factory mounting points and includes a gasket for a guaranteed perfect seal. Each throttle body from aFe is precision-machined for an exact fit and can be used with either stock or aFe Power air intake systems.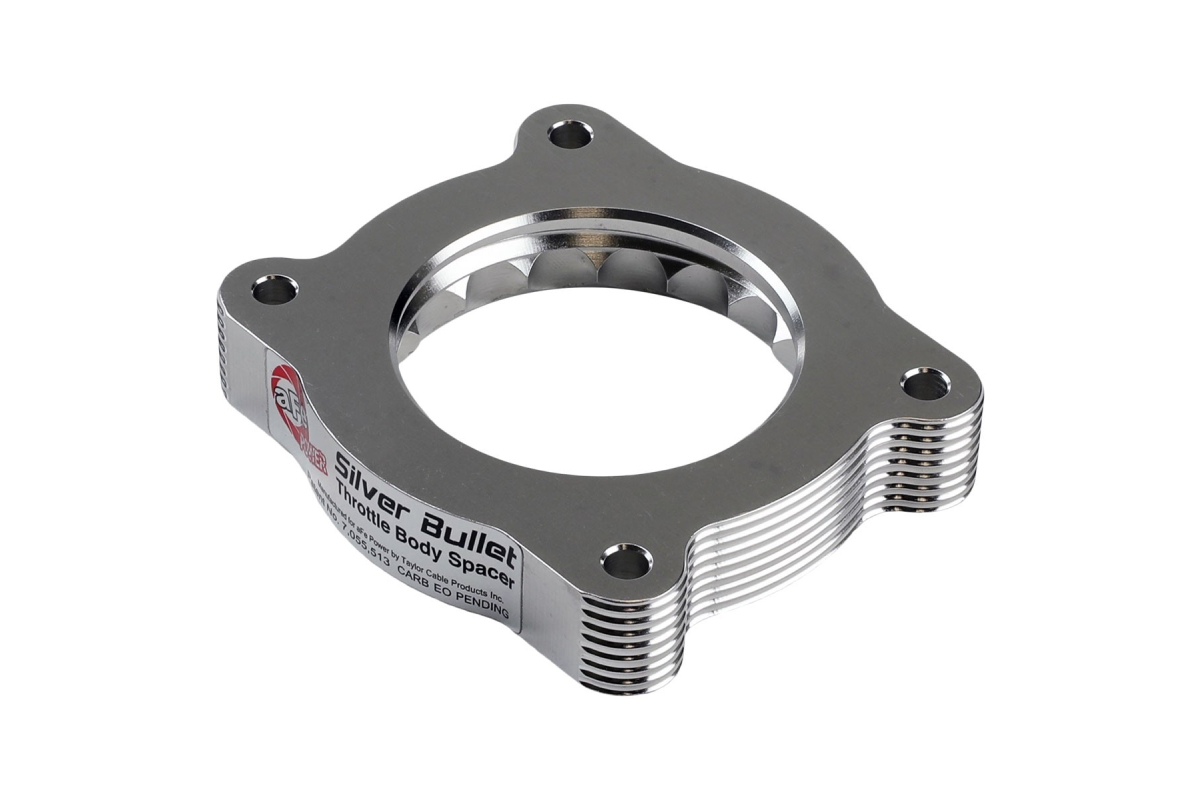 Features:
CNC-Machined from Durable 6061-T6 Billet Aluminum
Unique Serrated/Helix Entry Design Creates Turbulence and Reduces Whistle Sound
Increases Air Speed, Improving Performance and Throttle Response
Hassle-Free Installation Process with a Precise Fitment
Fitment:
2004-2006 Chevrolet Colorado L5-3.5L
2004-2006 GMC Canyon L5-3.5L
2007-2012Chevrolet Colorado L5-3.7L
2007-2012 GMC Canyon L5-3.7L
Fitment Note:
This Silver Bullet Throttle Body Spacer will fit with Magnum FORCE Intake System 54-10301 and 51-10301.
If you have any questions, please do not hesitate to contact us. You can reach us by phone at 1-480-966-3040 or via email at sales@vividracing.com.