aFe Power has just released the Silver Bullet Throttle Body Spacer for 2006-2011 Honda Civic Si models equipped with the L4-2.0L engine. aFe's Silver Bullet throttle body spacers generate turbulence in the airflow at the point right before entry to the Civic's engine. This process increases performance, improves throttle response, and results in better fuel efficiency. The Silver Bullet will work to enhance your overall driving experience with a difference you can feel. What's more, aFe Power expertly engineered this throttle body spacer to specifically fit your exact Honda Civic Si model to guarantee precise fitment with proven results.
The aFe Power Silver Bullet throttle body spacer spotlights a unique serrated/helix design that produces turbulence within your vehicle's intake manifold and lengthens the intake track to increase air intake speed. The agitated airflow increases the air pressure in the combustion chamber, which results in better performance, increased power, and improved throttle response. The special design also reduces that annoying intake whistle often associated with helix-only throttle body spacers.
The Silver Bullet throttle body spacer from aFe is manufactured from precision-machined 6061-T6 billet aluminum for a lightweight construction that boasts high strength, a sterling finish, and excellent fitment. Installation is super straightforward as this product uses all of your Honda Civic Si's factory mounting points and includes a gasket for a guaranteed seal. Moreover, it's important to note that this throttle body spacer will only fit 2006-2011 Honda Civic Si models with the factory intake system.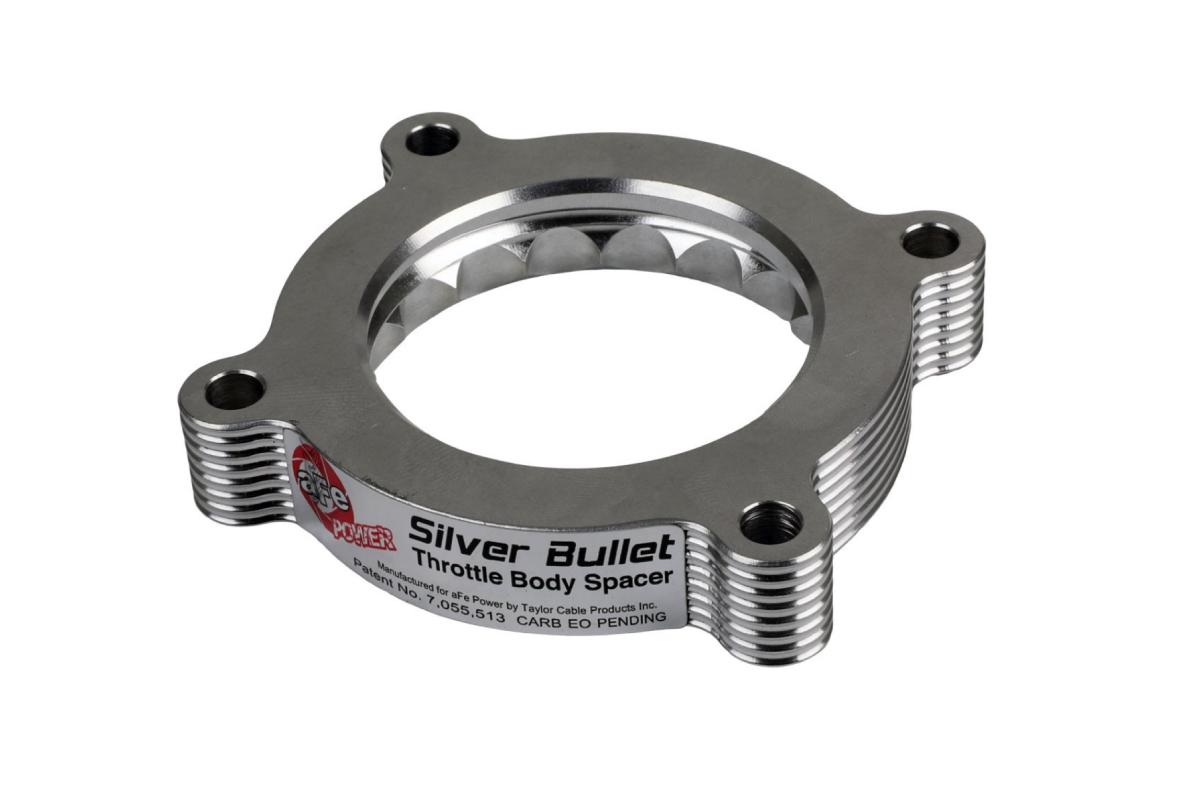 Features:
CNC-Machined from Durable 6061-T6 Billet Aluminum
Unique Serrated/Helix Entry Design Creates Turbulence and Reduces Whistle Sound
Increases Air Speed, Improving Performance and Throttle Response
Hassle-Free Installation Process with a Precise Fitment
Fitment:
2006-2011 Honda Civic Si L4-2.0L
Fitment Note: Will only fit Honda Civic Si models equipped with the factory intake system.
If you have any questions about aFe or its products, please do not hesitate to contact us. You can reach us by phone at 1-480-966-3040 or via email at sales@vividracing.com.