When it comes to some fields of racing, bigger wheels aren't always the best choice; this is especially true with rally cars. Vehicles that are made to blast down bumpy roads generally use beefy tires with huge sidewalls wrapped around small wheels. This leaves little room for big brakes that are found on modern-day track cars. Even so, high-performance brakes are just as important for rally cars and should be readily available for those vehicles too. To meet the needs of this unique segment of the motorsports world, AP Racing by Essex Competition came up with the perfect brake kit. This brake kit fits perfectly within popular 15-inch rally wheels to deliver optimal braking performance you can rely on.
Subaru has kept the Impreza's caliper mounting points virtually the same for decades and this AP Racing by Essex Competition Brake Kit fits a wide range of model years and trim levels. This brake package will seamlessly bolt up to a 90's Impreza L, an early 2000's 2.5RS or WRX model, and even a 2015+ VA chassis STI. The rally-spec 299mm J Hook discs have a unique integrated 10mm spacer within the aluminum hat, providing more clearance for gravel wheel spokes.
Also included are matching extended wheel studs from ARP, ensuring that lug nuts will have ample thread engagement. Additionally, the two-piece disc assembly features a fixed design instead of a fully floating design as you would normally see in more track-oriented kits. This is because rally cars like Subaru thrive in the dirt and gravel and an ideal brake kit keeps this in mind in its design and overall construction.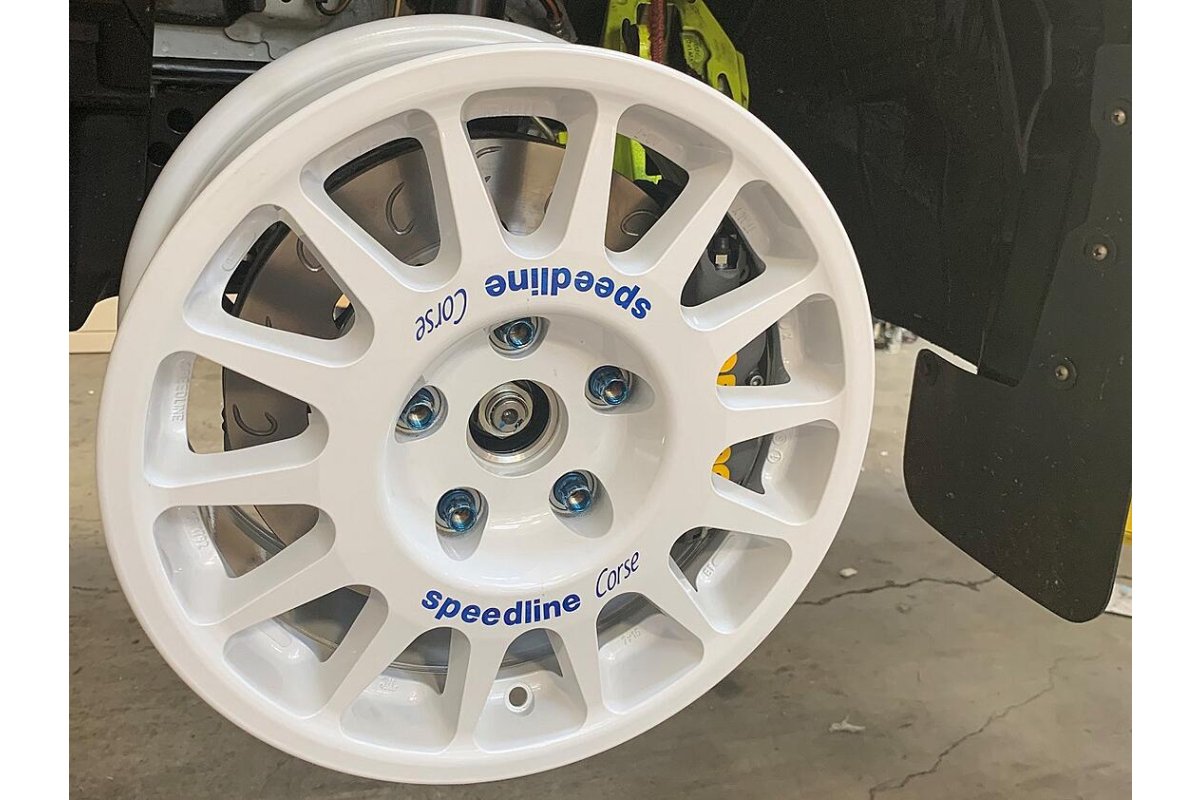 The AP Racing J Hook iron discs in this system are true motorsport-grade components. They have been proven time and again in professional racing and championships in ALMS, Rolex, and Grand-Am, as well as stage rally competition. The array of 60 curved directional vanes moves the maximum amount of air possible through the disc, keeping temperatures in check under hard use. The higher vane count also promotes superior disc face stability, making them less susceptible to distortion and cracking.
AP Racing's 8350 four-piston calipers boast a race-proven design as well, with stainless-steel pistons and anti-knockback springs for consistent pedal engagement and performance out on the course. The combination of 299mm x 32mm discs with AP Racing's slim caliper design offers improved heat management, performance, and consistency over OEM brakes, while occupying a minimal amount of space. Speedline's iconic 2118 model 15×7″ rally wheel has been confirmed to fit in both ET53 and ET49 offsets. AP Racing will update its wheel fitment listings as more manufacturers, sizes, and models are tested.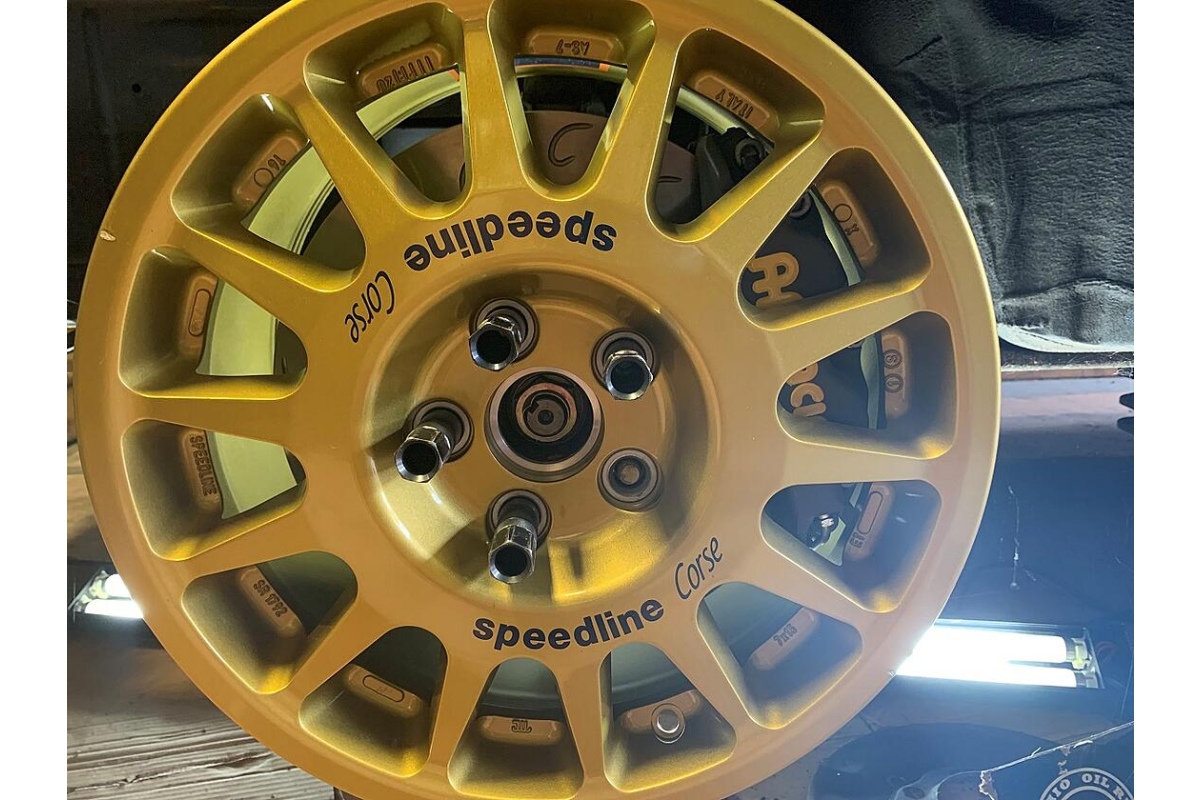 Complete front AP Racing by Essex Rally Competition Brake Kit for the Subaru 2.5RS, WRX, and STI:
Features:
Designed to fit behind 15″ wheels used in many stage rally applications
Integrated 10mm wheel spacer built into the disc hat, with matching ARP extended wheel studs
Eliminates several pounds of unsprung weight compared to the OEM brakes
Features 299 x 32mm 60 vane AP Racing J Hook discs
Lightweight AP Racing CP8350 four-piston aluminum calipers
Every component has been designed for the rigors of motorsport use
Pistons are sized properly to allow for seamless integration with OEM master cylinder and ABS systems
Designed to work with OEM rear brakes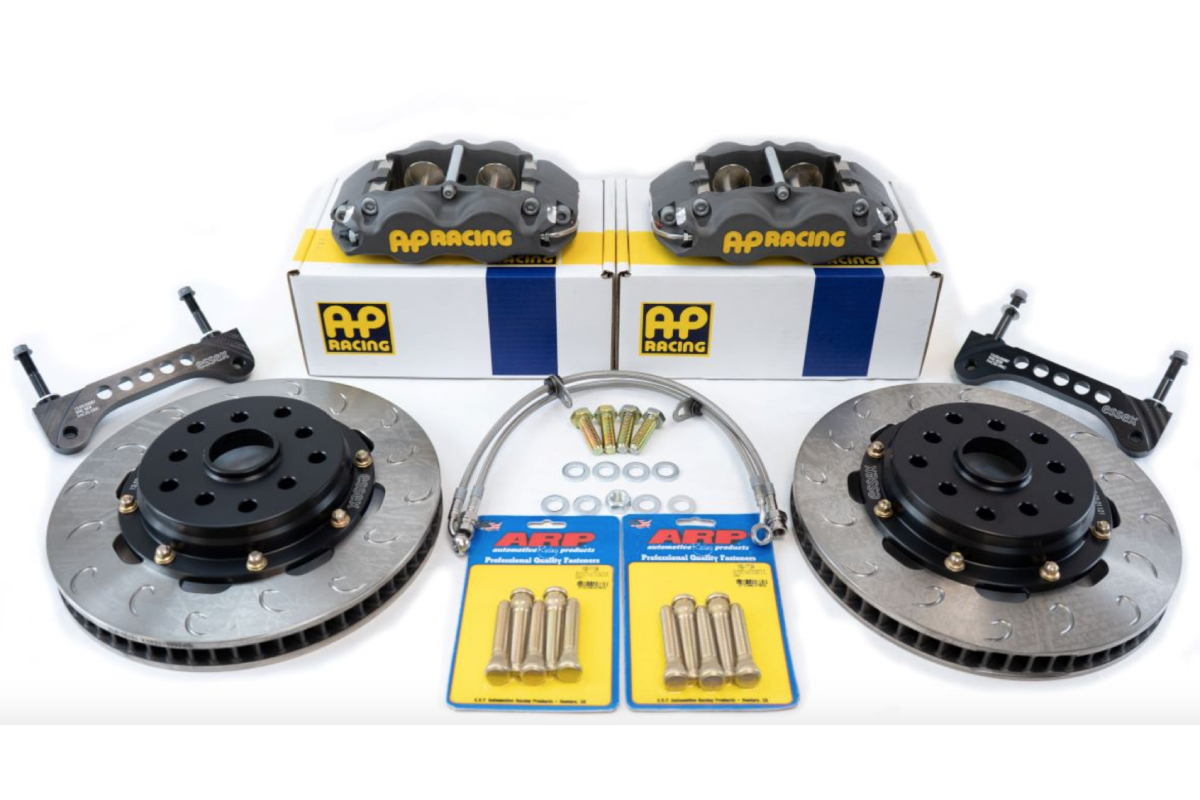 In the Box:
One pair AP Racing CP8350 racing calipers
One pair 299 x 32mm AP Racing CP3862 60 vane J Hook iron discs, with hard-anodized 6061 aluminum hats
Special disc hats include an integral 10mm spacer to provide additional wheel clearance
Extended ARP wheel studs to ensure proper lug nut engagement with the additional width
One pair of caliper mounting brackets and hardware
One pair Spiegler Stainless Steel Brake Lines with abrasion resistant coating
Detailed installation instructions
Brake pads are NOT included with our system. Racing brake pads are a highly personal choice.

If you have any questions, please do not hesitate to contact us. You can reach us by phone at 1-480-966-3040 or via email at sales@vividracing.com.