The suspension experts at Belltech are excited to announce that they have extended their product lineup to now include 4" Suspension Lift Kit Systems for the 2007-2018 Chevrolet Silverado/GMC Sierra 1500 2/4WD models (extended and crew cab). Precision engineered right here in the USA, these quality suspension systems are the best riding lift kit on the market for your truck – period!
Take your Silverado or Sierra to new heights, literally, with the new Belltech suspension lift kit systems. Every aspect was thoroughly considered and tested in order to provide you with the highest-quality lift kit system on the market that delivers on looks and performance without sacrificing ride quality. Through innovative design with a focus on handling, these suspension lift kit systems are the best riding lift kits available right now. Built to ride, handle, and tackle off-road obstacles with ease, feel the difference with Belltech today!
Belltech precisely engineered its lift kits to include the brand's patented front height-adjustable Trail Performance struts and rear Trail Performance Twin Tube shocks. These lift kits will not only improve your truck's ride quality but also retain its factory alignment cams and specs, factory track width, and most importantly does not induce bump steer. Instead, Belltech has worked extra hard to ensure these systems will keep your Chevy or GMC's steering nice and tight so you have more control.
The replacement spindles were purposely engineered to improve strength and reduce weight while also improving durability. Unlike with most lifted vehicles, the Belltech Lift Kits do not deliver any sacrifice in your turn radius as they were designed to maintain your vehicle's factory turning radius. Belltech also includes a ¼" thick laser-cut skid plate to protect your ride's driveline and steering components when tackling off-road terrain. At the rear, lift blocks and longer heavy-duty U-bolts level your truck's stance, and Belltech twin-tube custom-tuned shocks complete the suspension system.
Another great benefit of using these new Belltech Lift Kits is that installation is super simple as these suspension packages are a direct bolt-on solution. They come with heavy-duty Grade 10 hardware and the entire process requires minimal cutting and no welding at all. What's more, these Belltech Suspension Lift Kits also feature a Lifetime Warranty – so you're covered, no matter what.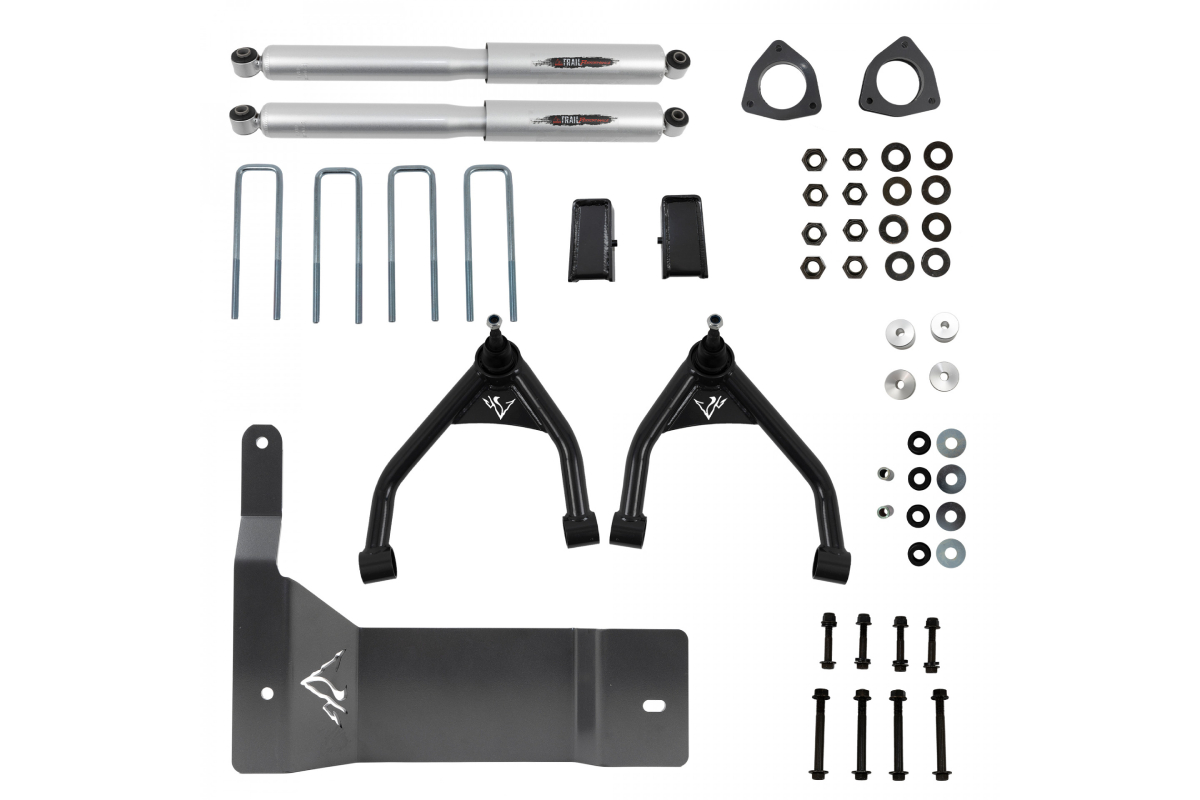 Specifications:
Maximum Tire Diamater – 33″
Recommended Wheel Backspacing – 4.5″
Front Lift Height: 4.0″
Rear Lift Height: 2.0″
Highlights:
• Precision engineered in the USA
• Achieve a 4" lift while riding and handling great
• Custom-engineered front height adjustable Trail Performance struts and rear Trail Performance shocks
• Easy installation – no cutting or welding needed
• Backed by a lifetime warranty, so you're covered, no matter what!
Fitment: Fitment:
2007-2018 Chevrolet Silverado 1500 4WD/RWD (Extended & Crew Cab)
2007-2018 GMC Sierra 1500 4WD/RWD (Extended & Crew Cab)
Notes:
For aluminum or stamped steel OEM upper control arms only
Not Compatible with Magride and Autoride Suspension Systems, or Adaptive Ride Control.
Not Compatible with TrailBoss or AT4 models
If you have any questions about Belltech or its products, please contact us. You can reach us by phone at 1-480-966-3040 or via email at sales@vividracing.com.