No matter what you use your truck for, whether it be on-road driving, off-road fun, ranch use, camping, or anything in between, it's only a matter of time until something smashes into your grille. The things that can damage your grille range from bushes, branches, rocks that get kicked up, animals, other trucks, or anything else.
If you want to keep your F-150 protected, you need an aftermarket grille guard. With a grille guard installed, your entire front end has an extra layer of protection that an aftermarket bumper alone can't give you. To help you find the perfect grille guard for you F150, we've compiled this list.
Westin Automotive Sportsman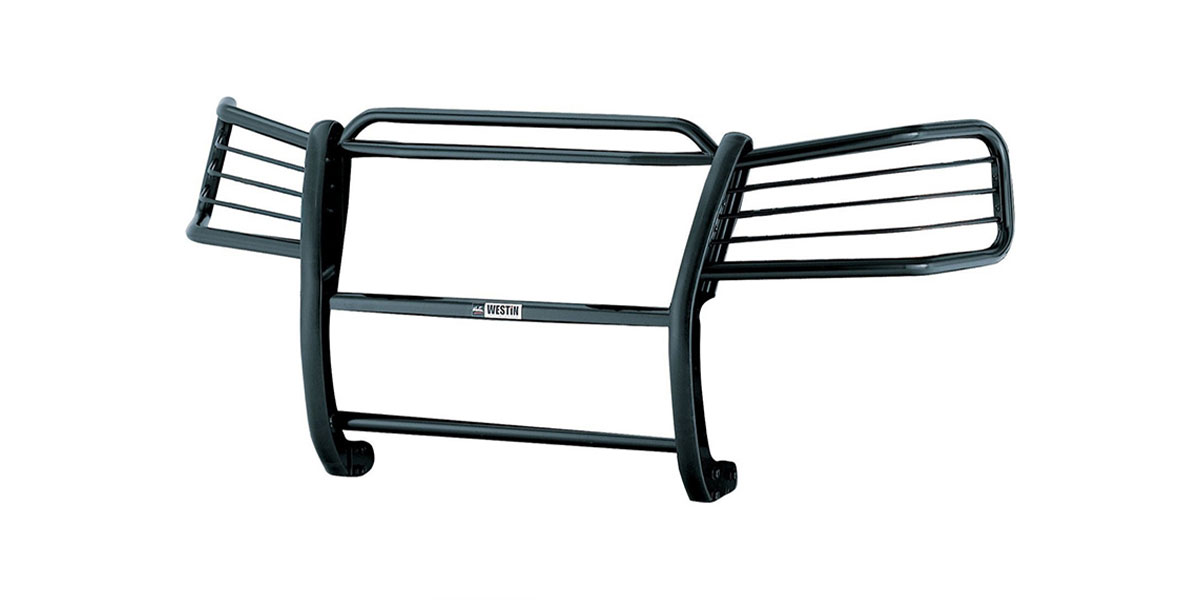 A great, entry-level grille guard that gives you all the protection you need without being excessively large is the Westin Automotive Sportsman. If you want something larger with more features, Westin also offers many other models, but for our purposes, we're sticking with the Sportsman.
This grille guard is designed as a one-piece unit. The uprights are coated in a heavy-duty rubber material which prevents damage to your truck. The large-diameter tubing helps to prevent denting or bending if you run into something, and the integrated light mounting points allow you to easily mount two off-road lights to the unit.
One of the best features of this grille guard is how easy it is to install. With no drilling required and the mounting hardware included, installing this grille guard on your F-150 is very easy. Westin backs this guard up with a five-year warranty, so you won't have to worry about it failing you.
Go Rhino 3000 Series StepGuard
Another great option for 2015+ F-150 is the Go Rhino 3000 Series StepGuard. Functionally and stylistically, this is a very basic brush guard, but it still gives you everything you need to keep the front of your truck protected.
The brush guard is constructed from mild steel and features a black powder coat finish with a five-year warranty. It's designed to provide an easy installation process that requires no drilling or custom work. One of the unique features of this brush guard is the built-in step which makes it significantly easier to access your engine, especially if your truck is lifted.
The only real downside to this brush guard from Go Rhino is that it isn't fully compatible with trucks with adaptive cruise control. With a price tag of under $700, this is one of the best bang-for-buck options out there!
Road Armor 615BRSH-W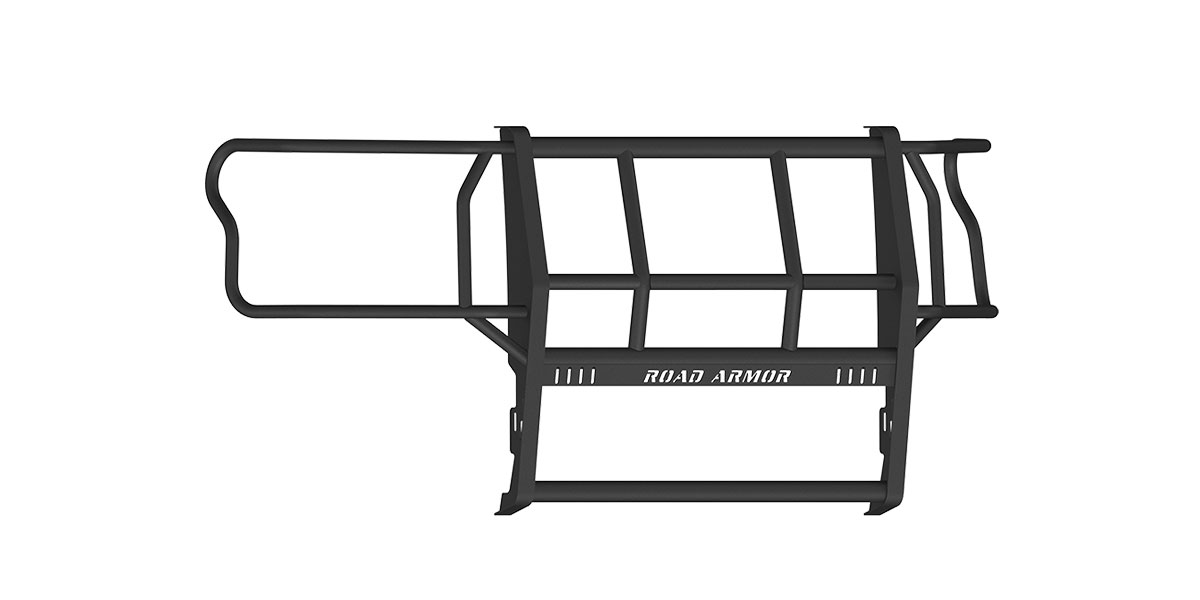 If you want something a little more "tough" looking than the Go Rhino 3000 series, Road Armor has the perfect solution. Functionally this brush guard is nearly identical to the others on this list, however, the extra center support bars give the grille an extra level of protection while also giving the brush guard a very aggressive appearance.
This brush guard is fully constructed in Texas and utilizes strong .120 wall CNC bent tubing. The eye tubes are 1.5″ diameter and the center tubes are 2″ diameter. The entire brush guard is finished with a stand satin black powder coat finish and the entire thing is backed up by a 1-year limited warranty. Like other brush guards, this is designed a full bolt-on solution with no custom work required for install.
Iron Cross Grill/Bumper Kit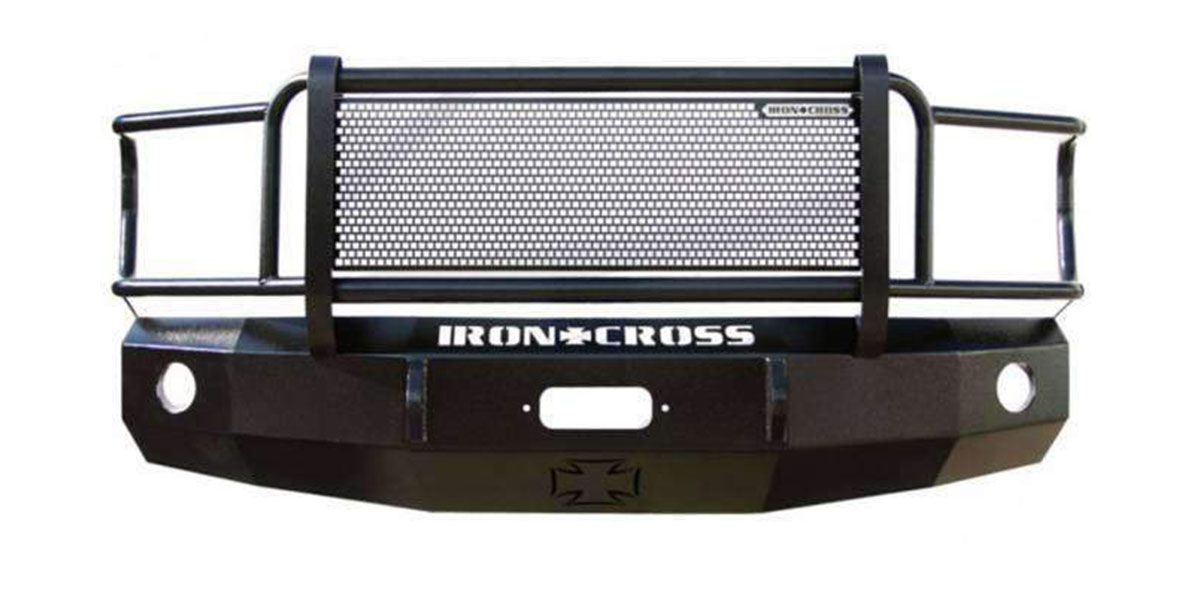 For F-150 owners who want the most protection possible for their truck, we recommend the Iron Cross HD grille guard / front bumper combo. Rather than covering your OEM front bumper, this system replaces it with a heavy-duty steel bumper which allows for the heavy-duty brush guard. Unfortunately, extra protection is more expensive, but this also more complete than any other option.
This kit is fully constructed in the USA for the best possible final product. The entire thing is finished in a high-quality textured black powder coat. The unique feature of this system is the integrated winch mount, which is very important for hardcore off-roading where it's only a matter of time until you're stuck.
If you want the best protection possible, this is the best option for your truck!
Luverne Baja Guard
The Luverne Baja Guard is quite a bit different from the other brush guards on this list because it lacks protection for the upper part of the grille and the headlights. The tradeoff is a more low profile design that features a Baja-style design.
The frame of this brush guard is constructed from 2″ tubular steel and welded together to create a singular piece. The design lacks headlight protection, but it offers increased bumper protection compared to other brush guards. The uprights feature rubber extensions which give you the ability to push things which the brush guard without damaging the finish of it.
With three tabs along the center tube, it's very easy to mount aftermarket LED lights to the brush guard. It also features built-in tow hooks to make straight-line towing much easier. Best of all, the entire thing is constructed in the USA and features a limited lifetime warranty!