The Toyota Tacoma is one of the most popular pickup trucks in America. It offers everything most people need from a truck, in a small and affordable package. Being so popular, the Tacoma also has a massive aftermarket and there are thousands of different modifications available. Picking the right mods for you can be difficult, so to help you we compiled this short list of our favorite Tacoma modifications.
#1 Lift Kit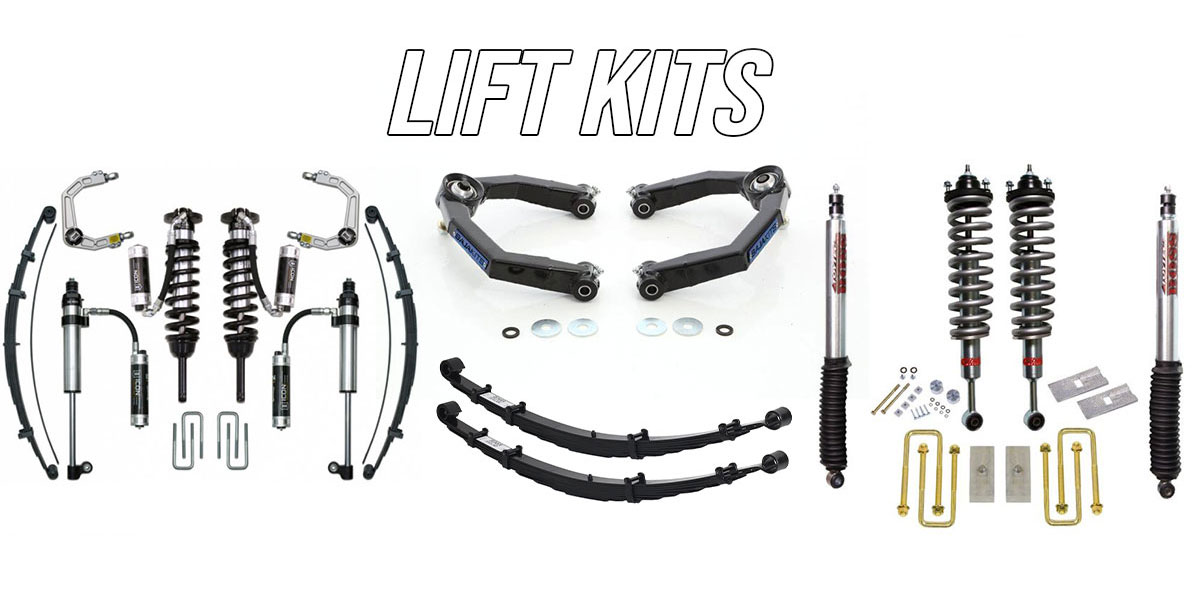 Lift kits are a great way to improve suspension travel and increase ground clearance. While larger tires lift the entire vehicle, lift kits only lift the body and frame, so it's important to pair a good lift kit with a good set of wheels and tires for the best performance. Some lift kits are just designed to increase ride height, while others are designed to increase performance off-road.
Deciding which lift kit is best for you entirely depends on how you use your truck. If you're almost entirely driving in the city and very rarely go off-road, a budget lift might be the best solution. If you love driving hard when the pavement ends, a high-end suspension system might be the best option. Regardless, a high-quality suspension system is a great way to improve the performance of your Tacoma.
Learn more and order your Tacoma lift here
Read our Best Tacoma Lift Kits Guide here
#2 Wheels and Tires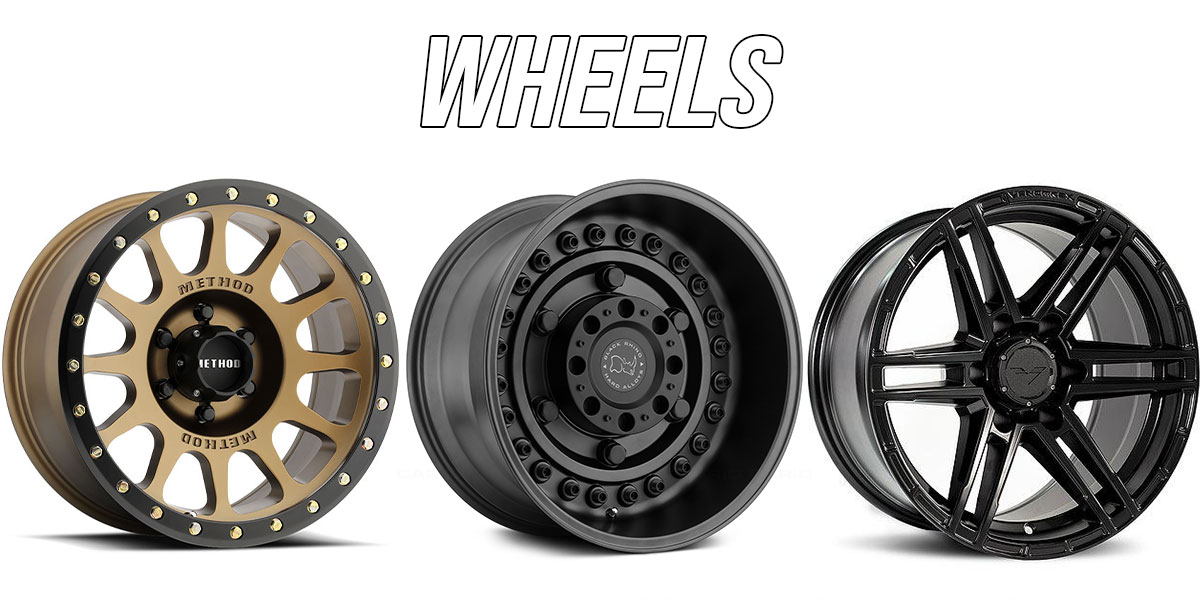 Wheels and tires might seem like the least important modifications you can install on your Tacoma, but they're arguably the most important. Regardless of how much power or suspension travel you have, your tires are what ultimately holds your Tacoma to the road. If you choose to run basic economy tires, you're missing out on a world of performance which can only be experienced with high-performance tires.
Wheels aren't as functionally important as tires, however, they can completely transform the look of your Tacoma. High-quality aftermarket wheels are lighter than your OEM wheels, however, the reduction in rotational mass can be dwarfed when paired with large off-road tires. The Tacoma and 4Runner share the same lug pattern, so finding wheels for your Tacoma isn't too difficult.
The optimal tire size of your Tacoma depends on your suspension setup. Larger lifts allow for larger tires, however, there is a point where the Tacoma can't easily fit larger tires due to the size of the fender wells. For a Tacoma with no lift kit, a 265/70 is a great option. For a 3" lift kit, a 285/75 is a great option.
Learn more and order your Tacoma tires here
Read our Toyota Tacoma wheel guide here
#3 Intake and Exhaust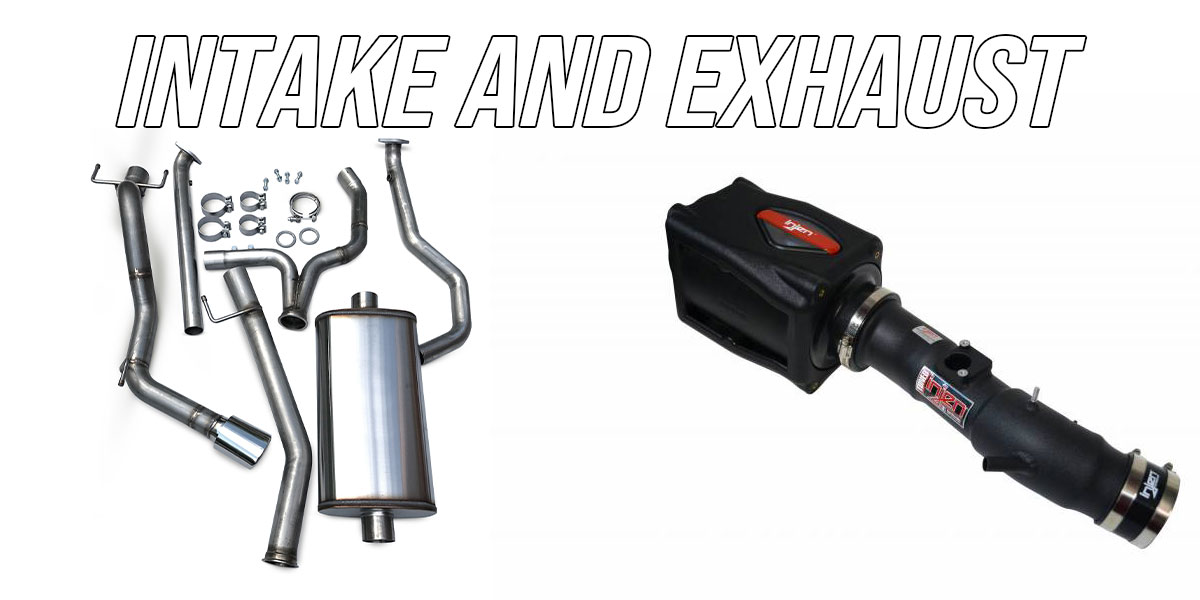 In its most basic form, every internal combustion functions as an air pump. Air comes in and is then forced out, and the cycle repeats. Of course, the Toyota Tacoma and its V6 engine under the hood are no exception to this rule. If you want to increase the power of your Tacoma, getting more air in or out is key, which is where an aftermarket intake and exhaust system come into play.
With an aftermarket intake system, it's important to buy something which features a full-sized intake box. Without a box, the filter will end up filtering excessive amounts of dirt and ultimately more dirt will make it past the filter. A well-designed intake box also maintains low intake air temperatures which further improves power.
With an aftermarket exhaust system, you don't need to be as picky. Most exhaust systems for the Tacoma offer very similar power gains, so it mostly comes down to your brand preference and what kind of sound you're looking for.
Learn more and order your Tacoma cold air intake here
Learn more and order your Tacoma exhaust system here
#4 Protection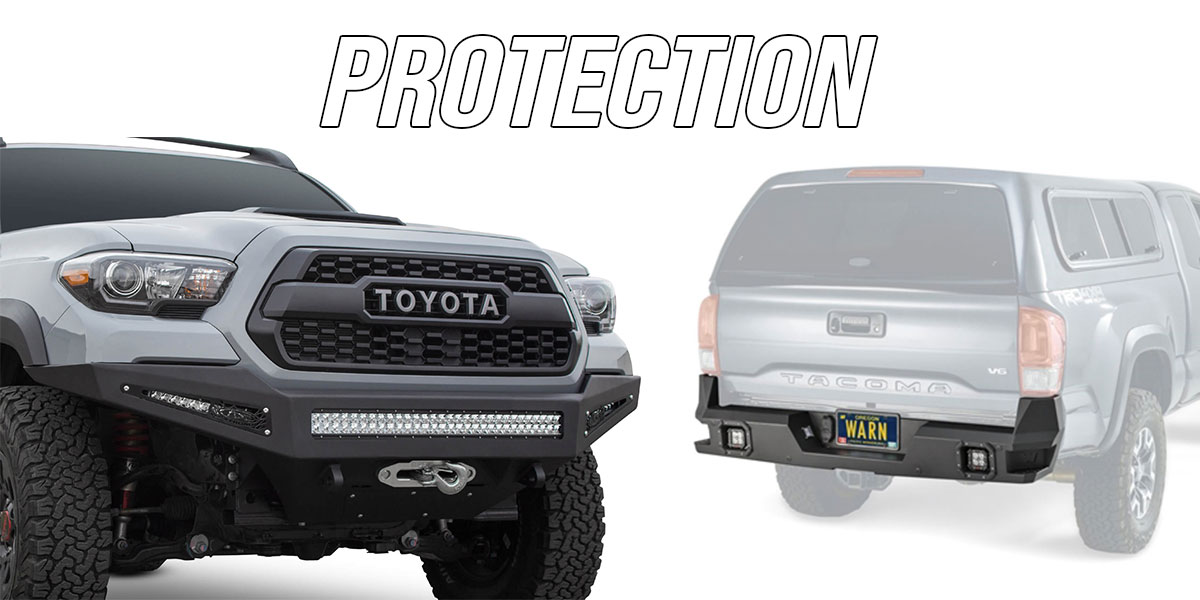 When you're out on the trails, it can be easy to get yourself into a bad situation accidentally. The result? Your bumpers and rocker panels getting smashed. Things can get crazy on the trail, so protection is a great way to ensure your Tacoma stays in one piece.
Specifically, aftermarket bumpers and sliders are great for protection. All it takes it one little bump to damage your rocker panels or bumpers. Most aftermarket bumpers and sliders are built from high-quality steel, which is significantly stronger than your OEM components and can take a beating. Plus, many aftermarket bumpers improve approach and departure angles.
Learn more and order your Tacoma bumpers here