While Toytec is known for their great pricing, there are brands that Vivid Racing prefers which offer exceptional pricing while also delivering amazing quality. You shouldn't have to sacrifice for price. A quality lift kit can be the difference between having fun on the trails or dealing with a broken truck. We have everything from budget lift-kits, leaf springs, long-travel kits, 3″ lift kits, 5″ lift kits, and much more.
Brands such ReadyLift, Daystar, SkyJacker, Ironman, Icon, Tuff Country, and more are excellent suspension companies for your Toyota vehicle. These competing brands to Toytec's line of 4Runner, Tacoma, Tundra, FJ Cruiser lift kits should be considered when you are looking to install a lift kit. You shouldn't have to sacrifice for price or service. At Vivid Racing, we have everything you need to take your Toyota offroad!
Toyota Tacoma Lift Kits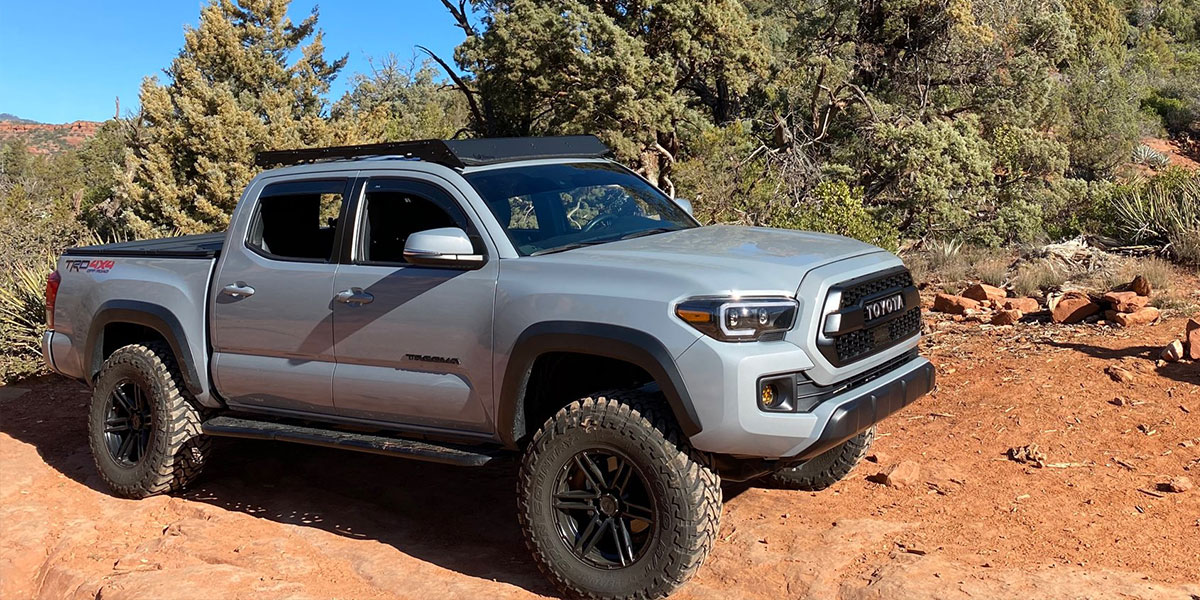 The Toyota Tacoma is one of the most popular pickup trucks in America. It offers everything most people need from a truck, in a small and affordable package. For off-road racers, the super strong frame and steering components make it a popular choice for a pre-runner or full-fledged desert racer.
Budget Lift Kit – Budget lifts are a great way to give your Tacoma increase ride height to allow for larger tires, without breaking the bank. Some of our best options come from ReadyLift, Daystar, and Function and Form. Some budget lifts include shocks and some don't, but every budget lift is a great, affordable solution for increasing ride height on your Tacoma!
2.5″ to 3″ Lift Kit – If you want something more advanced than a basic budget lift while also maintaining a relatively mild ride height, a 2.5″ or 3″ lift is a great option. With a 2.5″ or 3″ lift, you can gain a lot of suspension articulation and valuable ride height without the bad handling effects that larger lift kits can cause. Our best 2.5″ and 3″ lift kits come from Icon, Skyjacker, and Ironman.
Toyota 4Runner Lift Kits
The 4Runner has long been a popular alternative to the Jeep Wrangler, and it offers many of the same great benefits of the Tacoma, but with a full sized SUV cab. Luckily, some of the components are interchangeable which makes 4Runner lift kits nearly as cheap as Tacoma lift kits!
Budget Lift Kit – In the rear of the 4Runner, you'll find coil springs (depending on the model year) which means budget lift kits will generally include coil spring spacers for the front and the rear suspension. It's a good idea to replace your shocks to maximize travel and ride quality. Bison Offroad, Daystar, Skyjacker, and Function and Form.
2.5″ Lift Kit – Because of the 4Runner's larger cab compared to the Tacoma, keeping the ride height low enough to not negatively impact center of gravity is even more important. For this reason, you'll most 4Runner lift kits around 2.5″ up to 4″ in height. If you want the best-of-the-best, Icon is definitely the way to go. If you simply want a great kit at a great price, Skyjacker, Ironman, Tuff Country, and Revtek.
4″ to 6″ Lift Kit – Since the 4Runner shares a similar suspension setup with the Tacoma, the same pricniples apply. Going past 4″ of lift will reduce handling significantly without really improving suspension articulation, however, for those who want their 4Runner to be big and mean, there is no other choice. Our best 4″ to 6″ lift kits for 4Runner come from Fabtech and Procomp.
Toyota Tundra Lift Kits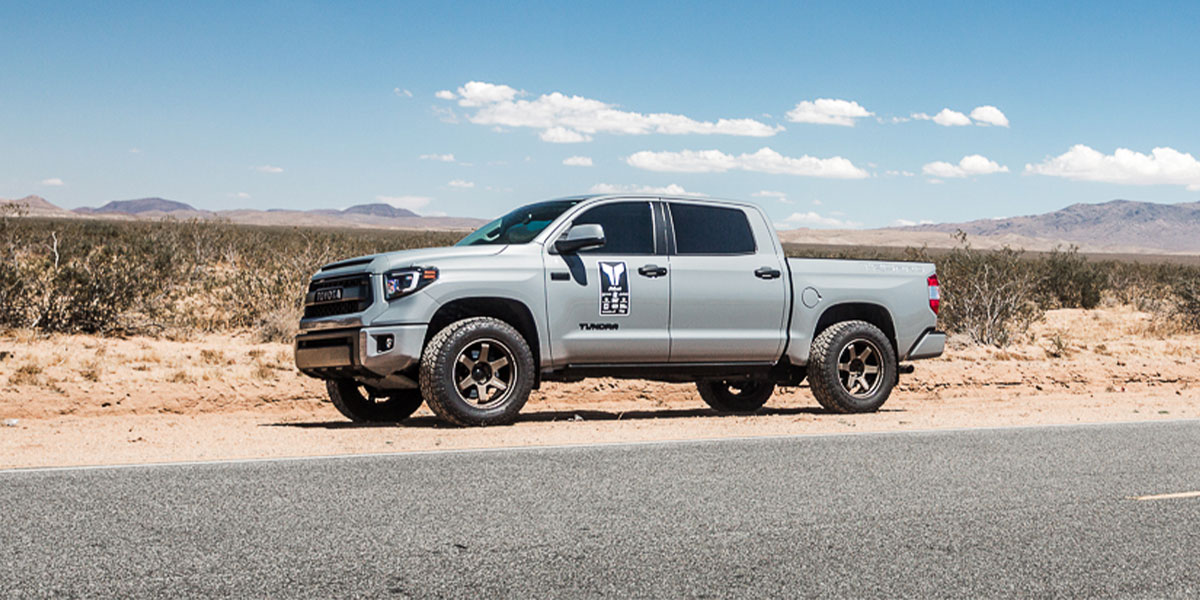 The Tundra is the perfect truck for Toyota enthusiasts who want the functionality of a Tacoma with the extra power of a V8 and a lot of extra space. For the most part, the same principles apply: budget lifts are ideal for a small ride height increase and many of the manufacturers offer kits for the Tundra.
Budget Lift Kit – With the extra power and towing capacity of the Tundra, it's important to avoid large leaf spring lift blocks because they have the potential to create excessive axle wrap under the right conditions. Small lift blocks aren't an issue, but large lift blocks can become an issue. Great Tundra budget lift kits can be bought from Function and Form, ReadyLift, and Revtek.
2.5″ – 3.5″ Lift Kit – Since the Tundra is significantly larger and wider, lift kits larger than 2.5″ don't have the same impact as they would on a 4Runner or Tacoma. Again, be careful to avoid excessively large lift blocks to minimize axle wrap. Great 2.5″ Tundra lift kits can be bought from Icon, Skyjacker, ReadyLift, and Tuff Country.
5″+ Lift Kit – For those of you who want the meanest, largest, and baddest Tundra possible, you need a big lift kit. Anything below 5″ won't cut it, especially if you want to run extremely large tires. The majority of big lift kits include cross members to help reduce the angle of your lower control arms, which helps give your Tundra handling similar to stock. Our most popular 5″+ lift kits for Tundra come from Readylift, Skyjacker, Procomp, and Fabtech.
Whether you are crawling the mountains outside of Denver, Colorado, the trails in Arizona, or the mountains back East, Vivid Racing can get you the correct lift kit and help dial in your suspension. If you have any questions, please contact us. You can reach us by phone at 1-480-966-3040 or via email at sales@vividracing.com.
What to Look For in a Toyota Lift Kit
While many lift kits appear similar on the surface, there's a significant amount of difference from one lift kit to another. Different types of springs, mounts, dampers, arms, etc, have a huge impact on suspension articulation, handling, and ride quality. Finding the perfect balance of all performance benchmarks is what separates a cheap lift kit from a high-quality lift kit.
Control Arms
As you lift the body and frame of your Toyota, the angle of the control arms becomes much steeper than stock. This is an inherently bad thing for ride quality since more road force will be forced into the control arm mounts and ultimately chassis. Aside from the ride quality, your control arms dictate the path your wheel moves on.
On both the lower and upper control arms on IFS Toyota's you'll find ball joints. Unfortunately, ball joints have a limited range of motion, and increasing the angle of the control arms can put the ball joints at an angle where they no longer work. For this reason, many lift kits include upper control arms which utilize high-angle ball joints or Heim joints.
If you want the most suspension articulation possible, using longer control arms allows for a greater range of motion. This also applies to the rear suspension of 4Runners, where you'll find a coil spring instead of a leaf spring.
Dampers
Not all dampers are created equal! The quality and tuning of your dampers are what ultimately determines how well your Toyota will handle and how the ride quality will feel. Some dampers include rebound and compression adjustments. This is a great feature to have since changes in vehicle weight (extra gear for camping, for example) will change the required damping.
Of course, the dampers also need to be matched to the spring rate being used, otherwise, the springs will overpower the dampers and ruin ride quality. Some dampers will also use an external reservoir for extra fluid capacity, which ultimately helps the damper stay cool when you're offroading on rough terrain.
Lift Blocks
In the rear of the Tacoma and Tundra you'll find leaf springs. While leaf springs are arguably better for towing purposes than a coil spring system, leaf packs are typically significantly more expensive than coil springs. For this reason, many lift kits incorporate lift blocks instead of leaf packs or add-a-leaf.
Lift blocks are just metal blocks which sit between the leaf spring and the axle, and most lift block kits include longer u-bolts to allow for the block to fit. In theory, lift blocks are a great and simple solution to increasing ride height while retaining your OEM leaf springs, but there is a downside.
With lift blocks installed in the rear of your truck, the center line of your axle and the point where it mounts to your suspension becomes significantly greater. This means any axle housing rotation is effectively made worse, since your axle will have more leverage on the leaf springs. When this becomes an issue if when you're towing.
With increased load on the rear axle, the problem of axle wrap can become siginificantly worse and with excessively large lift blocks, axle wrap can quickly turn into broken axles, housing, springs, u-joints, or more. Luckily, modern leaf packs are extremely strong, so this entire problem is easily avoided by using moderately sized lift blocks. Huge lift blocks are what can cause issues.