Although the BMW M6 is a fantastic driver's car, many M6 owners find power a little lacking. On paper, the stock output of 560+ horsepower sounds like a lot, but with such a large and heavy to push around it can feel a bit slow. Luckily, BMW's usage of a twin-turbocharged 4.4L V8 makes the M6 very responsive to aftermarket parts.
You could install the traditional intake and exhaust modifications on your M6, but the gains can't be fully capitalized without an aftermarket tune. Even in stock form, the BMW M6 has massive potential with an ECU tune. This is where our tuning division, VR Tuned, comes into play.
The problem with many aftermarket ECU tunes for the M6 is the installation process. With most BMW M6 tunes, you need to remove the ECU from the vehicle and send it to the tuner. With our VR Tuned ECU flash, you can easily flash your BMW in the comfort of your own driveway, through the OBDII port, which eliminates the need to remove your ECU.
For those who want the convenience of flashing their ECU at home, but want an expert involved with the process, we offer VR Remote Garage. With Remote Garage, we remotely login to your computer to handle the ECU flashing process for you!
With the tune file installed, your M6 will jump from 560 horsepower to 680 horsepower! For those who want even more, we offer a Stage 2 file which cranks power all the way up to 718 horsepower! Aside from the big power gains, throttle response, turbo lag, and fuel economy are all improved.
Stock Power: 560HP and 502LB-FT
Stage 1 Power: 680HP and 620LB-FT
Stage 2 Power: 718HP and 656LB-FT
Improved throttle response and decreased turbo lag.
Can be flashed through the OBDII port with the optional cable kit
VR Remote Garage remote tuning available!
This particular customer flashed their M6 Gran Coupe in the comfort of their own garage. They also opted for the tune to modify the OEM sports display to show accurate tuned power output!
Learn more and order your VR Tuned ECU flash for BMW M6 here
If you have questions, please contact us. You can reach us by phone at 1-480-966-3040 or via email at sales@vividracing.com
Sports Display Changed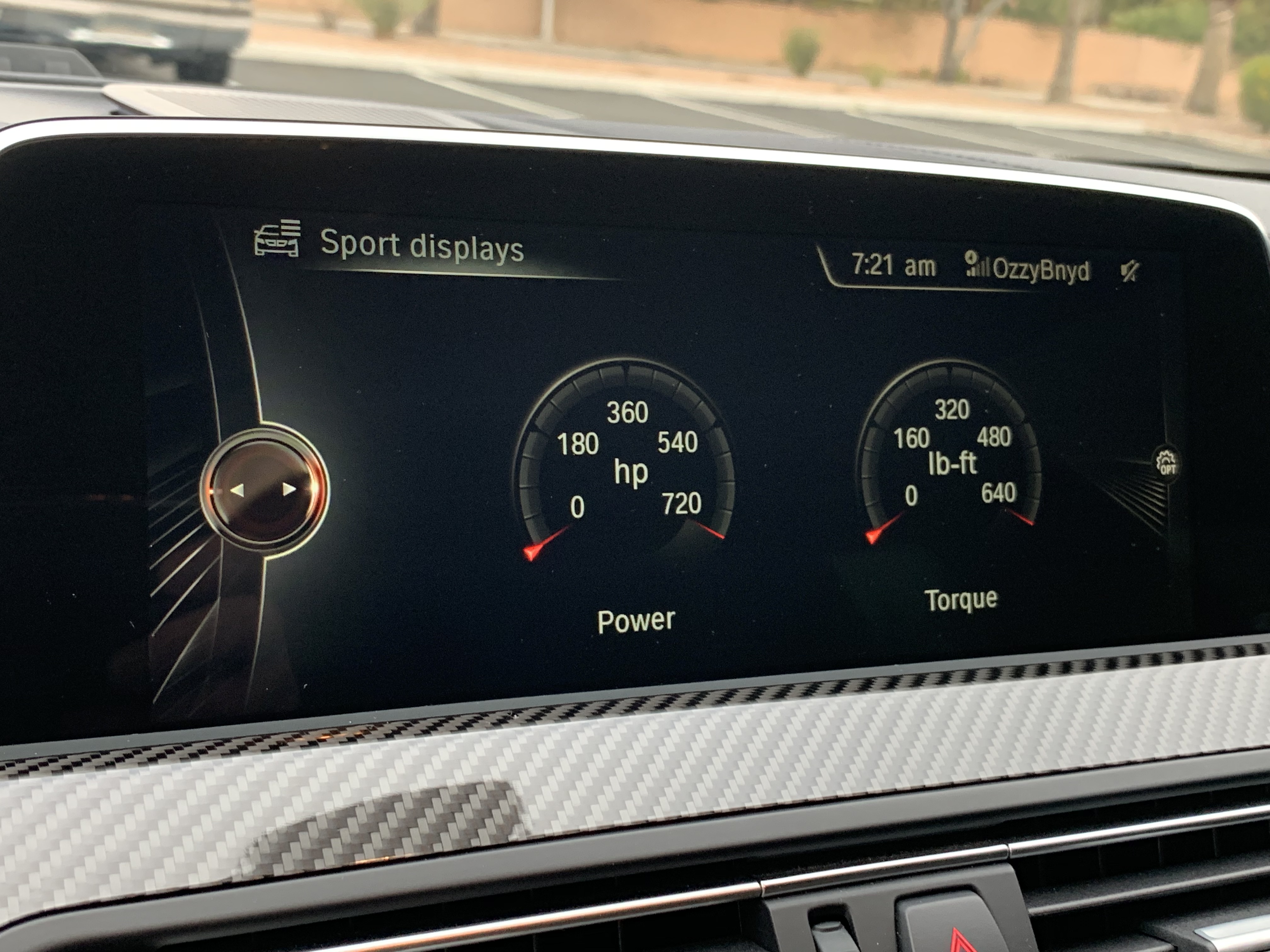 ECU Flashing Process via OBDII
Client's car: