The highly popular BMW E46 M3 was introduced for the 2001 model year. Available as both a coupe and convertible, the E46 version of the M3 was powered by BMW's S54 3.2-liter straight-six engine, producing 338 horsepower and 262 pound-feet of torque. A few coveted variants were produced, including the M3 Competition Package (ZCP) and the M3 CSL. Built until 2006, the BMW E46 M3 was replaced by the E90 M3 a year later in 2007. Many enthusiasts argue that the E46 model is the pinnacle of BMW M3s as it was the last naturally aspirated straight-six version ever produced. While modern M3s are faster and more comfortable, they lack the unique recipe of the E46 that gave it its rawness and everyday drivability.
Our customer Gabe Tapia (IG: @ _g9b3) is the proud owner of a beautiful silver 2003 BMW E46 M3. He turned to Vivid Racing to take his M3 to the ultimate level and make it even more of a headturner. Gabe opted to treat his E46 to some new shoes that came in the form of 18-inch Volk Racing TE37SL wheels wrapped in beefy Michelin Pilot Sport tires. These TE37SL wheels are featured in a timeless Pressed Graphite finish with a striking red spoke sticker featuring the Volk Racing / RAYS Engineering logo. This color combination both complements and contrasts the flawless paint job on this E46 to give it a lustrous appeal that will have everyone asking where he got these wheels.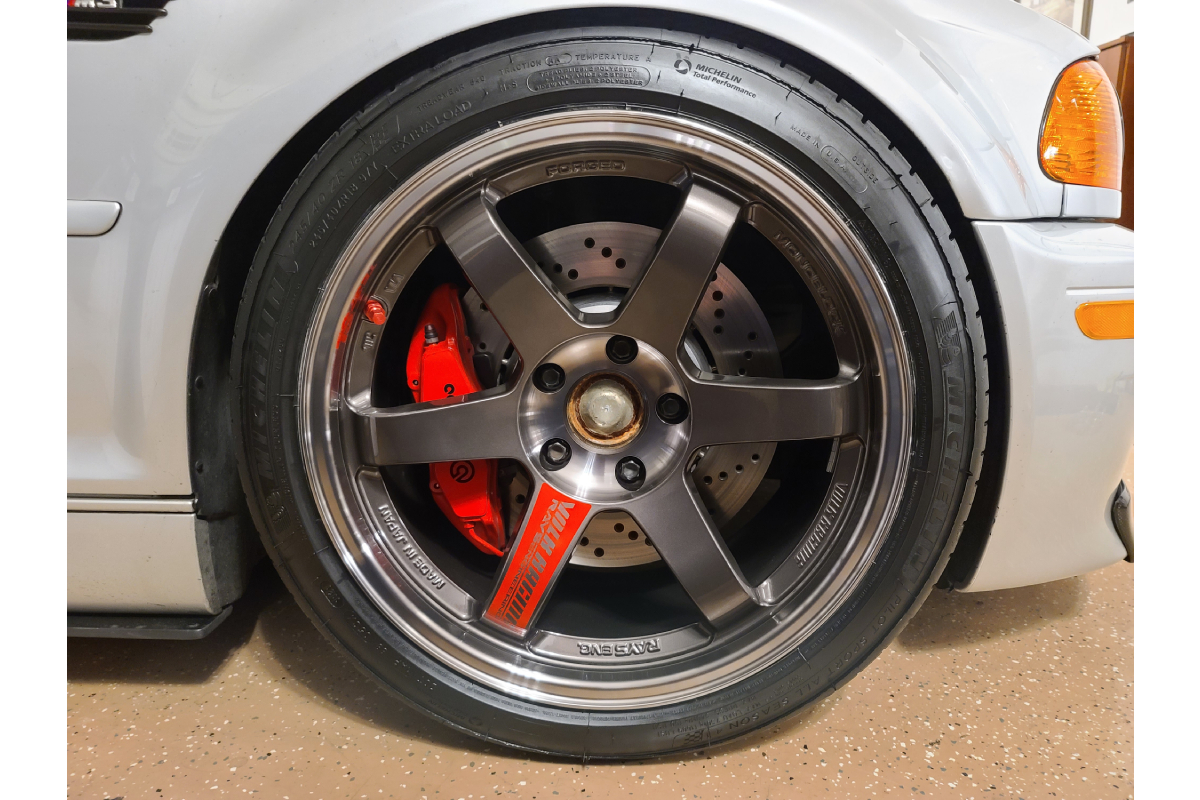 Volk Racing has garnered a solid reputation for manufacturing attractive, high-quality wheels that deliver impressive results both on and off the track. It's no coincidence that this brand has become an all-time favorite among enthusiasts from countries all around the globe. The Volk Racing TE37 wheel is arguably one of the most popular wheels on the aftermarket today. It is both iconic and simplistic with a classic 6-spoke design that delivers timeless styling that suits a wide range of makes and models with perfect fitment.
While the TE37 was already an exceptionally strong wheel to begin with, the Super Lap (SL) edition improves on that by getting rid of even more weight all without sacrificing any of the stiffness. The result is an ultra-lightweight wheel with less un-sprung weight to deliver better track-focused performance than ever before. Thanks to its one-piece forged construction, the new and improved TE37SL is extremely durable and strong enough to stand up to the rigors of daily driving and spirited track days. It's the perfect blend of form and function in a wheel that really enhances the look of this lowered E46 M3.
Features:
Method: Forged 1pc. Wheel
RAYS original test: JWL+R Spec 2
Color: Pressed Graphite (PG)
Included: Euro Aluminum Air Valve (RAYS new logo), Spoke Sticker (Red), Rim Sticker (Red)
Diameters available from 15″-19″
Widths available from 7.5″-11″
Varying offsets available
Additional Modifications:
If you have any questions, please do not hesitate to contact us. You can reach the Vivid Racing team by phone at 1-480-966-3040 or via email at sales@vividracing.com.