The Honda Clarity Touring sedan demonstrates how forward-thinking engineering and design deliver the flexibility and benefits associated with plug-in hybrid technology. The Clarity Touring offers the advantages of an electric car with the freedom of a hybrid. It utilizes a high-capacity battery for longer all-electric driving and, as a traditional hybrid would, uses a gas-powered engine as a backup for when electricity runs low. Not only is it efficient and smart, but the Honda Clarity Touring is also sleek, stylish, and includes countless comfort, tech, and safety features.
Our customer, Robert Cohen, recently purchased some new shoes for his 2018 Honda Clarity Touring sedan. At first glance, the plug-in hybrid sedan catches your attention with its lustrous Moonlit Forest Pearl exterior color. With newly installed wheels and tires, Robert's Honda Clarity exudes an even more aggressive and sporty appeal. He went with 19"x8.5" matte black Niche Vosso wheels with black center caps, which are wrapped in Bridgestone QuietTrack tires. The dark wheels complement the painted calipers and tinted windows beautifully.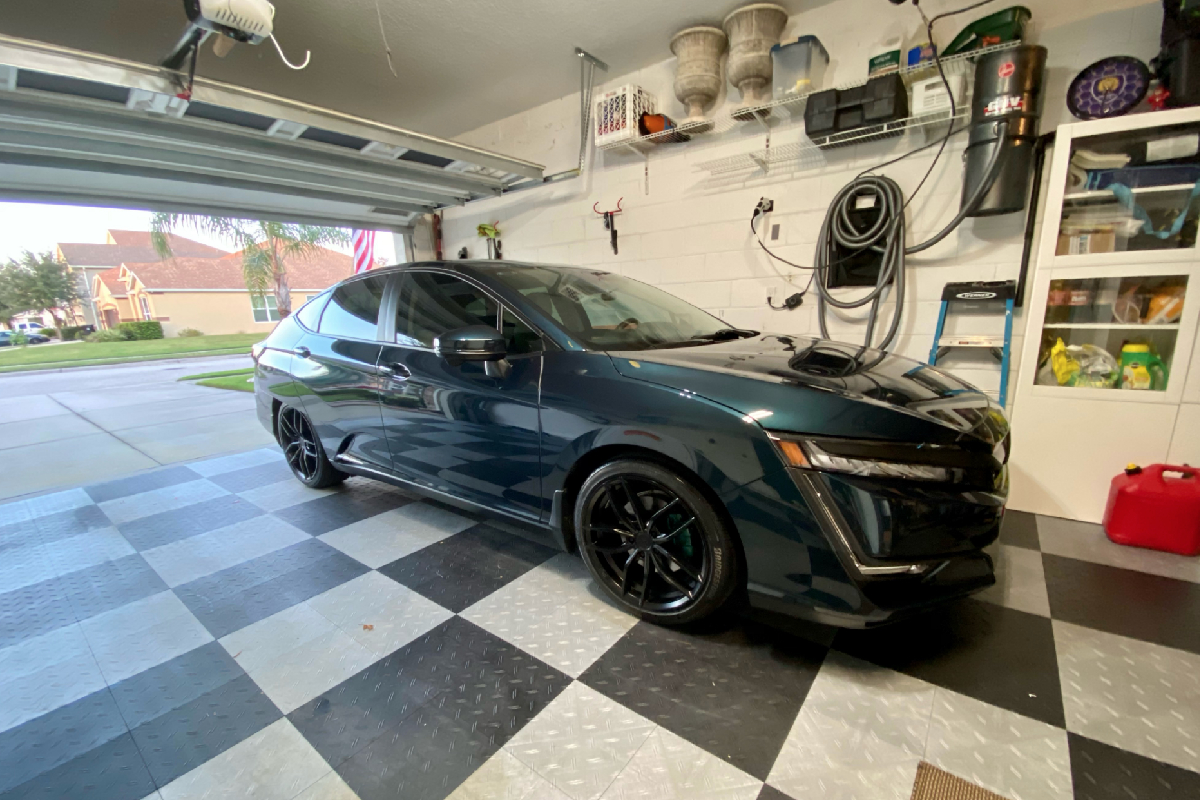 The Niche Vosso wheel features a monoblock design that is cut from a single block of 6061-T6 forged aluminum. This type of wheel allows for the best combination of strength, durability, and lightweight. The Vosso wheel is built for the truest high performance, with a sporty and aggressive look that is sure to transform your vehicle. The Niche Vosso series features 5 split spokes that extend from the center cap to the outer edge of the lip. And, as a cast monoblock wheel, it offers maximum concavity with aggressive staggered fitments and accommodates larger caliper upgrades too.
The Bridgestone Turanza QuietTrack is an all-season, premium touring tire designed for your luxury sedan. These tires deliver a quiet and comfortable ride in dry, wet, and snowy conditions with technology features that include an optimized interior shape, full-depth interlocking sipes, and in-groove quiet tracks. The tires come in 15 through 20-inch sizes and are backed by an 80,000-mile limited treadwear warranty. The Turanza QuietTrack by Bridgestone will provide miles and miles of confident and quiet driving to give you a better experience each time you get behind the wheel.
If you have any questions, please do not hesitate to contact the Vivid Racing team. You can reach us by phone at 1-480-966-3040 or via email at sales@vividracing.com.