The Lexus GX460 is one tough luxury SUV with unparalleled craftsmanship, bold styling, and a harmonious balance of comfort and capability. It shares its basic structure with the Toyota 4Runner, boasting a strong body-on-frame build. The GX460 is a highly capable off-road vehicle with four-wheel drive standard and a potent 4.6-liter V8 engine mated to a six-speed automatic transmission. For those looking for a serious rock climber that still offers a luxury-inspired feel, the Lexus GX460 is a strong contender. And the owner of this 2018 GX460 sought to enhance its overall aesthetic with some serious off-road wheels from none other than the experts at Team Daytona!
The owner of this 2018 Lexus GX460 opted for the Team Daytona M9 Black Edition wheels in 17 inches all around. The wheels measure 17×8 with a +20mm and a 6×139.7 bolt pattern. They are finished in a semigloss black finish that looks great wrapped in those beefy tires and against the underrated Claret Mica factory paint. The unique design of the M9 wheels really gives this GX460 the full-on off-road aesthetic with its criss-cross design and varying-sized windows all around. While the aftermarket certainly has plentiful options when it comes to wheels for your ride, these Team Daytona M9s look right at home on the Lexus GX460 and really accentuate its natural rugged DNA.
The Team Daytona off-road brand has opened up a new niche in the market by offering unconventional wheel designs that transcend the usual approaches by other companies. With its highly functional and visual styles, Team Daytona supports heavy-duty wheels used on vehicles that venture into unchartered territory. For 4×4 off-roaders, Team Daytona has released numerous wheel options with the intention of breaking the mold and pushing the limits further. Enter its popular M9. This wheel boasts wild, American styling and is a first for the Team Daytona brand. These wheels feature an eye-catching Beadlock design that gives these one-piece wheels the appearance of having a multi-piece construction. And now, the M9 is available in an all-new limited Black Edition model.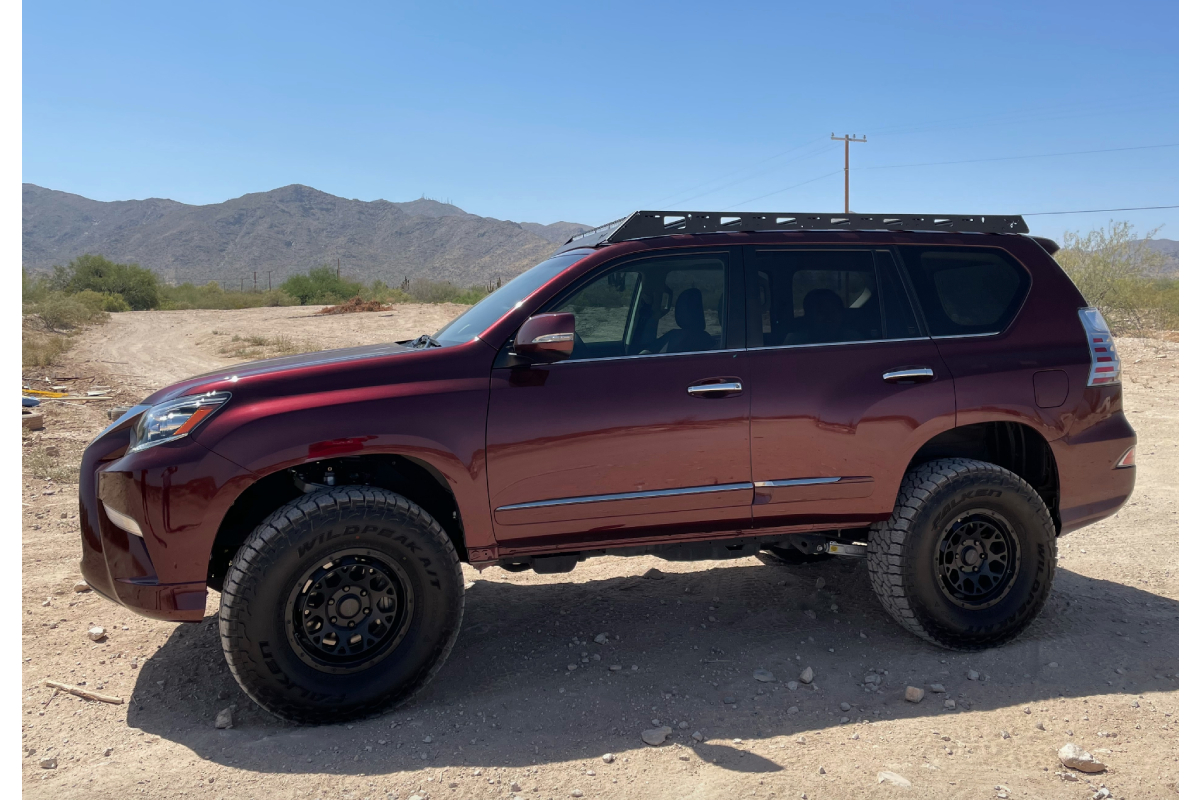 Features:
Black Color: The exclusive color: Semigloss Black for BLACK EDITION expresses the individual fitting.
Center Cap: The center cap is also exclusive to the Black Edition. The forged-aluminum cap integrates into the wheel well.
Beadlock Ring: The undercut part and pierce-drilled part make the face and rim flange look as if separated.
Specifications:
Method: Cast 1-Piece Wheel
RAYS original test: JWL & JWL-T standards
Color: Semigloss Black (BEP)
Included: Air Valve, Center cap (6H model only)
Size: 17×8
PCD: 6×139.7
Offset: 20
Bore: 112
Drill: 29-13

If you have any questions about wheels for your Lexus, please contact us. You can reach the Vivid Racing team by phone at 1-480-966-3040 or via email at sales@vividracing.com.