Take a look at the mod list on this Insanely Modified 2012 Fiat 500 Abarth!
When The Fiat Brand was brought back to the United States, it got a fair amount of praise and criticism alike. The company did a great job of diving in and producing a performance model of their 500 model for enthusiasts. The 500 Abarth was a modified and upgraded version of the standard 500. This model included updated more aggressive styling, up-rated and lowered suspension, Larger brakes and wheels, a hotter engine and performance exhaust. Even though this is a performance model, people still want to get more out of the chassis. Being a light, nimble, turbo charged vehicle, there is a ton of performance left to be extracted. The car below has an entire list of performance modifications which enhance the driving experience and help promote a more enjoyable vehicle. Most of the parts are listed below were purchased from us and available through our retail store. Check out this heavily modified Fiat 500 Abarth and get some inspiration for your own personal build!
To view all of our Abarth Performance Parts CLICK THIS LINK
If you do not see what you are looking for, or have questions regarding products and fitments, please feel free to contact us via phone 1-480-966-3040 or email us at Sales@Vividracing.com.
Chassis & Suspension:
– Bilstein BCBR Dual Adjustable Coilovers
– El Gato Chassis Braces
– DNA Racing Top Strut Bar
– DNA Racing Lower Subframe Brace
– CPR Top Mounts
– Madness Top Chassis Brace
– CPR Rear Chassis Brace
– Neu-F Anti Roll Bar
– Neu-F Rear Bar
– DNA Racing Tie Rod End Links
– Energy Suspension Bump Stops
Engine & Mechanical
– Forge Intercooler
– Forge BOV
– Forge Wastegate Actuator
– MPx 47mm Throttle Body
– MPx Lightweight Pully
– RRM CAI
– PTP Turbo Blanket
– HPSi Boost Retention Valve
– AAD Catch Can
– AAD Torque Strut
– AAD Short Shifter
– Prometeo 6 QT Oil Pan
– Prometeo Steel Skid Plate
– Custom Intercooler Piping for Cold Side return
– Custom Battery Relocation (now behind passenger seat)
– Custom ECU mount (now that battery is gone)
– Awesome FIATTech Oil Fill Cap
– Custom heat shielding in several areas for radiator coolant return and down pipe isolation
– Open Flash Performance Stage 2 Tune
– RRM Engine Cover
– Mini manifold breather filter
– Custom 45mm Turbo Charge Pipe MOD
– AEM Induction Systems Dryflow Conical Performance Air Filter
– NGEN Performance Coil Packs
Exhaust:
– Madness de-cat downpipe
– Custom 2.5 exhaust fabricated by combining Magnaflow Sport Exhaust with NEU-F Exhaust. This means I purchased both systems and combined them for my current setup. Added MBS 100 cell race Catalytic Converter inline underneath the driver area.
– PTP Downpipe Blanket & Lava Wrap
Body:
– Carbon Fiber Front Lip
– Carbon Fiber Rear Diffuser
– Carbon Fiber Hood Scoop
– Carbon Fiber Side Skirts
– Cravenspeed Stubby Antennae
– Cravenspeed Rear Wiper Delete
– Cavallino Front Grill
– Cavallino Front Lip
– Carbon Fiber Intercooler Frames
– Big Ass Rear Wing from Madness (required serious fabrication to install)
– Partial Matte Black Body Wrap (roof)
– Custom Mesh install on Cavallino Grill
– JDM Quick Release Fasteners (keeps the front facia snug)
– MPx Hood Struts replacing the prop bar
Wheels:
– Yokohama S-Drive 215/35 17 Tires
– BBS CS-4 in Anthracite/Silver (these are 4×98)
Brakes:
– Wilwood 6 Piston Front Kit with braided lines
– Wilwood Rear Brake Kit with braided lines
Interior:
– Likewise Neil Diamond Golden Shower and Golden Rod (minor bling 🙂
– Rear Seat Delete
– 2 alternate horns with buttons mounted next to the e-brake. One truck horn (installed) and one available for another horn.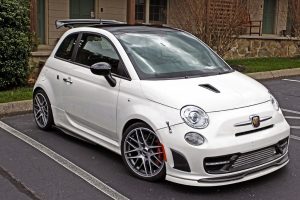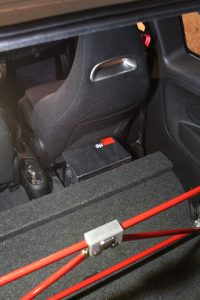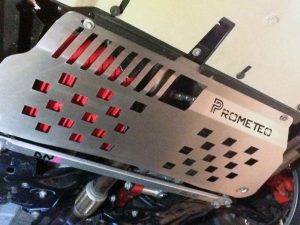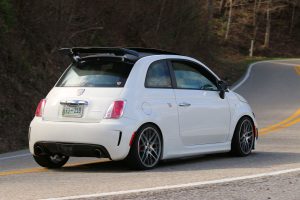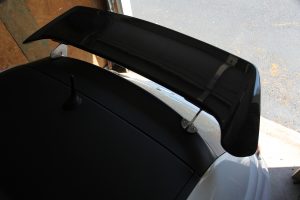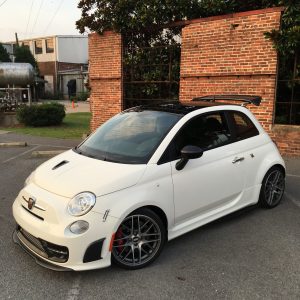 Related Images: