Formed in 2015 as a response to the ever expanding track day and race car markets, EBC Brakes Racing has become a world leader in sport, high performance and race brake pads and discs with a massive range of products. Last summer, EBC Brakes became the first aftermarket braking company to offer uprated pads for the 2021 BMW M3 and M4 variants. These high-performance road/track components are available for G8X-series M cars, and they are a stunning fully floating two-piece discs for the front axle of these acclaimed sports cars. With the new M3 and M4 being hailed as one of the most rewarding driver cars on sale today, this upgrade will give your vehicle impressive performance by offering outstanding braking performance and longevity, especially when driven hard on road and track.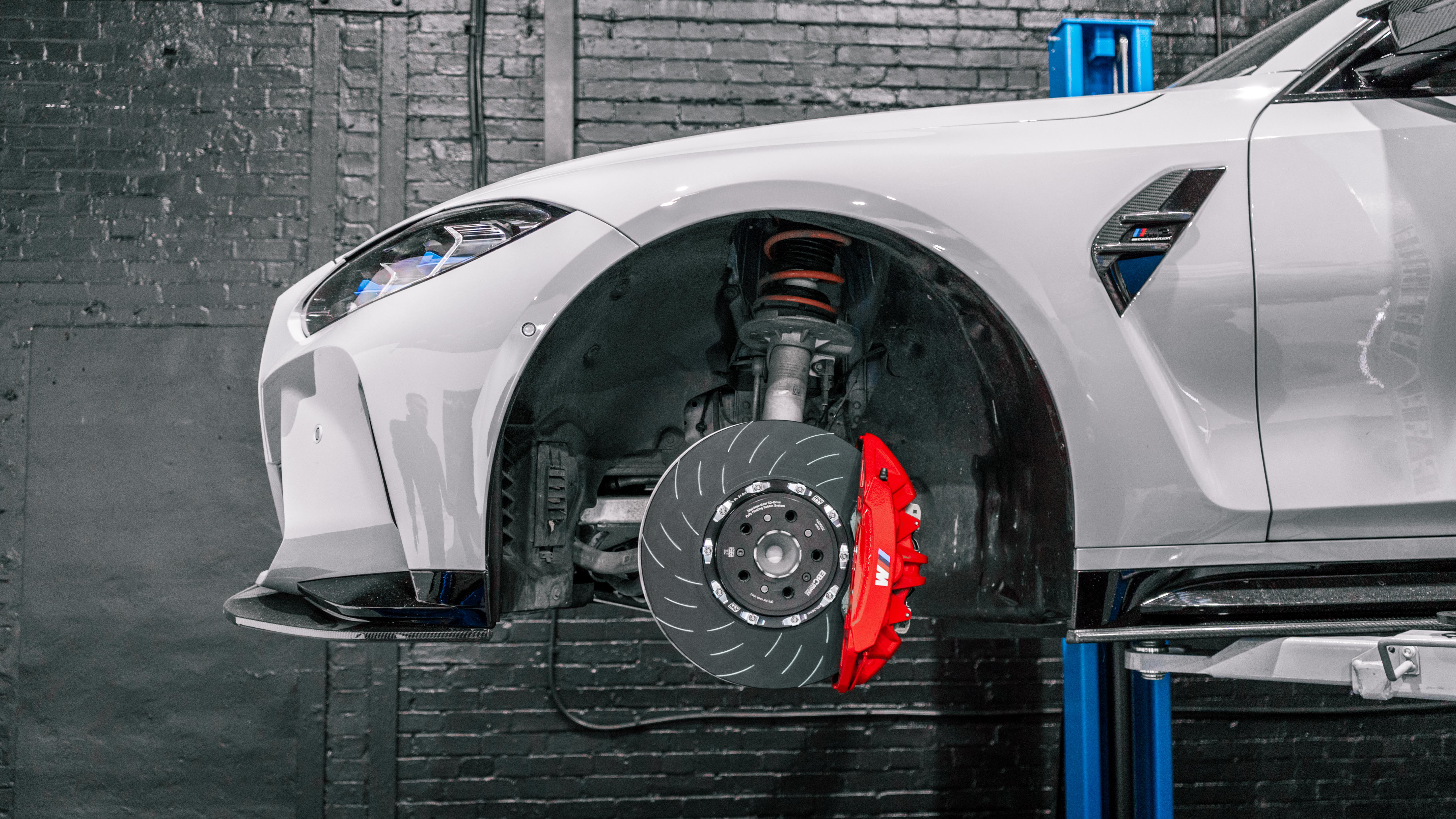 Using their reputation as the world leader in the manufacturing of disc brake components, they did the research and development work for this component alongside several vehicles and companies, including London-based R44 Performance and its G80 M3 Competition. EBC is proud that all its brake pad materials are completely free from heavy metals and sulphides, making them eco-friendly, and this 380x36mm version of EBC's much-loved two-piece floating disc is easy to install as it can be bolted directly on to the front axle of all G8X-series M3 and M4 models (apart from those sporting optional carbon ceramic brakes).
Features:
EBC's 380x36mm two-piece fully floating rotor are a simple bolt-on upgrade that seamlessly replace the original discs without vehicle modification.
Unlike the OE rotors, EBC's SG2F fully floating rotor allows the outer cast-iron friction ring to expand freely with temperature, totally eliminating rotor warping.
Rotors are grooved unlike the original rotors. This allows the pad to vent without the holes becoming epicenters for rotor cracking.
Race-derived G3500-grade high-carbon cast iron is used for the friction rings. This high-quality metallurgy possesses greater crack resistance and an increased ability to conduct and then dissipate heat.
Aluminum bells are machined from aerospace-grade aluminum and then hard anodized for longevity, whereas the stock brake rotors use uncoated cast aluminum bells.
Cast iron friction rings feature 48 curved vanes and are handed for each side of the vehicle. This significantly improves the brake rotor's ability to dissipate heat, increasing brake system endurance and prolonging the onset of brake fade.
Bobbins are machined from stainless steel which cannot rust, ensuring the rotor continues to float freely throughout its entire life cycle on the vehicle, even on road cars.
Spring clips ensure totally silent operation and eliminate off-brake rotor rattle.
Friction rings can be replaced individually after they have become worn, allowing the aluminum bell and stainless-steel bobbins to be re-used, leading to lower long-term operating costs.
Now featuring the latest thermic black corrosion-resistant finish–the very latest in rust prevention.
Over the past 12 months, EBC Brakes has proudly been one of the first aftermarket companies to supply high-performance braking components for the new G8X-series BMW M3/M4 models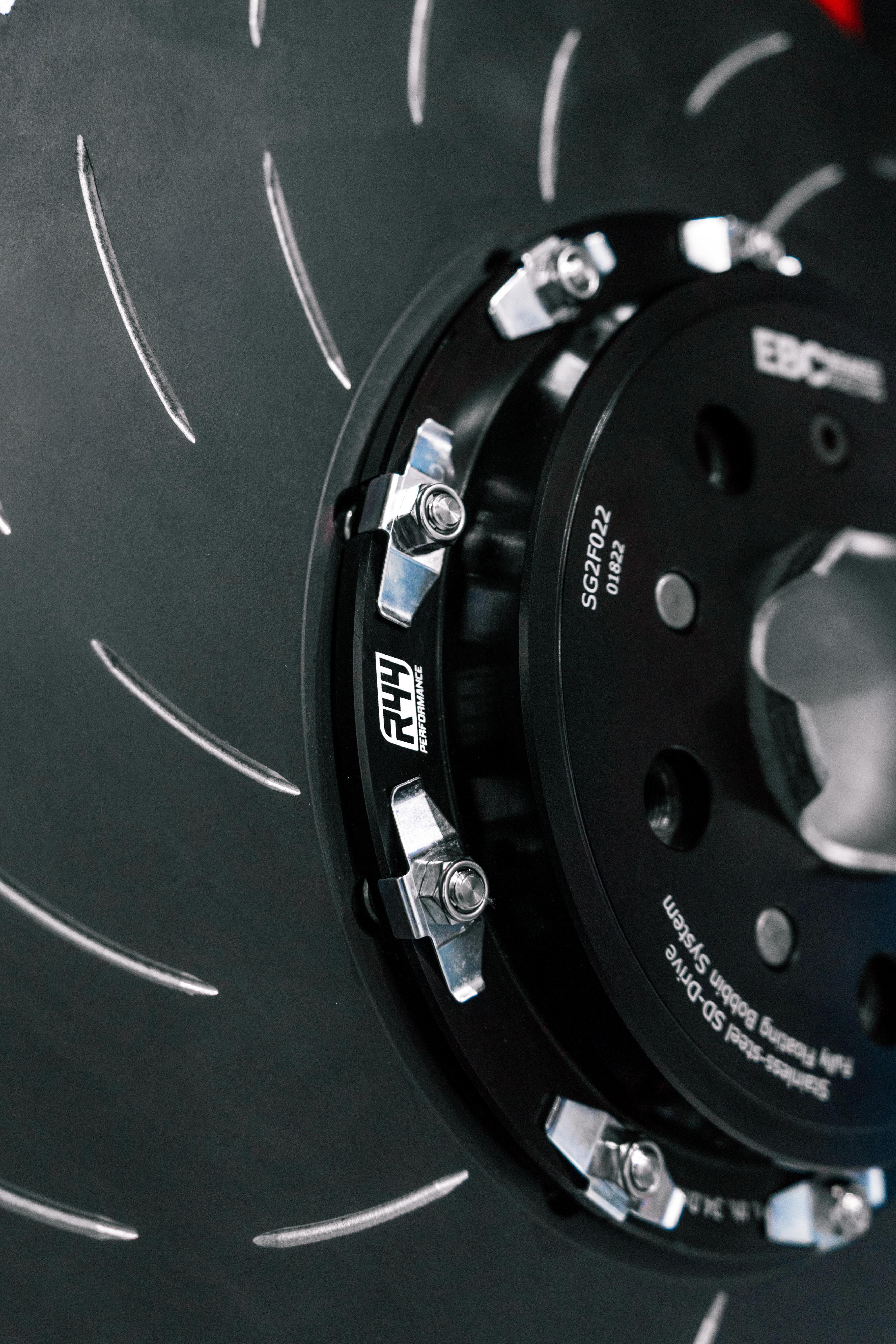 Fitment:
G80 BMW M3 (2021- ) (inc. Competition models)
G82 BMW M4 (2021- ) (inc. Competition models)
G83 BMW M4 Convertible (2021- ) (inc. Competition models)
Note:
Not suitable for vehicles with the optional carbon ceramic brake upgrade installed
If you have any questions about EBC Brakes Racing's Fully Floating 2-Piece Discs for your BMW G8X , feel free to contact us. You can reach us by phone at 1-480-966-3040 or via email at sales@vividracing.com.