A vehicle's exhaust system is used to guide exhaust gases away from combustion inside an engine. The entire system conveys burnt gases from the engine, it collects exhaust gases from the cylinders and removes harmful substances away from an automobile engine. It allows the vehicle to operate with minimal noise, smoke, and pollution transmitted to the environment. A properly maintained exhaust system is essential to the clean and efficient operation of the car and it is a crucial part of your vehicle. An exhaust system helps improve your car's overall performance, increases fuel efficiency, keeps exhaust fumes away from you and your passengers, and controls the amount of noise coming from your car.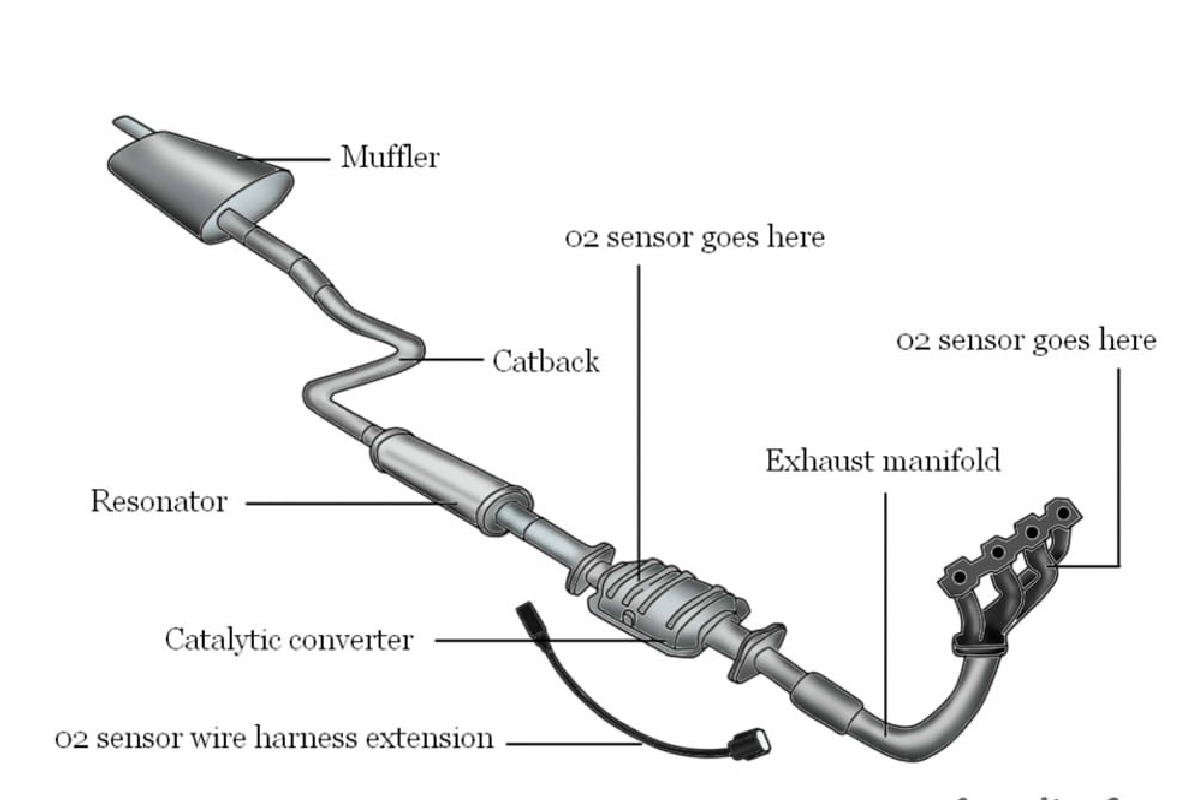 A car's exhaust system may include one or more exhaust pipes and mostly made by steel, stainless steel, nickel alloys and titanium. In this article we will explore exhausts made from stainless steel and titanium, the pros and cons of both of these materials and at the end of the article you will get to know which one is better between the two.
Titanium Exhaust Systems
Have you ever considered upgrading to titanium exhaust system, it is one of the most loved upgrades that car enthusiasts make. Unlike steel, which is an alloy made of iron and carbon, titanium is an element on the periodic table. It has an atomic number of 22, and even though it shares many chemical properties with other metals like iron and aluminum, titanium stands out from the pack in several ways.
Titanium exhaust systems are usually lighter and way stronger than exhaust systems made from any other alloy material. Titanium exhaust systems are also known for dissipating heat better and their aesthetically pleasing look. Titanium is about 45% lighter than steel, with a density of 4.51 g/cm3 compared to steel's 7.8 g/cm3, titanium has the highest strength-to-weight ratio of any metal, whether element or alloy. For its weight, titanium is by far the strongest metal out there and its exhausts can easily match the strength of comparable steel parts at a reduced weight.
Pros of Titanium Exhaust System
Most car enthusiasts who upgrade to titanium exhaust systems do so because they are lighter in weight and hence give the same effect to your vehicle, they are also more durable, improve a car's overall handling and performance and they also look aesthetically pleasing. Titanium is highly resistant to corrosion, stains, and rust. This, along with its reduced weight, allows titanium exhausts to generally last long compared to steel exhaust systems. Titanium also dissipates heat more effectively than steel and cools quickly and this extends its lifespan.
There is also a noticeable difference in sound when comparing Titanium to your standard Stainless Steel exhaust system, this is because Titanium is less dense than steel and hence it to produces a more exotic "Metallic" sound.
Cons of Titanium Exhaust System
The main drawback to Titanium exhaust systems is that they are usually more expensive than stainless-steel exhausts, but apart from they may also may crackle easier, and possibly droning due to their thin walls.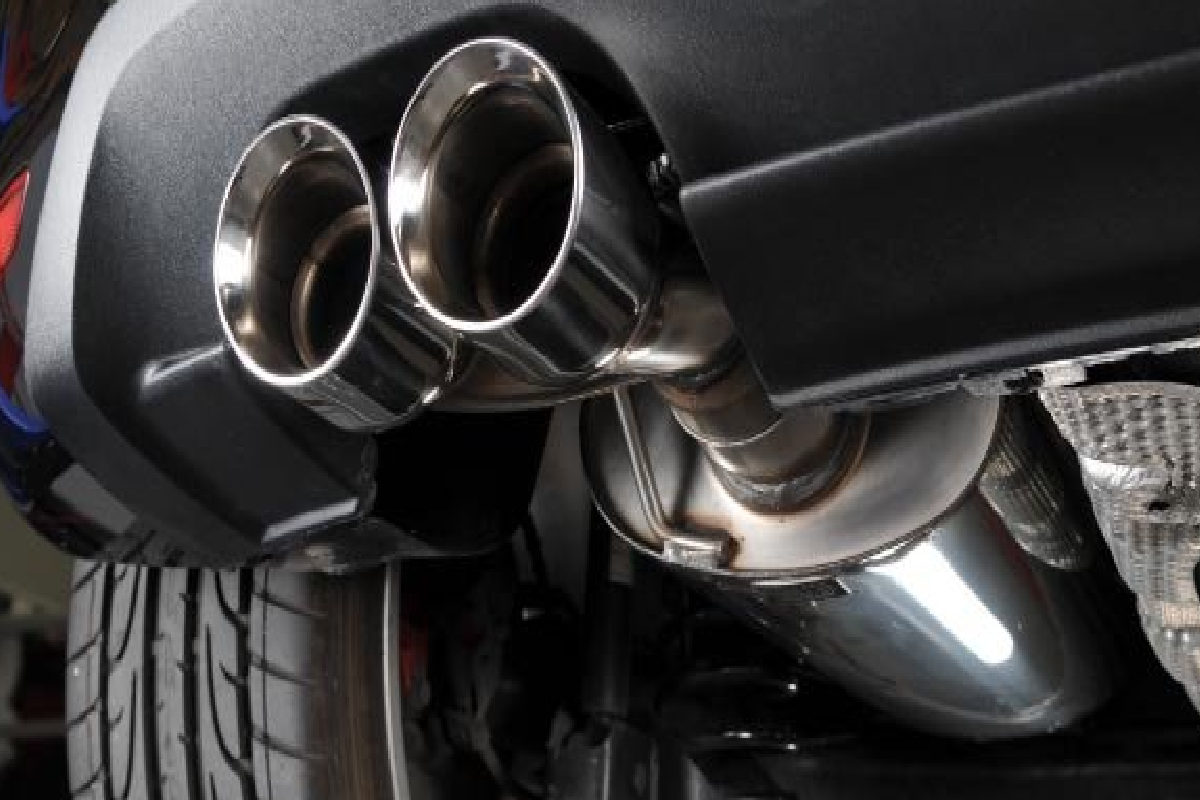 Stainless Steel Exhaust System
Stainless steel is an alloy metal made from iron with 10-20 percent chromium and is well known for its resistance to corrosion. That's the biggest reason as to why stainless steel is one of the most commonly used materials. Exhaust systems made from stainless steel are cost effective, high in strength, and have corrosive resistant properties. Steel is stronger and harder than titanium and it also possesses a higher modulus of elasticity (how much it resists bending and warping) and a greater scratch resistance.
Pros of Stainless Steel Exhaust System
Stainless steel exhausts are reasonably affordable and because the system is made of this material, the exhausts turns out to be strong and durable. You should also know that a stainless steel exhaust will last for a lifetime and not rust or corrode even when they're scratched or scarred. Stainless steel exhausts are known for their quality, for being efficient and also for drastically improving the performance of a vehicle. Stainless steel exhausts also look good and can be polished.
Cons of Stainless Steel Exhaust System
Apart from cost of fitting the exhaust, rigging a new exhaust is an arduous and a technical process. Many car enthusiasts find stainless steel exhausts less aesthetically appealing long term, the surface of the stainless steel exhaust pipes will indeed get dis-colored, and that happens mostly due to heat.
When it comes down to it though, most car enthusiasts have given their personal praises when it comes to the lightweight that comes with having titanium exhaust system compared to a stainless steel one, weight reduction is the easiest and most inexpensive way to make any car faster, by dropping weight, you can improve your car's acceleration without making any additional horsepower and that's why majority of people prefer titanium exhausts. A stainless steel exhaust though is very cost effective compared to titanium even though titanium produces better exhaust sound compared to a stainless steel exhaust. When it comes to appearance, titanium seems to be taking the crown as stainless steel suffers discoloration after a long time use. Heat has a different effect on both, even though you can still polish the stainless steel exhaust.
Compared to stainless steel, the titanium exhaust offers quick dissipation of heat, and they also instantly cool the pipes making them much safer than steel. Even though corrosion can affect the appearance of a stainless-steel exhaust, titanium exhausts are made to be strong and rigid, balancing power and flow effectively, without compromising the quality or performance of the exhaust system. A titanium exhaust is manufactured to prevent rust and decay and can also protect your exhaust from premature wear and tear.
It is also know that titanium exhaust improve the handling and acceleration of your car or motorcycle, with it you'll have the opportunity to generate speed much quicker than you would with any stainless-steel one. A low-density exhaust, like titanium, makes it easier to work with and install while stainless-steel exhausts have a high density to weight ratio, and hence they are considered to be less effective than their titanium counterparts. It is for these reasons that installing a titanium exhaust system is a better option than a stainless steel exhaust.