The Ferrari F8 is a mid-engine supercar built by a world-renowned Italian manufacturer that is recognized for its stunning road cars and stellar racing pedigree. The F8 is offered as a Tributo Coupe and as a Spider hardtop-convertible. Both variants boast a whopping 710 horsepower and 568 pound-feet of torque by way of a 3.9-liter twin-turbocharged V8 engine. All models are rear-wheel drive and are mated to a seven-speed automatic transmission. It's safe to say that the Ferrari F8 is quick to make an impression (no pun intended), even at a mere standstill. While the Italian supercar doesn't need much help in the aesthetics department, treating it to some new shoes can really take it to the next level. And that is where Avant Garde Luxury wheels come in.
Avant Garde wheels are known for their distinctive designs and custom configurations. The Avant Garde Luxury (AGL) division is at the top of the aftermarket luxury wheel sector with numerous designs, fitments, and finishes. Each wheel from the AG Luxury collection is crafted in-house from aerospace-grade 6061-T6 forged aluminum using precision CNC machining for ultimate durability. The result is a quality wheel with superior strength that delivers devilishly handsome looks all without compromising overall performance.
The Ferrari F8 pictured in the gallery below sits beautifully on Avant Garde Luxury AGL64 monoblock wheels. The wheels measure 21×9 inches at the front and 22×12.5 inches at the rear. They are finished in a stunning polished antique bronze color with a contrasting matte black face that delivers the ultimate three-dimensional aesthetic to complement the signature Ferrari red exterior flawlessly.
Avant Garde AGL64 Wheels
Custom bolt patterns, offsets, and finishes available
Available in Sizes 19″, 20″, 21″, 22″, 24″, and 26″
Available Wheel Configurations:
Monoblock
Dual Block
3-Piece Flat Lip
3-Piece Step Lip
Standard Center Profile
Concave Center Profile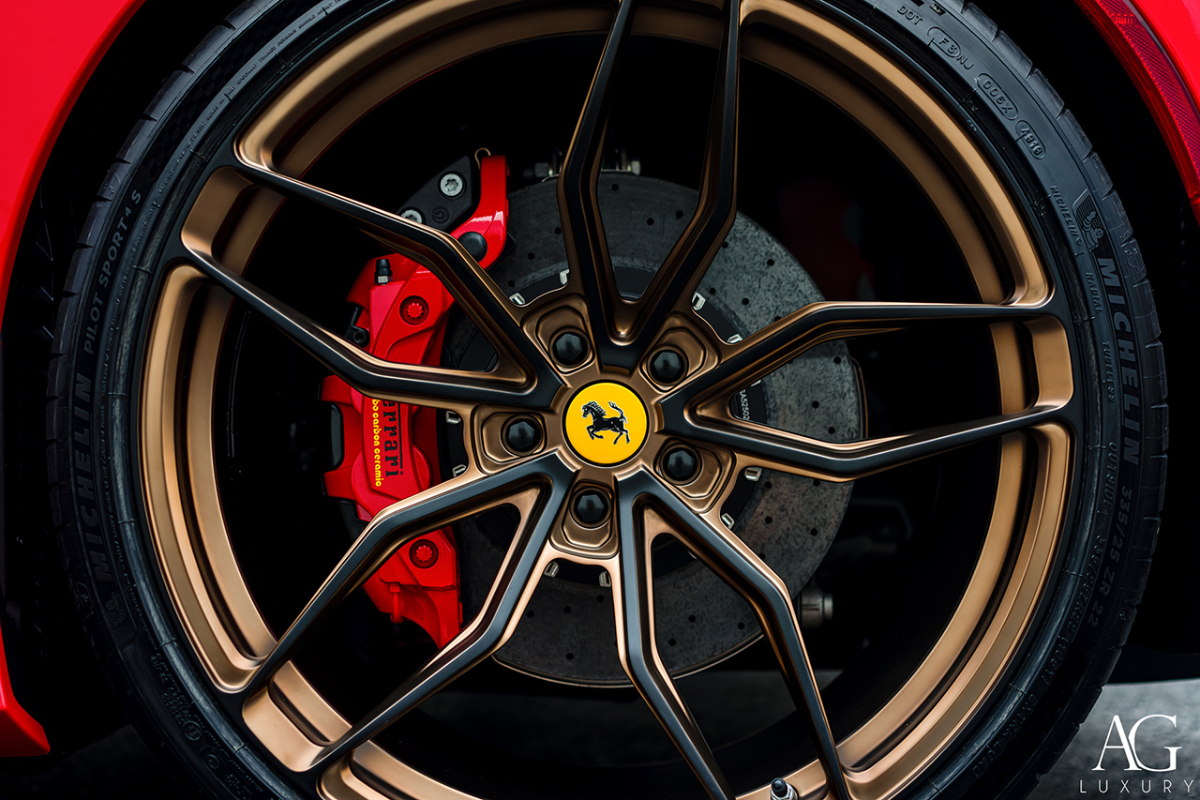 Ferrari F8 Gallery Below:
Design: AGL64 Monoblock
Size: 21X9″ / 22X12.5″
Finish: Polished Antique Bronze w/ Matte Black Face
If you have any questions about Avant Garde or the wheels shown above, please contact us by phone at 1-480-966-3040 or via email at sales@vividracing.com.