Throughout the years, the Jeep Wrangler has gotten consistently better in nearly every way. Unfortunately, there is one aspect of the Wrangler that has not improved over the years: power. Sure, modern Wranglers have more power than previous generations, but they're also heavier.
To put it simply, the Wrangler (and now Gladiator) are underpowered and sluggish. In the case of the Gladiator, eventually, there will be a diesel engine available, but for now, Gladiator owners are stuck with the 3.6L Pentastar V6 engine.
The Best Power Adder
Money aside, arguably the best solution to increasing power in a Gladiator is to swap in a V8. Unfortunately, engine swaps are incredibly expensive and out of the question for the majority of Gladiator owners. The next best solution for increasing power is to simply force more air into the engine, which is where Magnuson comes in with their new TVS1900 Supercharger kit.
This specific kit uses a TVS1900 supercharger assembly with an integrated intercooler system. To put it simply, this kit is the more efficient supercharger kit available for the JT Gladiator. Thanks to the Roots design, power is linear and nearly instant, meaning there is no delay. If you put your foot on the gas, the supercharger starts working immediately!
Baseline Testing
As with all big power adder installs at Vivid Racing, we started the installation process by putting the Gladiator on our dyno to get some baseline numbers. By identifying exactly how much power is being put to the ground in stock form, we'll know exactly how much power and torque the supercharger adds.
Unfortunately, our location in Gilbert, Arizona, is pretty warm. Our baselines runs were done in around 100F ambient temperatures, which skews the power numbers a bit low. To give us more consistent results, we ran the Gladiator three times. This helps to eliminate the possibility of incorrect data.
With the high ambient temperature and increase drivetrain loss from the larger wheels/tires, our baselines tests put the Gladiator around 205whp and 195wtq. Given the circumstances and the stock power output of around 280hp, the dyno numbers are about what we expected.
Supercharged Performance
Once we had our baseline figures, we took the Gladiator apart and began the installation of the Magnuson Supercharger kit. Since the kit includes everything you need, including tuning, installation can be done in your garage, but we do recommend having it professionally installed because it is a complicated process.
The big benefit of using a Roots style supercharger is the linear power gains and power delivery. Since the supercharger doesn't need to spool up and produces a consistent amount of boost through the RPM range, power is increased throughout the entire RPM range.
As our testing showed, peak power was measured at 309whp with the supercharger installed. Compared to stock, this about a 100whp increase with massive gains in low and midrange torque too! Of course, with lower ambient temperatures and higher octane fuel, you can find much better power gains than we did during our testing.
During our road testing, we measured 0-60 in the supercharged Gladiator at 7.8 seconds, which is nearly 4 seconds faster than our non-supercharged 0-60 tests!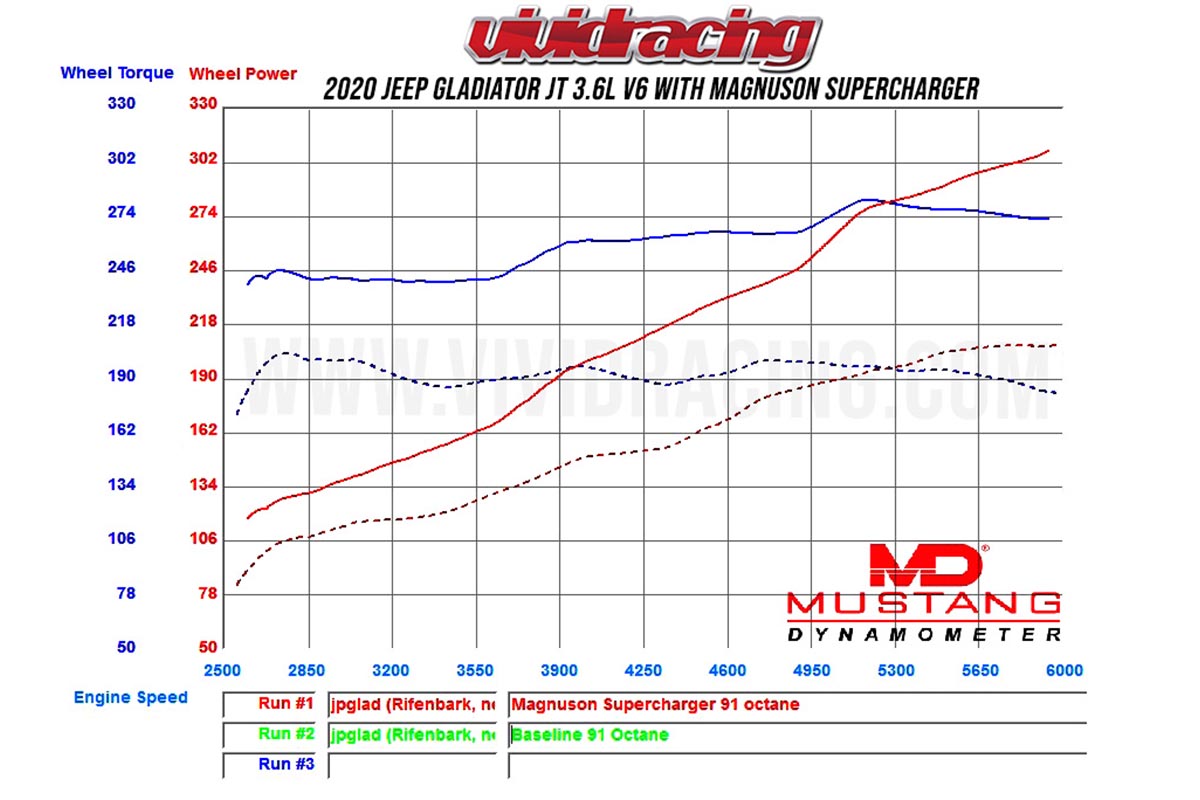 How to Get Yours
Ready to increase the power on your Jeep? We've got you covered. You can learn more about the Jeep JT Gladiator TVS1900 supercharger kit from Magnuson and order yours here. If you have any questions about this supercharger kit or any other Jeep parts, send us an email sales@vividracing.com or call 1-480-966-3040.