The BMW M8 represents the pinnacle of performance and prestige in the German marque's most luxurious sports car. The M8 Coupe is powered by a healthy twin-turbo 4.4-liter V8 that delivers 600 horsepower on the regular model and an additional 17 ponies on the Competition version. Both models are mated to an eight-speed automatic transmission. And with that much power, you need the best suspension system possible to truly enjoy all that the M8 has to offer.
The technology behind the incredible suspension on the M8 models shows us that BMW built this car with the track in mind. What's more, the Competition model sharpens up the suspension a bit and includes the "Track" mode, which turns off the driving aids and stability control, if selected. On top of that, the M8's all-wheel-drive system offers three different working modes: 4WD, 4WD Sport, and 2WD, so it can ultimately change from the standard all-wheel-drive sports car to a full rear-wheel-drive beast.
With all that being said, KW Suspensions is proud to announce its new Variant 4 Coilover Kit for the 2020+ BMW (F92) M8 Coupe and M8 Competition with Electronic Damper Control (EDC). KW's new Variant 4 Coilover Kit features three-way adjustable dampers with stainless steel coilover struts to enhance your sports car's driving dynamics. The high-performance shock absorbers boast independent adjustment of rebound and low speed, as well as high-speed compression damping.
Based on the successful racing technology of multiple winners of the ADAC Zurich 24h Nurburgring, this kit combines the demand for continuously adjustable lowering with increased handling, improved ride comfort, and superior driving performance. The cutting-edge technology used in designing this vehicle-specific kit also ensures a great improvement in the M8's cornering stability at high speeds. The coupe body's tendency to roll in fast corners is, therefore, greatly reduced too.
KW suspensions developed the Variant 4 Kit with the focus on driving enjoyment while also taking vehicle dynamics to the next level. KW's factory-set performance settings can be easily changed at any time to a comfort-oriented setup. Featuring 16 precise clicks, the rebound forces can be set for firmer handling or more comfort without issue. Using the two compression adjuster wheels directly on the damper, you can seamlessly adjust the steering behavior in addition to other factors like tire grip and ride comfort.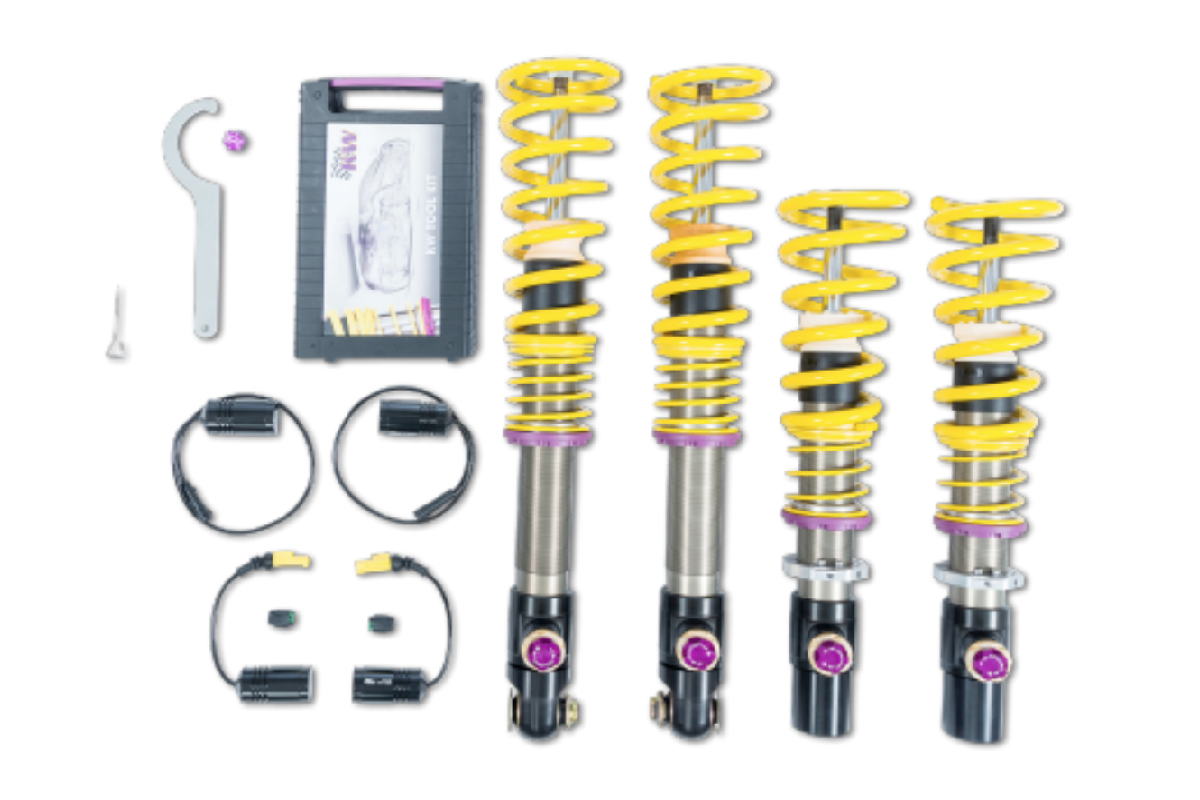 Features:
3-way adjustable high-performance dampers with coilover struts made of stainless steel
Separate and independent damper setup in:
Rebound damping with 16 exact clicks + (tighter) / – (more comfortable)
Low speed damping with 6 exact clicks + (tighter) / – (more comfortable)
High speed damping with 14 exact clicks + (tighter) / – (more comfortable)
Two basic setups with comfort adjustment and performance setup
Depending on the car, the aluminium top mounts are an integral part of the delivery
Fitment: 2020+ BMW M8 Coupe (F92) and M8 Competition with EDC
If you have any questions, please do not hesitate to contact us. You can reach us by phone at 1-480-966-3040 or via email at sales@vividracing.com.