Chances are you bought a Jeep Wrangler to do cool things and one of those includes taking the top off for your adventures. That being said, when the factory hardtop is removed, the revealed surface is left exposed and becomes prone to scratches and damage. The experts at aFe Power came up with a solution that is both tough and off-road inspired to help protect this specific surface and enhance the look of your Jeep too. Introducing aFe's Terra Guard Tub Rail Covers for the 2018-2022 Jeep Wrangler JL. These rail covers quickly and easily act as a line of defense for those exposed body tub rail surfaces and add a rugged finished look for when you remove your JL's hardtop.
The aFe Power Terra Guard Tub Rail Covers for the Jeep Wrangler JL are crafted from a durable rotomolded polymer material that is both UV- and scratch-resistant; so you can rest assured that this product can hold up to anything thrown its way. On-road or off-road, the unique tire tread design of this product repels any condensation, spills, or splashes to drain to the outside of your Jeep rather than to the inside. The unique textured surface of these tub rail covers helps with grip, as well, when accessing top-mounted storage containers or surveying the trail ahead.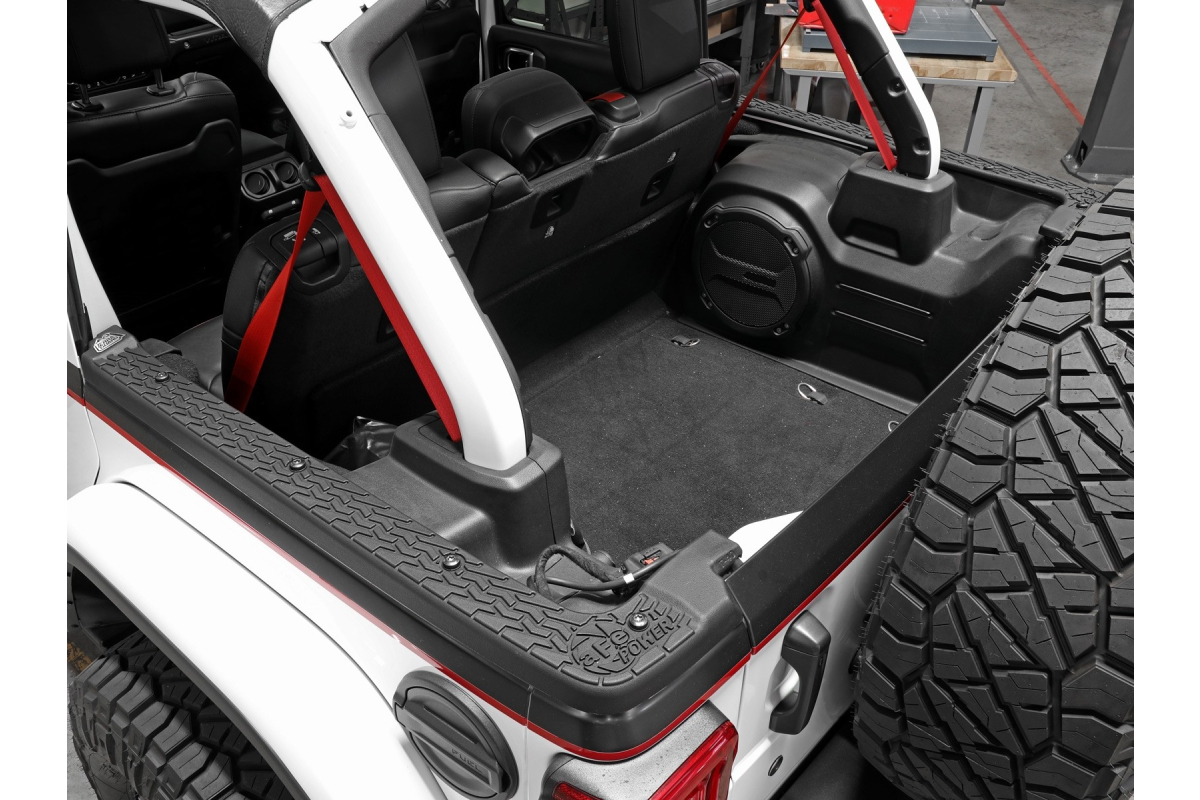 Engineered using 3D laser scanning and CAD software, the Tub Rail Covers are designed to be an ideal fit for your Wrangler for a seamless installation process. And although not all vehicles are built the same, the oversized mounting holes allow for precise placement to align with your Wrangler's door jams before securely fastening into place for the perfect fit and finish. These covers should be installed when the factory hardtop is removed. After the quick install, these covers will ensure that the painted body tub rail surface is never exposed long enough to be damaged. Whether using the factory hardware or the optional Stainless Steel security screws [P/N: 79-90001], both can be stored into the same factory tray holder in the back of your Jeep, so they are never misplaced.
Features:
Protects the Exposed Painted Surface when Hard Tops are Removed.
Unique Tire Tread Pattern with Spill Groove Prevents Water from Entering the Vehicle.
Durable, Scratch and UV Resistant Polymer Material.
Uses Factory Mounting Locations and Hardware.
Optional Stainless Steel Security Hardware Kit Available.
Fits 4-door models w/ 3-piece hard top only.
Fitment: 2018-2022 Jeep Wrangler JL
Note: This item will only fit 4-Door models equipped with the factory 3-Piece Hard Top. All brackets and door surrounds from soft top equipped vehicles would have to be completely removed for compatibility.

If you have any questions about aFe or any of its products, please do not hesitate to contact us. You can reach us by phone at 1-480-966-3040 or via email at sales@vividracing.com.