aFe Power has just announced its SCORCHER BLUE Power Module is now available for the 2019-2020 Ford Ranger equipped with the L4-2.3L (t) engine. The aFe SCORCHER BLUE is the next generation of plug-and-play electronic module technology. It is the quickest way to safely gain significant gains in horsepower and torque, while also improving drivability without modifying or leaving any trace on the Engine Control Unit (ECU).
The SCORCHER BLUE Power Module features an LED control switch for in-cabin, on-the-fly power adjustments with different preset modes. With Bluetooth 4.0 connectivity, you can tap into your iOS or Android device to make power adjustments, custom tune different power modes, view gauges for engine parameters, upgrade to the latest revision, measure acceleration times, and more! The app is available to download for free on the App Store or Google Play store. This ultimately allows your smartphone device to become a handheld remote for the module.
The SCORCHER BLUE Power Module increases your Ford Ranger's turbo boost and overall performance, producing double-digit power gains as proven by aFe's in-house dyno. It is loaded with four settings and identifiable with the LED light on the switch or on the smartphone app. The modes are: Stock (Green), Sport (Yellow), Sport+ (Orange), and Race (Red). In-cabin, on-the-fly power adjustments can be made to accommodate all your driving needs. Simply select one of the power settings on the LED control switch or control the module remotely on your phone.
Designed with factory-style connectors, this product easily connects to your Ranger's engine sensors for a quick and easy installation process. The LED control switch can be routed through the firewall into the cabin or connect via Bluetooth with the free smartphone app.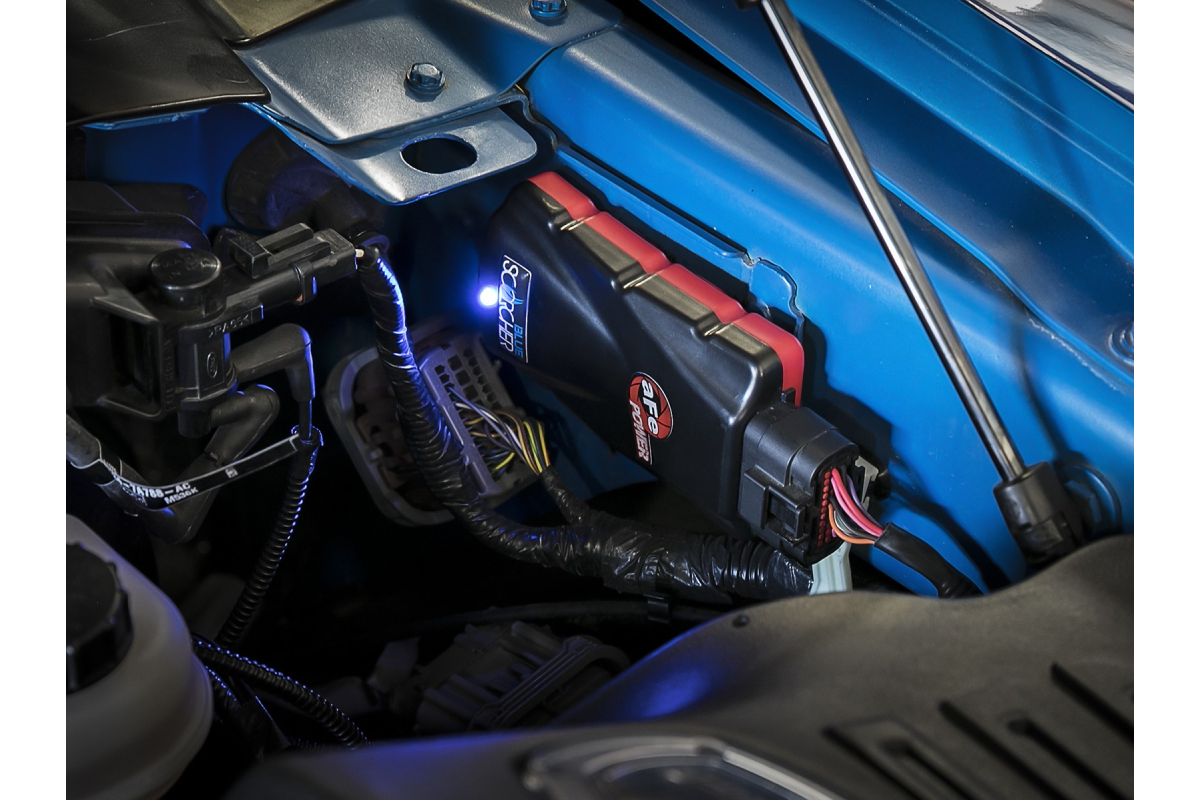 Features:
Next-generation of plug&play Bluetooth power module
Dyno-tested power increases of +13 hp / +23 lb-ft. torque in race mode at 3,000 RPM
Increase Turbo Boost to Improve Vehicle Performance, Efficiency, and Throttle Response
In-Cabin On-the-Fly Power Adjustments via LED Light Switch or Smartphone App
Bluetooth Connectivity to your iOS or Android Smartphone to Adjust Power Modes, Custom Tune Power Modes, or Upgrade the Device to the Latest Version
Four Power Position Settings: Stock (Green), Sport (Yellow), Sport+ (Orange), and Race (Red)
Does Not Modify the ECU and Leaves No Trace (No Footprint)
Fitment: 2019-2020 Ford Ranger L4-2.3L (t)
Note: aFe POWER does not recommend using the SCORCHER BLUE module with any other tuners or modules. aFe POWER recommends that only Sport or Sport + settings are used during towing.
Emissions Disclaimer: This product is not currently CARB exempt and is not available for purchase in California or for use on any vehicle registered with the California Department of Motor Vehicles.
If you have any questions, please do not hesitate to contact us. You can reach us by phone at 1-480-966-3040 or via email at sales@vividracing.com.