aFe Power just released its popular Silver Bullet throttle body spacer for the 2020-2021 Chevrolet Corvette (C8 (6.2L V8). Silver Bullet throttle body spacers create turbulence in the airflow at the point just before entry to your car's engine. This increases performance while also improving throttle response and fuel efficiency. This product was dyno tested with proven gains of 7 horsepower and 9 pound-feet of torque using aFe's own air filter. If you are looking for a throttle body spacer that will deliver more power and a more responsive driving experience, then look no further than the air induction experts at aFe Power.
The aFe Power Silver Bullet throttle body spacers feature a unique serrated/helix combination design that generates turbulence in the intake manifold. This turbulence increases the air pressure in the combustion chamber, resulting in improved performance, power gains, and better overall throttle response. The serrated/helix design also reduces the less-than-desirable intake whistle that often occurs with helix-only designs.
The Silver Bullet throttle body spacers are precision machined from 6061-T6 billet aluminum because of their lightweight and high-strength properties. This product boasts perfect fitment and a long-lasting finish available in both dazzling silver and anodized black for a stealthier look. Installation is super simple as the Silver Bullet uses all of your C8's factory mounting locations. The kit includes an O-ring and silicone coupling to guarantee perfect fitment and a secure seal so as to ensure effective airflow with the stock (or aFe's) air intake system.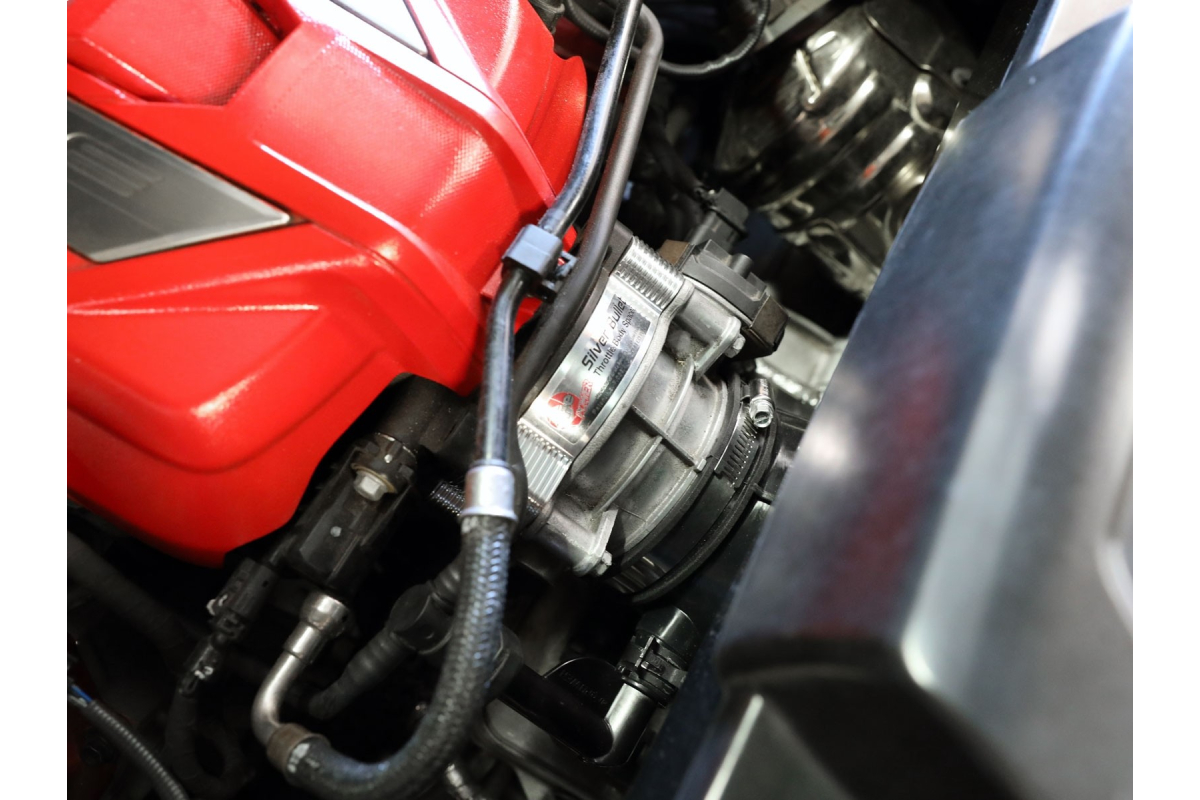 Features:
Dyno-Proven Gains of +7 HP and +9 lb-ft TQ (dyno tested w/ aFe POWER air filter 10-10148)
CNC-Machined from Durable 6061-T6 Billet Aluminum
Choose Silver or Black Anodized Finish for a Stealthy Look
Unique Serrated/Helix Entry Design Creates Turbulence and Reduces Whistle Sound
Increases Air Speed, Improving Performance and Throttle Response
Includes High-Temperature Silicone Coupling, O-ring, fitting, and clamps
Works only with factory air intake system
Fitment: 2020-2021 Chevrolet Corvette C8 (6.2L V8)
Installation: As the engine is only accessible from the trunk of the vehicle, this installation requires removing the engine cover between the trunk and the engine to access the air intake and will take approximately 1 hour to complete.
If you have any questions about aFe or its products, please do not hesitate to contact us. You can reach us by phone at 1-480-966-3040 or via email at sales@vividracing.com.