For nearly three decades, Baja Designs has been at the vanguard of off-road lighting, offering quality performance lighting solutions for a variety of vehicles and applications. Baja Designs boasts a comprehensive lineup of parts with something for virtually every kind of driver, rider, and adventure-seeker. The brand has earned a solid reputation for delivering the highest-performing LEDs on the market to provide brighter, bolder, and safer lighting solutions when compared to the less-than-favorable stock ones.
This is especially true for Jeep owners, who know that the factory lights on their vehicles leave much to be desired despite the off-road prowess associated with the marque. That being said, Baja Designs has recently announced its all-new lineup of products for Jeep JL and JT models, including new bumper kits for both models equipped with the steel bumper and plastic bumper.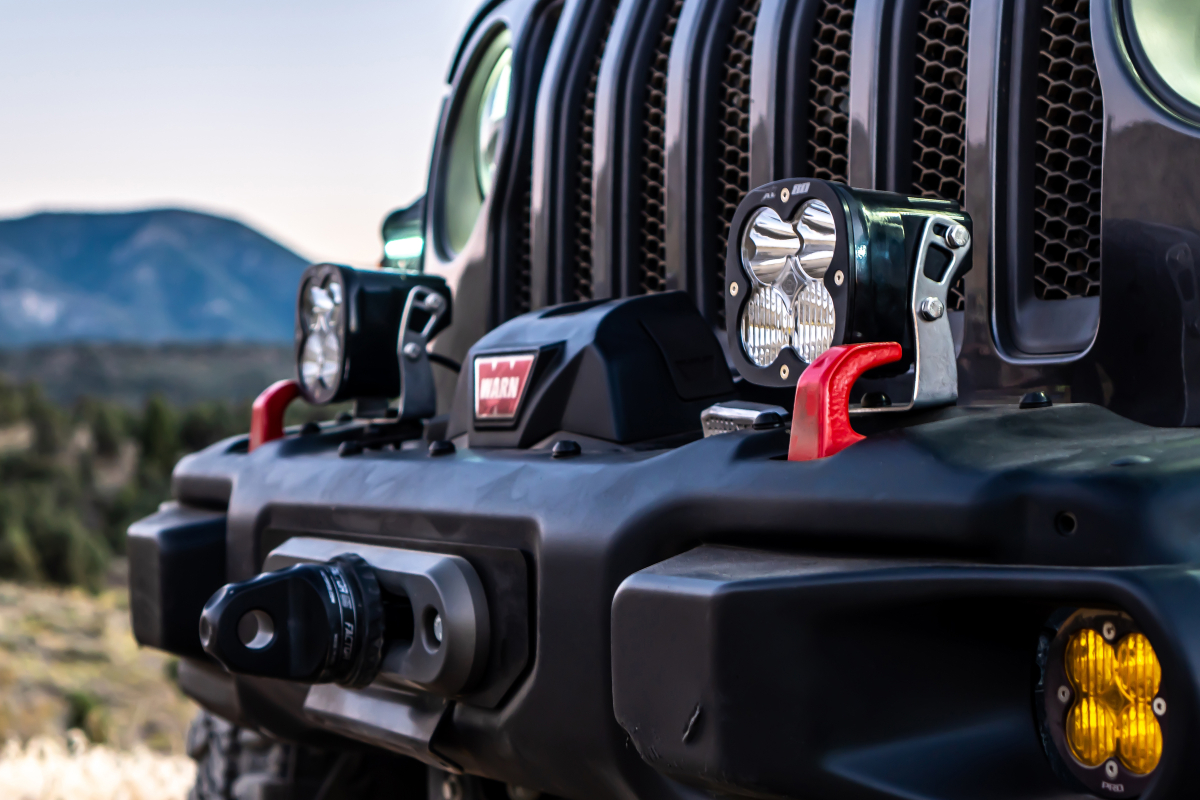 This new lighting and wiring kit has been tested on Jeep JL/JT models with both the steel and plastic bumper to take the guesswork out of installation. The LP4 auxiliary light is the smallest variant in the LP lineup but maintains all of the power and features its siblings have. The LP4 pumps out a total of 8,750 lumens and a 200-degree spread of useable LED light. This light delivers 7,050 forward-projecting lumens and 1,700 lumens of dedicated peripheral lighting courtesy of Baja Designs' patented Integrated Peripheral Technology (IPT).
To keep your light performing at its best, the LP4 integrates the brand's proprietary Direct Ducted Cooling (DDC) technology as well. This feature allows air to travel through the front of the housing, over the rear heat sinks, drastically improving cooling capacity and performance. With an amber day-time running light that boasts less driver fatigue and more natural lighting, the LP4 will fulfill all your needs no matter where you go.
Baja Designs Features:
Satisfaction Guarantee – 30-Day Money-Back Guarantee
Limited Lifetime Warranty – Complete Purchase Protection
uService – Replaceable Lenses And Optics
ClearView – All The Light, Right Where You Need It.
MoistureBlock – Waterproof, Rain Proof, Submersible
CopperDrive – Only LED Driven At 100%
5000K Daylight – Less Driver Fatigue, Natural Color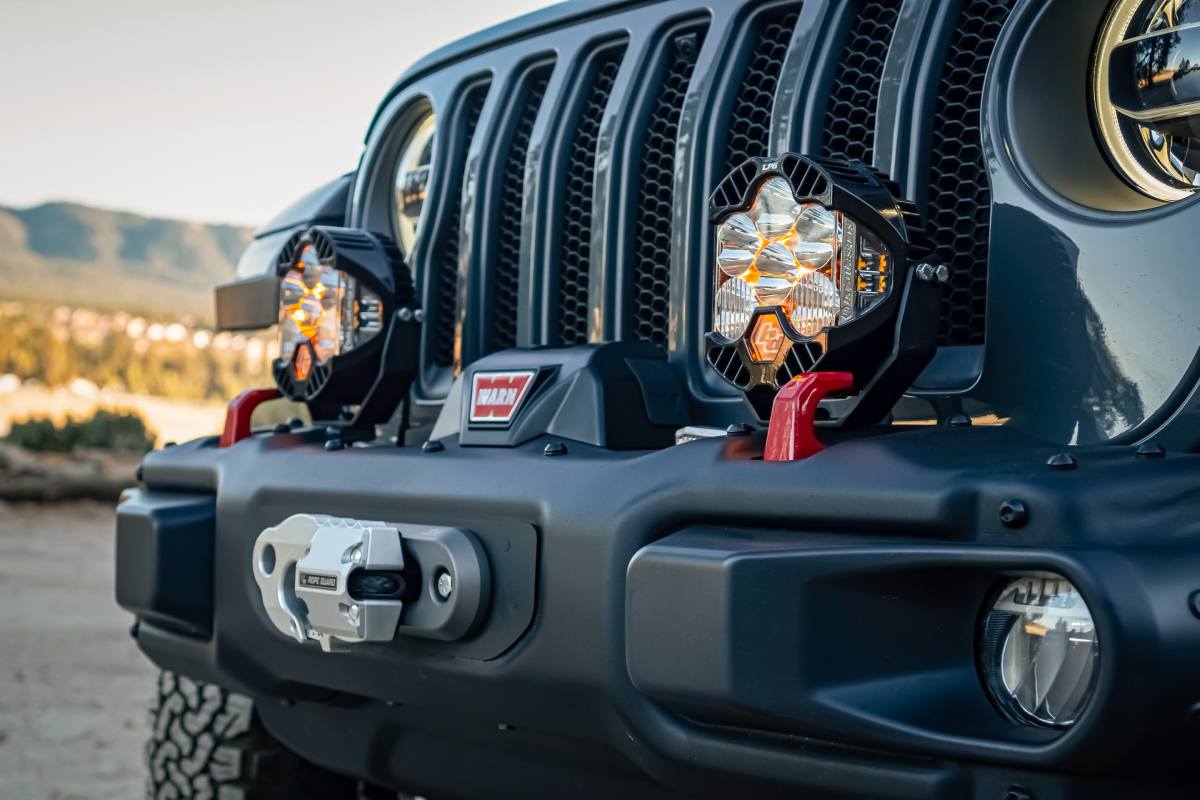 Specifications (per light):
Forward Projecting Lumens: 7,050 Utilizing 4 LEDs
Forward Projecting Wattage/Amps: 60W / 6.5A
IPT Lumens: 1,700 Utilizing 4 LEDs
IPT Wattage/Amps: 15W / 1.0A
Backlight Wattage/Amps: 4.83W / 0.35A
Dimensions: 5.1 Height / 5.1 Width / 3.2 inch Depth
Weight: 2.8lbs
LED Life Expectancy: 49,930 Hours
Front Lens: Hardcoated Polycarbonate
Housing: Hard Anodized Machined Aluminum
Bezel: Billet Machined Aluminum
Hardware and Bracket Material: Stainless Steel
Exceeds MIL-STD810G (Mil-Spec Testing)
Built-In Overvoltage Protection
IP69K (Waterproof up to 9ft and Pressure Washable)
IK10 Compliant (Mechanical Impact Testing)
Driving/Combo Pattern: Maximum trail coverage in a single light. The Driving/Combo pattern is equipped with both Wide Driving (42°) and the Spot (6°) optics to provide you with a smooth blend of light for both near field applications and distance (Lighting Zone 3).
Jeep JL/JT, Rubicon Steel Bumper Kits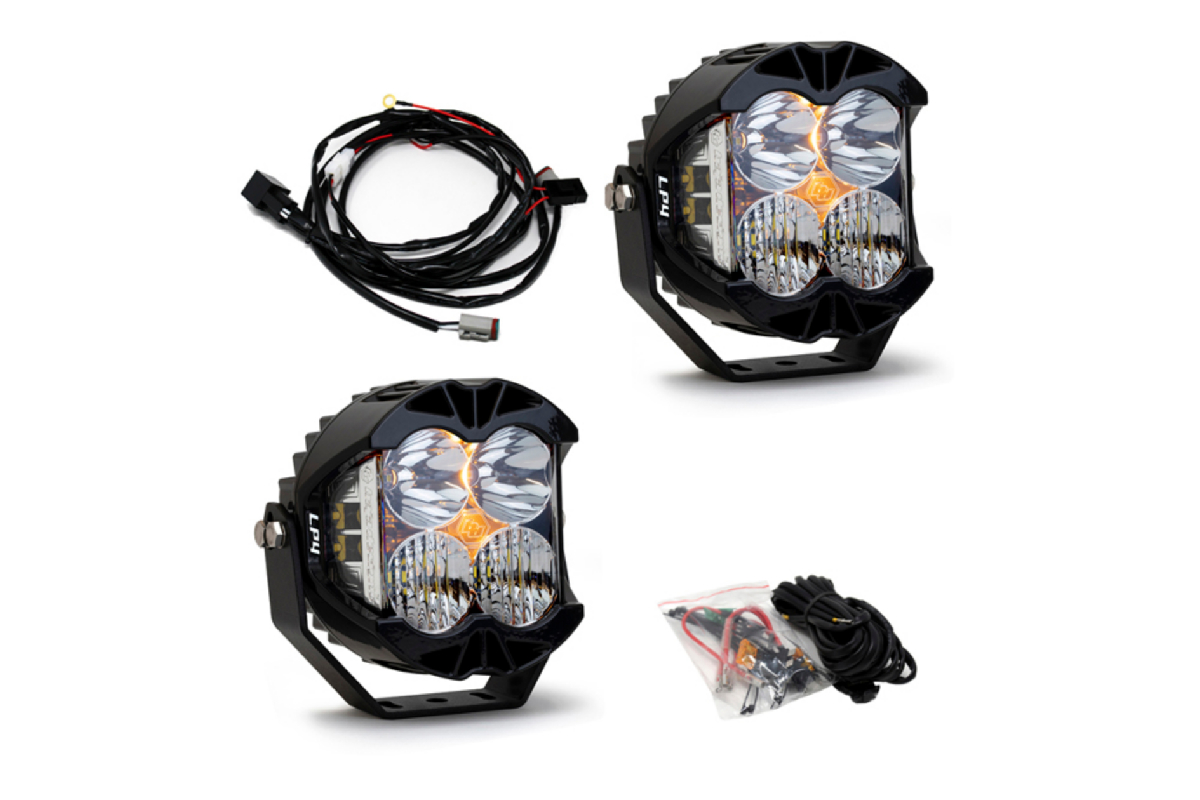 Includes:
Two (2) LP4 LED Light
One (1) Wiring Harness
Zip ties
Application:
Jeep JL Rubicon w/ steel bumper
Jeep JT Rubicon w/ steel bumper
Get the LED (Steel) Bumper Kit Here.
Jeep, JL/JT, Plastic Bumper Kits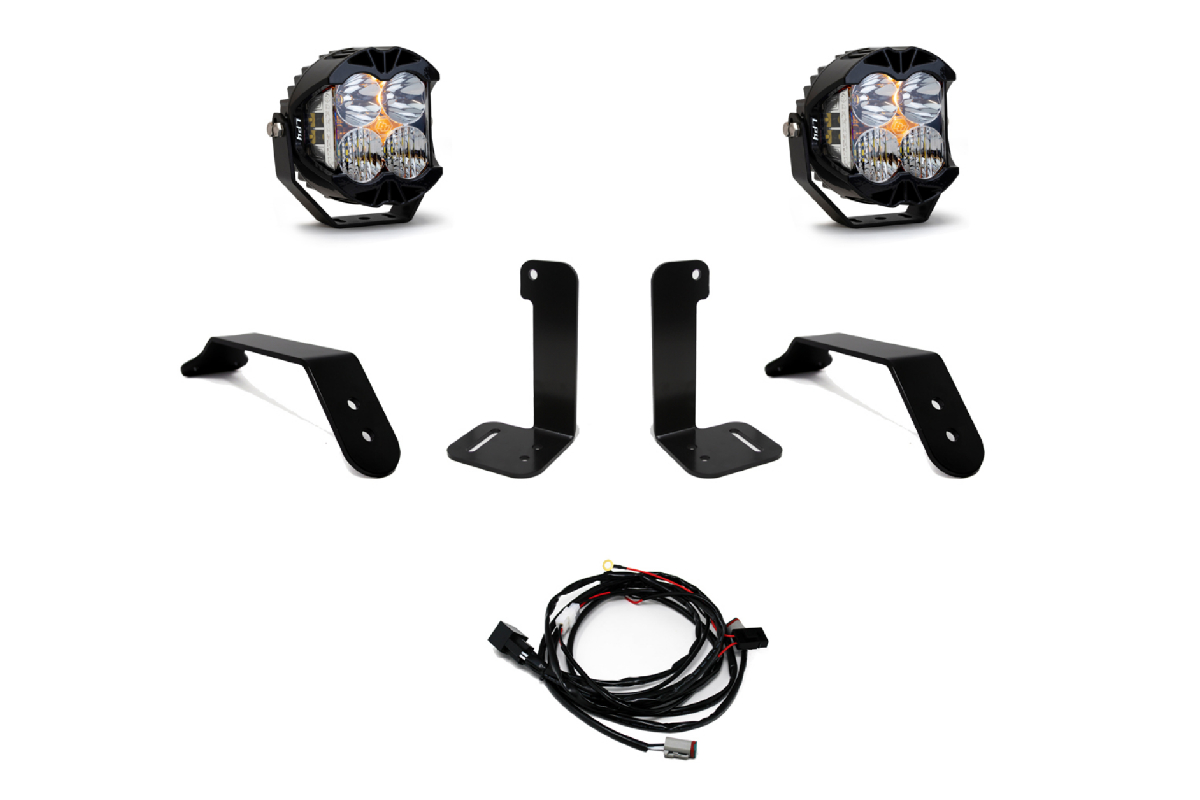 Includes:
Two (2) LP4 LED Light
One (1) Wiring Harness
Vehicle-Specific Brackets
Zip ties
Application:
Jeep JL w/ plastic bumper
Jeep JT w/ plastic bumper
Get the LED (Plastic) Bumper Kit Here.
If you have any questions, please contact us. You can reach us by phone at 1-480-966-3040 or via email at sales@vividracing.com.