Following the runaway success of its High-Performance Intercooler Systems for the C8-generation Audi RS6/RS7, CSF is pleased to announce the release of the world's first and only kit for the 2019+ Lamborghini Urus and the 2020+ Audi RSQ8. It was only natural that CSF saw a great opportunity to bring the same proven performance of those exclusive intercooler kits over to the new VAG platform as well as one of the hottest performance SUVs on the market. For this release, CSF had once again teamed up with leading Southern California VAG specialists, Pacific German from Orange County, CA to design, develop, and test the new intercooler kit on their very own Lamborghini Urus.
The CSF High-Performance Intercooler Kits will help unlock all of the potential power from these highly coveted Super Sport utility vehicles to take them to the ultimate level. These limited-edition release intercoolers for the Urus and RSQ8 have been meticulously designed and expertly engineered to fix just like the OEM units they replace. The CSF intercooler upgrade uses all of the factory mounting points on the Lamborghini and Audi SUVs without any cutting or modifications needed. That's right; installation is straightforward with a "drop-in fit" design and plug-and-play application. There is no need for any aftermarket shrouds or hoses and all mating OEM components can be reused and reinstalled. Performance gains should be very similar to the results seen on the Audi C8 RS6/RS7. CSF recorded gains of 20 WHP and 18 WTQ with a stock tune and 10 WHP and 20 WTQ with a high-performance tune.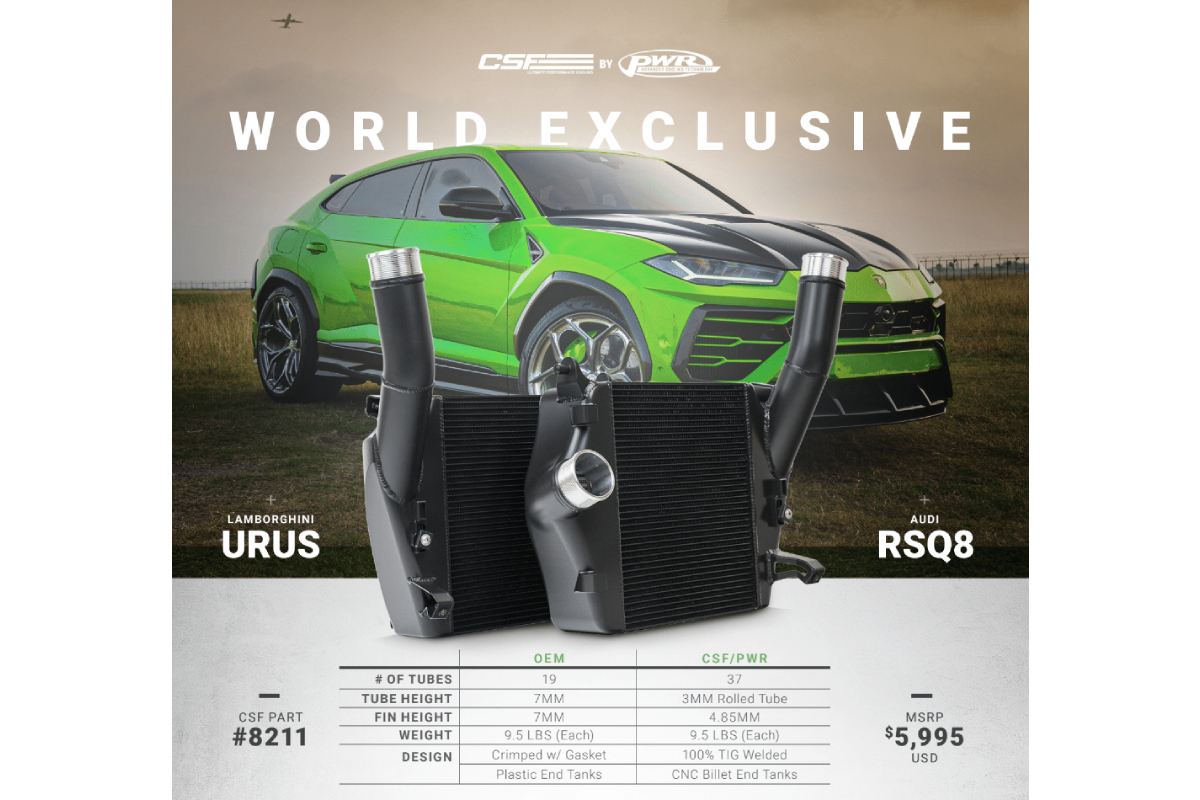 As with other CSF products produced through its PWR partnership, the new Urus/RSQ8 intercooler feature 100 percent TIG-welded machined billet aluminum end tanks. This is a very important upgrade compared to the factory crimped plastic composite end tanks. Not only do CSF's look better, but they are also stronger offering unmatched longevity and durability on high-performance vehicles. What's more, these high-quality CNC machined billet end tanks are ready to withstand increased boost pressures from bolt-on modifications, higher performance tunes, as well as upgraded turbochargers. CSF has also integrated the charge pipe into the design of the top end tank with an aluminum welded pipe replacing the OEM bolt-on plastic part which is sealed with an O-Ring – something a Pacific German tech calls a "design flaw".
The new CSF High-Performance Intercooler Systems for the Lamborghini Urus and Audi RSQ8 come in two different finishes. A Thermal Dispersion Black finish is used to further the cooling efficiency of these intercoolers. Once the intercoolers have been delivered to CSF from PWR, they are then sent to an aerospace company where they are finished with this special ceramic coating. This unique coating rapidly disperses heat away from the intercoolers at an increased rate of about 15 percent compared to non-coated parts. Additionally, this unique coating gives the intercoolers a durable, OEM stealth look behind the open front fascia of the Urus. The other option is a raw machined billet finish, for those looking for a show-ready look behind the bumper.
Features:
Made in the USA at PWR North America
Sold as a pair (Left & Right Intercoolers)
Eliminates Heat Soak and Lower Intake Air Temperatures (IAT) for Maximum Performance in High-Performance and Race Conditions
Formula-1 Performance Grade Cores by PWR (2-Row Cores features Rolled Tubes w/ Inner Fins)
CNC Machined Billet End Tanks
100% TIG-Welded vs OEM Crimped Plastic End Tanks for Maximum Strength & Durability
Integrated 1/8th NPT Port with a plug on lower outlet tank for Water-Methanol Injection
OEM Style Inlet/Outlet Connections for Precise Fitment With All OEM Components
Finished in CSF's Thermal Dispersion Ceramic Coating (CSF #8211)
Raw Finish with no coating for the "show" look or custom finishes are available upon request (CSF #8211R)
True Plug-and-Play "Drop-in Fit" Installation Requires Absolutely No Modifications
R&D and Performance Testing by Pacific German & VF Engineering
1-Piece Welded Charge Pipe vs OEM Bolt-On Pipe w/ O-Ring (known failure point)
OEM Part Numbers:

Lamborghini: 4M0145803AK (left) & 4M0145804AK (right)
Audi: 4M0145803BT (left) & 4M0145804BT (right)
Performance Gains:
Stage 1 (Stock Tune) – Approx. +20 WHP / +18 WTQ
Stage 2 (With High-Performance Tune) – Approx. +10 WHP / + 20 WTQ
Estimated Performance based on same engine platform Audi C8 RS6/RS7 CSF Intercoolers
Applications: 2019+ Lamborghini Urus and 2020+ Audi RS Q8
Note: Due to the complexities and machining time of manufacturing these intercoolers, production runs are limited.
CSF #8211 – Black Finish

CSF #8211R – Raw Finish

If you have any questions, please do not hesitate to contact the Vivid Racing team. You can reach us by phone at 1-480-966-3040 or via email at sales@vividracing.com.