PRP has just announced the release of the first-ever off-road-specific CamLock harness. It features some specifics that make it better than anything else offered on the market. The new PRP 5.2 Cam-Lock Harnesses provide comfort and safety for both your on- and off-road rides. The Cam-Lock style buckle releases quickly and seamlessly, while still keeping you secure. They can be much faster and easier to use than the traditional latch and link harnesses. However, they have never been that popular in the off-road space, because they could get jammed up with dust and dirt. That was, until now.
PRP's Cam-Locks feature the brand's exclusive CleanLatch Technology, with dust-resistant seals and rubberized tab ends to prevent dirt and dust from getting in. Other new features include thick shoulder pads for comfort, that are now removable so you can easily clean them, and the ability to use this harness with any other neck restraint system. The EZ adjusters on the shoulders and lap belts allow you to adjust your belts quickly, even if they are dirty or muddy. The bolt-in tabs on the shoulders and lap area are easily removable as well, so you can swap in clip-in tabs if desired. The new PRP 5-point harness features all-black hardware and a removable sternum strap. Best of all, it's SFI 16.1 certified for racing.
You will never want to go back to any other harness after using PRP's Cam-Lock harnesses. Convenience and comfort are just two of the many reasons to switch. Remember, a harness is probably the most important piece of safety equipment for your ride. And this one was expertly designed to be easy to secure and quick to release so you are never put in a sticky, dangerous situation. The Cam-Lock design is becoming increasingly popular among racers today, so experience the difference for yourself with PRP's new 5.2 Cam-Lock Harness!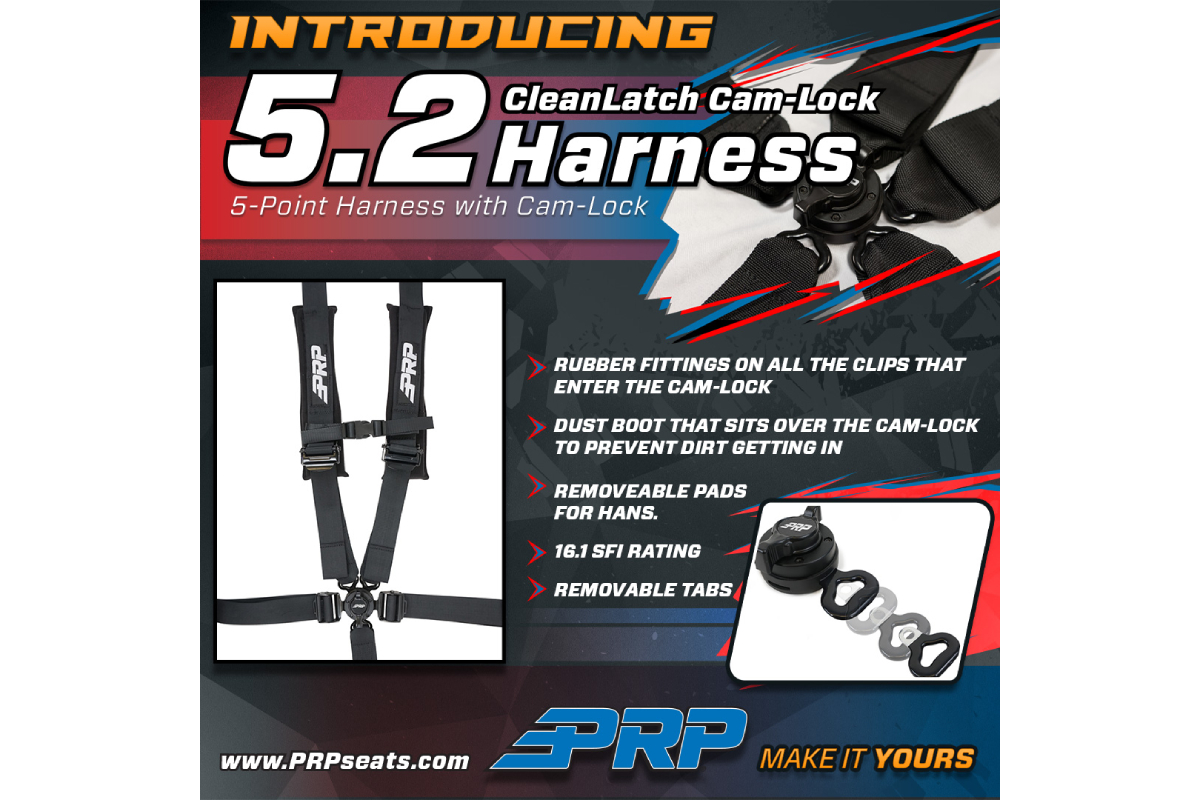 Features:
5-point, 2-inch safety harness
Cam-Lock style buckle to quickly and easily release
Features PRP's Exclusive CleanLatch technology with dust resistant seals to prevent dirt and mud from getting into the Cam-Lock
Rubber fittings on all ends that enter the Cam-Lock
All black hardware
EZ adjusters on lap and shoulders – allow you to adjust your belts quickly, even if they are dirty or muddy
Removable pads (so you can use them with a HANS neck restraint)
Removable sternum strap
Bolt-In Tabs on the Shoulders and Lap are easily removable, so you can swap in Clip-in Tabs
SFI 16.1 Certified for racing
Cam-Lock Construction
Added a dust boot to prevent dirt from entering the camlock
Rubber ends on the clips create a seal when inserted into dust boots.
EZ adjusters are located near the Cam-Lock on the lap belt
Are you ready to race and use your HANS device? Get rid of the pads!

Warning: Proper installation and consistent use of this 5 point harness restraint system are critical to your safety in event of an accident. To reduce the risk of serious injury or death, familiarize yourself with the following important notes.
Follow vehicle manufacturers, and PRP Seats instructions and safety messages during installation and use of this product.
Use all belts provided. Secure lap belt first; low and snug across hips. Sternum strap tight at chest line (min. 4″ below the neck). Adjust remaining straps per instructions and confirm fitment restrains user and provides safe clearance from wheel, dash, roll cage, etc. Inspect all components of the 5-point harness restraint system regularly & replace them as indicated by accident, wear, or abrasion. Replace no later than 2 years from the date on the SFI tag (if applicable).
This 5-point harness restraint system is intended for UTV or other off-road vehicle-not replacement for FMVSS 209 restraints. Never use with child car seats or boosters.
If you have any questions about PRP seats or harnesses, please contact us. You can reach us by phone at 1-480-966-3040 or via email at sales@vividracing.com.