KW Suspensions has just announced its new Height Adjustable Spring Kits for select Audi, McLaren, and Volkswagen models. Now you can achieve good looks, an aggressive stance, and advanced steering behavior all in one complete package. Providing more driving dynamics in OEM quality, the KW chrome-silicon steel lowering springs, matching elastomers, and dust protection systems are used in this vehicle-specific solution, so you can experience full control of your vehicle's enhanced looks and performance.
KW height adjustable springs kits are a great alternative to conventional springs on the market. With this system, you don't have to be satisfied with a fixed lowering as you can adjust the height with the KW height adjuster even after the kit has been installed. This package is ideal for drivers who want to lower their car but still have the freedom and advantage of an individual adjustment range. Not only will your Audi, Volkswagen, or McLaren gain a bolder aesthetic with this KW kit, but it will also get improved steering behavior and a more agile response of the standard dampers. All driver assistance systems and comfort features of an adaptive series suspension remain with KW's vehicle-specific developed spring setup.
No more 30-30 or 40-40: With conventional lowering springs, you have to decide on the lowering right from the beginning. This is not the case, however, with the KW height adjustable spring kits. Depending on the vehicle-specific application, you can change the vehicle's lowering within the adjustment range with the threaded spring perch when the springs are already installed. You will not have any difficulties adjusting the lowering when changing your wheel/tire combination either.
OEM Quality: KW uses high-quality springs made of chrome-silicon steel with vehicle-specific spring rates adjusted to the respective standard suspension dampers and wheel loads. At the development of the respective spring kits, KW Suspensions considered that the spring rates will perfectly harmonize with the different damper characteristics of your adaptive series suspension. With their high-quality (surface) finish as well as the KW height adjuster, these spring kits always include vehicle-specific bump stops with a dust protection system to guard your standard suspension against tear and wear caused by spray and salt.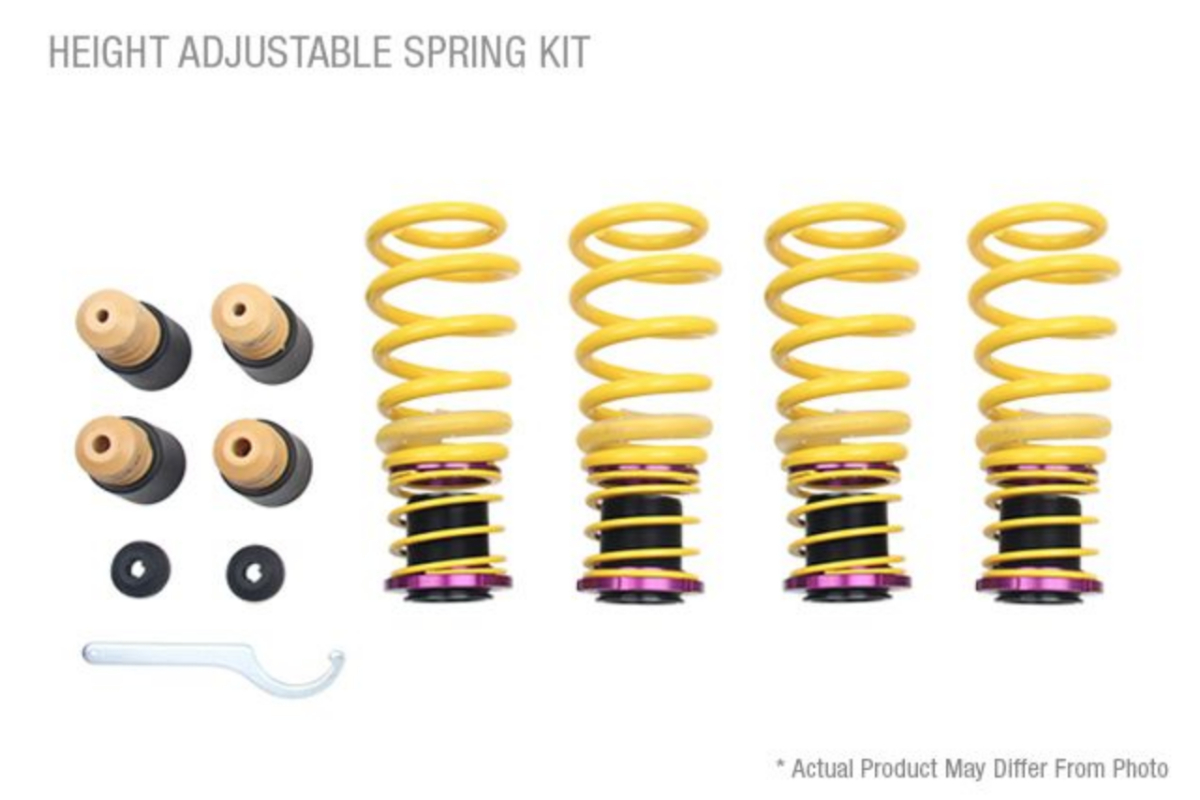 Highlights:
Individual height adjustment of the standard suspension kit
Adaptive damper control remains active
Achieve a continuous ride height adjustment
Allows for customized suspension lowering
Creates a sporty and harmonious driving behavior
Springs are made of high-quality chrome-silicon steel
Improved looks with better steering behavior
Comes with vehicle-specific spring rates
H.A.S. Kit for 2021+ Audi RS6 Avant (C8) – Get It Here!
H.A.S. Kit for 2019+ Audi Q3 Quattro – Get It Here!
H.A.S. Kit for 2018+ Volkswagen Tiguan (MQB) – Get It Here!
H.A.S. Kit for 2019-2021 McLaren 600LT with OE Lift System – Get It Here!
If you have any questions about KW Spring Kits, please do not hesitate to contact us. You can reach us by phone at 1-480-966-3040 or via email at sales@vividracing.com.