SpeedStrap is the premium cargo restraint of choice, designed to be the last set you will ever need. With strict attention to detail, perfect fitment, durable finish, and unparalleled quality, these restraints include features not found elsewhere. SpeedStrap products are crafted with extra lengths to properly secure vehicles in long-bed pickups, D-rings to secure handlebars and axles, scratch protection with soft-padded handles, bolt-end caps, grips, and more!
With that said, we'd like to introduce the new SpeedStrap Tire Bonnet and Essential Tire Bonnet Kit for your UTV. SpeedStrap's Tire Bonnets are the best way to tie-down your UTV as they lock down the tires to the trailer, while still allowing the vehicle to naturally float on its suspension.
SpeedStraps' innovative UTV Tire Bonnets keep your vehicle secure on the trailer so you can have peace of mind. Each bonnet wraps around and over the vehicle's tire in order to keep the wheel grounded to the trailer. Unlike other tire bonnets that can only fit a certain size tire, SpeedStraps Tire Bonnets have an innovative design that sucks in against the tire when pulled tight. The top strap has 3 size slots, so it can adjust to fit tires ranging from 26 inches to 36 inches.
On most trailers, it is rare to find anchor points that are set perfectly on either side of the tires, unless you have E-Track. For this reason, SpeedStrap made the front strap of its tire bonnet adjustable and with added length, so that you can reach more anchor points on your trailer. The Tire Bonnet and Essential Tire Bonnet Kit feature 1.5-inch tie-downs and are rated at 1,300 pounds Safe Working Load (SWL) and 4,000 pounds Maximum Rated Capacity (MRC). Moreover, each premium ratchet mechanism features SpeedStrap's signature wide handle, comfort grip, and protective end caps on the barrels to provide unmatched protection for your rig.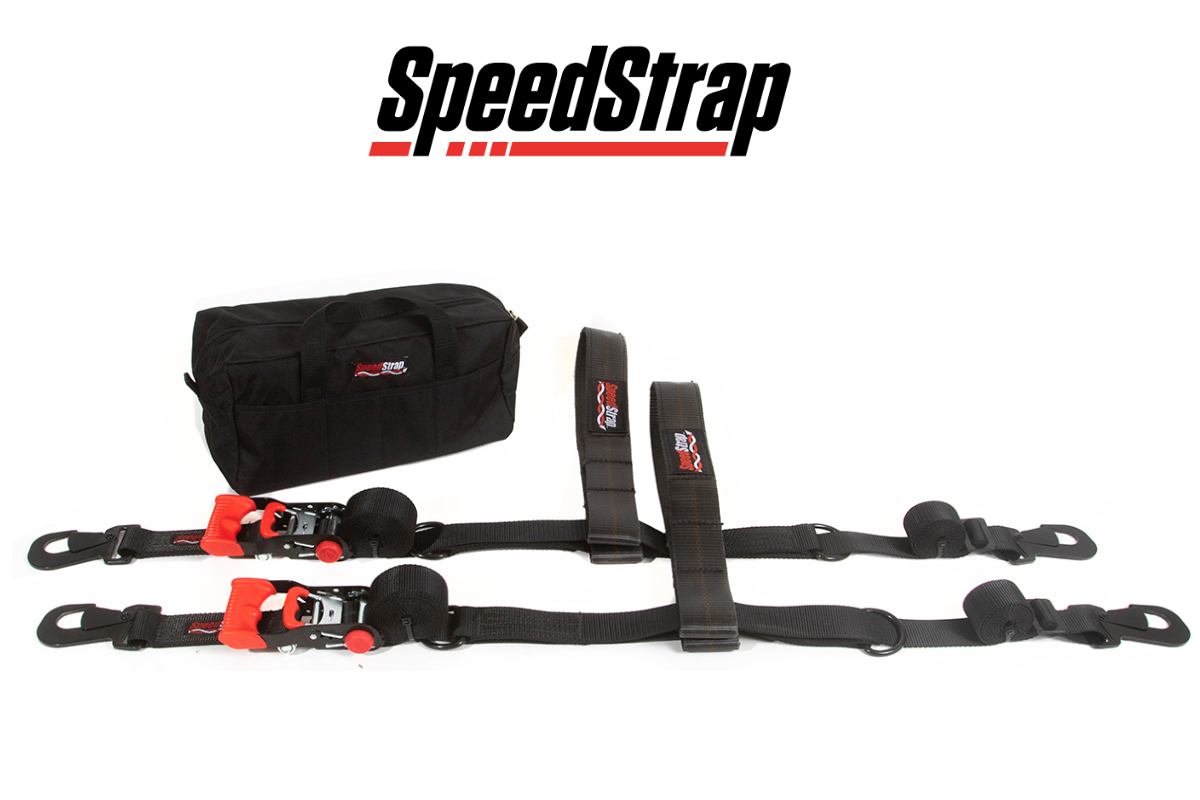 Features:
Tire-Bonnets run around the sides and over the top of the tire
Keeps the vehicle secure and grounded for the duration of your journey
Allows the UTV to still naturally float on its suspension
Innovative design that sucks in against the tire when pulled tight
High-quality 1.5-inch tie-downs
Adjustable to fit approx 26″-36″ size tire
Rated at 4,000lbs MRC
Assembled in the USA
Kit Includes:
2 UTV Tire Bonnets – Use these to secure either the front or rear wheels of your UTV.
1 Small Tool Bag – Keep your belongings neat and organized.
Note: Want tire bonnets on all 4 wheels? Simply purchase 2 of these kits.
Download: Tire-Bonnet Instructions
If you have any questions about SpeedStrap or its products, please do not hesitate to contact us. You can reach us by phone at 1-480-966-3040 or via email at sales@vividracing.com.