If you are the owner of a UTV, chances are that you have definitely heard of PRP. PRP Seats has been manufacturing suspension seats and accessories for both UTVs and off-road vehicles in the USA since 1997. And now, the number one brand in UTV and off-road seats is offering protective seat covers. Be confident in riding with PRP's 100 percent customizable seats and add a layer of protection to that with their new seat covers. These seat covers guard your seats from rain, dust, dirt, and harmful UV rays when you are not using your vehicle. They are manufactured from marine-grade, durable black vinyl and are available in sizes to fit standard bucket seats as well as Competition Series and extra-tall (T) seats.
The new PRP seat cover is the ultimate way to ensure your seats stay protected when left unattended in harsh weather conditions. No element is a match for these seats, whether it be rocks, mud, dirt, sand, or sunshine. And while PRP's seats are purposefully built to stand up to the elements, keeping them protected when you are not using your vehicle can greatly prolong their life. So, protect your precious seats with an added layer of defense; you won't regret it! They simply slip right over your PRP Seats for a seamless installation that takes just seconds. Just throw them on when needed and the elastic edge keeps them in place. Hook and loop straps on each side can be wrapped around your seat belts or PRP harnesses to keep them secure, even while transporting your UTV.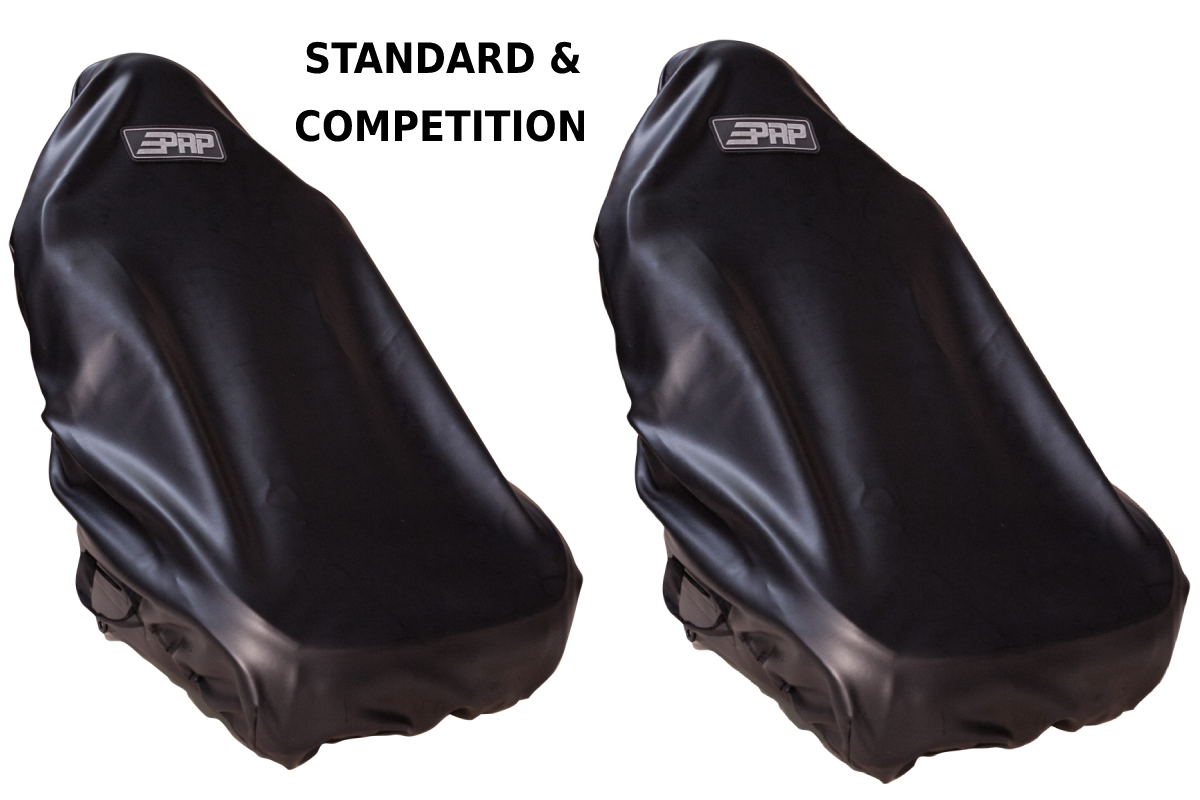 Features:
Protect your seat while your vehicle is not in use or when washing.
Standard Size fits UTV Premier, Daily Driver, and Roadster Seats with High Back or Low Back.
Competition Size fits Competition Series seats or Extra Tall seats.
Made from durable marine-grade black vinyl for added protection and longevity.
Sold individually.
PRP Seats Standard Protective Seat Cover
Fits Competition Series or Extra Tall Seats

PRP Seats Competition Protective Seat Cover
Fits UTV, Premier, and Daily Driver Series Seats

If you have any questions about PRP seats or harnesses, please contact us. You can reach us by phone at 1-480-966-3040 or via email at sales@vividracing.com.