If you want to lower your car, there are only a few ways to do so: lowering springs or coilovers. Lowering springs, rather obviously, are just springs that provide a lower ride height and typically higher spring rates. Coilovers replace your entire factory strut and typically have height and dampening adjustment. Each system has its pros and cons, but how do you know which system is right for you? We know it can be tough deciding, so we put together a short article to help you out.
Lowering Springs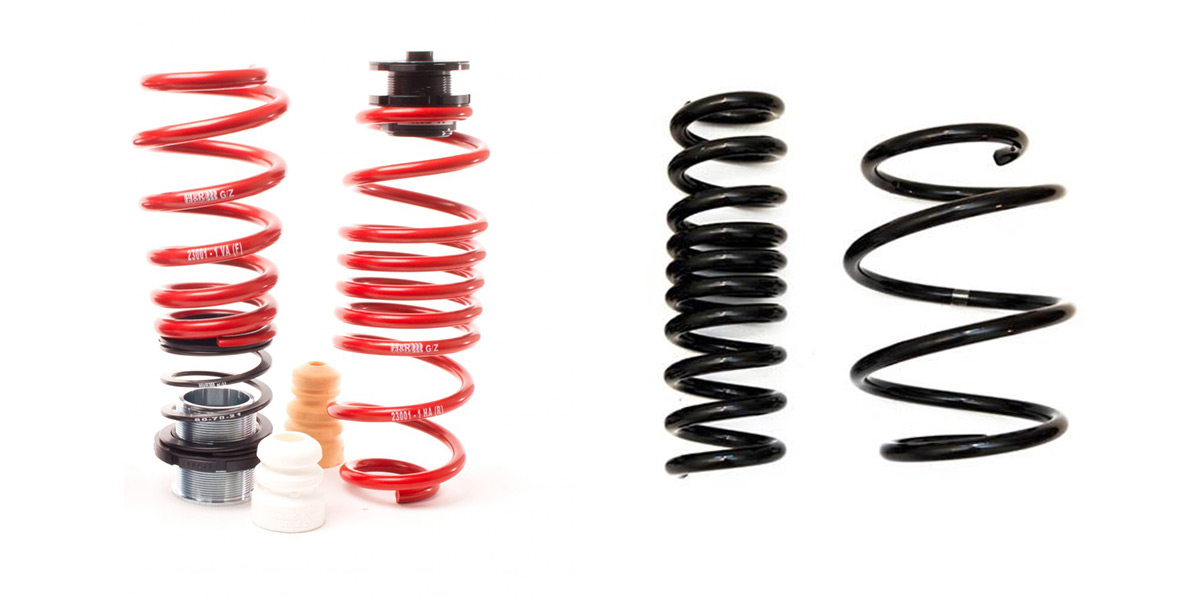 As we briefly explained above, lowering springs are designed to lower your car. This is typically achieved by using slightly smaller springs with slightly higher spring rates to compensate for the lower ride height. All springs aren't equal, and the saying "you get what you pay for" applies. Lowering springs are great if you're on a tight budget and want your car to sit lower. If you plan on racing in autocross events or track days, however, lowering springs may not be the best option.
Since many lowering springs uses higher spring rates than the OEM units, the dampers have to work extra hard to keep the car under control. Although you may not be able to tell on the road, your OEM dampers may not be able to control your car with the higher spring rates properly. This problem is unique per vehicle and spring, but it can occur with almost any car, especially with low quality lowering springs.
Aside from the OEM dampers working extra hard, without dampening adjustment you cannot fine tune the handling. This isn't a major issue for street usage, but if you want to go to the track and want the most out of your car, you need to make adjustments.
Another problem with most lowering springs is the lack of height adjustment. Since most springs are designed to be a cheap alternative to coilovers, they're often very basic. There are some lowering spring kits, like KW's VTF Adjustable Springs, which are designed to incorporate height adjustment. Kits like this allow you to have that height adjustment while still using the OEM dampers, which some people want (magnetic shocks for example).
Coilovers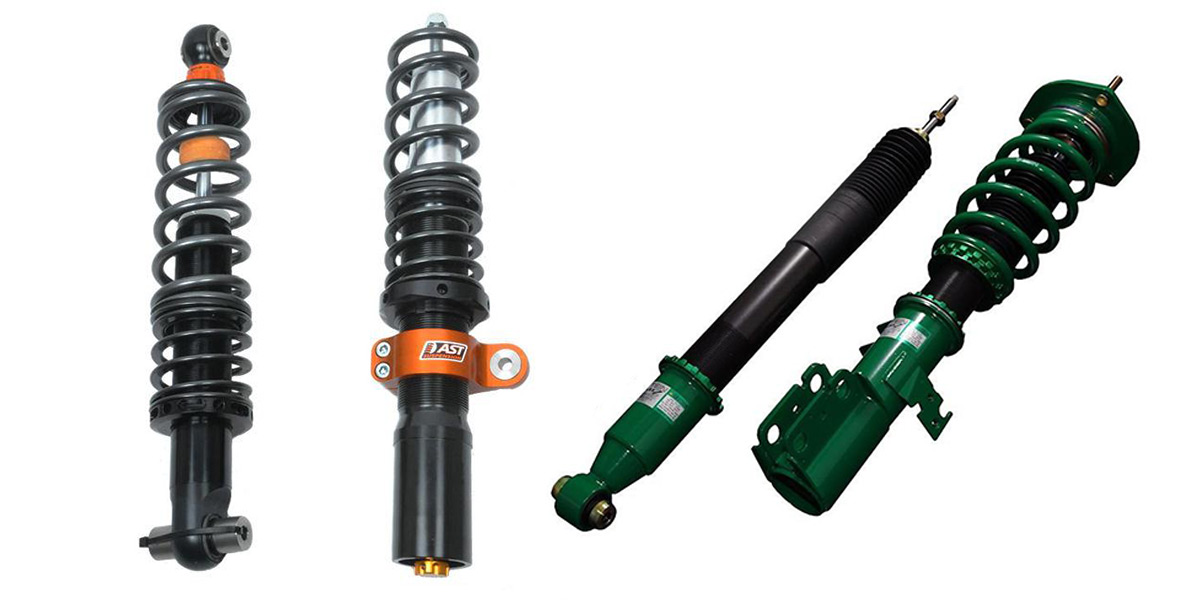 Coilovers theoretically fix the problem listed above by combining a higher rate spring with a damper designed to work with that spring perfectly; however, that doesn't mean all coilovers are better than the OEM suspension. Low-End coilovers, which Vivid Racing avoids selling, can make your car handle much worse than stock. This happens when a coilover isn't properly tested on and off the track, resulting in incorrect dampening. We do not offer these kinds of coilovers, as we believe in selling parts we would put on our cars.
Most coilovers include a way to make minor adjustments to the spring rate, and many coilovers use a system which allows ride height and spring rate to be adjusted independently of each other. On top of the ride height and spring adjustability, many coilovers featuring adjustable dampers which can be adjusted via a rotating knob on the top of the coilover. All of this adjustability allows you to fine-tune your car for the driving you like to do. It can be really easy to adjust your suspension improperly accidentally, so taking your car to a suspension tuning expert is always a good idea.
If you plan on attending any track events, a set of coilovers is a much better purchase than lowering springs. Dampening adjustment will allow you to fine-tune the handling of your car for a specific track. The higher spring rates will decrease total body movement which will improve predictability, driver confidence, and overall grip.
Air Suspension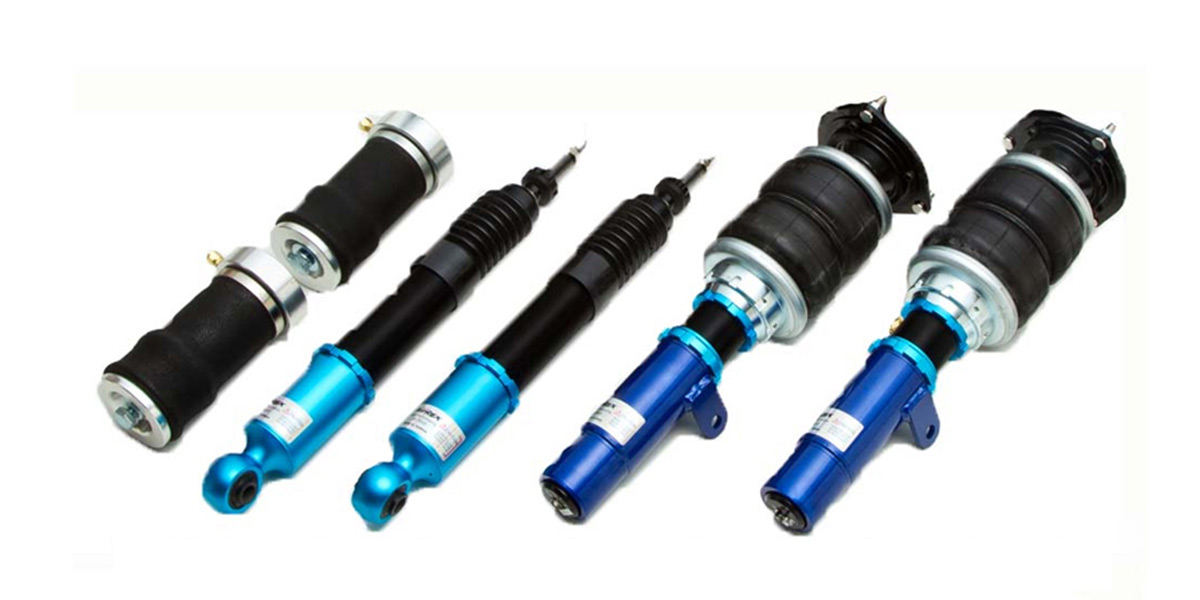 There is a third option that is often avoided due to cost and fears about poor handling: air suspension. Air suspension is more expensive than a good set of coilovers, but it should ride better (you are riding on air, after all). A properly designed air suspension system should theoretically handle just as good as a set of coilovers, but that will depend on the kit you purchase, your car, and other modifications you have done to the vehicle.
The main reason someone will choose air suspension over coilovers or lowering springs is the height management. Air suspension can be inflated or deflated, which changes the ride height. This means when you park at the car show, you can slam your car to the ground and give it that awesome look, but you can have a reasonable ride height on the road. If you come up to a massive speed bump or driveway, you can air the suspension up and lift the vehicle for extra ground clearance.
What's Right for You?
There is no universal right or wrong with aftermarket suspension. What's best for you depends on how much you're willing to spend and your intentions with the vehicle. For street use, a set of lowering springs should do the job, especially if you're on a budget. If you're willing to spend a little more, a set of coilover will offer you much greater adjustability and will be perfect for the track. If you're willing to spend a little bit more than coilovers, then air suspension is always a great option.
Summary
This was a very brief overview, but there are a few key points to remember. Lowering springs are great if you want a cheap way to give your car a better stance, and possibly better handling. Depending on the car and spring, however, handling can be hurt by lowering springs. Coilovers are the much better option as they control your car much better and give you lots of adjustabilities.
If you're looking at purchasing some lowering springs, coilovers, or air suspension for your car, please do not hesitate to contact us. We can be reached by phone at 1.480.966.3040 or via email at sales@vividracing.com.
Some of our popular suspension brands: