Over the last decade, UTVs have completely transformed the off-road market. Side-by-side vehicles used to be considered glorified golf carts, because they offered very little performance and they weren't very exciting. Today, they perception of side-by-sides is completely different thanks to the performance UTVs on the market.
With the explosion in popularity of UTVs came an explosion of the UTV aftermarket. While the performance UTVs on the market are tons of fun and very fast, they're lacking basic creature comforts such as a stereo system. This is where Rockford Fosgate comes in with their UTV stereo packages.
Why Upgrade Your UTV Stereo?
The reason for upgrading your UTV stereo system is simply: your UTV probably doesn't have one. Even if your UTV does have some sort of OEM stereo system, it's built to a low cost and probably offers terrible sound quality. UTVs are built to a very low cost and manufacturers have to use cheap components when building them.
Of course, a stereo system isn't a performance modification and isn't vital to the function of the vehicle, but driving is always more fun with good music. Plus, if you like to bring passengers on your off-road adventures, music is a great way to improve the experience for everyone!
Why Pick Rockford Fosgate?
There are a lot of stereo companies on the aftermarket, why pick Rockford Fosgate? There are lots of reasons to pick Rockford Fosgate, but it ultimately comes down to build quality, pricing, and sound quality.
Since their inception, Rockford Fosgate has been leading the aftermarket with innovation, design, and engineering. They've constantly raised the bar and set new standards for the entire aftermarket to strive for.
Decades of knowledge allows them to develop hardware which offers superb sound quality while also being incredibly durable. There is no sense in having high-quality speakers if they can't withstand the abuse of off-road driving.
Rockford Fosgate is able to wrap up all their high-quality hardware and advanced engineering into a relatively affordable package. They perfectly balance build quality, sound quality, and pricing, so you get the best audio equipment at the best price.
Stage 1 and 2 Systems for UTV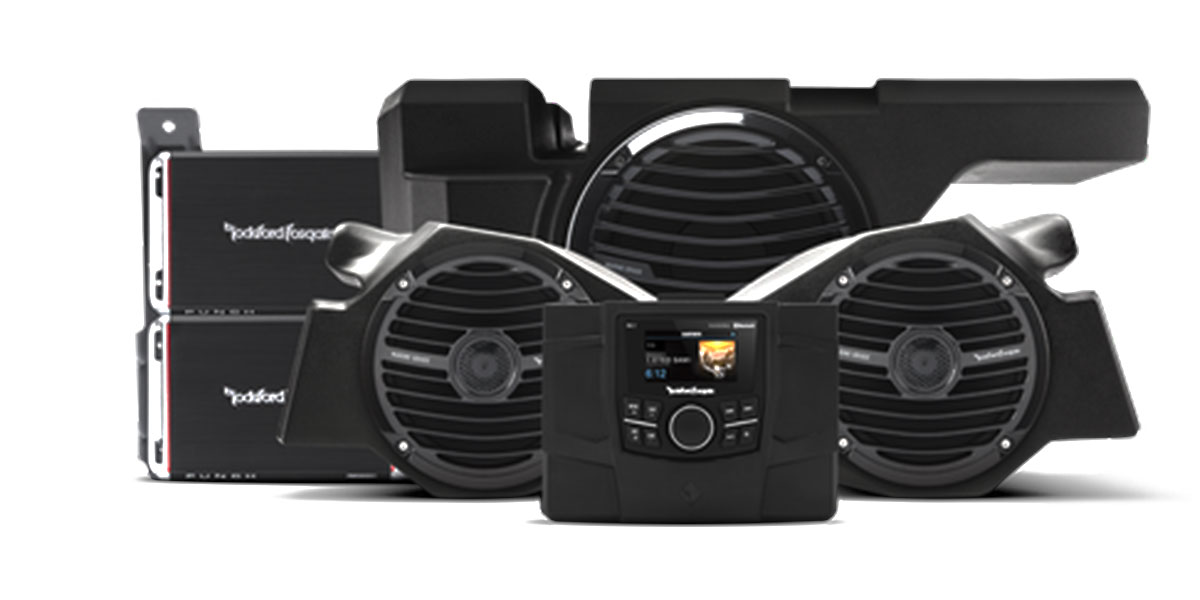 Although Rockford Fosgate sells individual components, it's much easier to buy a pre-made package which simplifies the entire installation process. For UTV owners who want a basic and affordable system, the Stage 1 and Stage 2 systems are the perfect solution.
The Stage 1 system provides just the stereo, a simple dash kit, and the necessary wiring to hook the system up. This system requires you to source speakers separately, which if fine if you already have some speakers to hook up to the system.
The Stage 2 system is the do-it-all budget system. On top of the head unit, dash kit, and wiring, the Stage 2 system includes a basic speaker setup. Their Stage 2 systems are the perfect way to get a fully functioning audio setup in your UTV, without breaking the bank or dealing with complicated wiring. Everything you need is included, and it's all very easy to install.
Both the Stage 1 and Stage 2 systems provide great value and they are a must for anyone who wants a high-quality sound system without breaking the bank. For those who want more sound at a slightly higher price, the Stage 3, 4, and 5 systems are the next level up.
Stage 3, 4, and 5 Systems for UTV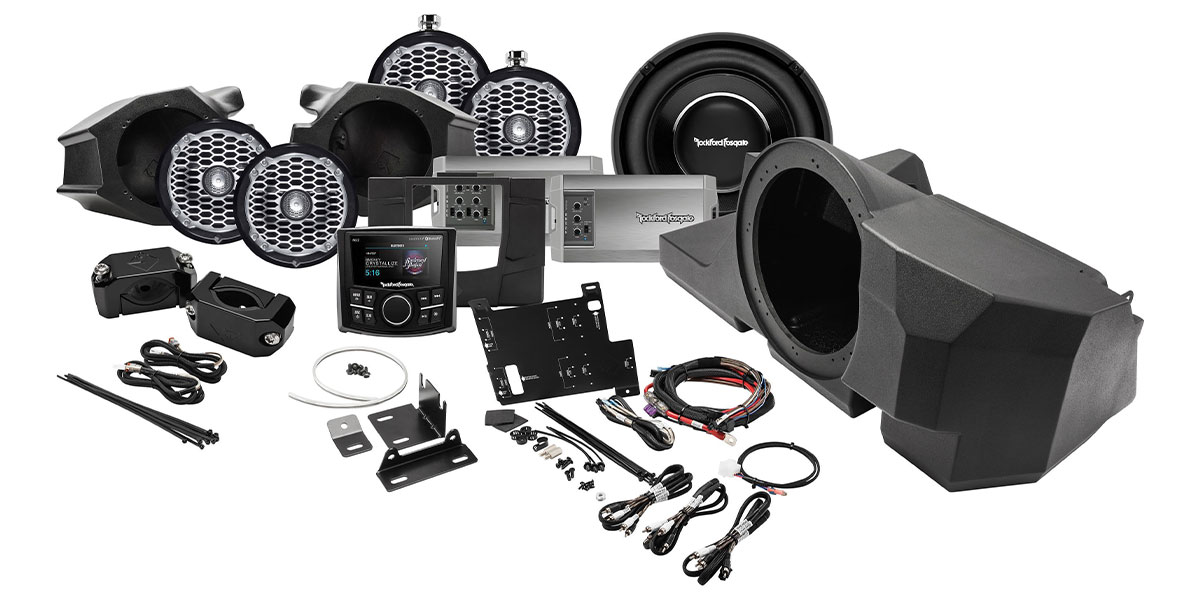 Stages 3, 4, and 5 offer everything from Stage 2 but with additional speakers and subwoofers. A subwoofer is a great way to improve the sound system of your UTV, because traditional speakers cannot move enough air for you to feel (and hear) low frequency sound waves.
Stage 4 takes it a step further by adding a second set of speakers, improving the sound quality of the entire cabin of your UTV. This is especially important for four seater UTVs where the rear passengers can't properly hear the audio from the front speaker. Stage 5 takes this one step further by adding even more speakers.
Learn more and order your Rockford Fosgate UTV stereo here
If you have questions, please contact us. You can reach us by phone at 1-480-966-3040 or via email at sales@vividracing.com.