When Tensor Tire blasted onto the scene in 2013, everyone in the industry recognized that a new player was in town. But it wasn't until 2016 when the brand introduced its 32-inch tall Desert Series (DS) race tire that hardcore enthusiasts and racers really began to give Tensor Tire some serious attention. The DS tire almost immediately exploded prompting top racers, builders, and teams from all over to give this innovative tire the respect it deserves. As UTV platforms continue to evolve at the factory level and as builders and racers continue pushing the limits, the need for taller, stronger, and lighter tires has rapidly increased. To this day, Tensor Tire enjoys a solid reputation for developing off-road tires, notably ones for desert racing, that give weekend warriors and full-time racers a quality product they can rely on.
If you are looking for the best competition-legal UTV race tire, Tensor has you covered with its highly coveted Desert Series lineup. With that said, Tensor is pleased to announce that its popular Desert Series tires are now available in 33-inch fitments. Specifically designed for off-road motorsports vehicles, the patented Tensor Desert Series Race (DSR) 33-inch American-made race tire is the lightest high-performance tire on the market. At just 39.2 pounds each, the DSR33 is lighter than almost all of the competitors' 32-inch offerings. Why is this so important? Because keeping your rig's overall weight down helps to unleash all available power your machine has to offer while also reducing strain on its axles and belts.
Available in 60 durometer tread compound and both 14-inch and 15-inch wheel diameters, the new 33-inch DRS tire boasts new options to meet the needs of even the most discerning racers. The DSR33's evolved closed tread pattern, ribbed sidewalls, and proprietary construction separates it from other offerings on the market. For those looking for the ultimate competitive advantage that will get them to the finish line first, Tensor tires are the tires to do it. Whether you want a lightweight DSR30, SCORE/BITD legal DSR33, or maximum height at 37-inch tall with the DSR37, Tensor's DS race-proven series is the top choice for those who demand the best. With data-backed improvements, the DSR 33-inch tire outperforms other brands in both lateral and longitudinal grip, steering response, and overall feel. This tire was run on BITD Championship-winning cars, so get a set for your rig and ride like a true champion!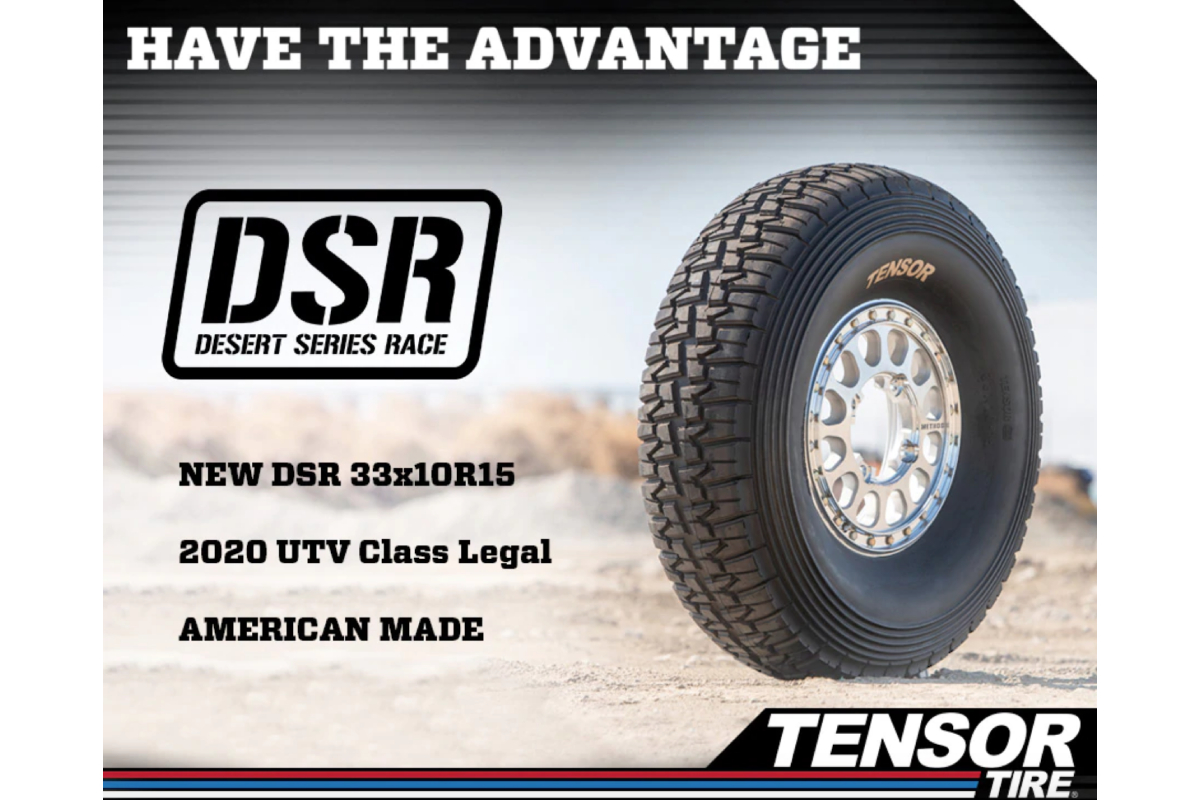 Features:
Made with 60 Durometer tread compound to fit 14- and 15-inch wheels
Boasts up to a 1600-pound load rating to support fully loaded materials
Patented American-made race tire developed specifically for competition
Proprietary nylon bias-ply belted construction saves weight over steel
Decreased weight unleashes all of the available horsepower from your machine
Evolved tread pattern offers more responsiveness and predictable steering
Multiple rubber compounds available to match racing surface conditions
Extra thick tread blocks provide custom grooving for increased performance
Unique weight-optimized ribbed protection for puncture-prone upper sidewalls

If you have any questions or fitment concerns regarding Tensor Tires, please contact the VR team. You can reach us by phone at 1-480-966-3040 or via email at sales@vividracing.com.