The Infiniti G35 enjoyed immense success throughout its production years. Despite sharing several parts with the 350z, it was marketed towards to upper-end of the market. The G35 proves to be a favorite among enthusiasts who want to go head-to-head with the German rivals but in a far more reasonable price bracket.
As an Infiniti owner, you know just how much fun these cars can be and the bang you get for the buck. Whether you own a G35 coupe or sedan, chances are you have caught the mod bug at one point or another. Luckily, the aftermarket is filled with virtually endless options for ways to customize, enhance, and upgrade your G35 when it comes to aesthetics and performance. For the sake of this post, we are going to focus on the former.
If you are looking to change up your Infiniti G35's exterior with some mean-looking body parts, keep on reading. Below, we have compiled a list of some of the best aerodynamic kits we offer that boast both devilishly good looks and functionality. Of course, there are several other options out there; but we chose some of the most popular ones of which we offer complete kits. Take a look!
#1 APR Performance Widebody Kit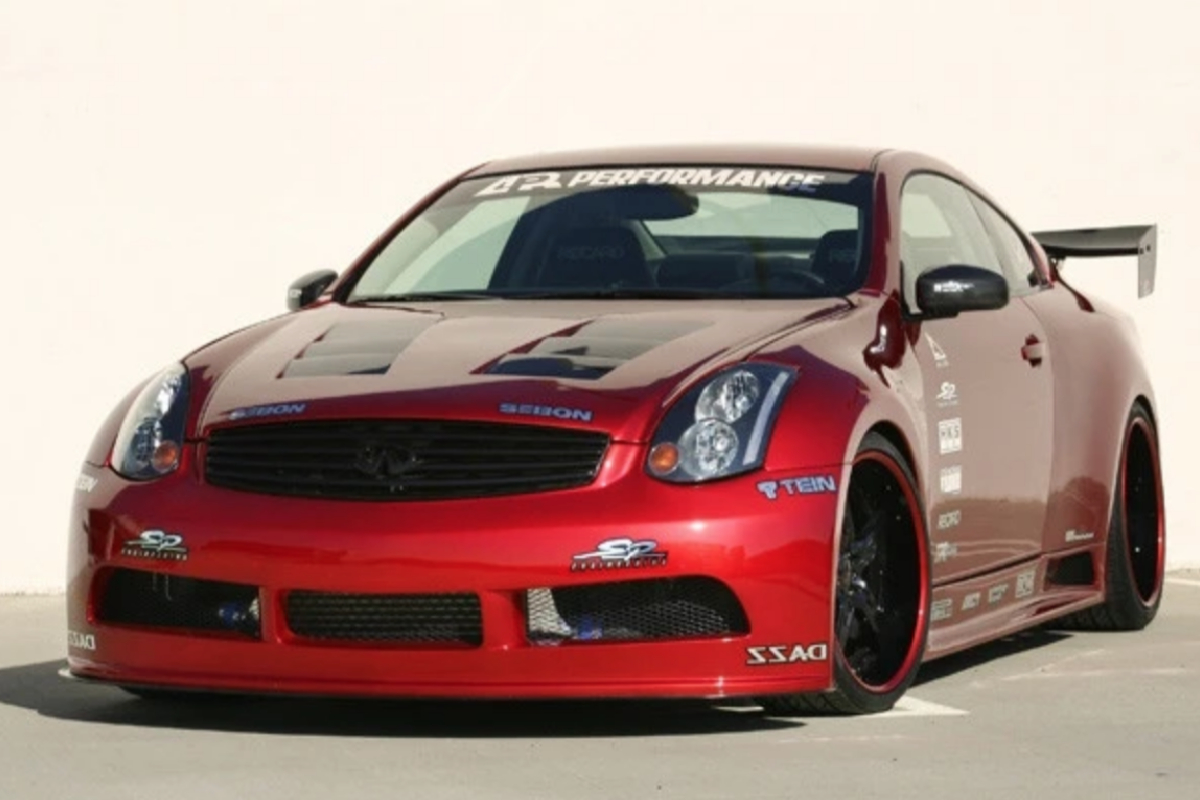 APR Performance body kits are expertly engineered and precisely crafted to achieve the highest possible aerodynamic attributes in a production kit. Each kit is designed to offer minimum drag coefficients while giving your car a wider stance to increase traction.
The APR kit featured here will add a unique look to your G35 that perfectly complements the curves and shapes of the factory body. Not only do these kits look amazing, but they are fully functional to boot. To ensure ideal fitment and a brilliant finish, APR uses only the highest-grade fiberglass and carbon fiber materials in the construction of its body kits.
The APR GTR35 Widebody Kit for the Infiniti G35 redefines tuning and takes the sports coupe to a whole new level of high-speed traction. The aerodynamic kit delivers an increase of +45mm at the front and +50mm at the rear of each side of the vehicle. This increase in size allows for the accommodation of 20"x10" front wheels with 285/25/20 profile tires and 20"x12" rear wheels with 325/25/20 profile tires.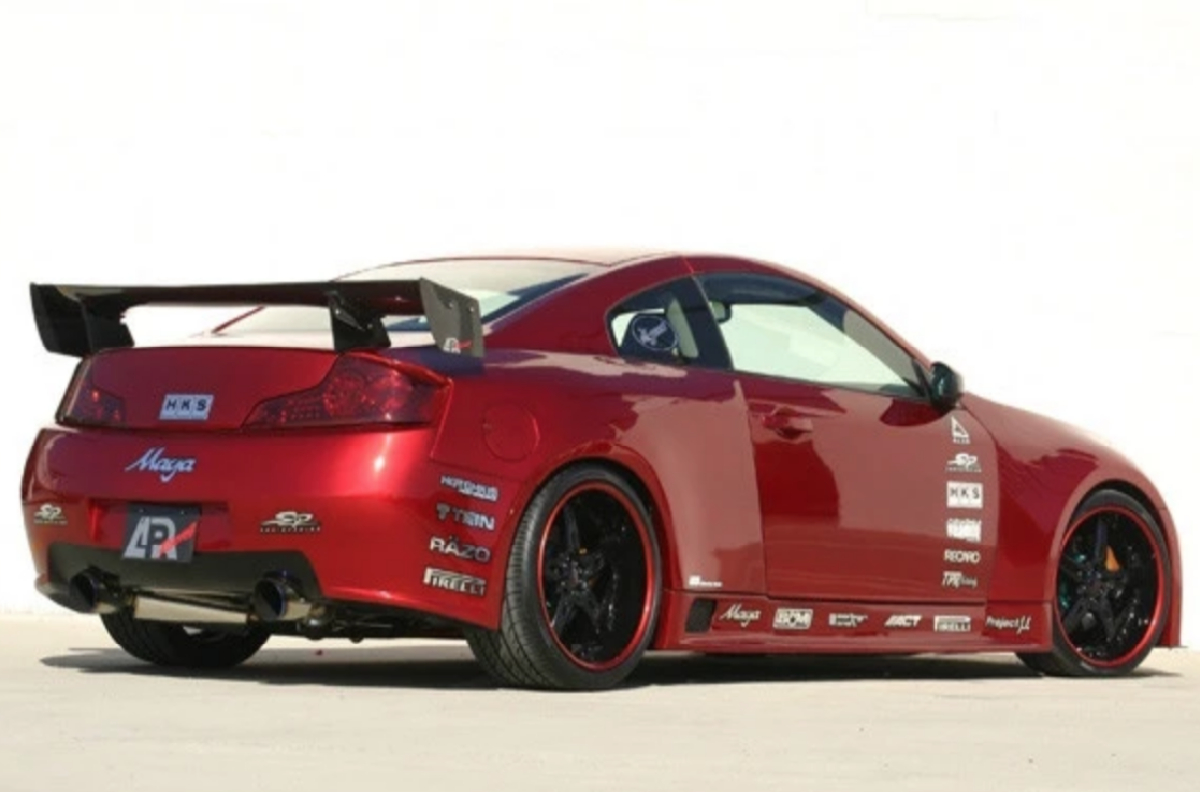 In order to enhance the stability of your G35, the APR aero kit includes a carbon fiber front wind splitter that is designed as a front undertray. The optional 67-inch (1,700mm) GTC-300 G35 Spec adjustable rear wing provides additional downforce on the rear wheels to increase rear-end stability.
Features:
Widebody Front Bumper
Carbon Fiber Wind Splitter and Front Undertray (2×2 Twill Weave)
Widebody Front Fenders (45mm)
Widebody Side Skirt
Widebody Rear Fenders and Gas Door (50mm)
Widebody Drag Reduction Rear Bumper
Notes:
#2 Charge Speed Body Kit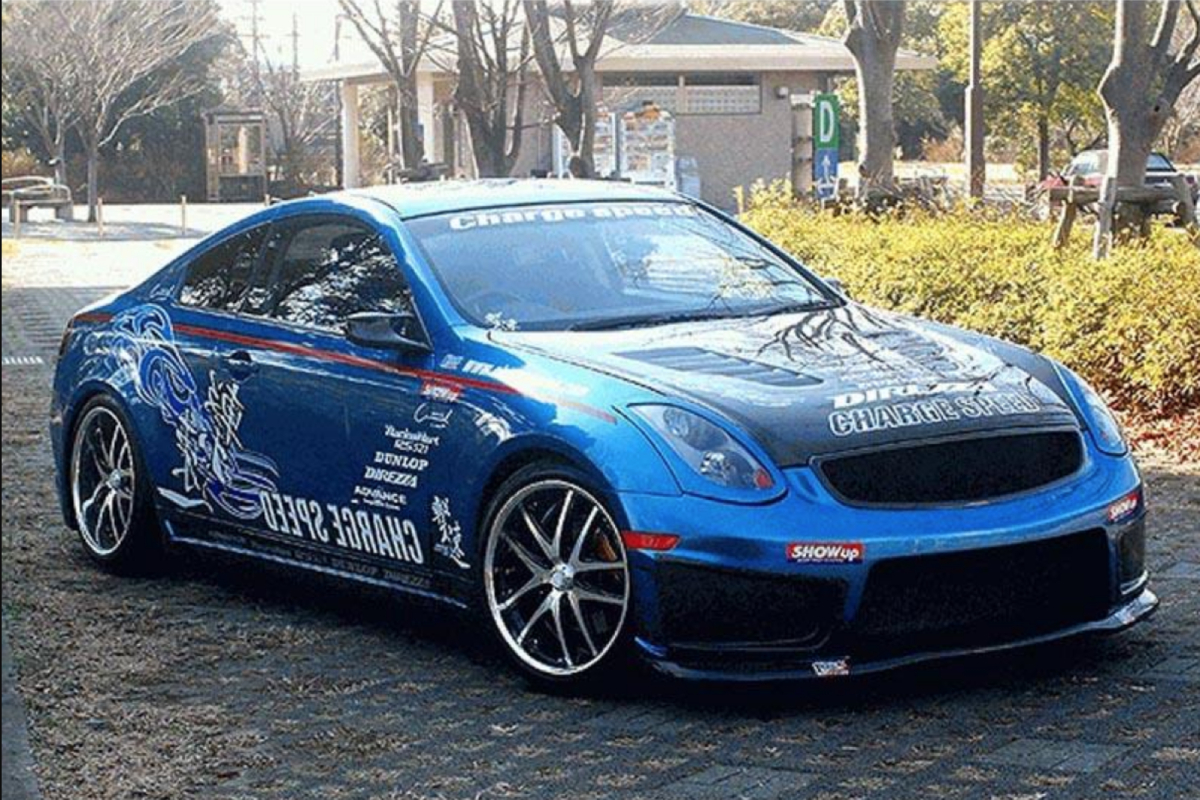 Since its inception in 1986 in the city of Osaka, Charge Speed has been on numerous enthusiasts' radars when searching for top-notch aero parts, performance accessories, and body kits. In fact, ChargeSpeed has been Japan's top-quality manufacturer of body kits and accessories for the past three decades.
The Charge Speed body kit for the Infiniti G35 consists of two bumpers, two side skirts, and a mesh grille. Each one is precision-made from the highest-quality fiber-reinforced plastic material using master models and tooling molds. This kit will give your G35 some added oomph without taking it over the top and still preserving its natural sporty contours.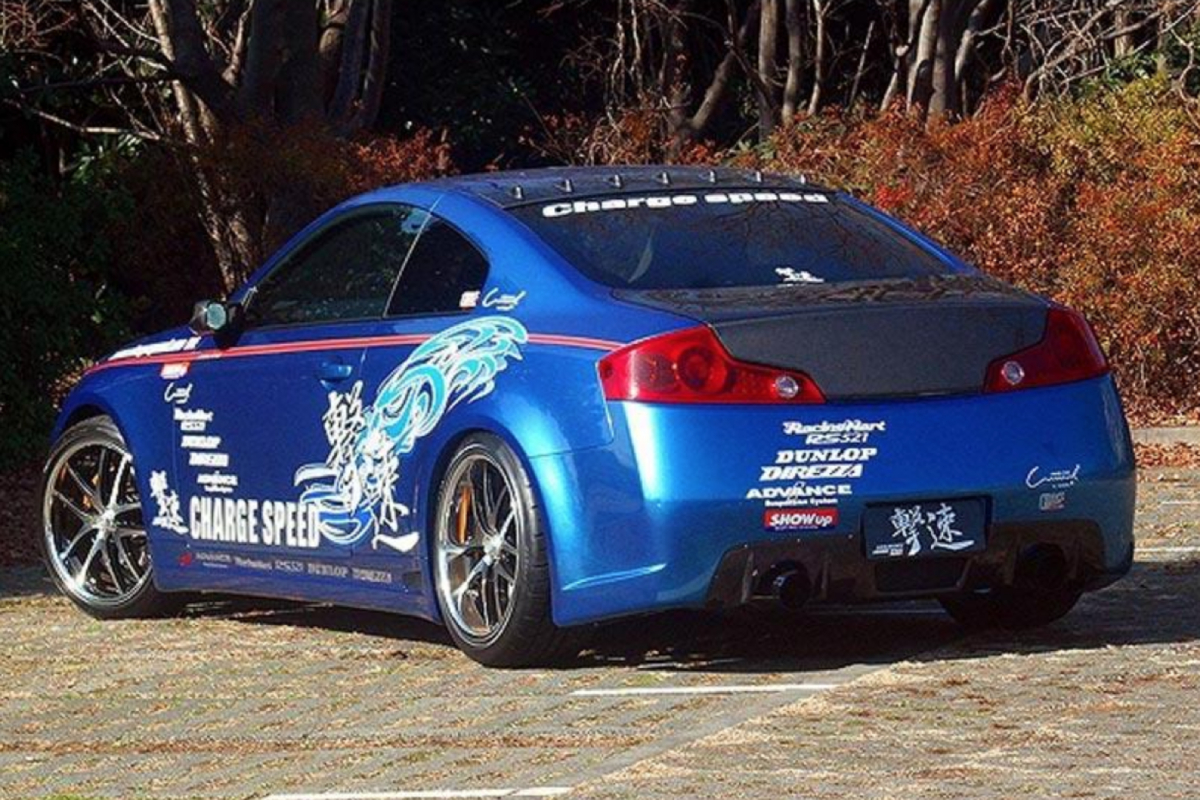 Boasting expert Japanese craftsmanship and durability, Charge Speed body kits are a direct reflection of the brand's more than 30 years of experience in the business. All parts come unpainted with a smooth shiny white gel coat finish and include precision predrilled holes for easy installation.
The Charge Speed G35 Body Kit won the performance award at the 2007 Tokyo Auto Salon.
Features:
1 Front Bumper
1 Rear Bumper
2 Side Skirts
1 Mesh Grille
Note:
All Charges Speed products are made according to Japanese Domestic Market (JDM) Spec.
Some products are legal for race purposes only and may not be used for any street and highway driving.
#3 STILLEN Body Kit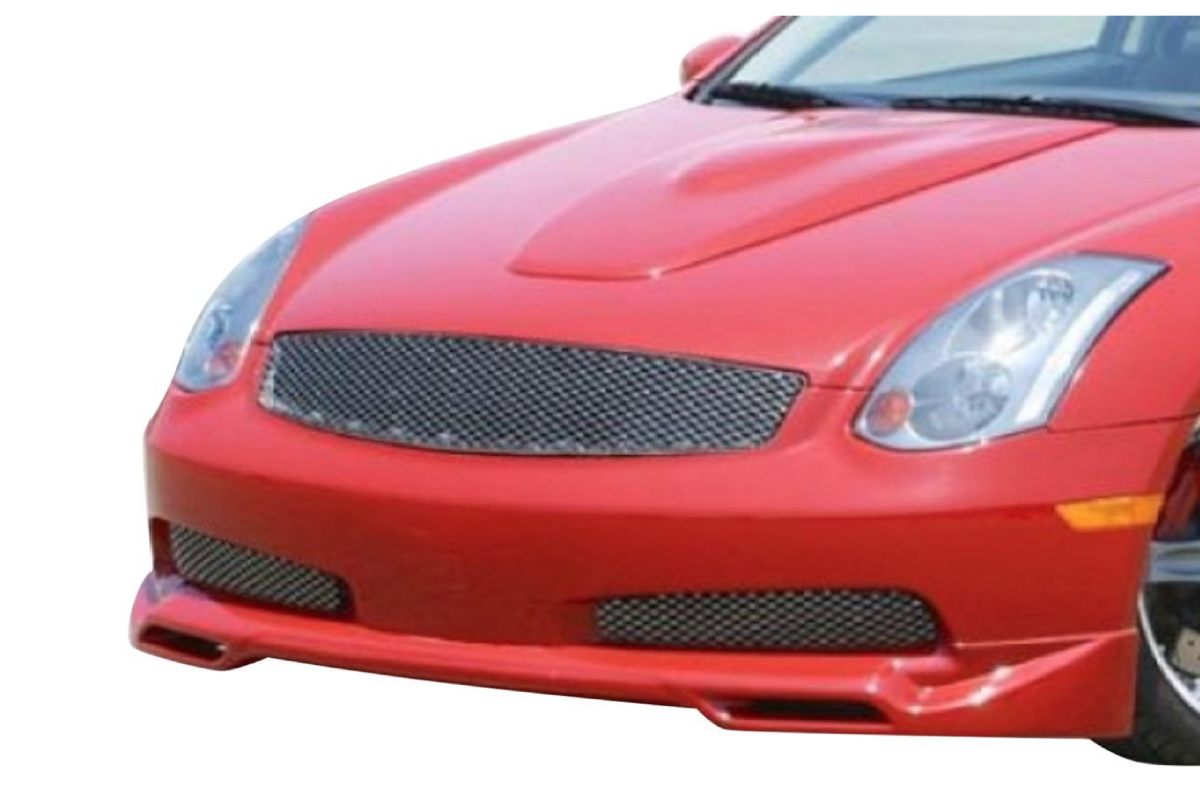 STILLEN boasts a comprehensive line of aesthetic and performance products that are sought after by enthusiasts worldwide. STILLEN has no doubt found itself as the trendsetter and benchmark of reference within the tuning and performance industries. Its aerodynamic body kits are no exception.
This STILLEN body kit helps further accentuate the curves and sporty appearance of the Infiniti G35. Developed and manufactured at STILLEN's in-house studio, this kit is vehicle-specific for a perfect fitment. It features a durable polyurethane construction and comes ready for prep and paint. Having been in the game for more than 15 years, STILLEN backs all of its parts with a Limited Lifetime Warranty. This G35 body kit is no exception; it's protected under warranty against cracking or breaking under normal use.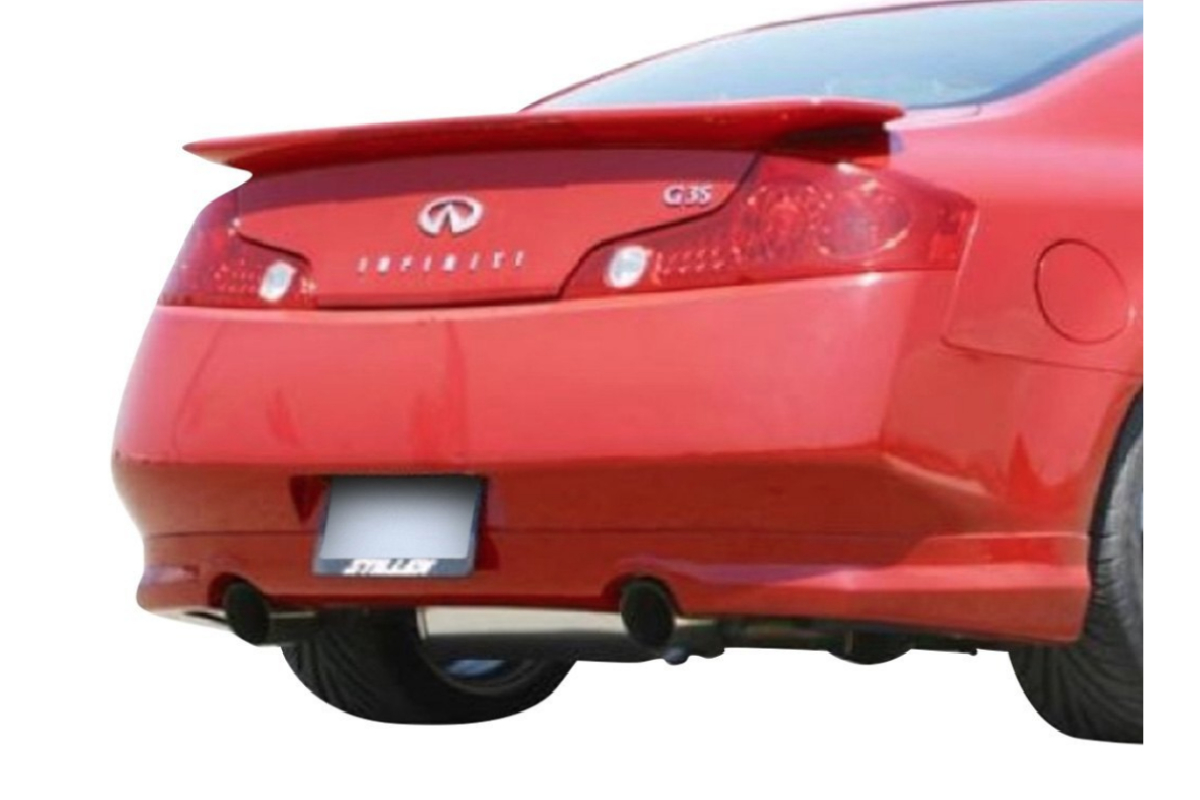 The Infiniti G35 body kit boasts a factory-quality look, feel, fit, and finish thanks to STILLEN's rigid production processes and stringent standards. STILLEN uses a direct molding process to create all the urethane components. If you know STILLEN, you know that the company produces some of the best products out there—all of which have undergone thorough testing and modifications to ensure top-notch quality.
Features:
STILLEN Side Skirt – D. Side(103612)
STILLEN Side Skirt – P. Side (103613)
STILLEN Rear Valance (103618)
STILLEN Front Lip Spoiler (103611)
Contact Us
If you are still unsure about which type of body kit you would like, let our expert parts specialists help you decide. The Vivid Racing team can help you find the perfect individual aerodynamic components or ideal body kit for your individual vehicle and application. You can reach us by phone at 1-480-966-3040 or via email at sales@vividracing.com. We look forward to dressing up your ride!