In the world of off-roading, the Jeep Wrangler is the vehicle of choice for most enthusiasts. It's undoubtedly one of the most popular off-road vehicles in the world, thanks to its tough design, solid axle setup, and massive aftermarket. For most Jeep owners, a lift is a necessity, but not everyone wants to spend a ton of money for a massive suspension upgrade.
Budget lift kits are very popular and they provide an affordable way to increase ground clearance and improve off-road performance. To help you find the best budget lift for your JL Wrangler, we've compiled this short list of the top four best JL Wrangler budget lift kits!
#1 Rubicon Express 2" Economy Lift w/ Shock Extensions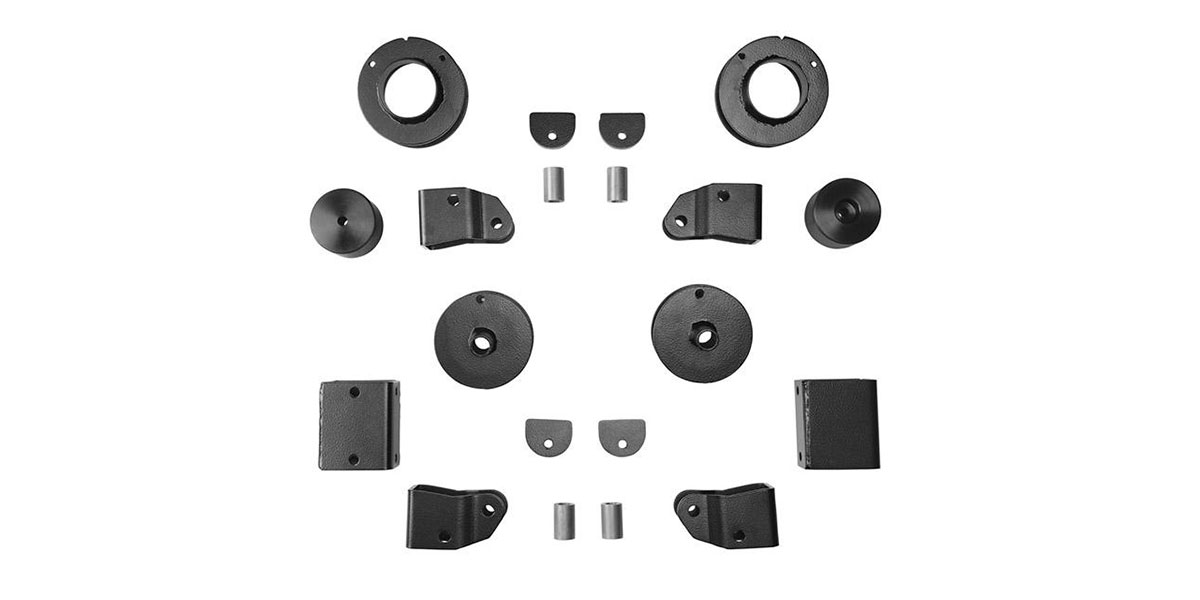 First on our list is the Rubicon Express 2" Economy lift. It should be noted that this list is in no particular order. Rubicon Express is one of the biggest names in the off-road world and they've been providing Jeep owners high-quality lift kits since 1996. This particular kit from Rubicon Express may seem a little pricey at first glance, but you get what for.
Includes:
Steel coil spring spacer
Bump stop extensions
Sway bar drop brackets
Shock extensions
With 2" of lift provided thanks to the steel coil spring spacers, the Rubicon Express lift provides a decent amount of lift without overworking the OEM suspension components. The kit includes sway bar brackets, bump stop extensions, and shock extensions.
#2 Daystar 2" Lift w/o Shocks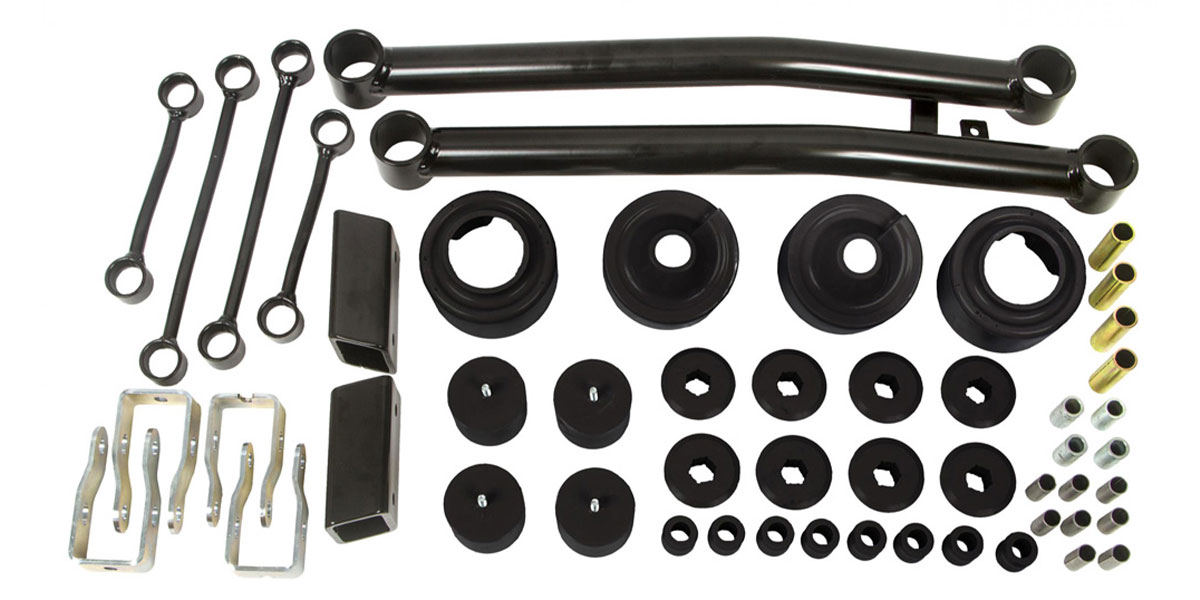 For those who want a 2" lift, but want to eliminate the weak OEM lower control arms, the Daystar lift is the perfect solution. This kit is a bit cheaper than the Rubicon Express lift, plus it comes with tubular lower control arms!
Includes:
Polyurethane coil spring spacers
Extended sway bar links
Extended bump stops
The only downside to this kit is the lack of shock extensions or longer shocks. Technically, you can reuse the stock shocks, however, down travel is limited and ride quality is less than ideal. Luckily, the polyurethane spacers improve ride quality by absorbing harsh vibrations from the springs.
#3 EVO Manufacturing 2.5" Stage 1 Boost w/ Shock Extensions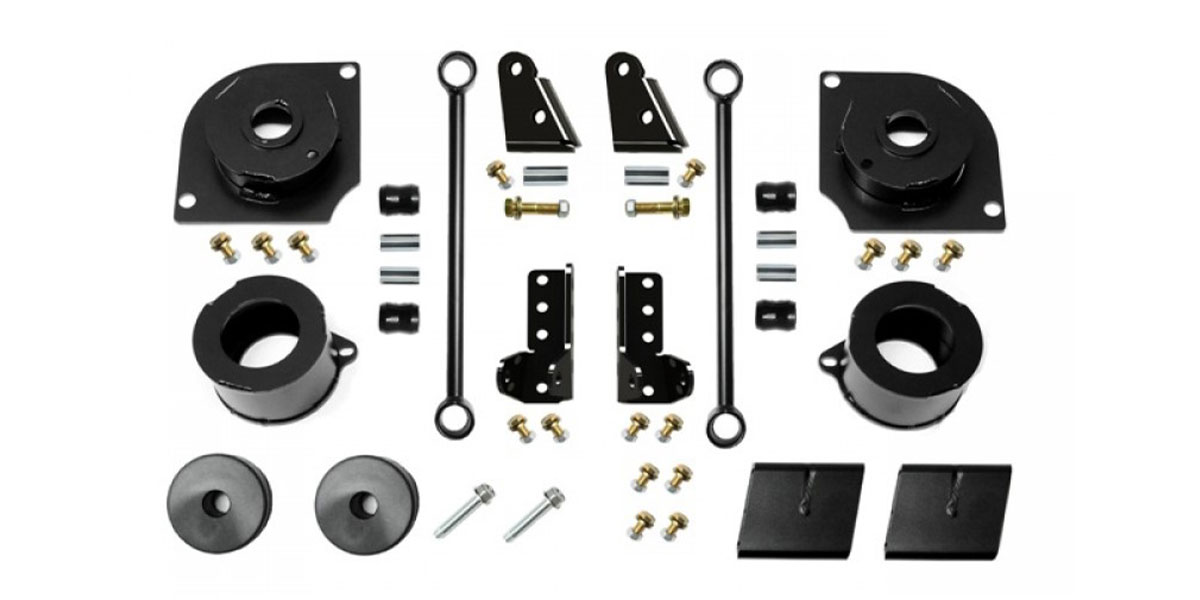 For those who love nearly everything about the budget lifts listed above, but want more than 2" of lift, the EVO Manufacturing Stage 1 boost is an excellent choice. This kit includes metal coil spring spacers, like the Rubicon Express lift, which proves 2.5-inches of lift front and rear.
Includes:
Steel coil spring spacers
Extended sway bar links
Shock extension brackets
Also included with the EVO lift kit are extended sway bar links and shock extensions brackets. The shock extension brackets keep the shocks in a similar range of travel as stock, which retains ride quality and down travel. Unfortunately, this kit is a bit more pricey than the other kits on this list, however, it offers superb build quality.
#4 Synergy MFG 2" Coil Spring Lift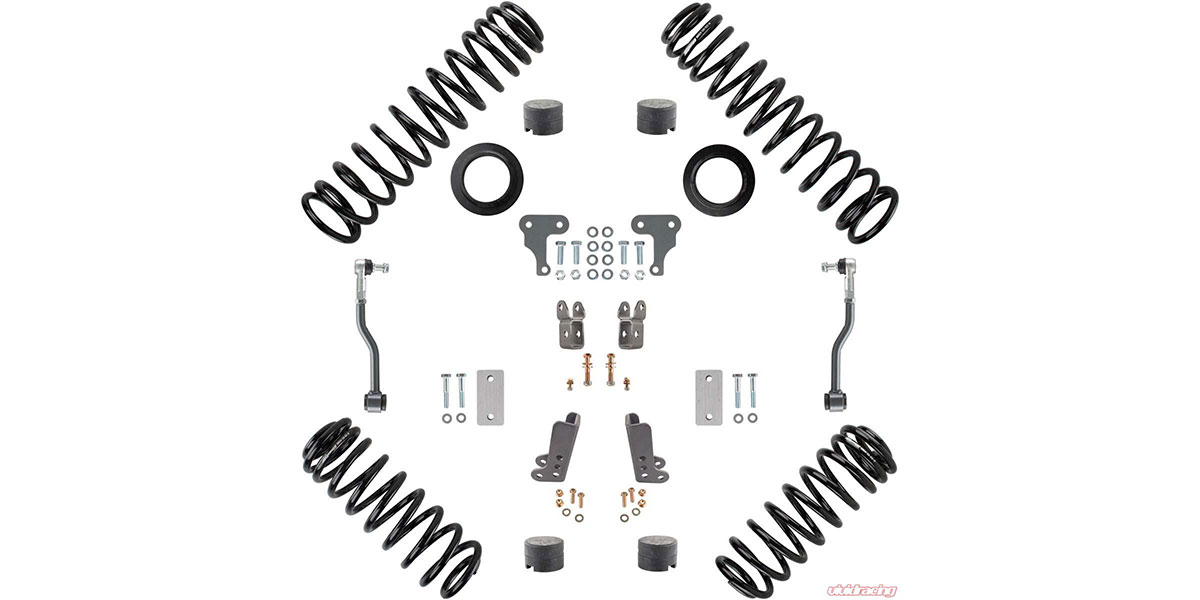 Although spring spacers are the cheapest and easiest way to increase ground clearance, they reuse the stock springs. By replacing the stock springs with aftermarket springs, articulation and ride quality can be improved for the lift size. This Synergy MFG lift kit is the most expensive kit on this list, however, it is the only one to include coil springs.
Includes:
Multirate, progressive coil springs
Bump stop spacers
Front sway bar extension brackets
Shock extension brackets
The stock rear sway bar links are relocated to the front, and new rear sway bar links and drop brackets are added to the rear. For those who want the best ride quality and handling possible, the Synergy lift kit is a great choice!