Camaro enthusiasts everywhere always seem to be going head-to-head with the competition in a never-ending muscle car battle of aesthetics, handling, and performance. When it comes to the latter, however, there are many options Chevy owners can take advantage of to give their Camaro that little extra edge of aggression in terms of power gains, looks, sounds, and overall performance. An aftermarket exhaust can significantly improve your Camaro's performance with fewer restrictions and deliver newfound horsepower and torque figures. What's more, an aftermarket exhaust will give your vehicle the sustainable power and torque it needs to succeed and surpass the competition at your next track day.
#1 Borla ATAK Exhaust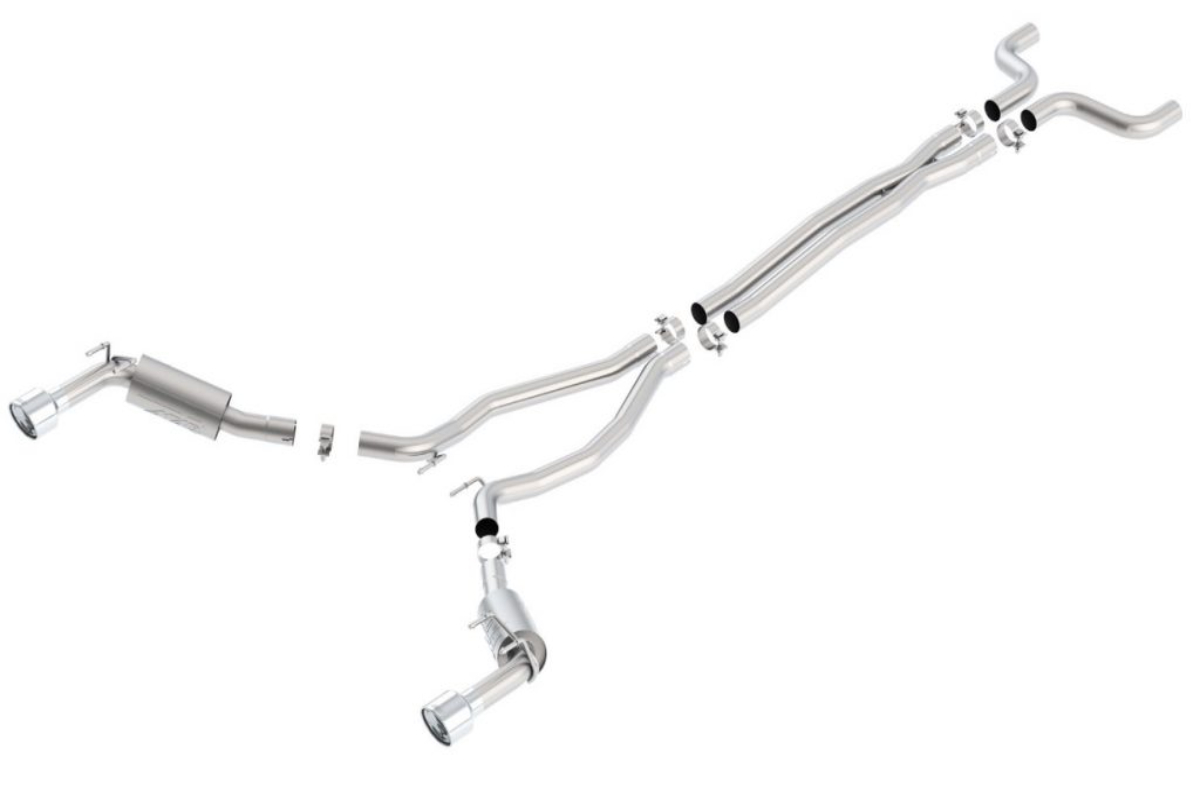 Borla ATAK (Acoustically Tuned Applied Kinetics) technology is designed for high-performance enthusiasts who prefer to hear the sound of their exhaust over the sound on their stereo. ATAK-equipped exhausts deliver the highest available decibel levels in the entire Borla street-legal lineup. While other brands tend to lose significant sound quality at higher volumes, Borla's ATAK system is tuned to shape and focus sound waves for optimum high-volume output.
Sound aside, this Borla exhaust system is designed using cutting-edge technology to boost exhaust velocity which consequently increases power and lower fuel consumption. The Borla ATAK system boasts a durable and corrosion-resistant premium steel construction with a single-split rear exit with 2.5-inch tips. Borla systems are crafted from aircraft-grade T304 stainless steel making them lighter and stronger, all while lasting longer than factory exhausts. The Borla ATAK is specifically designed using Borla's patented multi-core technology to make it resistant to high temperatures and eliminate any vibrations.
Order your Borla exhaust here!
#2 Corsa Xtreme Exhaust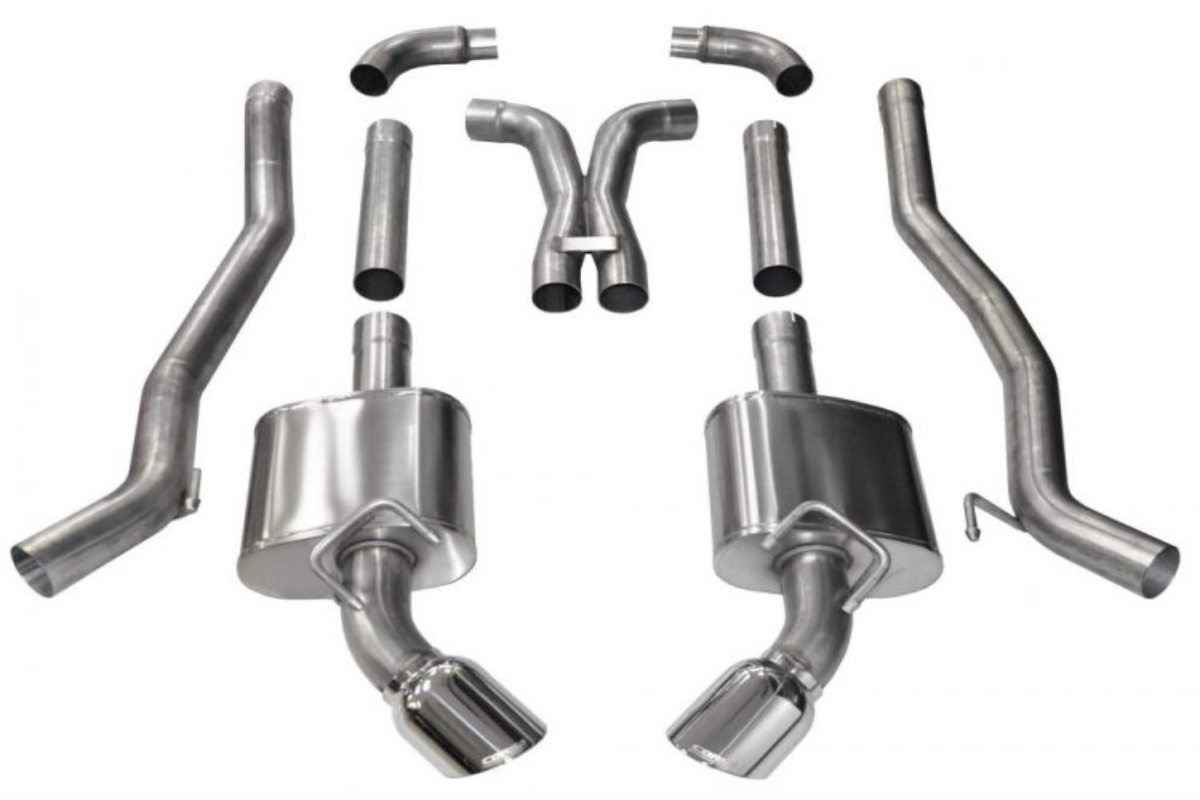 The Corsa Xtreme exhaust system is acoustically engineered and tuned to give your Camaro an intimidating exhaust note. It delivers a throaty, aggressive sound under acceleration and a deep growl at idle, all without any maddening drone while cruising. This system features a patented muffler design called Reflective Sound Cancellation Technology or RSC. RSC technology eliminates uncomfortable sound frequencies that cause what is known as exhaust resonance, or noise, inside the cabin at cruising speeds.
All components of this system, even the clamps and hangers, are constructed of premium grade, 304 stainless steel to ensure its longevity in terms of looks and sound. It features a straight-through 2.75-inch nonrestrictive system with a mandrel-bent design that maximizes airflow, thus improving performance and fuel economy. The system boasts a five percent weight reduction paired with a four percent increase in the exhaust flow.
Order your Corsa exhaust here!
#3 SLP Performance LoudMouth II Exhaust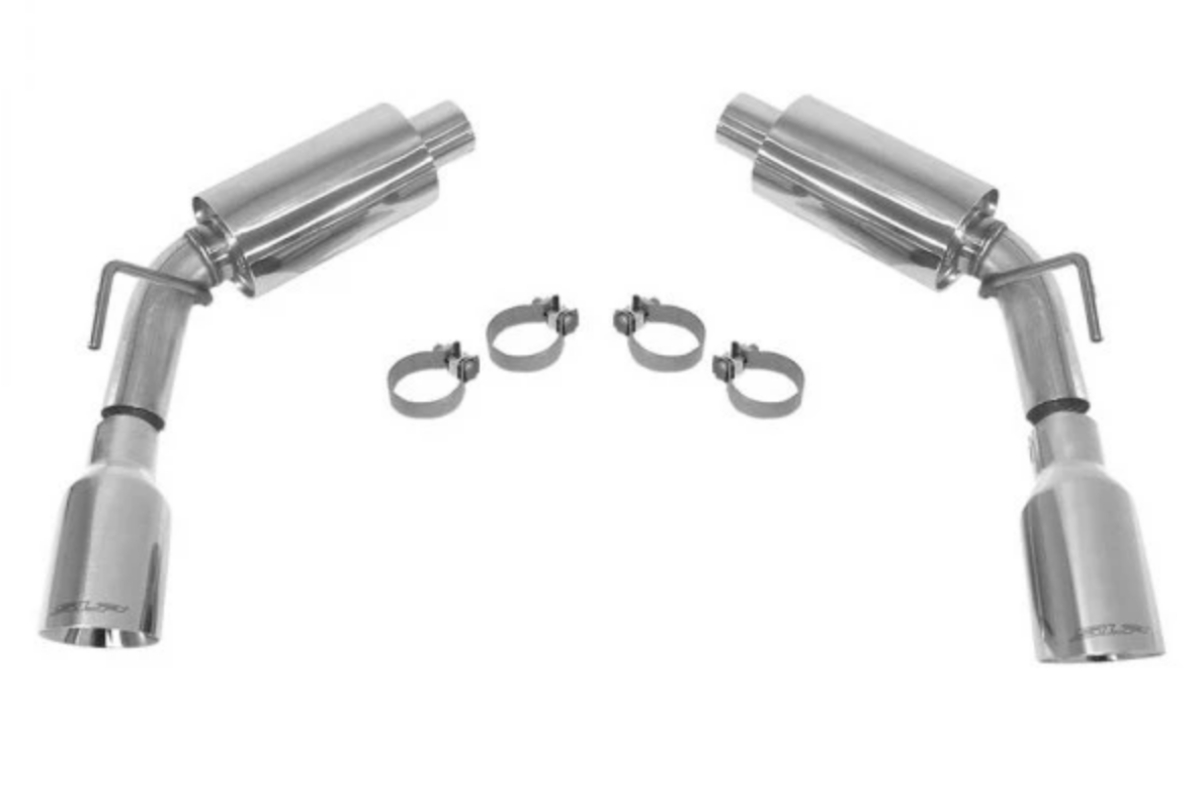 The LoudMouth II exhaust from SLP Performance delivers a powerful, deep, muscle car sound. This is made possible through a pair of LoudMouth II mufflers, which provide weight reduction over the stock muffler assembly. The SLP Performance LoudMouth II system spotlights a straight-through design and a ceramic-wrapped perforated core, allowing for better flow than traditional chambered and turbo-type mufflers. It is crafted from mandrel-bent 2.5-inch 409 stainless steel tubing for unrestricted flow with an integrated PowerFlo-X crossover pipe that will bolt to the factory 2.75-inch downpipes. The system is finished with hand-polished 304 stainless steel 3.5-inch tips that are embossed with the distinctive SLP logo, giving a great finishing touch and that show-quality appearance.
The LoudMouth II boasts superior flow and performance with minimal interior resonance for an all-around pleasant and fun driving experience. The LoudMouth II system just a bit more mellow and smoother than its predecessor (the original LoudMouth system), but really lets out an aggressive growl under hard acceleration. It was designed using SLP's innovative modular technology to provide noticeable power gains and enhanced performance that you will immediately feel and hear.
Order your SLP Performance exhaust here!
#4 Flowmaster American Thunder Exhaust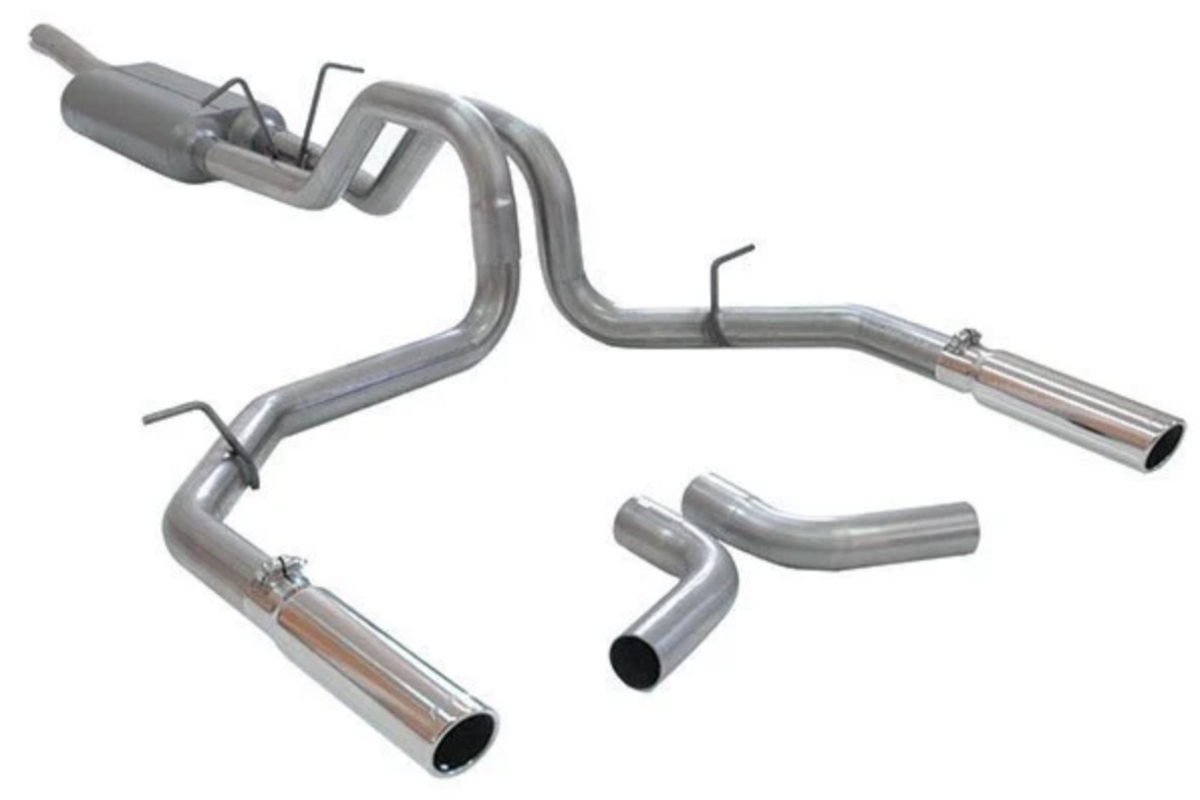 The Flowmaster American Thunder exhaust system delivers excellent power and performance without breaking the bank. American Thunder gives you exactly the sound that is promised by its very name. It delivers a very aggressive sound in track mode while maintaining a deep mellow tone in stealth mode for everyday driving. Flowmaster exhaust systems employ two unique technologies, the patented Delta Flow and the Laminar Flow, to deliver different sound characteristics that can be tuned to achieve the desired exhaust note. This system features tandem 40 Delta Flow Series mufflers for daily driving, along with a pair of our race-proven Outlaw mufflers that increase the open exhaust sound when in track mode. It is crafted from 409S stainless steel and finished off with large quad 4-inch polished stainless-steel tips replicating the factory quad NPP exhaust look.
All Flowmaster systems are individually engineered and dyno-tested for each application. Benefits include better throttle response, increased power, and improved mileage. All tubing is mandrel bent for superior exhaust flow and is a key element in the system's performance enhancements. Both the muffler and tubing are fabricated from quality stainless steel for corrosion-resistant properties to guarantee longevity.
Order your Flowmaster exhaust here!
#5 MagnaFlow Street Series Exhaust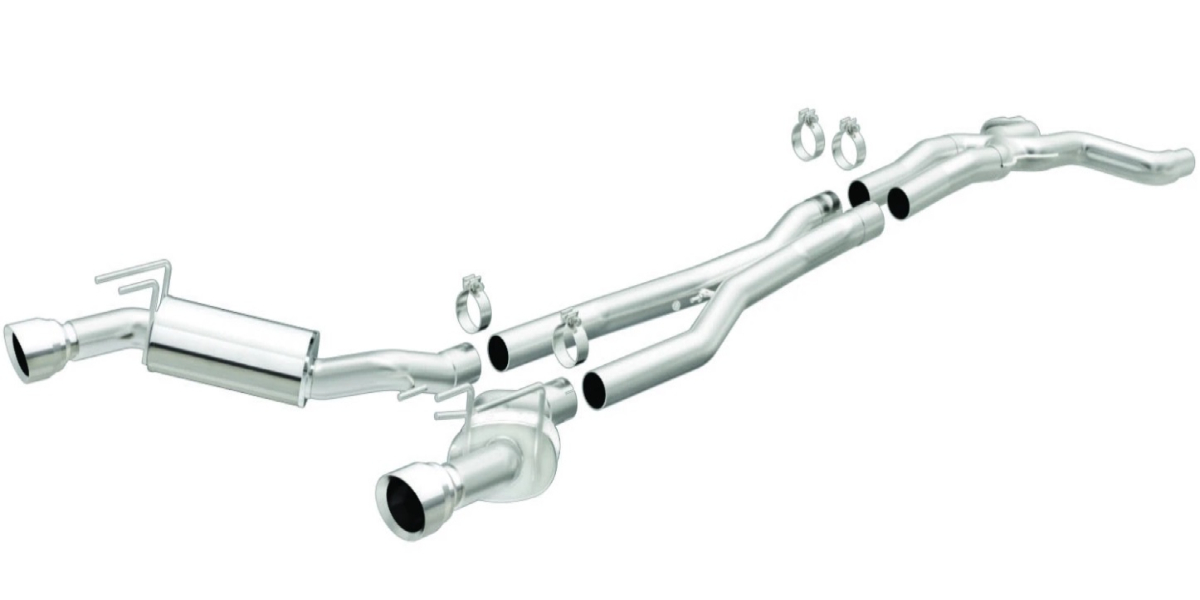 The MagnaFlow Street Series performance exhaust system delivers dyno-proven power with a comfortable interior sound and a tantalizing exterior sound. Every Street Series system is built by professional engineers and assembled by skilled craftsmen to fit the lifestyles of everyday drivers, and meet the discerning demands of high-performance enthusiasts. Magnaflow's Street Series is the brand's "tame version", enabling a deep throaty grown upon acceleration while emitting a milder tone when cruising. This system maintains the stock resonators for a more factory-like sound.
All MagnaFlow exhaust systems adhere to the same manufacturing standards, which includes mandrel bending to preserve flow and power, as well as laser cutting and CNC robotics for precision and consistency. The Street Series exhaust systems are the perfect balance between power and sound, without going over the top. It features a straight-through flow design for the ultimate in unrestricted horsepower and torque for big power gains, all while maintaining exhaust efficiency. It delivers the smooth and deep sound you crave with the wide-open performance you need.
Order your MagnaFlow exhaust here!
Summary
When you own one of the most celebrated muscle cars of all time, some may wonder why you would tweak anything about it, especially the exhaust. Well, once you get behind the wheel of a Camaro, it seems that the urge to up the ante and play with its abilities is a natural course of action. Even SS owners, who boast a 6.2-liter V8, resort to the automotive aftermarket to unleash the true potential of the beast that is a Chevy Camaro. While it's a fun car to drive right off the lot and one that yields immense satisfaction, there is always room for improvement and that is where these aftermarket exhaust systems come in.