If you are the owner of a Polaris RZR Turbo / 1000, then you know just how powerful of a machine it is. You can virtually take the RZR on any type of terrain and in any climate condition while enjoying it to the fullest. There are many aftermarket parts to help make it easier for your machine to perform its best and one of those is an upgrading clutch kit. Power loss, excessive belt wear, and a slipping belt are all key indicators that your UTV's clutch is not working to its potential. Common mods like larger diameter wheels and tires, or increased engine horsepower can lead to a CVT-powered vehicle operating outside of its normal or optimal clutching range.
What this means is that you can be adding power mods like a tune, intake, exhaust, and so on, but that could all be going to waste if you don't have the proper clutching. An aftermarket clutch kit can fix all that since the CVT clutch is designed to work around a specific tire size and power level; hence, anything above that can cause slippage and other less-than-desirable performance. That's because the stock clutch is designed for one tire size and power level, and is made to be suitable for mud bogging, trail riding, towing, hauling, and hitting the dunes. So, while the one-size-fits-all approach is decent at everything, it may not be exceptionally good at one or the other.
An upgraded kit can deliver improved acceleration, better throttle response, fasting shifting, more reliability, and no belt issues! We have compiled the following list of the top 5 best clutch kits for the Polaris RZR Turbo / 1000 to make it easier on you when searching for an upgrade. If you are unsure about which clutch kit will work best for your UTV, contact our performance specialists by emailing sales@vividracing.com or calling 1-480-966-3040. We can help you find the perfect clutch kit for your UTV regardless of the power, tires, and driving style.
1. STM Powersports Rage 3WCP Primary Clutch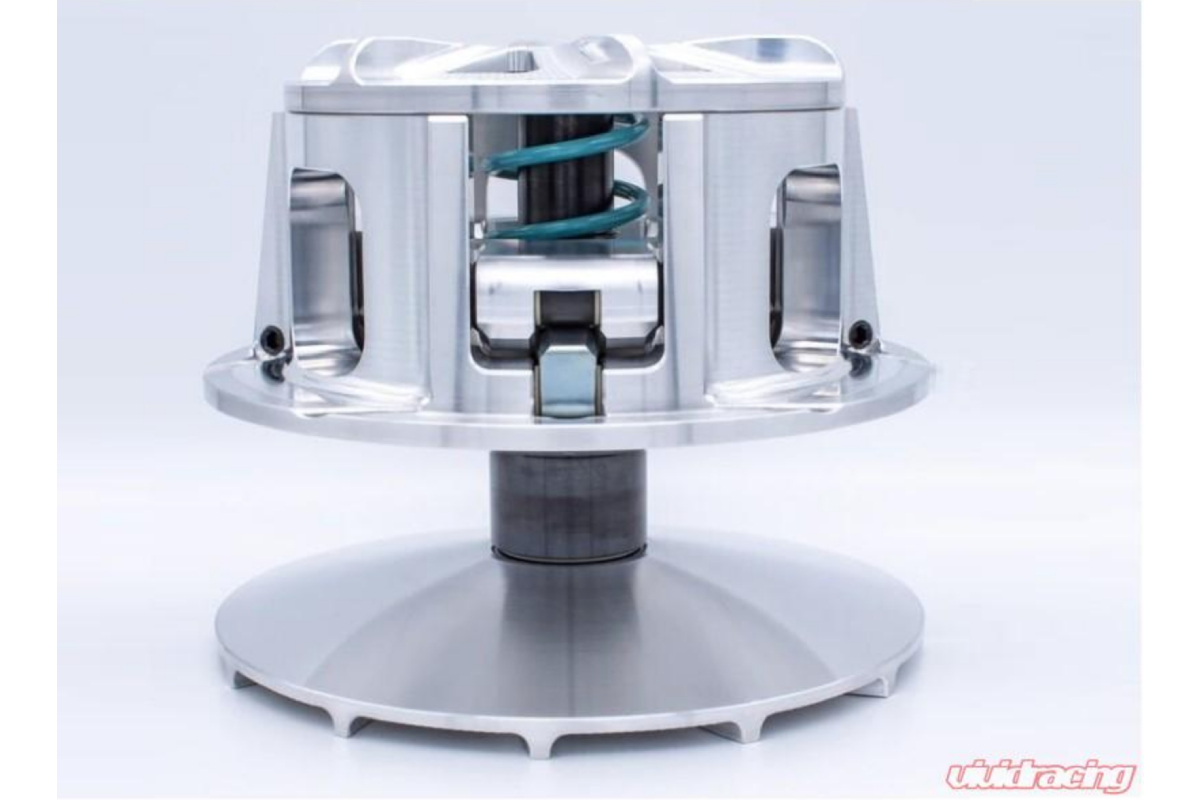 The completely redesigned STM Powersports Rage 3WCP Primary Clutch features a wider, thicker, and more durable spider with the brand's new composite spider roller bushings for quiet operation and longevity. The new design uses a captured pin with set screws for maximum durability and ease of use. In addition, STM has included all-new composite cam arm bushings for a longer lifespan in harsh environments. A finned fixed sheave has also been added for better airflow and cooler operating temps.
The Rage 3WCP Primary Clutch utilizes the STM PATV style springs. The clutch will be shipped fully assembled with a baseline weight setup installed based on the specs of your Polaris RZR Turbo / 1000. It is up to the customer to ensure that the clutch is calibrated properly for their machine as per the instructions provided. This clutch uses the OEM belt specified for your vehicle; though, aftermarket belts can also be used but may require a slightly different calibration to enjoy maximum performance and belt life.
The Rage 3WCP clutch works well with stock and aftermarket tunes that utilize the stock turbo and pump gas. Included with the clutch package are a new retaining bolt, lock washer, bolt retaining washer, fastener kit to calibrate the cam arms, and a compression tool to change the weights or spring in the clutch without removing it from the engine. This primary can be used with the OEM secondary or the billet STM Powersports Tuner Secondary Clutch.
Features:
Completely redesigned for maximum performance benefits
Boasts ease of use with a quieter overall operation
Provides better airflow with cooler operating temperatures
Comes assembled with a baseline weight setup for your UTV
Works well with stock and aftermarket tunes
Can be used with OEM secondary or STM secondary clutch

2. EPI Performance Sport Utility Clutch Kit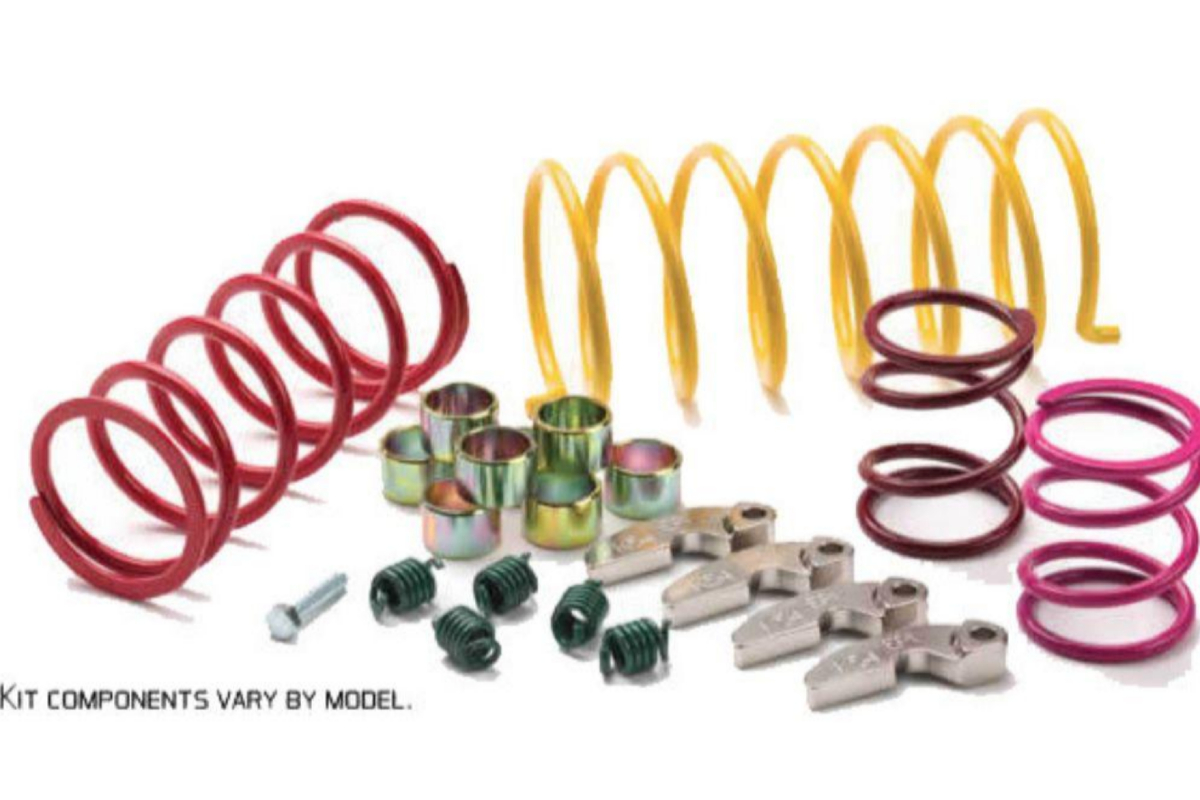 If you do a little bit of everything, then the EPI Performance Sport Utility Clutch is the product for you. Upgrade your Polaris RZR Turbo / 1000 with the brand's most popular clutch package and the best all-around use kit on the market. It is great for riding trails, plowing, hauling, occasional mud and sand riding, you name it! EPI designed the Sport Utility Clutch Kits for people that want to spend most of their time out on the trails and enjoy the best overall performance from their UTV without sacrificing its reliability.
Designed for the stock Polaris motor and exhaust, this kit improves low- and mid-range acceleration for all trail riding. It is also more efficient in transferring the power of your UTV down to the tires. Other benefits include decreased clutch heat and reduced belt slippage with quicker acceleration and backshifts along with improved throttle response. This kit ideally will make up for the power loss and slow response after adding oversized tires to your machine. Designed for both stock and larger setups, this kit is built for different elevations so you can get the most out of it.
This kit will eliminate the EBS function as well. Removing EBS results in a more performance-oriented driving experience. If you wish to keep the EBS function, please contact us, as a different helix is needed.
Features:
Great for trail riding, occasional mud and sand riding, plowing and hauling
Makes up for the power loss and slow response of adding oversized tires
Better low-end and mid-range acceleration
Quicker backshift for a more crisp throttle response
Reduces belt slippage and clutch heat
Best all-around use kit
Designed for stock tires
Elevation 3-6000′

3. Trinity Racing Stage 5 Performance Clutch Kit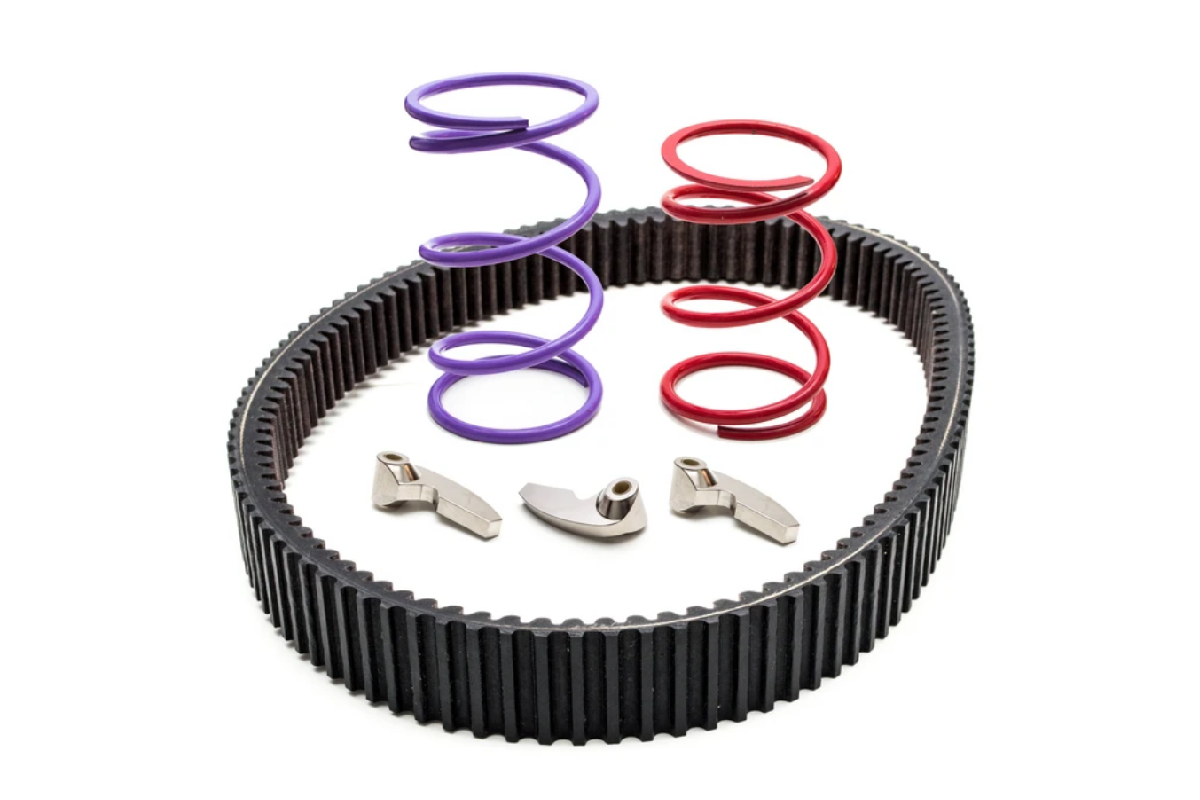 The Trinity Racing Stage 5 Performance Clutch Kit will help increase performance on the bottom end, where your UTV currently feels sluggish. If you are adding larger tires or live at high elevations, getting a clutch kit is a crucial mod and this one greatly outperforms the factory setup. Designed specifically for trail riding, this kit increases low-end and mid-range torque, and eliminates harsh engagement of the clutches. The package comes with everything you need to experience optimal performance, including a belt, springs, and weights.
The heat-resistant DUMAX drive belt increases strength by 30 percent compared to the OEM belt and aftermarket counterparts too. The Trinity Racing Clutch Kit is exactly what your Polaris RZR Turbo/1000 needs to dominate the trails with confidence and heightened performance. Experience excellent all-around use with smoother engagement, reduced slippage, better backshifts and downshifts, lower clutch temps, and improved throttle response.
Features:
Excellent all-around use
Designed specifically for trail riding
Increases low-end and mid-range torque
Allows for smoother low-end engagement
Improves throttle response
Reduces clutch temperatures
Eliminates slippage and harsh clutch engagement
Provides better backshifts and downshifts
DUMAX drive belt increases strength over stock
Kit includes belt, springs, and weights
3-6000′ Stock Tires

4. Dynojet Power Vision Clutch Kit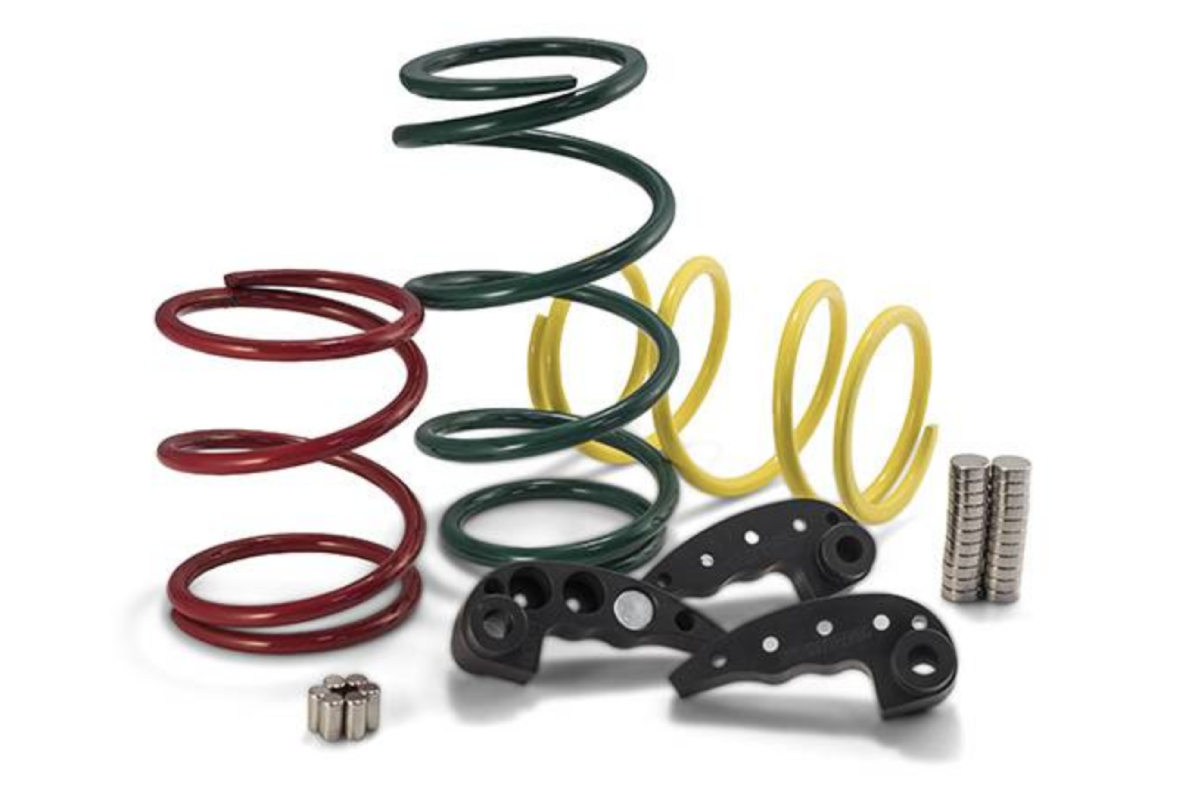 Dynojet Power Vision Clutch Kit was designed from the ground up to improve the performance of your Polaris RZR Turbo / 1000. These kits are fully adjustable and can be tailored for the modifications done to your machine, the terrain on which you will run it, and your specific driving style. Each package includes redesigned arms with magnetic weights to give you the flexibility needed to adjust the primary clutch. Such allows the engine to operate at more optimal RPMs in order to achieve peak power faster and hold it there. When paired appropriately for the modifications done, springs and a redesigned helix can decrease belt temperatures, reduce belt wear, and optimize the shift rate to deliver maximum power transfer to the wheels.
This clutch kit will improve your UTV's response by way of faster backshifts, better acceleration, and smoother overall engagement. The optimized belt tension translates to cooler belt temperatures and, thus, an increased belt life. When aptly paired with a Power Vision CX tune, Dynojet's clutch kits allow for a smooth engagement and delivers the power when you need it. Testing and validation of the new Dynojet Power Vision Clutch kits and CX tunes is imperative. All tuning and development is performed on the company's in-house dyno as well as field-tested for the utmost reliability and performance. The end result is an upgraded clutch and tune that work together for the best power delivery for your Polaris RZR model in all riding conditions.
Features:
Increased top speed over the stock setup
Improved power transmission to the wheels
Optimized belt tension for increased belt life
Engineered to deliver maximum output from Dynojet Power Vision CX tunes
Easily adjustable for Sand, Mud, Rock, and Trail applications

5. Bikeman Performance Stage 1 Clutch Kit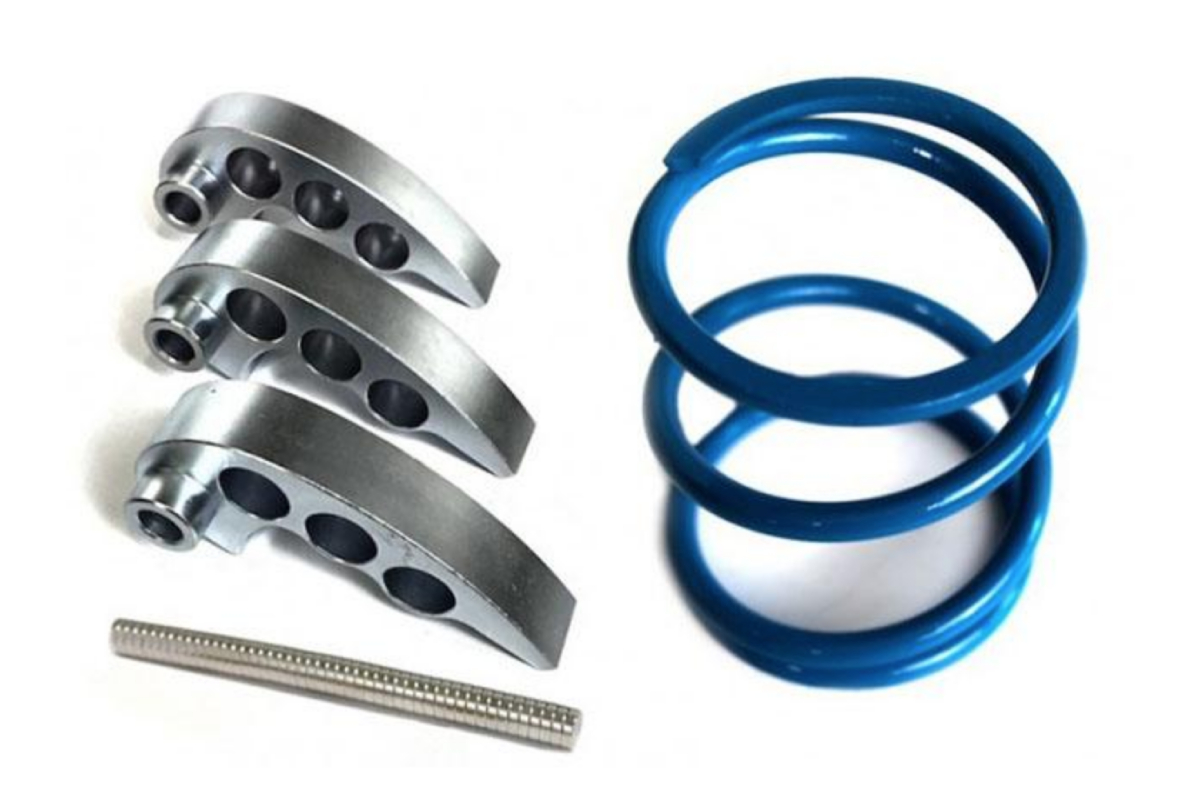 The Bikeman Performance Stage 1 Clutch Kit is a must-have modification for your tuned Polaris RZR Turbo / 1000. Clutching is crucial, especially when you are adding more power to your machine. In order to properly transfer the higher levels of horsepower, you will need to adjust your CVT clutch. Bikeman's custom weights were specifically designed to help shift the clutch harder, which results in more power being sent to the rear wheels. The Goldstar magnetic adjustable weights have been highly popular among customers as they are very easy to adjust and work exceptionally well.
This Stage 1 Kit comes with Bikeman's primary spring as well, which helps hold side tension on the belt (better than the factory one) for less slippage and quicker backshifts. This product also holds and achieves peak RPMs faster and more aggressively with a much better power transfer overall than the stock weights. The Bikeman package works well with stock or modified motors and installs seamlessly. Just make sure you remove the primary limiter (grey plastic washer0 between the spring and the clutch when performing the installation.
Features:
Offers a more responsive feel
Works well on stock or modified RZRs
A simple must-have for tuned RZRs
Gain top speed over the stock clutching
Much better power transfer than the stock weights
Spring holds much better tension on the belt than factory
Quicker back shifting when off the throttle
Includes BMP magnetic adjustable weights, BMP primary spring, and a setup guideline