Polaris is globally renowned for producing some of the world's best side-by-side vehicles. As a leader in the UTV realm, the brand continues to break new ground using the latest technology to upgrade its models to help riders to push the limits and go further. With superior control to deliver unmatched confidence, Polaris doesn't just offer a remarkable riding experience – they define it. Its highly popular RZR Turbo model is known for delivering instant acceleration and immediate throttle response with the turbocharged thrust that puts you in control of extreme performance.
The RZR XP Turbo lets riders face harsh terrain head-on with a complete package that has defined the UTV category in every way. The RZR Turbo is engineered for benchmark performance with impressive power that comes on strong and never fades out. This power is paired with a highly capable suspension system in a perfectly balanced chassis for confidence and control that ultimately defines the off-road experience and encourages it. With that said, upgrading the exhaust on the Polaris RZR XP Turbo is one of the best performance modifications you can do to get the most out of your machine.
An aftermarket exhaust will not only add styling to your RZR Turbo, but also enhance its overall tone for a bolder presence. Additionally, a well-designed quality exhaust can truly improve the performance of your UTV by offering maximum flow to allow for increased horsepower and torque figures that could be felt across the entire power range. On top of all that, many of the following feature durable and resilient stainless-steel constructions that can stand up to the elements of off-roading to perform optimally and maintain their luster for years to come.
We have compiled the following list featuring the top 5 best exhaust systems for your Polaris RZR Turbo to help take the guesswork out of your search. If you are still unsure about which system may be best for your machine, feel free to contact our performance specialists by emailing sales@vividracing.com or calling 1-480-966-3040. Be sure to also browse our entire selection of exhausts for the RZR Turbo right here.
1. Agency Power Valvetronic Exhaust System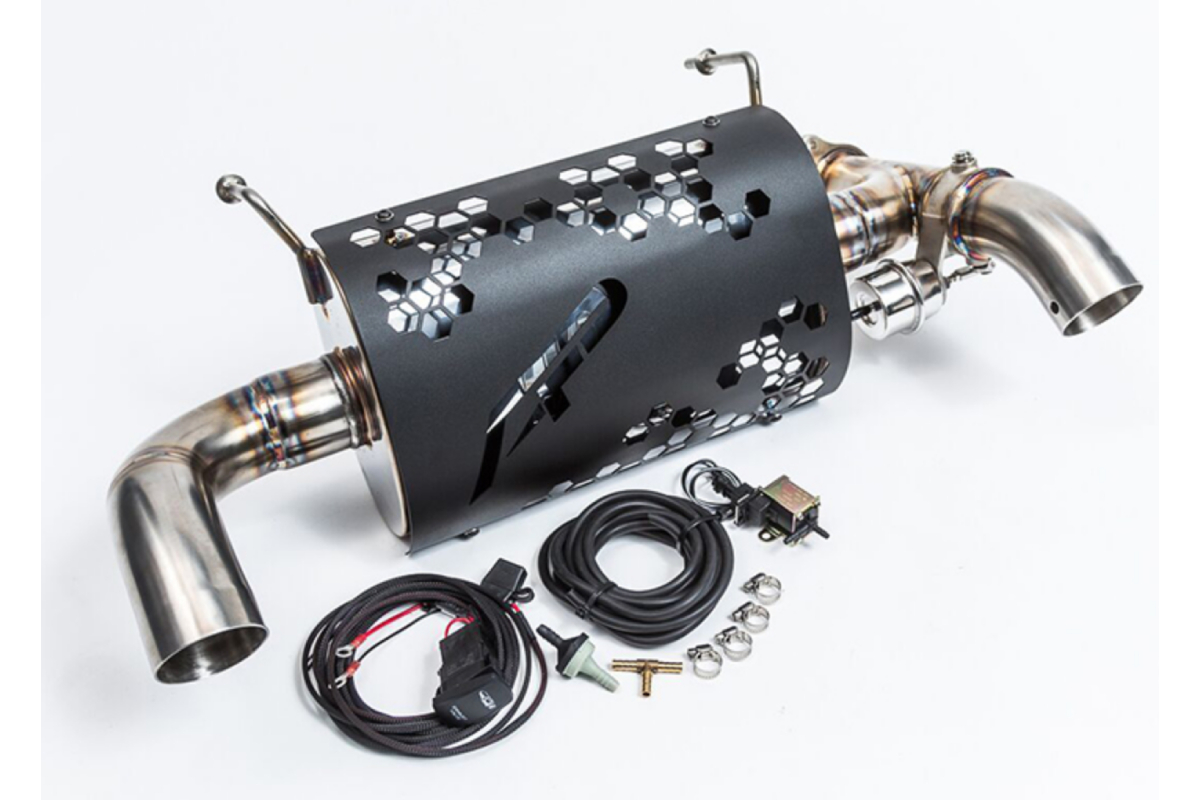 The Agency Power Valvetronic Exhaust System for the Polaris RZR Turbo is proudly made right here in Arizona. It is crafted from top-grade T340 stainless steel that has been fully TIG-welded by hand using proven JIGs and vehicle testing. This exhaust mounts directly to the turbo pipe with a thick 3-bolt flange. It features a beautiful merge that splits between a chambered MagnaFlow muffler and the exhaust valve. The muffler was specifically designed to emit a sporty tone when the valve is closed and an even more aggressive tone when the valves are open.
A straight-cut 2.5-inch turndown exhaust tip leaves each side of the muffler with holes to install a spark arrestor. The included remote components of this Valvetronic system operate the butterfly valve via a vacuum solenoid. The solenoid is tapped into a vacuum source on the Polaris RZR XP Turbo engine which controls the opening and closing of the valves with the key fob. This system also features a bung for the factory O2 sensor. Additional O2 bungs can be welded on for drivers running aftermarket AFR gauges.
Each Agency Power exhaust system also includes a new Agency Power exhaust shield. The exhaust shield is precision water jetted from stainless steel and features the AP logo on it for added unique styling. The heat shield is engineered for this specific exhaust system and application for the best performance possible. This exhaust mounts to the Polaris factory hanger and bracket positions for a simple, complete bolt-on installation. There is no cutting, welding, or other exhaust modifications required.
Features:
Valvetronic Dual Tone Sound
Includes Remote Key FOBs
Uses Magnaflow Muffler
Stainless Steel Construction
Allows for Use of Spark Arrestors
Included AP Logo Heat Shield
Available in RAW Stainless or Black Coated

2. MBRP Stacked Dual Slip-On Performance Exhaust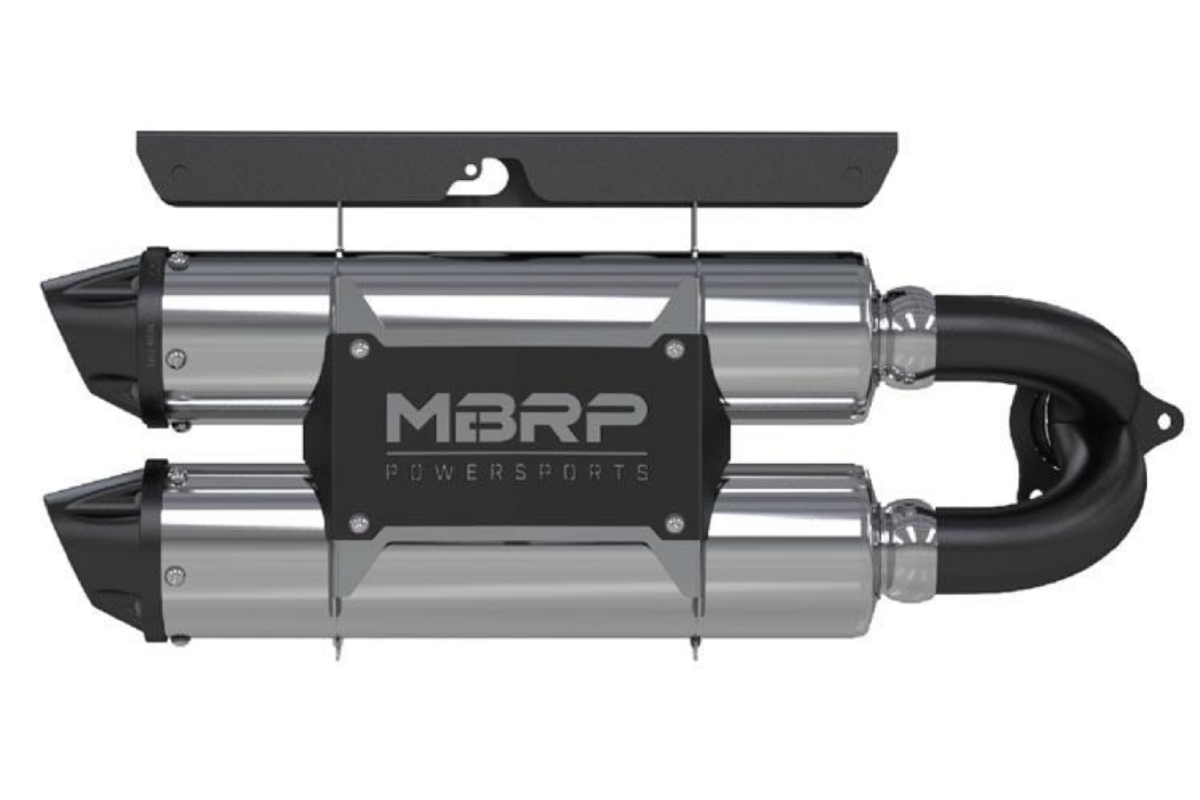 For the past two decades, MBRP Ltd. has been delivering the best products for performance enthusiasts when it comes to power, quality, and customer satisfaction. The MBRP Stacked Dual Slip-on Performance Series Exhaust for the Polaris RZR XP Turbo/Turbo S is intended for race use only and is not for sale in California. At the forefront of exhaust technology, MBRP exhausts are a complete bolt-on system with clear instructions so you can install it easily and enjoy it right away. There is no assembly or tuning required and it comes back by a one-year warranty. This system has been fully flow-bench tested and comes with U.S.F.S spark arrestors.
The Performance Series Exhaust is much lighter than the factory Polaris RZR Turbo exhaust, crafted from quality 304 stainless steel with a ceramic coating. Delivering a clear and enhanced exhaust note, this system is enjoyable in all riding conditions and will take your riding experience to the next level for all involved. This is all thanks to the four Power Tech (PT) mufflers that emit a true performance exhaust sound, over stock, with the maximum flow for heightened performance. Apart from delivering a crisp sound, you can also experience gains of up to five horsepower with improved throttle response.
Features:
Gains up to +5 horsepower
Enhanced Exhaust Note
USFS Approved Spark Arrestor
No tuning needed
1-Year Warranty
Race Use Only
Not to be sold in California

3. HMF Racing Dual Slip-On Performance Exhaust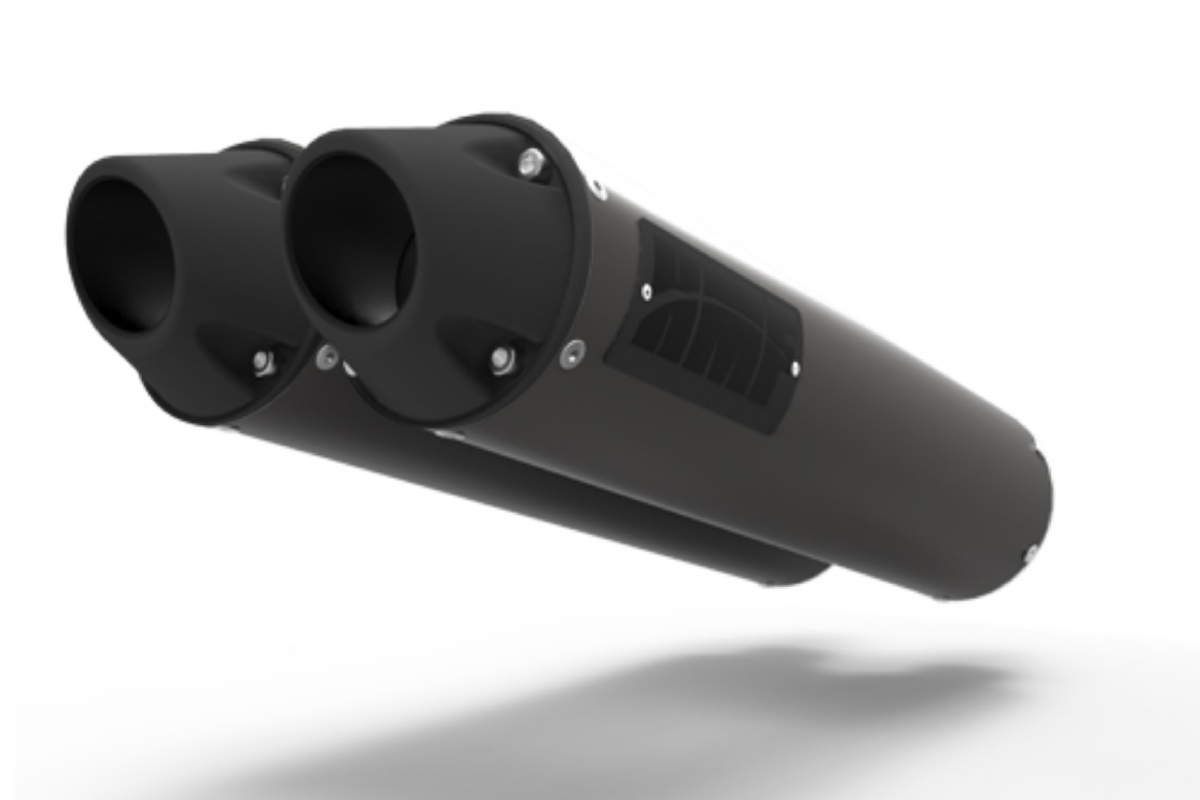 The Polaris RZR Turbo Dual Slip-On Exhaust System by HMF Racing is built tough and durable for even the toughest conditions you put your UTV through. With this exhaust, your machine will experience better sound and performance with added power gains as well. HMF's Performance Series of exhaust systems has been setting the standard for power and value for several years. This product line has been thoroughly track-tested with over a decade of championships under its belt. The specifically designed, unrestricted core design offers maximum flow and allows the exhaust to increase horsepower and torque evenly throughout the entire power curve.
This exhaust uses 4-inch aluminum silencers that pick up an additional five horsepower and 3 pound-feet of torque. It emits a deep, aggressive sound and you will typically see a 3-6 decibel increase over the stock system. And, with the industry-leading end cap and color options, you can add a completely customized look and sound to your machine. Choose from Blackout Euro, brushed, or polished tips to give your machine a meaner back end. This slip-on exhaust replaces the stock silencer and is significantly lighter than the factory Polaris exhaust. All HMF dual systems use 16-inch silencers and retain the original downpipe and turbo heat shields.
Features:
Increases of 5.5 horsepower
Increases of 3 lb-ft of torque
Retains original turbo, downpipe, heat shields
System is 3-6dB louder than stock
Tip options: Blackout Euro, Brushed, Polished
Made in the USA

4. Trinity Racing Stinger Exhaust System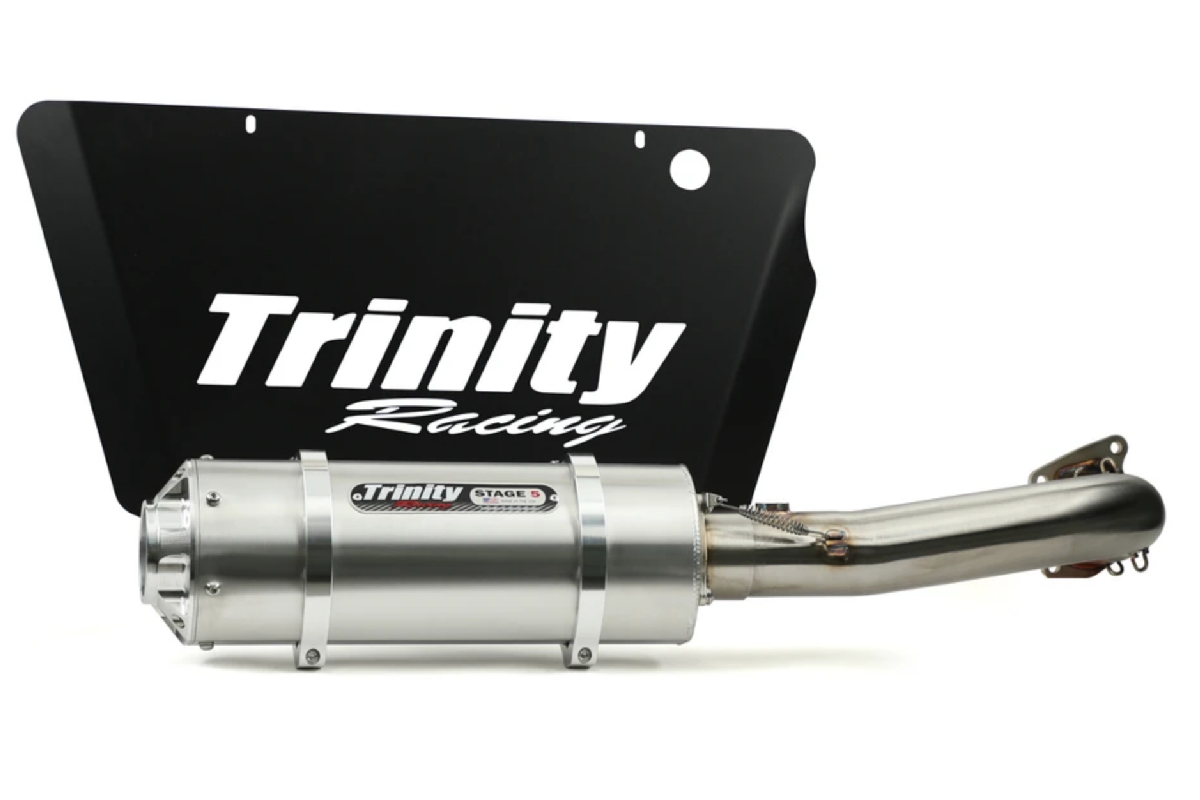 Trinity Racing has more than 40 years of experience in offering top-rated products that create more power and better performance for the off-road industry. Its Stinger Exhaust System for the Polaris RZR XP Turbo provides increased horsepower and an aggressive soundtrack all while saving weight over the stock setup. The 6061 billet-machined exhaust tips exit the rear with the option of a black coated or aluminum 14-inch muffler for added styling. This system features USFS-approved spark arrestors and comes with a laser-cut Trinity backplate to show you mean business.
If you are looking for significant horsepower and torque gains, Trinity Racing's Stinger Exhaust has all of that and more with resilience and beauty to last for years to come. This exhaust is made from 304 brushed stainless steel and is fully TIG welded for the ultimate in strength and durability. Trinity's Stinger Exhaust is a top-grade system expertly built in compliance with stringent industry standards. The result is a fusion of an intricate design with high levels of craftsmanship and proven results. Made right here in the USA, the Stinger Exhaust guarantees reliability and endurance with a two-year warranty.
Features:
Significant horsepower and torque gains
304 brushed stainless steel header pipes
Single 14-inch aluminum muffler
2.5-inch baffle for improved exhaust flow
6061 Billet muffler clamps, exhaust tip
USFS approved spark arrestors
Includes laser-cut Trinity backplate
2-year warranty
Made in the USA

5. Rouge Sport Turbo Muffler Exhaust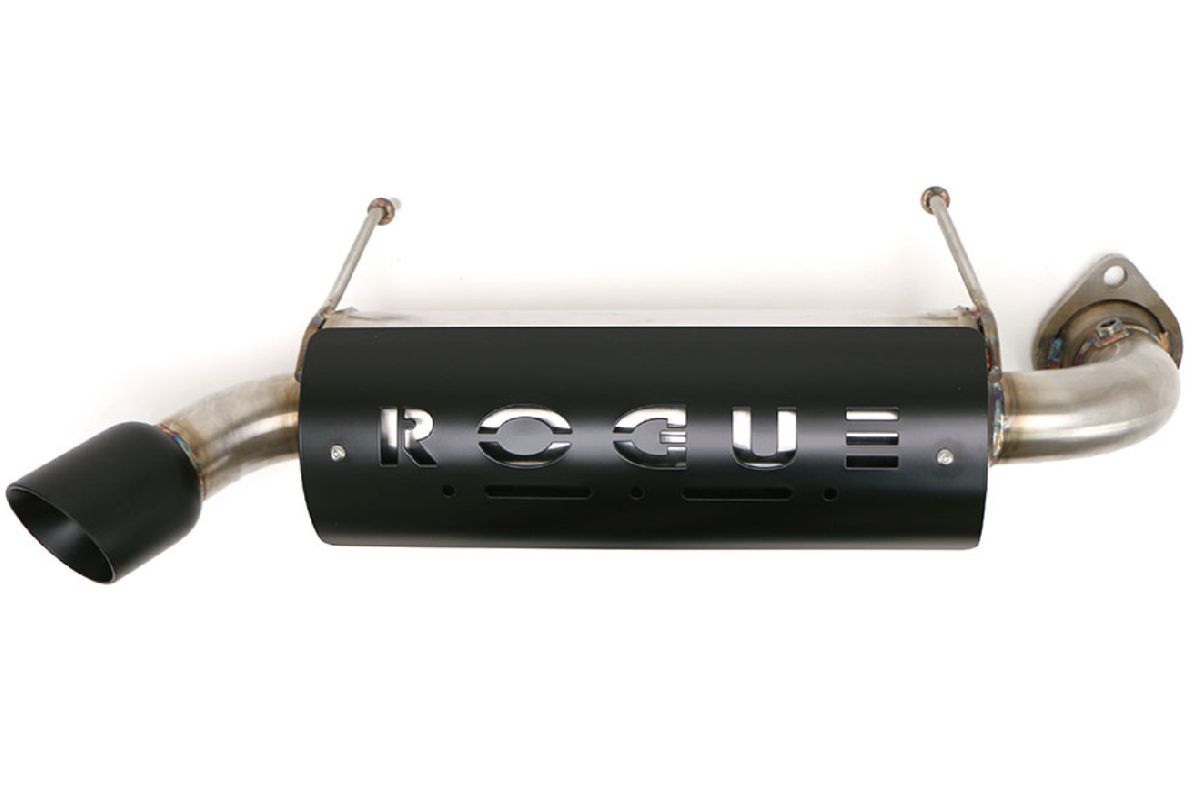 The Sport Turbo Muffler Exhaust is a brand new system for the Polaris RZR 1000 and Turbo by Billy Boat Exhausts under the Rogue brand. Made in America, this great bolt-on exhaust offers an excellent tone and comes in different color heat shields to compliment your RZR's styling. It delivers an aggressive soundtrack that announces your presence before you are even seen. The Sport Exhaust boasts a strong-sounding muffler that delivers exciting acceleration and is designed to define the character and quality of your Polaris RZR Turbo. At the same time, this system was engineered with internal PRT (Pure Resonance Technology) to deliver a bold exhaust note that remains free from unwanted rasp or sharpness.
Crafted from quality 304 stainless steel (not 409), this system is lightweight and highly durable compared to the stock exhaust. It comes with a black heat shield to ensure your getting free-flowing cool air for optimal performance. There is an option for a red or blue heat shield as well, available separately. The Sport Exhaust is built on the same concept as Billy Boat's PRT Exhaust Systems with a Timbre Cylinder that offers a harmonious balance with a flexible design and tantalizing tone. Once installed, the Rogue Sport Turbo Muffler Exhaust allows for Stage 1 tuning to unleash the true potential of your machine.
Features:
Aggressive Sound Level
304 Stainless Steel (not lesser 409)
internal PRT (Purge Resonance Technology)
Super sporty, aggressive tone, free of rasp sharpness
Enables Stage 1 Tuning for added performance benefits
Black Heat Shield Included (Red & Blue available separately)