Upgrading exhaust components, or the entire system, on your Toyota Tundra is a great way to enhance the sound of your truck while also gaining some extra power. Replacing the OEM cat-back, for example, is one of the most popular first modifications we recommend to any new car enthusiasts. That's because replacing the OEM cat-back with a free-flowing aftermarket exhaust system is a great way to increase horsepower and torque, while adding another element of style and enjoying a bolder soundtrack. When it comes to performance exhausts, most people look for just that: quality, power, and sound. The aftermarket, however, may be a bit daunting and so we have compiled the following list of products to help you along on your search. The five systems below will add great looks, incredible sounds, and performance to your Toyota Tundra over the factory setup. Be sure to also browse Vivid Racing's complete inventory of exhaust parts for your truck
right here.
1. Carven Exhaust Competitor Series Cat-Back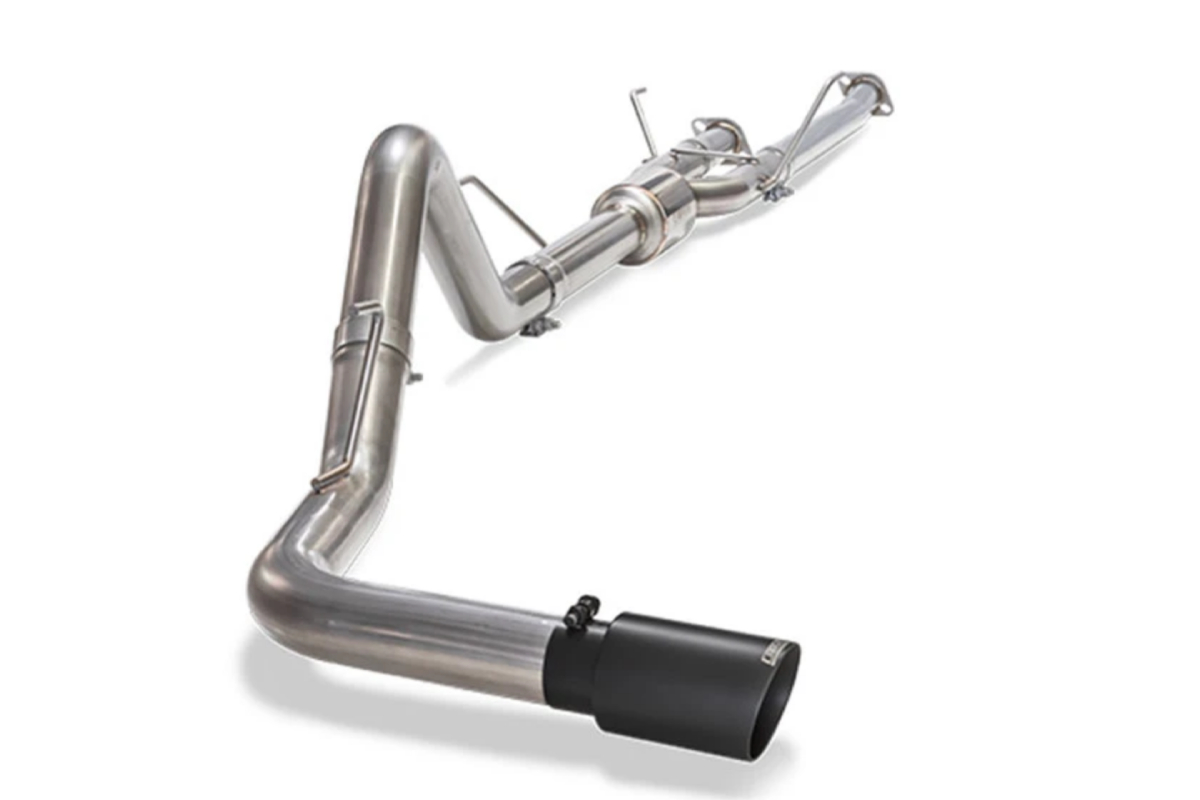 Carven Exhaust is leading the new era in the aftermarket performance exhaust industry. All Carven systems are handcrafted, built from stainless steel material, and assembled with TIG welding processes for the highest levels of rigidity, strength, and longevity. Each exhaust is expertly engineered to maximize performance so users can experience noticeable gains in horsepower and torque, as well as improved flow over the restrictive stock system. The Carven Competitor Series Cat-Back Exhaust for the Toyota Tundra is designed to deliver all that and more. It's crafted from corrosion-resistant 304 stainless steel and features a 4-inch ceramic-coated black exhaust tip for added styling. This system delivers a well-rounded, aggressive tone at idle, cruising, and upon acceleration with minimal in-cabin noise. That means you can enjoy a loud exhaust without getting a headache from all that interior drone ­– not to mention, you can actually hear your passengers and radio. Though, with such an attractive-sounding system, you may not even want the latter.
Features:
Deep aggressive tone with minimal drone
Improves exhaust flow over stock system
Boosts horsepower and torque figures
Carven signature high-flow muffler design
Crafted using high-quality 304 stainless steel
Includes a 4-inch ceramic black exhaust tip
Single side exit exhaust
Direct bolt-on installation

2. Doug Thorley Long Tube Tri-Y Headers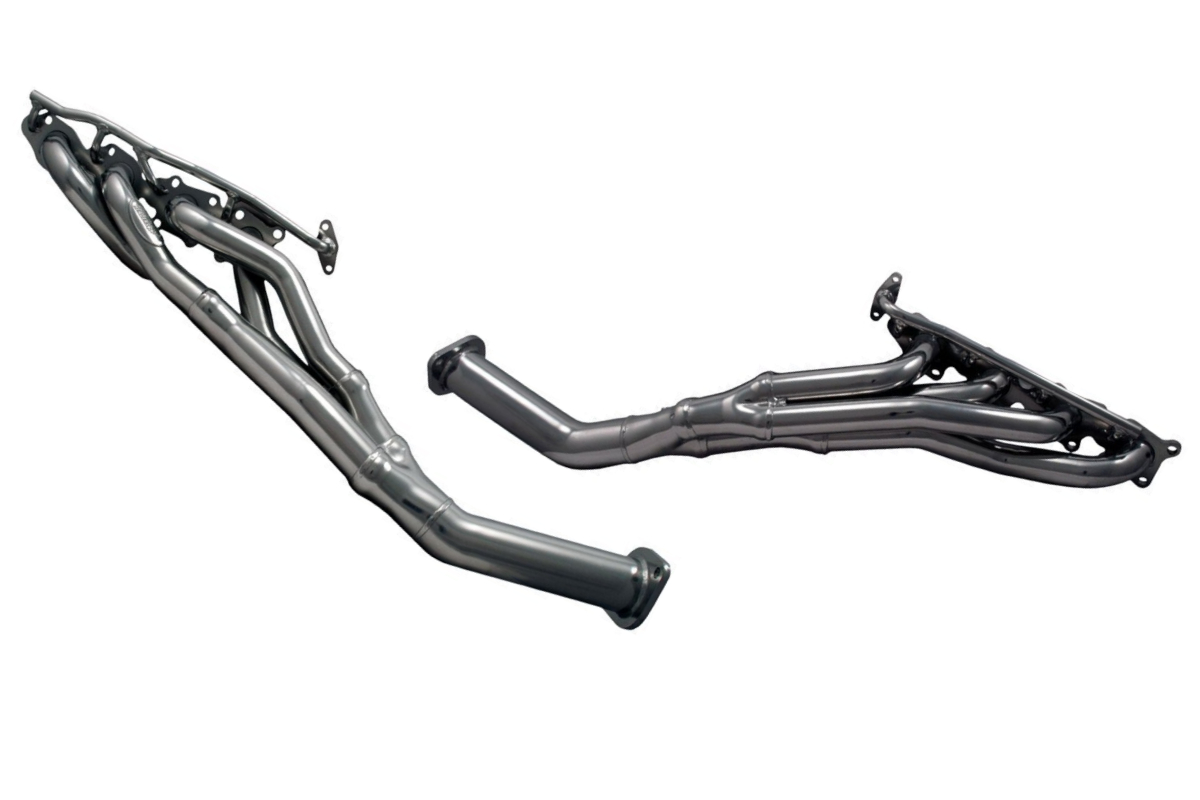 This complete header kit from Doug Thorley will deliver huge increases in power for your Toyota Tundra. Featuring the Doug Thorley Headers' original design, the 4:2:1 Tri-Y Header kit is engineered to match your engine's firing order to maximize exhaust scavenging – the complete expulsion of gases on the exhaust stroke. The strategic design implemented here creates more usable power and torque for your truck than any other header on the market, making it a top choice for enthusiasts who want the most bang for their buck. The Tri-Y (or 4 into 2 into 1) style headers by design will noticeably boost the power of your truck's engine across the widest RPM band possible. That is the true beauty of the design and that is why this header kit made it on our list of exhaust upgrades for your truck.
These Tri-Y Headers are designed with an emphasis on maximum low and mid-range torque, while making generous horsepower throughout the RPM range. The 4:2:1 Tri-Y header design makes it the ideal choice for trucks, tow-rigs, RV's, and most street applications. The collector design makes this header one of Doug's most efficient systems, which means you will see improvements both on the dyno and at the pump. This kit includes ceramic-coated long-tube tri-y headers and adapters to connect the headers to your Tundra's factory y-pipe. To make these headers last, Doug Thorley built them using industry-leading 14-gauge steel tubing with 3/8-inch thick flanges. To top that all off, these headers come beautifully ceramic coated to greatly reduce underhood temperatures and protect them from the environment.
Features:
Header Style: 4:2:1 Long-Tube Tri-Y Header
Material: Premium Steel
Finish: Silver Ceramic Coated
Primary Tube Diameter: 1-5/8″
Primary Tube Gauge: 14 Gauge
Collector Attachment: 3 Bolt Flange
Collector Diameter: 2-1/2″
Flange Thickness: 3/8″

3. Flowmaster Outlaw Extreme Cat-Back System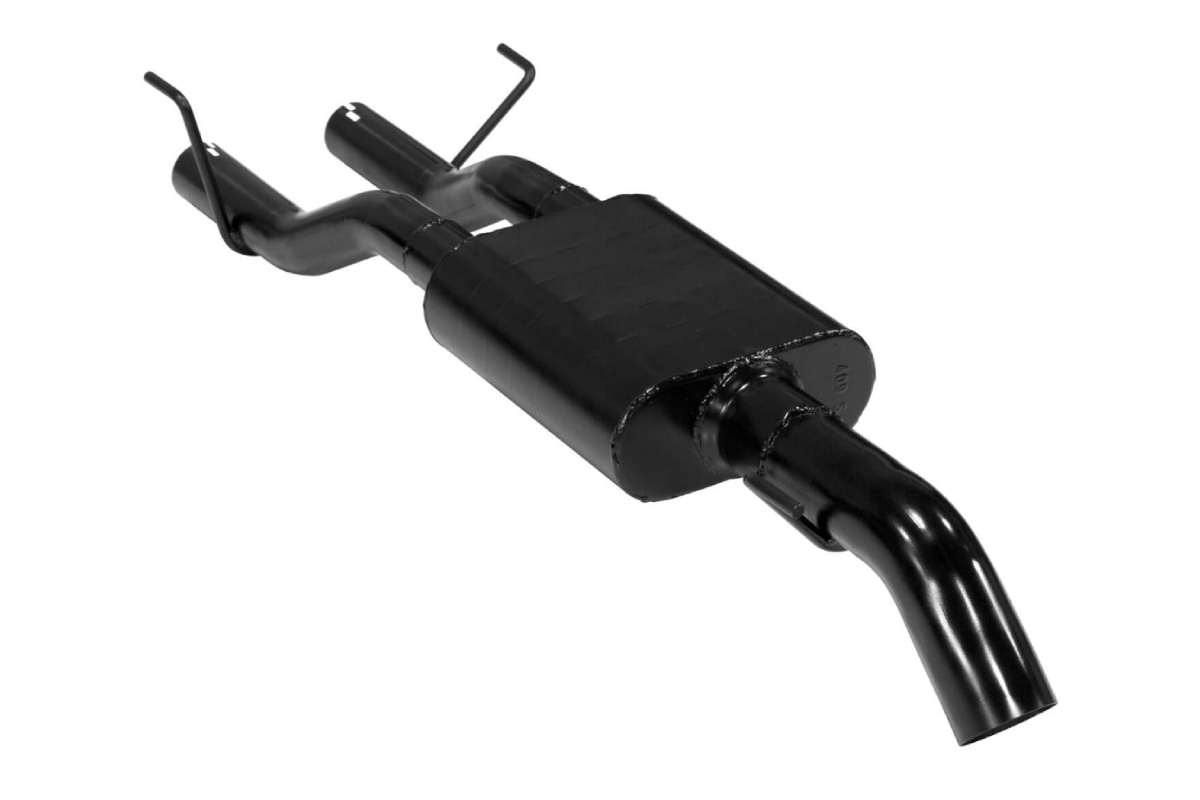 The Flowmaster Outlaw Series Cat-Back is the brand's most aggressive, race-oriented system perfect for drivers seeking loud sound levels. If you are looking for increased power figures, better throttle response, a boost in MPG, and the most famous exhaust tone in the automotive world, Flowmaster is the way to go. The large-diameter mandrel-bent pipes deliver a restriction-free exhaust flow that is a much greater improvement over the stock system. Flowmaster's Outlaw exhaust systems are designed to mount behind your Tundra's factory catalytic converters for 50-state emissions legality. These systems are mandrel-bent for maximum performance and include specially selected high-performance mufflers to deliver the sound associated with that series. The Outlaw Cat-Back, for example, delivers an ultra-aggressive sound from the interior out and is best suited for those who wish to be heard before they are seen. Designed for an easy fit, these systems include all of the necessary parts and hardware for easy installation.
Features:
Deep aggressive interior and exterior tone
Mandrel-bent stainless steel construction
Race-proven Outlaw muffler technology
Dual inlet muffler flows into 3-inch turndown tailpipe
Extreme sound for extreme lifestyles
Uses the factory hanger locations
Lifetime Limited Warranty
Quick and easy installation

4. Stainless Works Redline Cat-Back Exhaust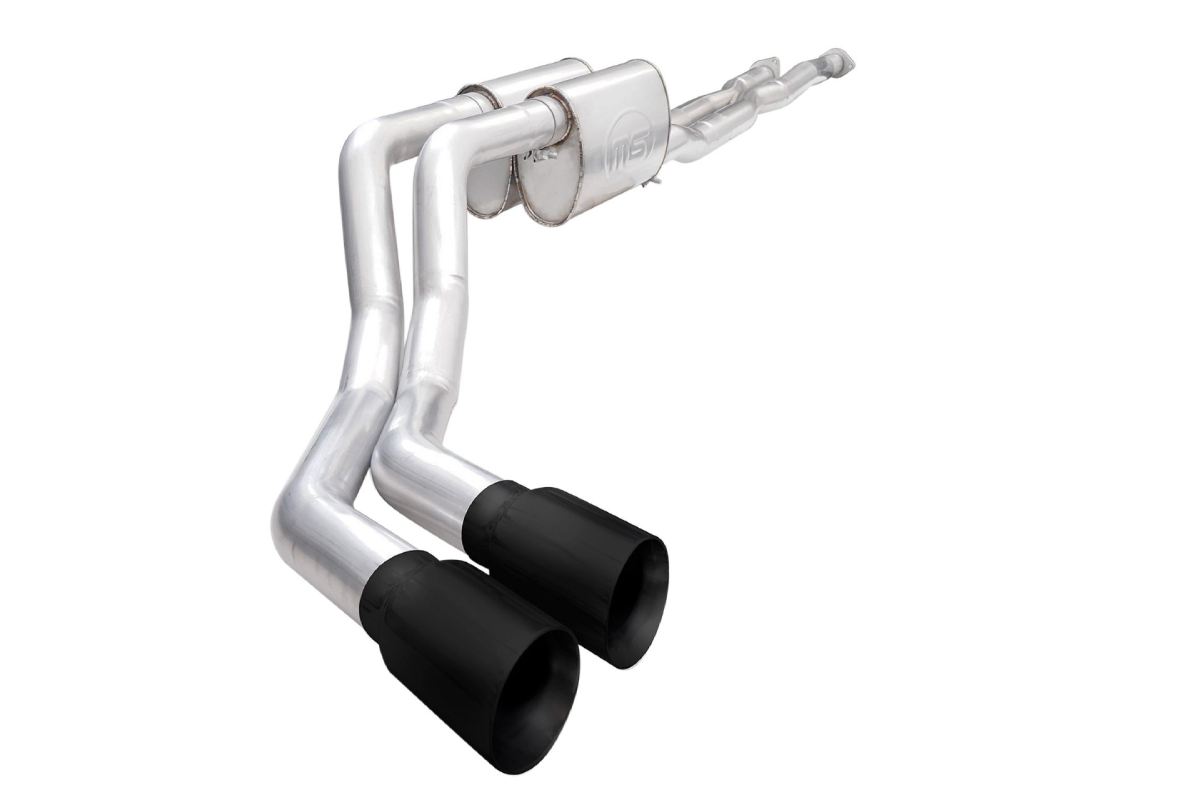 Take your Toyota Tundra to the ultimate level with the Stainless Works Redline Series Cat-Back Exhaust System. This exhaust is designed to maximize the volume and tone of your truck's engine while still eliminating any unwanted drone in the interior. Stainless Works has engineered a drone-free and aggressive muffler for this system specifically designed for the 5.7-liter engine. If you are looking to get a highly assertive sound out of your ride, the Redline Series is here to deliver a scorching soundtrack that is better suited to the size and nature of the Toyota Tundra.
The Redline Series exhaust system features large-diameter mandrel-bent pipes, dual mufflers, and dual 4-inch black-out slash-cut double wall tips. The smooth CNC mandrel bends optimize exhaust flow to offer better fuel efficiency together with increased power across the entire RPM range. Designed to fit the Toyota Tundra's factory connection points, this cat-back exhaust is built from corrosion-resistant 304 stainless steel and is completely TIG welded for the utmost in strength and beauty. The welded joints help to ensure a leak-free system and the solid steel construction resists rust so you can rest assured that this system will look and perform at its best for a long time.
Features:
1-7/8″ Primary tubes
3″ Mandrel-bent tubing
Aggressive exhaust note
Excellent fitment for easy installation
Black powder-coated exhaust tips
304 Stainless steel construction
TIG-welded for beauty and strength

5. JBA Racing Headers Stainless Steel Exhaust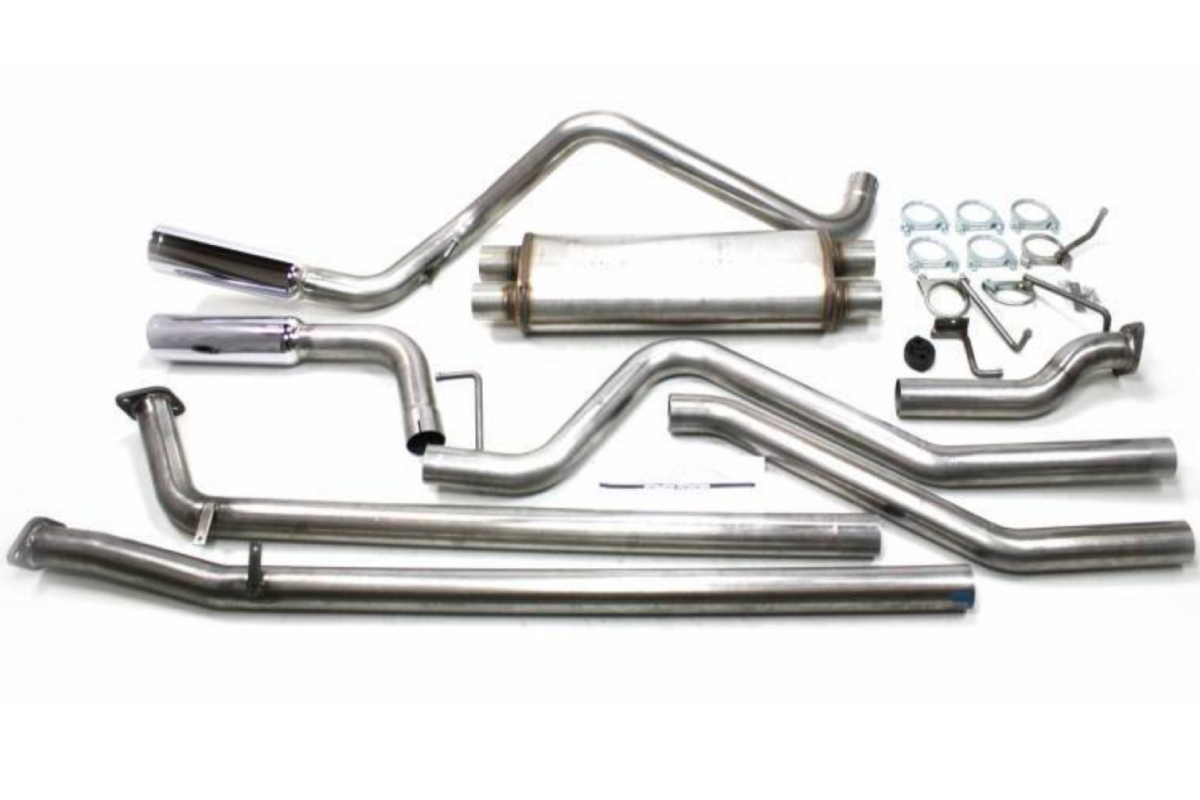 JBA Racing Headers is one of the most trusted names in the aftermarket exhaust industry because of its unwavering commitment to manufacturing excellence. JBA's product designs are original, innovative, and always deliver on power, quality, fitment, durability, and smog legality. The JBA 2.5″ Stainless Steel Exhaust System for the Toyota Tundra will give your truck an enhanced appearance, improved throttle response, and proven power gains in the form of increased horsepower and torque figures. This is all thanks to the high-flow stainless steel mufflers and large diameter stainless steel mandrel-bent tubing which replaces the Tundra's restrictive factory system. This combination allows for enhanced airflow that directly translates to newfound power along with an aggressive exhaust note that is more suited to the Japanese automaker's full-size pickup truck. Each kit is finished with polished chrome-plated 3-1/2-inch stainless steel dual side-exit tips that resist discoloring, along with high-quality hardware and an instruction guide for a simple bolt-on installation.
Features:
Large diameter stainless steel mandrel-bent tubing
Increased horsepower/ torque with improved throttle response
Stainless steel high flow muffler(s) – greater flow/durability
Delivers a powerful exhaust soundtrack
High-quality hardware kit included
Polished chrome stainless steel tip(s)
Uses factory style hangers for easy installation