One of the first upgrades you should consider doing to your Jeep Wrangler JL is swap out the stock headlights. After all, you don't have to wait for a headlight to go out to invest in a new set. By doing so, not only are you customizing the styling of your rig but, more importantly, you are improving safety. When you convert from the factory halogen setup to an aftermarket LED pair, you will see a huge night-and-day difference. That being said, you will also enjoy a big improvement in visibility and brightness during both the daytime and nighttime hours.
Stock halogen headlights, like the ones offered on the JL Wrangler, are more likely to go out than their LED/ counterparts. Halogen lights produce a fair amount of heat, are generally dimmer, and require more energy to function than other headlight options. So, swapping them out for another type of light is a solid decision. The best-performing lights, and usually the best-looking as well, are LED lights. They are more efficient all around the board and deliver a really cool appearance. When it comes to raw performance, brightness, and beam pattern, they are far superior to the factory setup.
There are plenty of great options for aftermarket lights for the JL that deliver a perfect balance of form and function to provide an attractive and serious upgrade over the factory halogen headlights. Regardless of the power output, color, and beam pattern you desire, there is an option out there to suit you and your Jeep. It's important to first note the fitment for Wrangler headlights changed after the introduction of the JL. The JL has a 9-inch headlight housing, but there is an adapter available for the JL that allows it to run 7-inch headlights.
To help you along, we have compiled the following list of the top 5 best headlight upgrades for the JL Wrangler to save yourself some of the hassle. You can also shop our entire inventory of Jeep Wrangler JL headlights right here, and find what is best for you.
1. Oracle Lighting 7″ High-Powered LED Headlights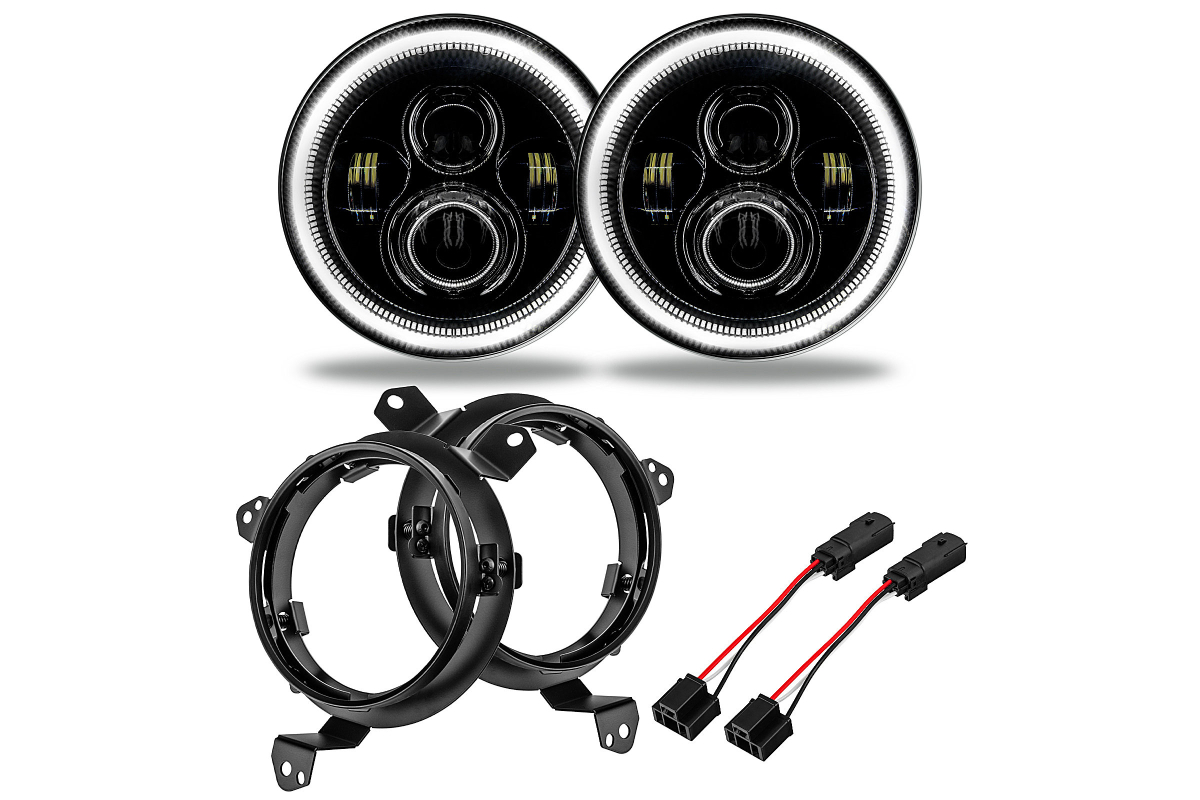 The Oracle 7" Round Black Projector LED Headlights with ColorSHIFT 2.0 SMD LED Halos feature a durable black housing with color-changing halos that can be operated via the included RBG controller. The ColorSHIFT Halos installed into the headlight assembly use special RGB lighting technology and are capable of producing virtually endless combinations of vibrant colors that can be clearly seen during the day or night. The SMD halos offer a bold appearance with a matching bright output to deliver the perfect combination of styling and utility. The included 2.0 controller boasts twice the output and expandability as the previous version with 18A capacity to power twice as many lights from a single box.
Using solid-state Premium Performance Philips Luxeon ZES LED chips, these headlights can deliver 3600 raw lumens on low beam and 4800 raw lumens on high beam. Vertical and horizontal adjustments provide the best aim possible while the sharp cutoff helps to prevent oncoming traffic from being blinded. The housing is made of die-cast, corrosion-resistant aluminum and the lens is a nearly bulletproof hard-coated polycarbonate lens to stand up to the elements of both street driving and off-roading. This headlight kit provides a huge increase over your Jeep's factory halogen headlights in all facets including beam pattern, cutoff, and output.
Features:
Color Temperature: ColorSHIFT Version
Optional: ORACLE Halo Rings Pre-Installed
Premium Performance Phillips Luxeon ZES LEDs
Die-Cast Housing with Corrosion Resistant Coating
Heavy-Duty Solid-State Electronics
Hard-Coated Polycarbonate Lens
Wide Beam Pattern with Sharp Cut-Off Line
ColorShift 2.0 programming controller w/ wireless remote
Easy Plug-and-Play Installation
DOT and SAE Certified

2. DV8 Offroad LED Headlight Conversion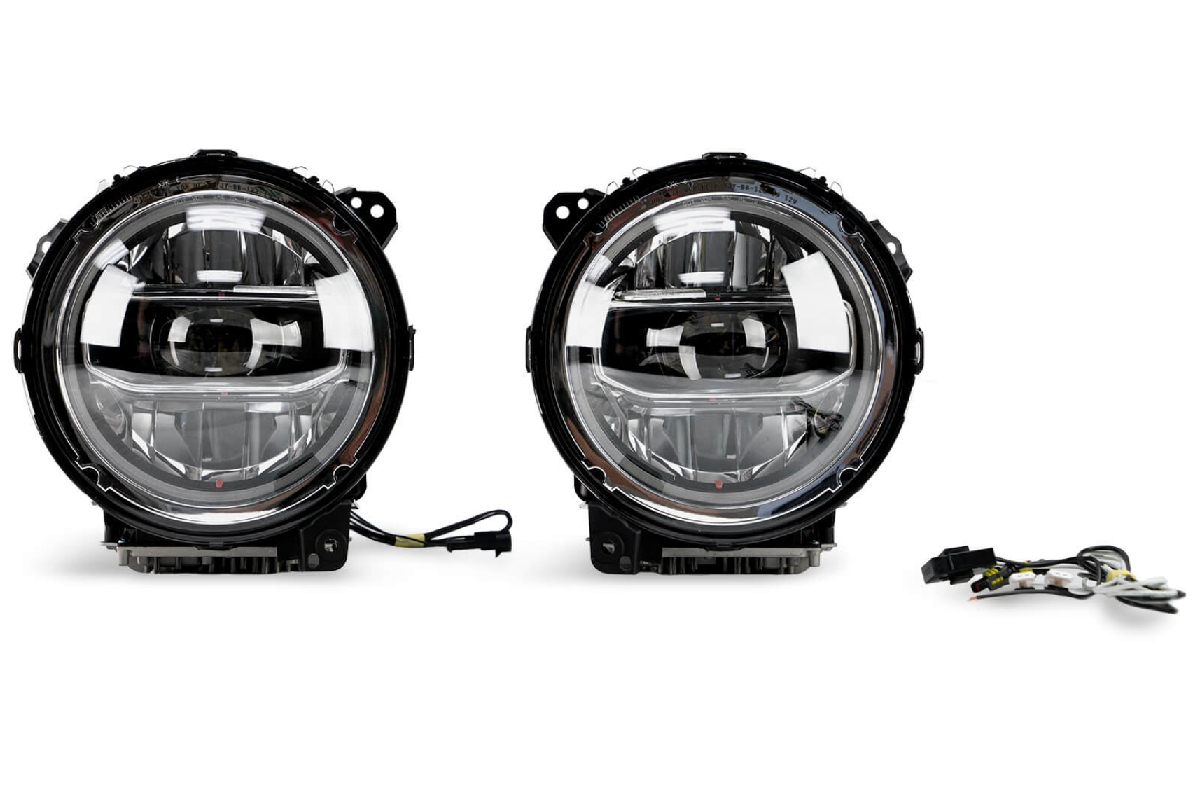 Upgrade your Jeep Wrangler JL's factory halogen headlights with the DV8 Offroad LED Headlight Replacements. This kit offers OEM quality headlights with a premium look and finish that is designed and built to last for the long run. DV8 LED headlights are high-quality, direct replacement upgrades known to have the brightest and widest line of sight for superior visibility that outperforms halogen bulbs. Not only that, but the DV8 LED headlights are super-efficient and will draw less power than the ones they replace. These Wrangler JL headlights deliver a cleaner and brighter white light output that far surpasses your truck's OE halogen ones to light up the darkest trails and longest freeways. Having a brighter light will provide enhanced visibility and an overall safer driving experience come the nighttime.
The DV8 Offroad LED headlights are designed to withstand even the harshest of elements with a durable plastic housing and hard-coated, clear polycarbonate lens. Each headlight is weather-sealed to prevent moisture from getting in and harming the electronics. These headlights also feature an IP67 rating, making them dust and waterproof so you can have peace of mind when using them on even the muddiest of trails. So, in addition to delivering added styling to your Wrangler, this headlight kit will perform optimally and meets/exceeds strict guidelines set forth by the DOT and SAE. This direct LED replacement light pair is plug-and-play, which means it easily installs into the factory harness and can be installed in well under an hour.
Features
Direct round LED headlight replacements
Enhanced brightness for better visibility
Attractive, bright white light output
Clear lenses with reflective chrome housings
IP67 Dust/Water Resistance Rating
DOT and SAE compliant headlights
Plug-and-play install; Fits just like OEM

3. KC Hilites Gravity LED Pro 7″ Headlights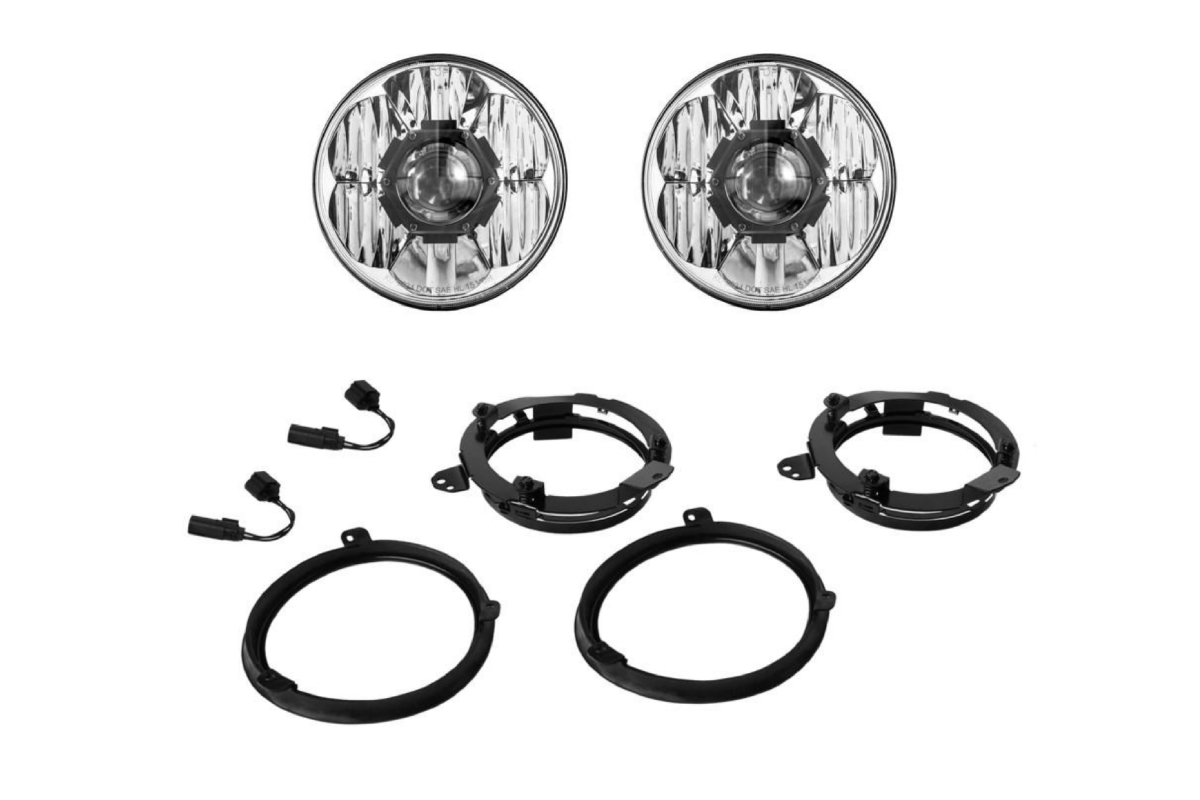 The KC Hilites Gravity LED Pro 7" Headlight for the Jeep Wrangler JL features bright CREE LEDs for low- and high-beams that are greatly improved over the stock halogen ones. The Gravity LED Pro uses KC's patented Gravity Projector Optic (GPO), a proprietary projector lens technology, along with a GRD LED core to deliver a more controlled beam pattern while setting new industry standards when it comes to clarity, light, shape, and output. This unique technology is engineered to direct every single lumen from powerful LEDs into a usable light output to make nighttime driving that much better.
This is a high-quality upgrade over the stock halogen setup for those looking for a durable and brighter setup. These headlights are made with a die-cast aluminum housing and polycarbonate lens for high-caliber performance. The construction has been tested to withstand even the harshest of climates and conditions. This headlight package also comes with built-in DRLs and anti-flicker capacitors to ensure optimal performance during each use. The kit includes all of the necessary brackets, wire adapters, and hardware for a seamless installation process.
Features:
Color temperature mimics natural daylight
Patented Gravity Projector Optics(GPO)
Hard-Coated Polycarbonate Lens
Precision Die-Cast Aluminum Housing
DOT-Compliant Low and High Beam
Built-in Daytime Running Lights
KC Engineered Polished Reflector Optics
Bracket mounts into factory headlight location

4. Anzo USA LED Projector Headlights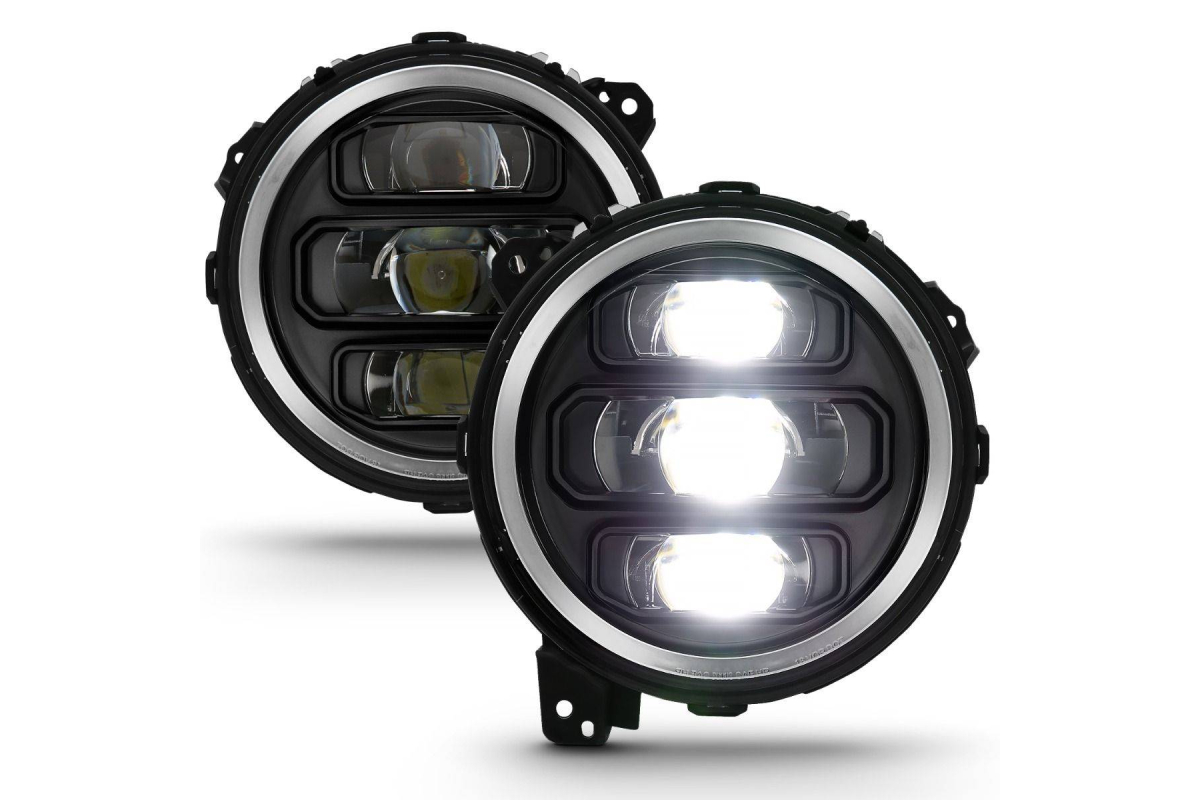 The Anzo Full Projector 7" LED Headlights are a full-size upgrade for your Jeep Wrangler JL. These headlights offer a bright white LED lamp for enhanced visibility, added safety, and unique styling. These bright headlights are guaranteed to light up the night so you can venture out with confidence. These black LED headlights offer a well-defined beam pattern and brighter light over the stock halogen bulbs. Crystal clear lenses and impact-resistant housings ensure that your new headlights will stay looking good for longer.
This kit is sold as a pair and boasts a simple plug-and-play installation that can be completed in merely a half-hour using your Wrangler's factory mounting points. In order to ensure perfection, Anzo rigorously tests every single lighting product in a Thermo-Hygrometer (temperature and humidity chamber) and Rain-Resistant Tester. The brand also thoroughly exposes its lights to intense photometric testing to guarantee strict compliance with local, state, federal, and international standards.
Features:
True LED direct aftermarket upgrade
Performs and fits better than the competition
Much brighter than Jeep's factory halogen lights
CAD-designed for innovative trend-setting design
Changes the look of your Wrangler in just 30 minutes
Specific application for JL & Gladiator models
All D.O.T. compliant to FMVSS-108 standards
Weathertight connections and wire harnesses
Simply plug-and-play installation

5. Race Sport Lighting 9″ X-HALO Series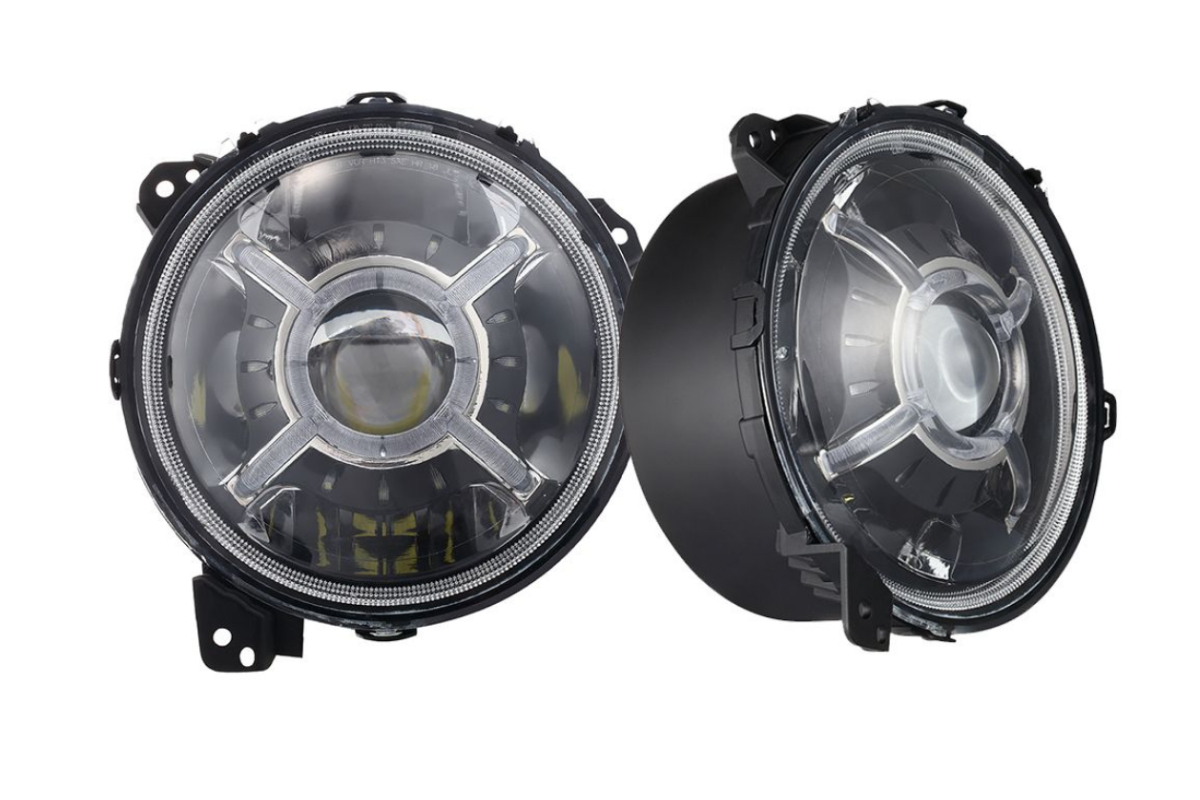 The Race Sport Lighting 9" Round X-Halo Projector LED Headlights for the Jeep Wrangler JL are a great replacement for the stock halogen setup. This product is crafted from premium materials and thoroughly tested to serve you and your truck for years to come. Designed using state-of-the-art technology and with customers in mind, these lights were built to stand up to the elements as well as the test of time. This package will meet your needs and deliver incredible quality at a price point that won't break the bank.
The X-Halo Projector LED is the perfect replacement to amp up your headlight output and adds amazing flair to your Wrangler's exterior aesthetic. Not only will you get added styling, but enhanced visibility, safety, and performance that is greater than the factory setup. Designed to match rigorous quality standards, these LED headlights last longer than your OEM lighting system. The cutting-edge LED technology with fanless heat-sink technology provides instant on/off lighting with no ramp-up time. And focus cup design for narrow projection beam displays no glare. This kit is a complete plug-and-play replacement for your stock lights and installation is super simple.
Features:
Power: 100W; DRL: 22W
High beam: 100W 6500LM
Low beam: 30W 3000LM
Direct OEM Fit: Jeep Wrangler JL
With rebreather: Better waterproof, dispelling fog inside
EMC Inside: No Electromagnetic Interference
Sharp cut-off line with superior light output
Well-built, great light pattern. with up/down adjustment screw
Easy Installation: No bracket needed, just plug-and-play