If you are looking to treat your Ford F-150 to some goodies, a new intake system is a great place to start. Cold air intakes are one of the first modifications car enthusiasts install on their vehicles. Why? Because unlike other engine mods, such as exhaust systems or bolt-on turbos, intake systems are more affordable and fairly simple to install.
Upgrading your F-150's air intake system is one of the cheapest ways to increase its horsepower and performance. While they won't add quite as much power as other engine parts, they will help your engine in numerous other ways like improving airflow, reducing air temperatures, and delivering better fuel economy. Adding to that list of benefits, a cold air intake system will give your F-150 a nice throaty growl that is sure to supply more smiles per mile.
All in all, you can't go wrong with an aftermarket cold air intake. But the virtually endless catalog of options out there could be overwhelming to some. To help you along, we have compiled a list of some of the best Ford F-150 intake systems below.
#1 K&N Performance Cold Air Intake System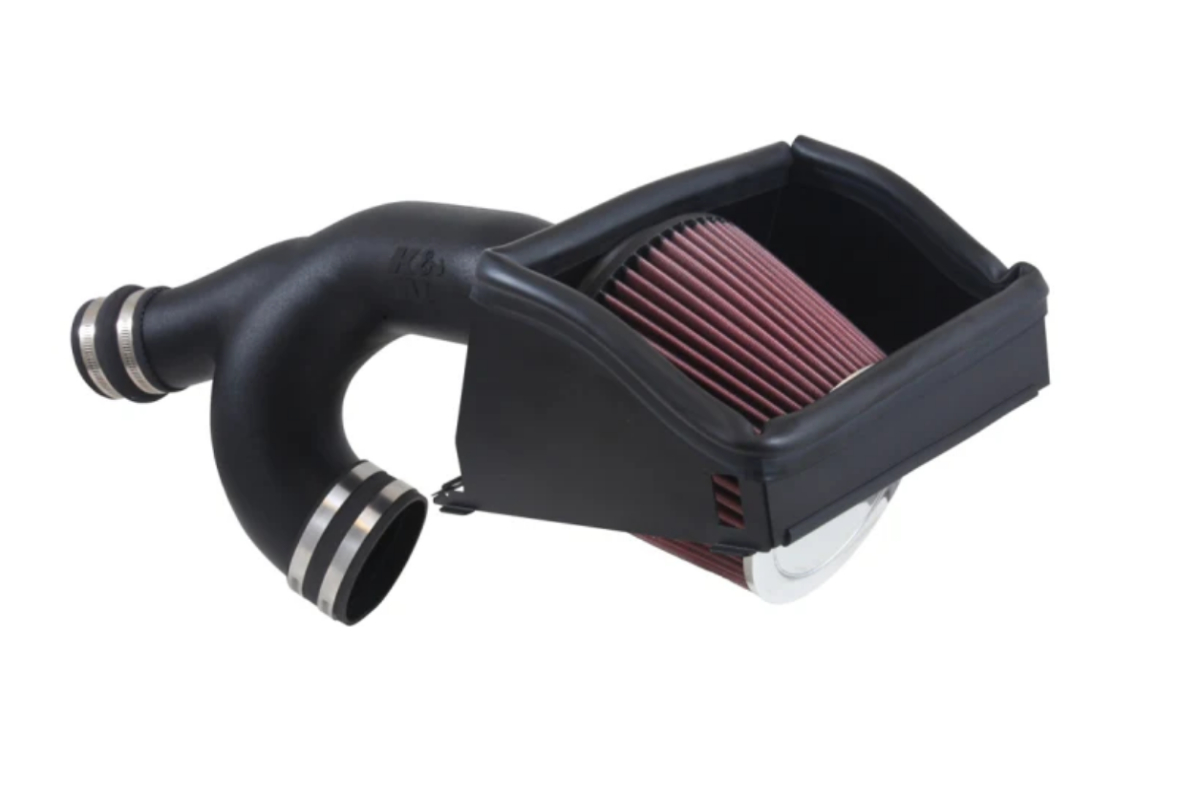 Get the most out of your Ford F-150 truck with the K&N Performance Cold Air Intake System. Strategically designed to maximize your truck's power by removing the restrictive stock filter and replacing it with a premium cotton one that allows for improved airflow and enhanced performance. K&N only uses top-grade components when manufacturing its cold air intake systems. This kit features a polyethylene corrosion-resistant construction intake tube and a custom heat shield that helps protect intake air from the high temperatures of your engine bay.
K&N's high-density polyethylene (HDPE) rotationally-molded tube helps increase the amount of airflow to your engine, thus providing guaranteed power gains. With this system, it is possible to achieve as great as 23 horsepower and 34 pounds-feet of torque, which is an incredible bang for your buck. The system is paired with a washable and reusable high-flow cotton air filter coated with oil to capture dirt and other debris as they flow too. The oversized, conical shape allows you to drive up to 100,000 miles before servicing your filter. The filter is super efficient and effective and may only need to be washed every once in a whole.
K&N's cold air intake system can typically be installed in under 90 minutes using your Ford F-150's existing factory mounting points. Moreover, you can just install the system and go. There is no tuning needed! It may sound different and deliver more power, but your truck will drive perfectly fine without a tune.
#2 Airaid MXP Series Cold Air Intake System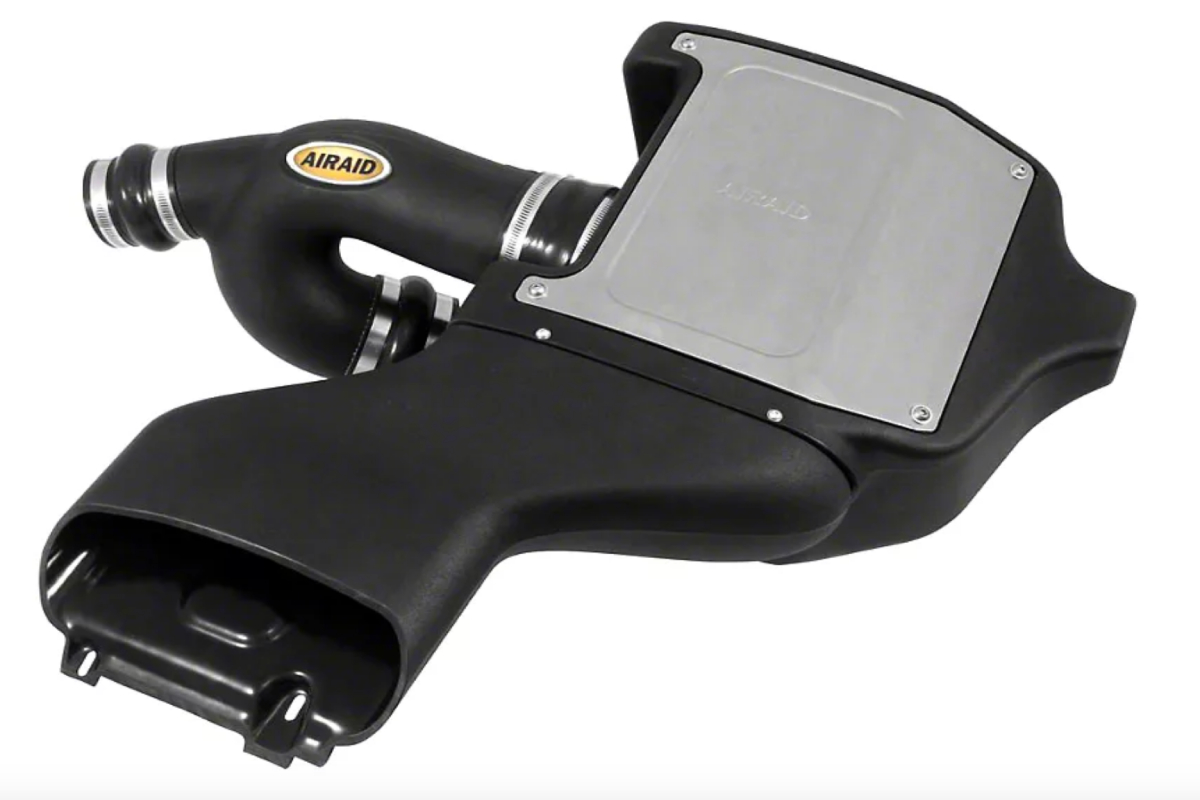 Your Ford F-150 will be faster and more efficient when you install this AIRAD MXP Series Cold Air Intake System. The MXP Series represents the ultimate in AIRAID cold air induction systems. It is specifically engineered to deliver higher levels of horsepower and acceleration gains for both high-performance gas and diesel vehicles. This AIRAID system directs more air to the engine and lets it run more efficiently overall. This means that your Ford F-150 will experience higher horsepower figures and drive further on the same amount of fuel. The power gains can be as large as 24 horsepower when installed properly. That's a major improvement for the money!
AIRAID's MXP Air Intake Systems begin with a replacement one-piece roto-molded air box that tackles the faults of the restrictive factory design. The airbox houses an AIRAID premium air filter that delivers outstanding airflow and filtration. The air is directed through a new air intake tube crafted from cross-linked, high-density polyethylene using advanced computer modeling processes to maintain proper mass air flow readings and calibration.
The AIRAID MXP intake combines high-quality materials, durable components, an excellent fit and finish, and aggressive styling that is unparalleled on the market today! This system is available with either a SynthaFlow oiled filter or a dry filter. The filter is washable and reusable, crafted from several layers of high-quality cotton gauze and a special nano fabric material that captures everything down to two microns in size. The AIRAID MXP Series Cold Air Intake is specifically designed for your Ford F-150 for a perfect fit and easy installation process. The kit goes on fast and does not require any special tuning to function properly. Just bolt it on and drive!
#3 aFe Power Momentum GT Cold Air Intake System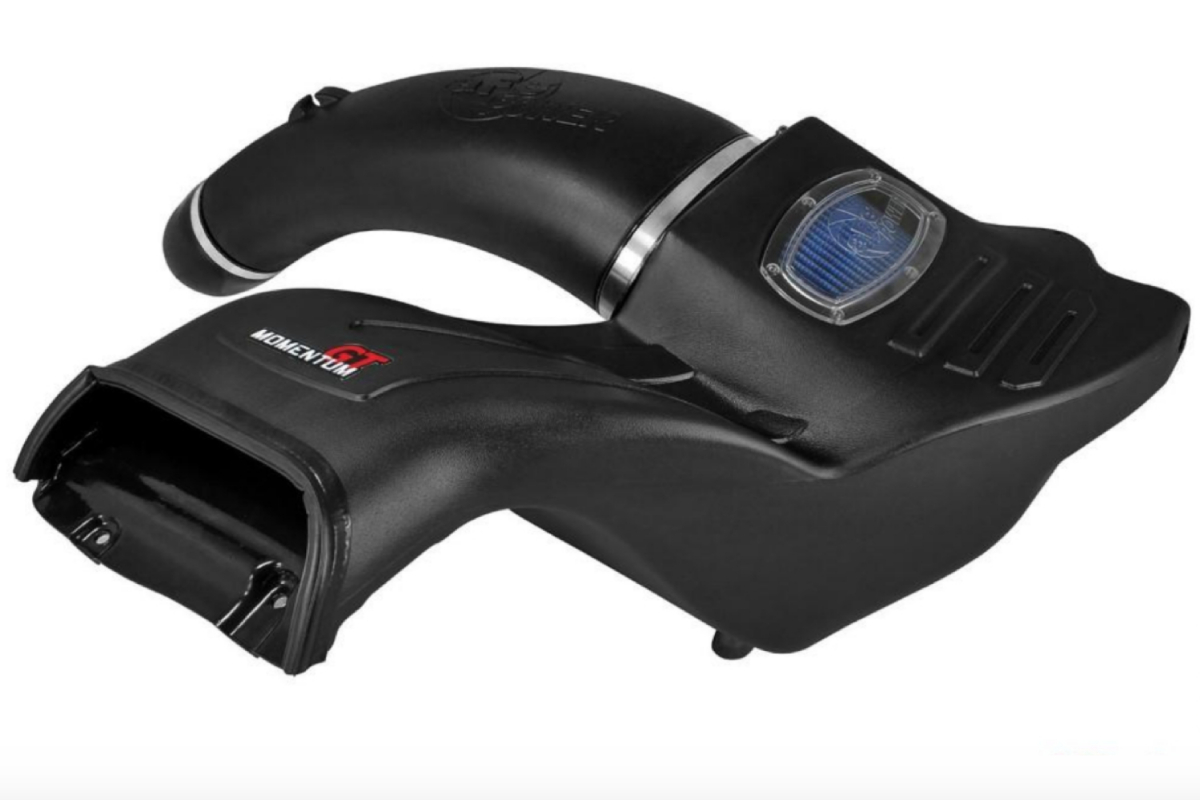 Outflow your Ford F-150's factory intake by up to a whopping 66 percent with the aFe Power Momentum GT Cold Air Intake System. The Momentum GT intake is strategically designed around a pre-oiled, large 9-inch-tall conical inverted top air filter that boasts a 360-degree radial flow. The filter features five layers of high-quality mesh cotton that provides maximum airflow and performance. The oiled filter can also be easily washed and re-oiled for several reuses and long-term functionality. The patented unique air filter-to-housing interface allows for the largest filter size, thus increasing the amount of available air.
The Momentum GT Cold Air Intake spotlights a smooth one-piece sealed housing, rather than the use of multiple-piece housings, to ensure the coolest air intake charge available. A large, clear sight window is also present for hassle-free filter inspection and a more appealing look overall. This cold air intake system utilizes a CAD-designed, dyno-tuned, roto-molded intake tube crafted from cross-linked polyethylene plastic to achieve the maximum power gains possible. The tough molded plastic design is developed to last for years. What's more, aFe guarantees it will resist chemicals and heat, and not corrode as time goes by.
Two CNC-machined, high-quality billet aluminum fittings are mounted on the tube to provide a perfect connection with the Ford F-150's OE vacuum lines. Ultra-strong premium stainless steel T-bolt clamps and silicone couplings are included in the kit for a secure installation. aFe Momentum GT intakes are engineered with fewer parts for a quick and easy bolt-on installation process. Tuning is not required; you will enjoy smooth engine operation right from the get-go.
#4 AEM Brute Force Cold Air Intake System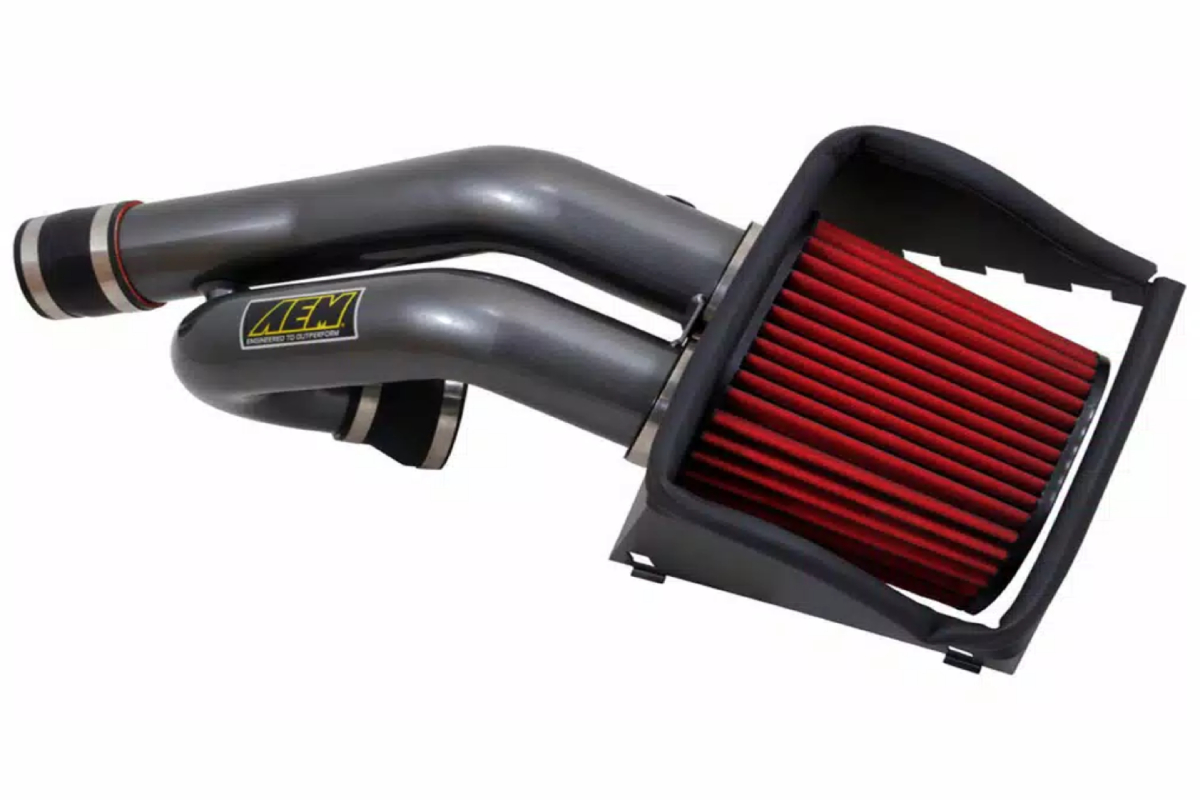 If you are looking for improved performance for your Ford F-150, look no further than the AEM Performance Cold Air Intake. AEM is dedicated to designing air intake systems that allow the largest amount of cold air to reach your truck's engine and, therefore, boost horsepower and torque figures. This AEM kit was designed, dyno-tested, and tuned specifically for your Ford F-150. Not only does it boost power under the hood, but it cools your engine efficiently so you can experience better acceleration and improved fuel economy. The icing on the cake is the more aggressive sound you will hear when you step on the gas.
Air enters the system via an oversized AEM Dryflow synthetic washable air filter for amazing airflow, filtration, and performance. The air filter is located in the original air box space and is protected by a heat shield designed to reduce intake air temperature and heighten horsepower. The dual intake AEM Dryflow air filter is constructed from an oil-free, synthetic filter media that can be used for up to 100,000 miles before cleaning is required. The Dryflow synthetic air filter is also 99.4% efficient in fine dust testing, never needs to be oiled, and filters out dirt as small as one micron.
The air intake tubes are crafted from CNC mandrel-bent 6061 aluminum with a durable gunmetal gray powder-coated finish. Moreover, AEM's Brute Force Cold Air Intake was developed to accommodate the engine's factory emissions control devices like the intake air temperature sensor.
#5 JLT Performance Cold Air Intake System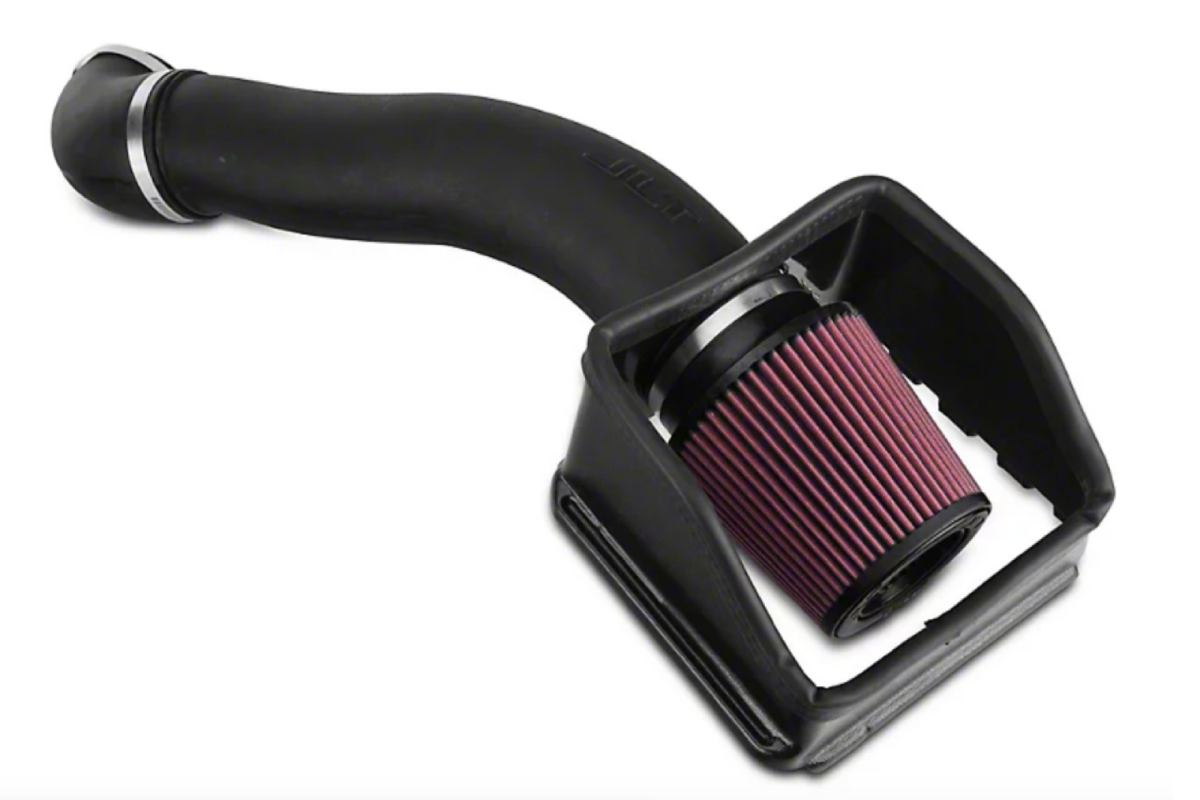 The JLT Performance Cold Air Intake will have your Ford F-150 driving faster and more capably. It is specifically designed to draw more air into the engine and keep it cooler for increased power generation. This system was developed using advanced processes to optimize space and ensure the best fitment. It is crafted using an attractive and durable black textured plastic that can handle extreme temperatures and hold its shape and form well over time.
The JLT Cold Air Intake features special MAF housing for added performance, in addition to a Powerstrack air filter to keep the air clean as it moves through the system. The large 4.5-inch S&B filter inlet with a radiused end allows for smoother airflow to the F-150's throttle body. JLT uses only the best air filters made by S&B to its own stringent specifications. JLT loves S&B's tapered flange design and Powerstack filtered ends for optimal performance.
The JLT Performance intake system retains the bottom half of your Ford F-150's stock airbox and maintains a fresh air feed by doing so. JLT also includes a new top half to accept its larger filter (4.5×6 inches) and tube. The black textured intake tube measures 4 inches at the throttle body side to allow for larger aftermarket throttle bodies. In testing, JLT found power gains to be a consistent 10-15RWHP at the peak, with even more under the curve. No tuning or modifications are needed.