If you own a Ford F-150 or any truck for that matter, you have probably noticed that the front of the truck sits slightly lower than the rear. As trucks are built to haul heavy loads in the bed, the additional height in the rear is to prevent sagging when extra weight is added.
With a leveling kit, you can raise the front of your Ford F-150 just a few inches to match it (or make it "level") with the back. By lifting the rear of your truck, you are also increasing the distance between the rear axle and the frame. This will help avoid the potential damage to your suspension parts caused by the extra stress of bottoming out from heavy loads.
While they may not be necessary to have, leveling kits are certainly practical. Installing a leveling kit on your Ford F-150 will help reduce or eliminate the rake and even allow you to fit beefier tires. You will also experience the added bonus of more ground clearance. Since it only impacts the front of your truck, the payload capacity will remain unchanged. What's more, leveling kits are significantly less expensive than lift kits, because they involve fewer parts. In all, leveling kits are a subtle and affordable way to make your F-150 truck appear more aggressive and stand a bit taller without you having to replace several different parts.
#1 ReadyLIFT 2.25-Inch Front Leveling Kit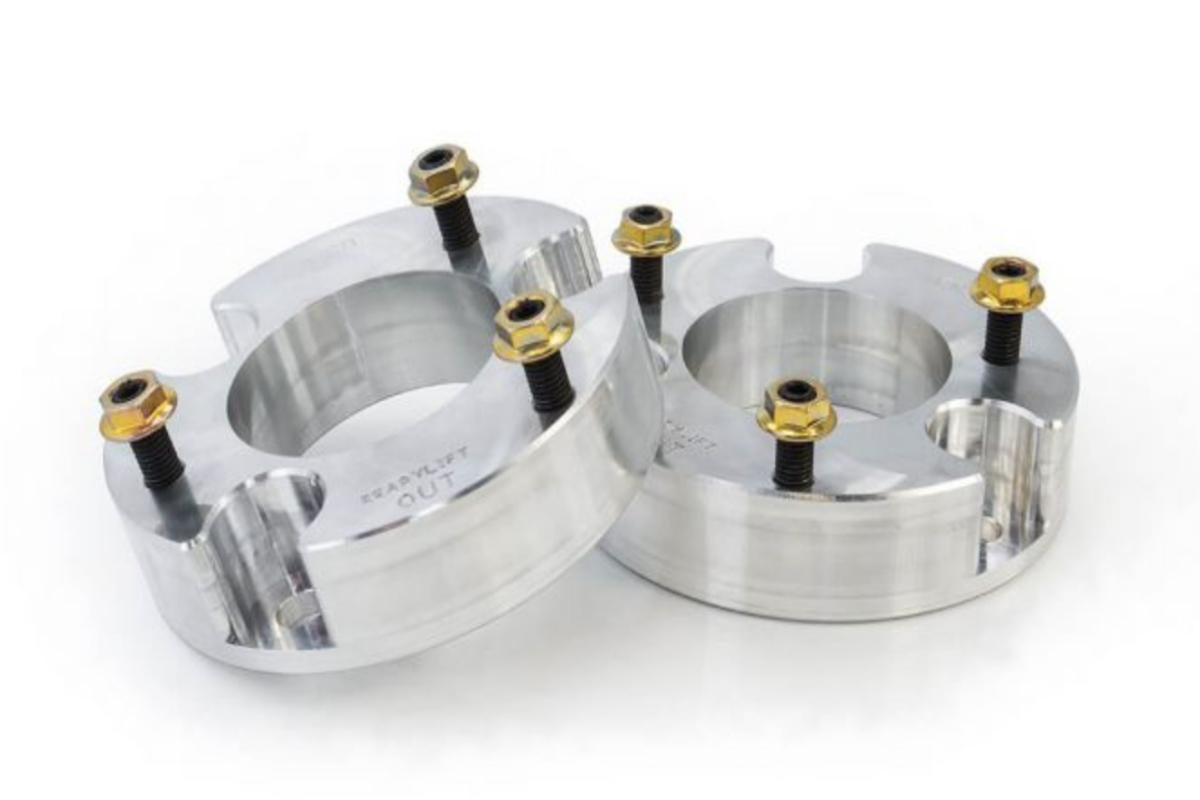 If you are looking to raise the front end of your Ford F-150 truck safely without sacrificing ride comfort, the ReadyLIFT 2.25-inch Front Leveling Kit is the way to achieve this. The ReadyLIFT 2.25-inch spacer leveling kit is constructed of high-quality materials and carefully designed to give your tough Ford F-150 truck just enough ride height gain for added clearance, while still maintaining a hint of rake for your towing and hauling needs. ReadyLIFT is known for offering durable, easy-to-install leveling kits compromised of steel parts that are powder-coated for corrosion resistance.
This ReadyLIFT leveling kit is crafted from CNC-machined aerospace-grade 6061-T6 billet aluminum and is forged specifically for the Ford F-150 truck. The strut positioning is different on 2015+ trucks, requiring the development of a new front lift system for these models. This front leveling kit provides 2.25 inches of lift via strut extension and smart suspension technology. The offset design on the kit featured here is engineered specifically for 2015+ Ford F-150 2wd/4wd trucks.
With this ReadyLIFT leveling system, your truck can accommodate wheel and tire packages sized up to 35 inches. What's more, ReadyLIFT will keep the stock handling and feel of your truck, even with up to 3 inches of lift. This kit includes one pair of CNC-machined billet aluminum offset leveling front spacers with all the necessary hardware for a seamless installation.
#2 Rolling Big Power Front 2-Inch Leveling Kit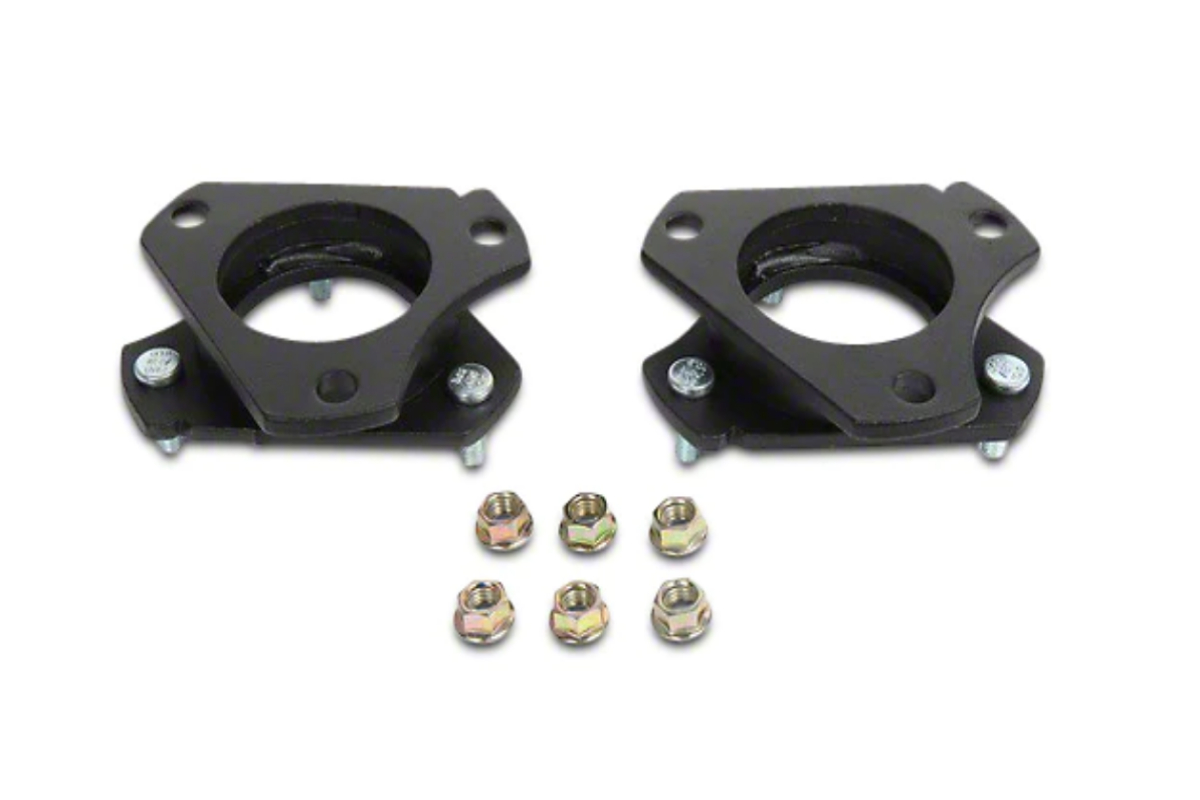 Rolling Big Power (RBP) is known for designing high-performance, off-road products that offer a bold aesthetic and are engineered to handle all the dirt and grit you can throw at them. That is why RBP has become a favorite all across the country among top truck designers and enthusiasts with the mod bug.
Take your Ford F-150 2wd/4wd truck to new heights, literally and figuratively, with the RBP Front 2-inch Leveling Kit. Rolling Big Power's leveling kits increase ground clearance to allow for beefier tires up to 35 inches in size. These leveling kits are ideal for eliminating sag and will not change your vehicle's payload capacity or core capabilities. Moreover, RBP guarantees its leveling systems will maintain your OE ride and steering geometry. It's the perfect balance of form and function, as this leveling kit will improve your F-150's stance while also delivering better balance, especially in tough terrain.
All RBP leveling kits are proudly built in the USA with U.S. mill-certified forged steel, and are CNC-cut and welded for maximum strength and durability. Unlike other urethane kits, RBP powder coats all the steel components to keep your rust worries at bay. In fact, RBP backs its leveling kits with a Limited Lifetime warranty ­– so you are covered, no matter what. The 2.0-inch front kit featured here includes everything you need for a hassle-free install, including alignment spacers.
#3 Rugged Off Road 2.5-Inch Leveling Kit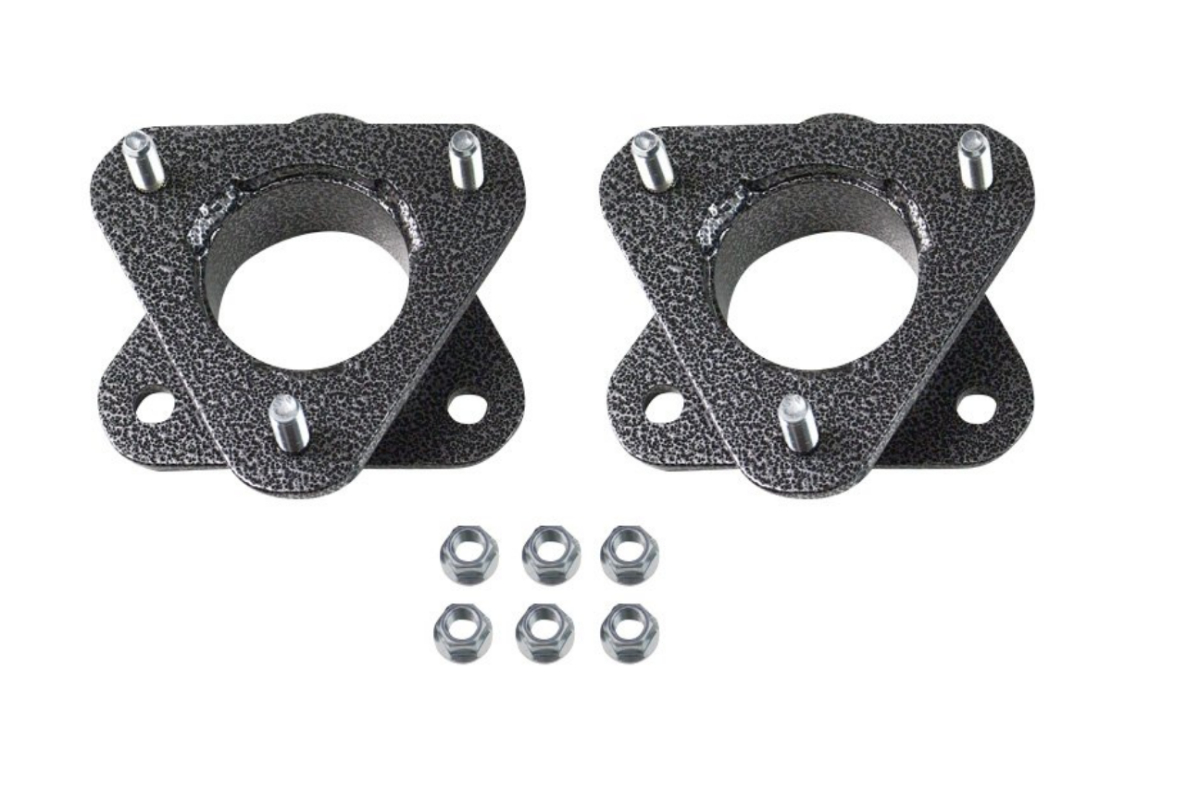 When it comes to leveling kits, Rugged Off Road offers the best value for your buck. The Rugged Off Road 2.5-inch Leveling Kit for the Ford F-150 2WD/4WD will help safely lift your truck's front end, the right way, without breaking the bank. If you want that taller off-road look, then this is the kit for you. After all, it's right in the name!
The Rugged Off Road leveling kits are designed to keep your Ford F-150's stance even by slightly raising the front end of your vehicle for improved looks and added utility. Manufactured from top-grade materials for rock-solid durability and longevity, your truck will look better while also maintaining its factory ride quality and comfort level.
Rugged Off Road's leveling kits are comprised of high-quality hammertone powder-coated laser-cut steel coil suspension spacers that offer a full 2.5 inches of front lift. With that added clearance, it grants truck owners the ability to install up to 34-inch tall tires. This leveling kit also features an offset design to reposition the strut to eliminate any concerns regarding CV wear. Installation is also a breeze with no cutting or modifications needed.
#4 Skyjacker 2-Inch Front Leveling Kit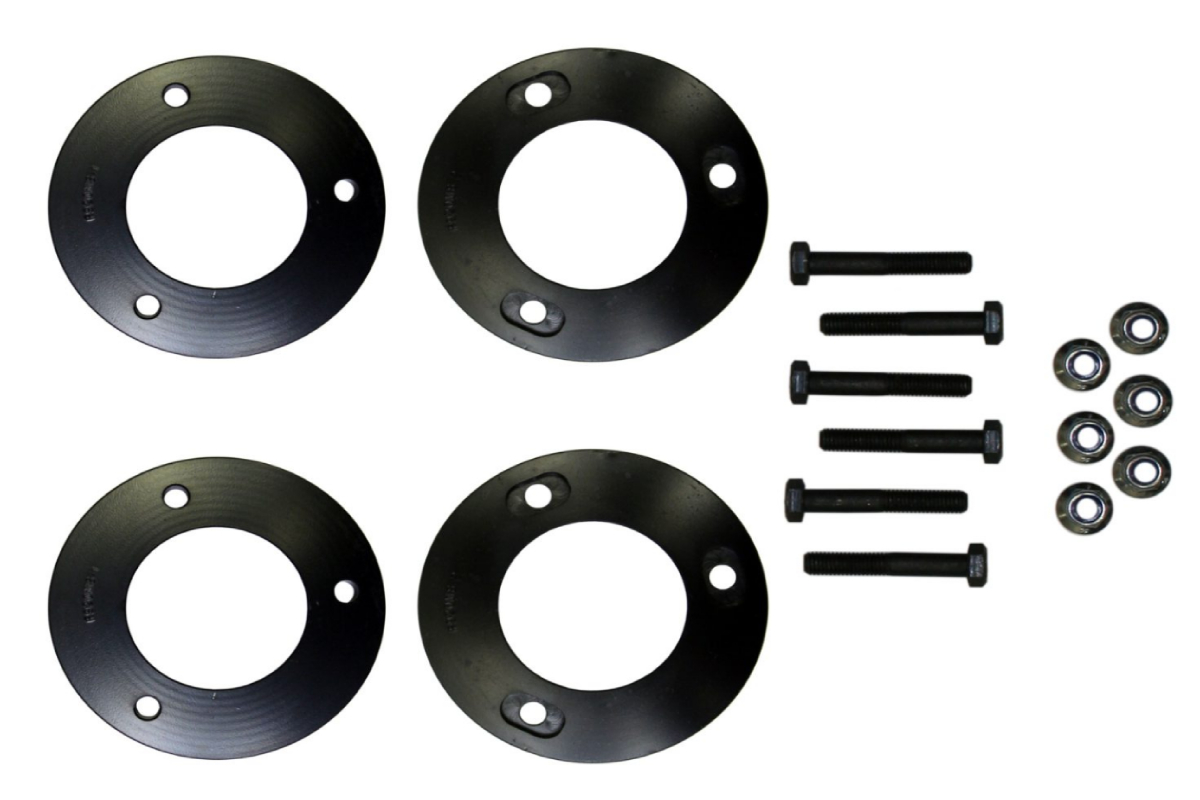 Give your Ford F-150 a proper look by installing the Skyjacker 2-inch Leveling Kit. Your factory truck sits lower in the front than the rear, causing your F-150 to look a bit unappealing. You can easily correct this issue with Skyjacker's quality leveling systems. Or, perhaps you are looking for a leveling kit to accommodate a bigger wheel and tire package. No matter what the reason is, Skyjacker is a great choice for your F-150.
As the name suggests, this kit is designed to lift your F-150 truck's front end by two inches to make it more even with the back. It will consequently increase your ground clearance so that you can install up to 33-inch tires. Aside from having enough room for larger tires, this system will also enhance the overall look of your Ford by adding a more rugged off-road appeal. Best of all, Skyjacker engineered its leveling kits to a T so that you can still enjoy the comfortable factory ride quality on or off the road.
The Skyjacker 2-inch leveling kit for the Ford F-150 is crafted from high-quality aluminum to offer nothing less than superior strength and durability without adding extra weight. The solid spacers are finished in a silver coating to ensure lasting performance no matter what path you take. This leveling kit is designed to be a complete bolt-on install, so there is no cutting or modifications needed. Disassembly of the upper strut mount will be required, however. All of the necessary hardware will be included in the package.
#5 Fabtech 1.5-Inch Front Leveling Kit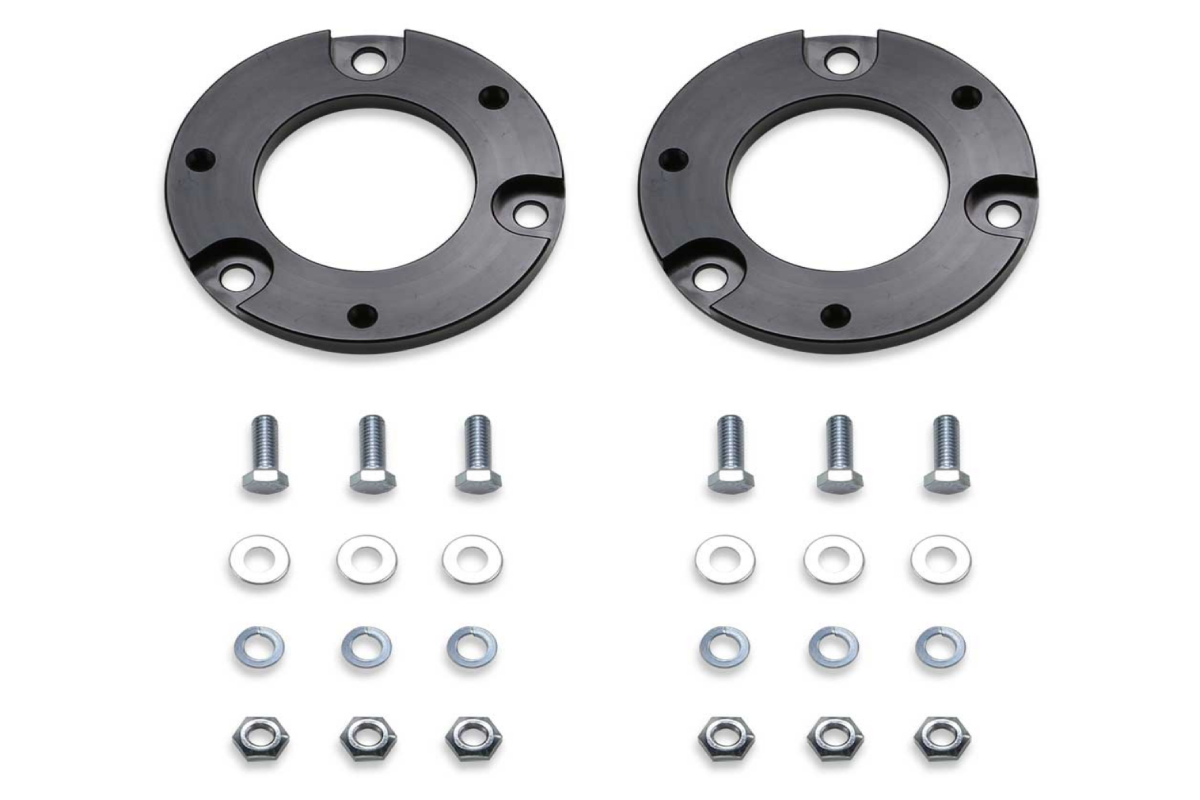 The Fabtech 2.5-inch Leveling System for the Ford F-150 provides a small amount of lift for the front of your vehicle. This will aid in leveling the stance of your Ford's ride height, front to rear, when compared to the nose-down appearance that comes straight from the factory. Fabtech has garnered a reputation for building top-quality suspension systems that are backed by an unprecedented 5-year/60,000-mile powertrain warranty at no additional cost. You will have the peace of mind that your Ford F-150 pars will be covered in an event of a failure.
With the added ride height from Fabtech's leveling system, you will be able to install larger tires and wheels on your F-150 for a more aggressive appearance. Fabtech's leveling kits feature heavy-duty construction with 1/4-inch thick steel and aircraft-grade billet aluminum hardware for maximum strength. All parts are also powder-coated for maximum corrosion resistance.
All Fabtech Leveling kits have undergone rigorous testing and extensive engineering to ensure proper functionality without placing the ball joints and tie rods into a bind. This is an essential feature as some taller kits on the aftermarket create steering or binding issues, which can result in failure of those parts over some time. Installation is typically very simple and can be done using basic hand tools. There is no vehicle modification required, and your Ford F-150 can be easily returned back to stock if needed.
Summary
Leveling kits feature a very simple design, utilizing coil spacers, strut extensions, or torsion keys–all depending on your truck's suspension. What's more, many of these kits can be installed without even raising your truck on jacks. Coil spring spacers are added to the top or bottom of your spring buckets and, reliant on the height of your kit, some may include shock extensions and bump stop relocation to accommodate the added lift. With strut extensions, all you have to do is place them on the top or bottom of your current struts. They are widely used on vehicles that have coilover struts in the front.
Torsion key kits, used on torsion bar suspension systems, tend to be a little more involved, as they replace the OE parts rather than simply adding to them. These OEM replacement kits help adjust the height of your Ford F-150 and prove to be sturdier than the factory ones, as they are specifically built to accommodate the extra lift.