The Jeep Gladiator represents the brand's return to the pickup truck market after a hiatus of almost 30 years. To the untrained eye, it may just look like a Wrangler with a pickup truck bed, but it is so much more than that. Jeep claims that the Gladiator is the "truck that does it all" with legendary capability, outstanding utility, and intuitive technology to get you where you need to go and encourage you to take on new roads. With that said, one of the most important modifications you can do to your Jeep Gladiator is invest in a tonneau cover.
There are numerous benefits to adding a truck bed cover to your Gladiator, with the most obvious being added protection for your belongings. It also gives it a sleeker appearance at the rear and offers a more streamlined look for your vehicle. With so many options out there ranging from fold-up covers to roll-up covers in soft and hard variants, it can be overwhelming to sift through the plentiful options on the aftermarket to find the one for you. That's where Vivid Racing comes in.
We have compiled the following list of the top five choices when it comes to tonneau covers for your Jeep Gladiator. These are based on factors like quality materials, ease of operation, installation process, utility, and price. If you would like to browse through Vivid Racing's complete inventory of truck bed covers, you can do so here.
#1 Tyger Auto T3 Soft Tri-Fold Tonneau Cover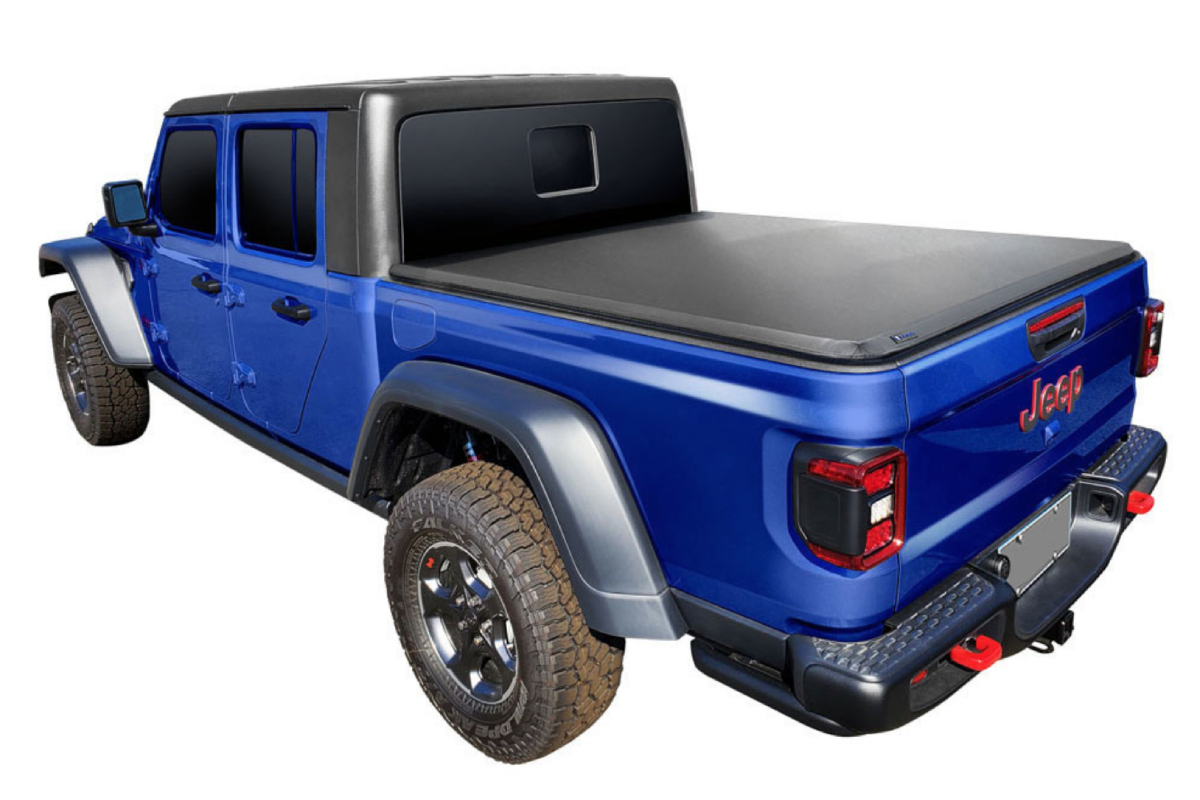 Tyger Auto focuses on developing premium aftermarket auto parts that meet or exceed OE quality standards and deliver added protection and convenience for your vehicle. The Tyger Auto T3 Soft Tri-Fold Tonneau Cover for the Jeep Gladiator is a top choice when it comes to affordability, functionality, and simplicity. This cover comes completely assembled with stainless steel clamps for a seamless installation process with no drilling required. Small holes will need to be cut, however, for vehicles equipped with an over-the-bedrail bedliner to secure the clamps. It will work with under-the-bedrail bedliners without any modifications.
The Tyger Auto tonneau cover folds easily for speedy access to your Gladiator's truck bed and also acts as a great line of defense for your cargo. The sleek design mounts right over the top of the truck bed rails for an integrated yet customized appearance. Finally, this tonneau cover will offer 13 percent gas savings on average!
Features:
For 2020-2021 Jeep Gladiator models with or without the Rail System
Cab size does not matter as long as you have the correct model and bed size
Dual-coated and made from heavy-duty 24 oz. Marine-grade vinyl, with aircraft-grade aluminum frames.
Includes stainless steel clamps for easy installation and great durability.
Pre-assembled horizontal crossbars offer support and conveniently fold up with the cover providing full bed access when needed.
Easy, no drilling installation with instruction and mounting hardware provided.
U.S. Design Patented
Limited Lifetime Warranty
#2 Truxedo Lo Pro Tonneau Truck Bed Cover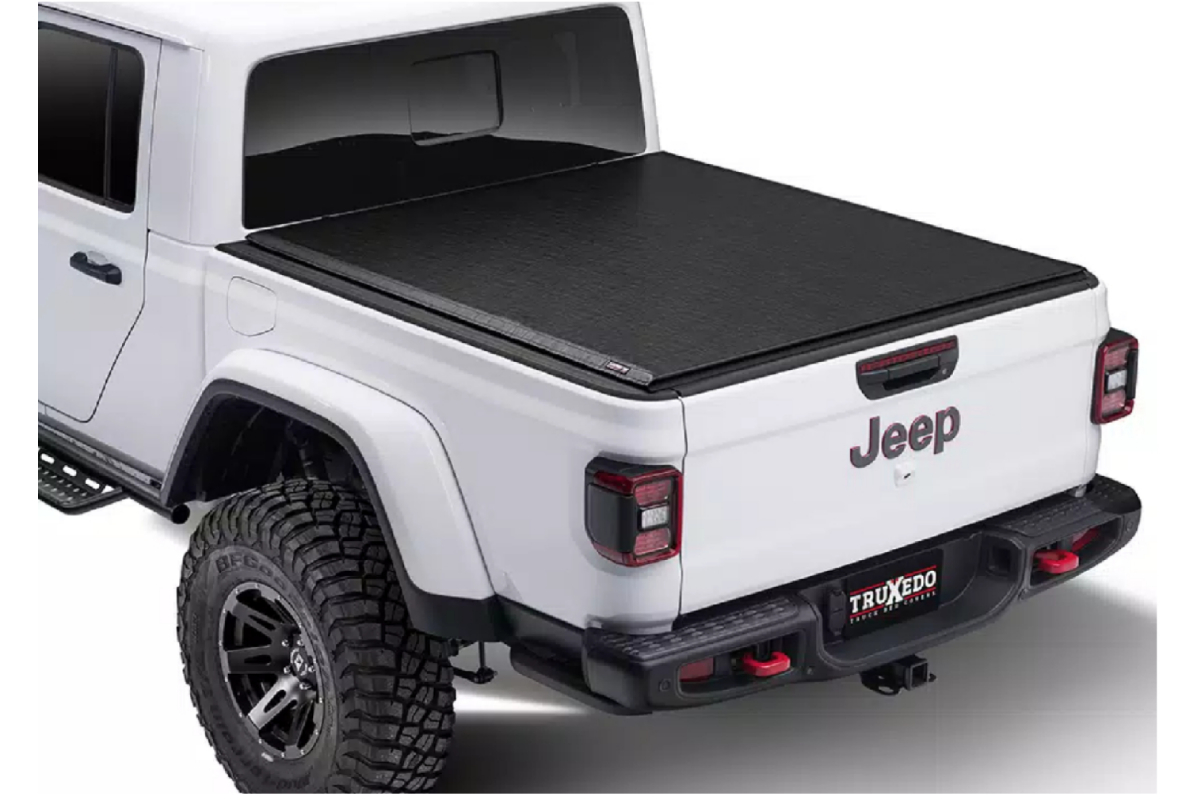 Stylish design, simple functionality, and durable bed protection are what make the Truxedo Lo Pro North America's number one best-selling roll-up truck bed cover. Its sleek, low-profile design (as suggested by its name) is the signature point of this tonnea cover. Made from industrial-grade leather grain, this tear-resistant fabric sits only ¾-inch above the truck bed to enhance your truck's overall appearance without bringing too much attention to itself. The heavy-duty construction and patented automatic tension control maintain a tight fit and keep the cover looking pristine in any weather condition.
The Lo Pro mounts inside the rails of your truck bed with stake pocket holes for use with additional accessories. A slanted rail design with 1-inch wide Velcro strips allows for a super low appearance and holds the cover down better than stretching it over the rail. These Velcro strips are free-floating in the track, which allows them to expand and contract in extreme temperatures. It also features a quick-release system making the cover super simple to remove in just seconds without any tools needed, providing full bed access at a moment's notice. Such design keeps your items safe and sound with an ingenious rear latching system that locks into place and can only be opened after opening the tailgate.
Features
Industrial-grade leather grain finish
Vinyl and Aircraft-grade aluminum
For models with the trail rail system
Lifetime Warranty on all parts
Low-profile appearance with free-floating Velcro technology
10 to 20 minute average installation time with no tools required
Patented tension control system automatically self-adjusts to keep the cover tight
Easy single trigger release requires only one finger to open the cover
Cover can be easily removed without any tools, providing 100% bed access
#3 Extang Trifecta 2.0 Tonneau Cover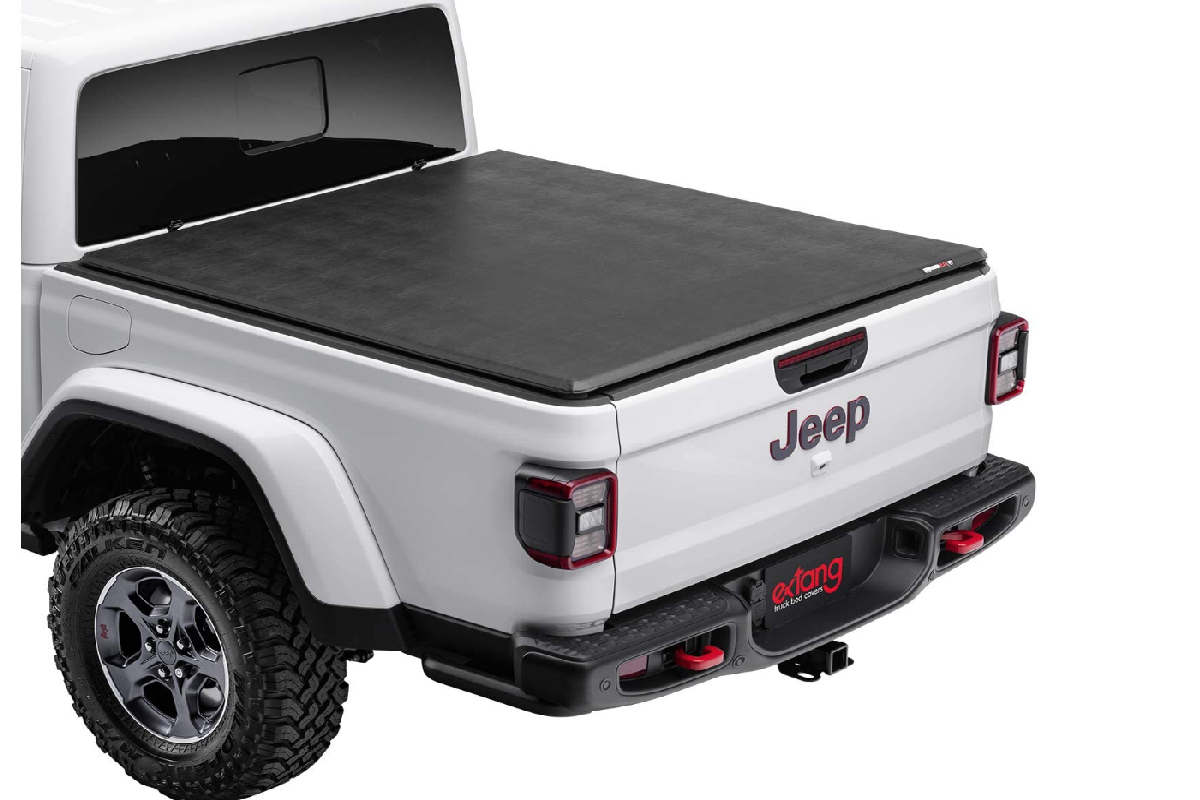 America's best-selling affordable soft tri-fold cover just got better. The Extang Trifecta 2.0 spotlights softer curves and a sleek design that creates a smoother, more countered low-profile appearance. It begins with the strongest frame in the industry, crafted from lightweight aircraft-grade aluminum and heavy-duty, fade-resistant leather-grained fabric. The integrated corner tuck system has improved tarp tension and keeps your truck looking great while protecting the belongings underneath it. All parts have been rigorously tested to ensure they can stand up to even the strongest of weather elements.
The Trifecta 2.0's newly redesigned frame and rugged MAX hinges with double pivot design offer more structural strength than the previous version. The exclusive snap-on seals eliminate adhesive and remain in place for the ultimate in weather protection. This tonneau cover requires no assembly and can be installed in just a few minutes. Just square it up on your truck, tighten the clamps, and you're all set! The EZ-lock clamps require minimal effort and self-lock in place when attached to the bed flange for additional security.
Features:
Durable tarp made from leather-grain fabric
Lightweight aircraft-grade aluminum construction
Enhanced styling with smooth contours and a sleek low profile
Deflects water and guards your bed from the elements
Exclusive non-adhesive snap-on style perimeter seals
Fast and easy to install; Easy to operate
Two EZ-Lock clamps at the tailgate keep the cover locked
Made for utility; Pairs well with your favorite toys
Made right here in the USA
Maximum Strength Lifetime Warranty
#4 Bak Industries BAKFlip MX4 Bed Cover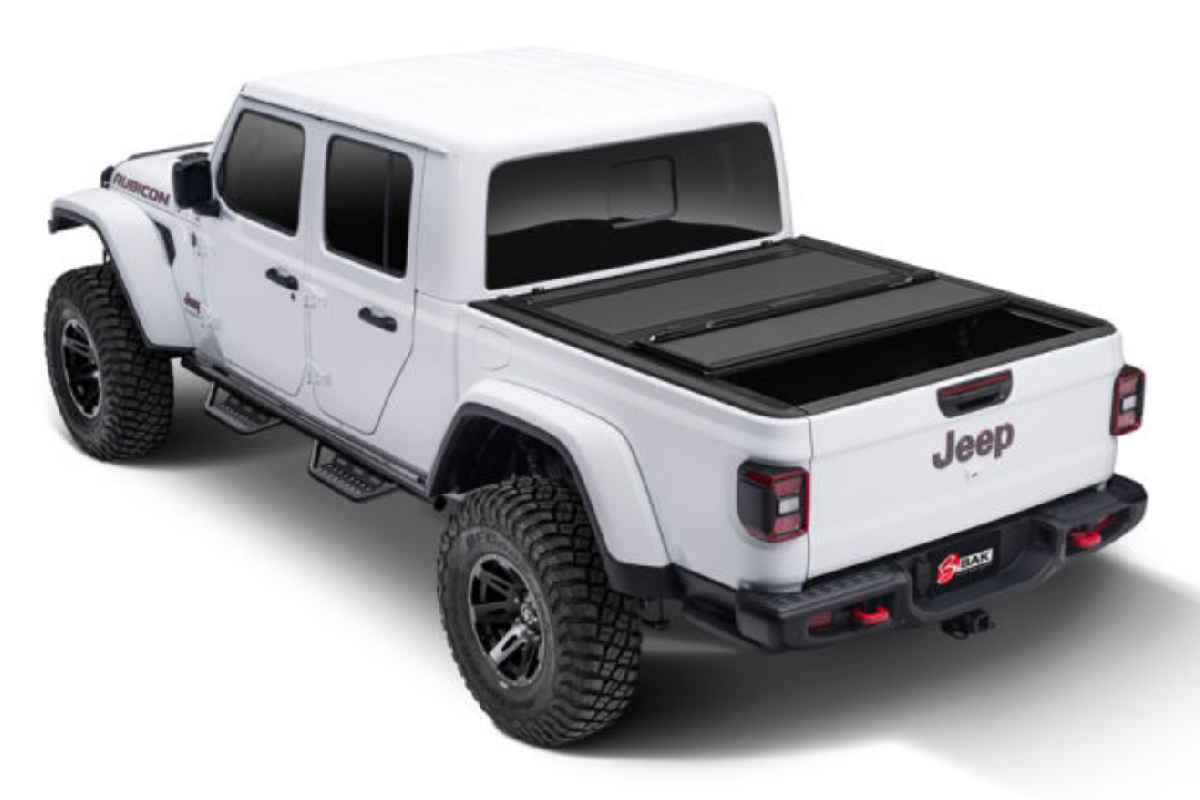 The Bak Industries BAKFlip MX4 tonneau cover is one of the best-selling hard folding covers, now available with new features like matte-finished caps, clamps, and bolts for a more streamlined appearance. Other MX4 highlights include enhanced functionality with pre-molded shock-absorbent bumpers, secure prop rod clips, and integrated tailgate seal. From its sleek contemporary styling to its state-of-the-art utility, the new and improved MX4 literally does it all. The solid and robust design is flush for a more appealing look and easier full/partial access to your Jeep's bed.
The BAKFlip MX4 tonneau cover is made from aircraft-grade aluminum and finished in a rugged black powder-coated finish to make it one of the most durable products on the market. This heavy-duty, all-season truck bed cover will keep all your valuable cargo dry and safe while providing the peace of mind you want and deserve. It is designed to perform optimally in even the most extreme conditions and spotlights a resilient infrastructure that is designed for everyday use with upgraded parts to deliver heightened protection.
Features:
Premium matte finish
Durable aluminum panels
Rated up to 400 lbs. of evenly distributed weight
Backed by a 5-year warranty
Dual-action tailgate seal
Quick and easy, complete bed access
NEW finished corner caps featuring a softer seal for a more finished appearance
NEW pre-molded and die-cut A-panel and B-side bumpers
NEW prop rod clips securely designed for durability
NEW matte-finished elevator bolts and clamps
#5 Bestop EZ-Roll Soft Tonneau Cover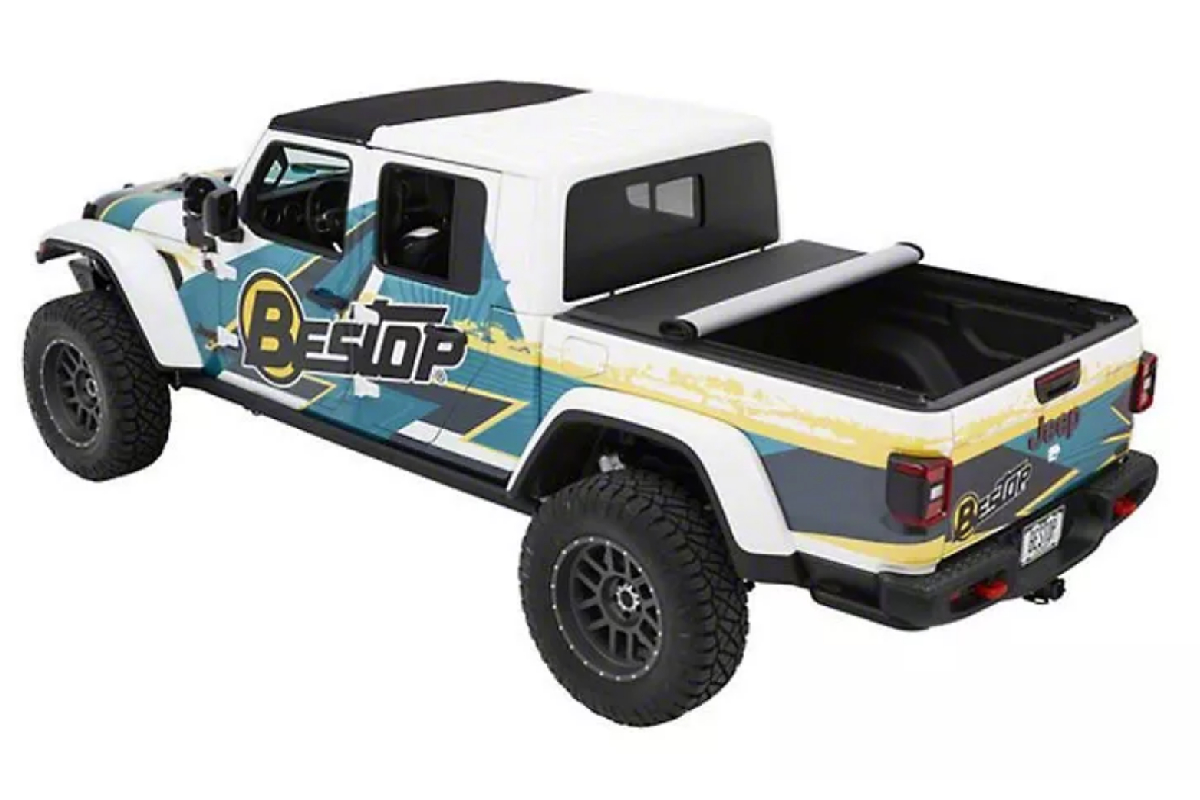 Every pickup truck bed deserves a cover and Bestop knows just what Jeep owners look for in one. With that said, Bestop redesigned the EZ-Roll soft tonneau cover to get the job done in every climate and weather condition to ensure your belongings are always protected. It has been treated for excellent mildew and UV resistance and is easy to use in the extreme cold thanks to the hook and loop system. This cover simply rolls open and attaches behind the cab using durable restraint straps. The tightly rolled configuration gives drivers full access to their truck bed in order to reach larger-sized hauls.
The EZ-Roll soft tonneau cover is made from tough, premium-grade leather-grain vinyl-coated polyester with integrated bows for a quick roll-up time. It also features black finished aluminum rails for a more streamlined OEM look. This cover boasts an easy installation directly to the Jeep bed with no drilling using Bestop's bolt-on clamp system and bed rails. Dual pull tabs at either rear corner make rolling up this tonneau cover super easy with full access to the bed in half a minute.
Features:
Leather-grain vinyl-coated polyester withstands any climate or weather
Treated for excellent mildew and UV resistance
Bows are integrated into the fabric for quick roll-up
Tonneau sits on top of bed and secures to rail with hook and loop fastener
Features black finish aluminum rails for an OEM-style look
Rolls conveniently to the back of the truck bed in 30 seconds
Allows access to the tailgate without removing the cover
Restraint straps secure rolled Tonneau behind cab
Hook and loop system makes the EZ Roll easy to use, even in extreme cold.
Limited lifetime warranty