In the world of overlanding, the Toyota Tacoma is one of the most popular platforms available. The Tacoma offers everything you need in an off-road situation and it's incredibly reliable. Even though the bed is a great way to store all your equipment, you may end up needing more luggage space for off-road trips. This easiest way to add more luggage space is with an aftermarket roof rack.
Picking the right roof rack for your Tacoma can be challenging. Many roof racks offer unique features and different amounts of luggage space. To help you find the perfect roof rack for your 05+ Tacoma, we've created this guide showcasing our favorite roof racks for Toyota Tacoma.
#1 Prinsu Designs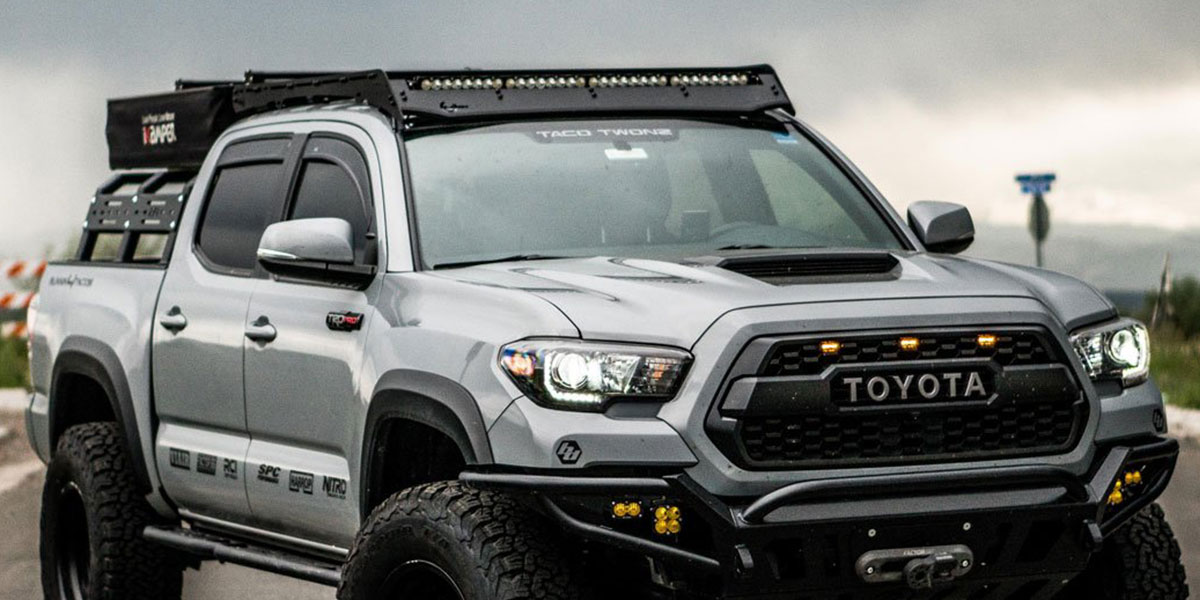 One of the most popular roof racks for the 05+ Tacoma comes from Prinsu Designs. Depending on your needs, Prinsu offers a handful of different roof racks, however, the specific rack we're looking at is the Cabrac.
What makes the Cabrac unique compared to other roof racks on the market is its modular and highly adjustable design. The Cabrac is designed to work on a double cab, extended cab, or even a shortened extended cab configuration if you need roof space for something like a camper.
The Cabrac consists of two laser-cut 3/16″ 5052 aluminum side rails which offer three mounting tabs each. With this mounting tabs, you bolt the rack directly into the five factory mounting holes on each side of the roof. This innovative mounting design allows you to mount your Cabrac without drilling into your roof.
The Cabrac's included crossbars are constructed from high-quality 2-inch by 1-inch aluminum extrusion with a top facing T-slot channel. The idea behind these unique crossbars is to offer more solutions for tie-down straps, cargo security, and more accessories.
To help reduce the negative MPG effects roof racks typically have, Prinsu includes a 1/8″ aluminum wind deflector which is used at the front of the roof rack. The aluminum plate also helps reduce wind noise, which is something many aftermarket roof racks struggle with.
Options for mounting an aftermarket LED light bar are also available, making it very easy to install a large LED light bar.
#2 Cali Raised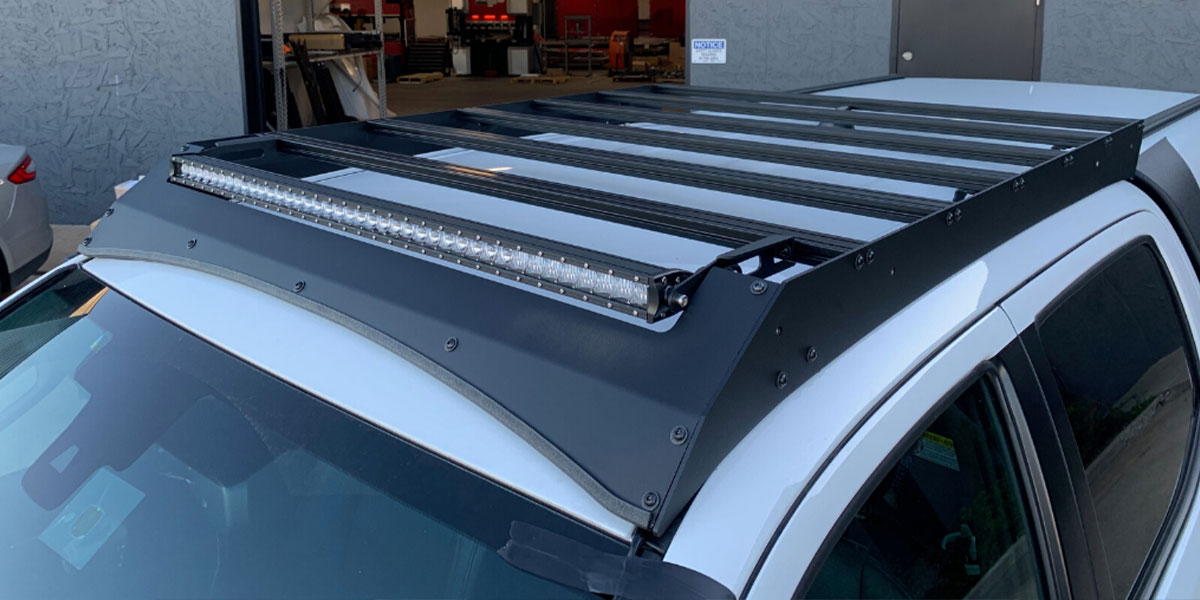 Next on our list is another very popular option for overlanders, which is the Cali Raised Double Cab Roof Rack. The only real downside to the Cali Raised roof rack is the lack of modularity, meaning this roof rack is only available for double cab Tacomas with no extended cab options.
Lack of modularity aside, the Cali Raised roof racks are an excellent way to increase the functionality of your Tacoma. The entire roof rack is fully CAD designed and constructed in the USA. Like the Prinsu roof rack, it's designed as a bolt-on solution and utilizes factory mounting holes so you don't have to drill into your roof.
The rack includes two side plates, six extrusion bars, and a front wind deflector. All necessary hardware is included and the engine rack is finished with a black powder-coat. The Economy version of this rack is available with or without an LED cutout. The more expensive Premium version offers an adjustable wind deflector for improved MPG and reduced wind noise.
#3 DV8 Offroad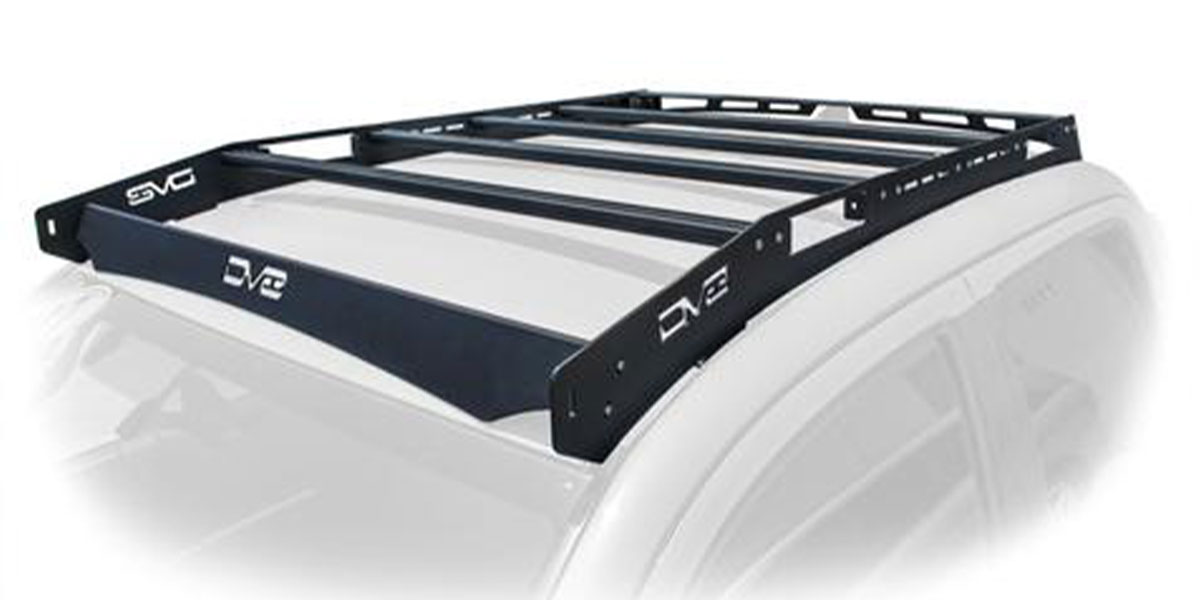 For those who want a roof rack that allows for easy 360-degree lighting, we recommend the DV8 Offroad roof rack. Unfortunately, this roof rack is designed for 2016+ Tacomas, so if you have an 05 – 15 Tacoma, you'll have to look elsewhere.
What makes this roof rack unique are the four 6-inch LED light bar slots on the sides of the roof rack. This allows for easy installation of 2x LED lights on each side, providing nearly 360-degrees of lighting coverage. On top of that, the front accommodates an LED light bar up to 45-inches wide!
Aside from the unique light bar slots, this roof rack is constructed fairly similar to the other options on this list. It's comprised of two aluminum side plates with four extruded aluminum crossbars with an air deflector at the front.
This roof rack is designed to mount using factory bolt holes, eliminating the need to drill holes in your roof, ultimately making the install process incredibly easy. On top of that, this is one of the most affordable roof racks available!
#4 Warrior Products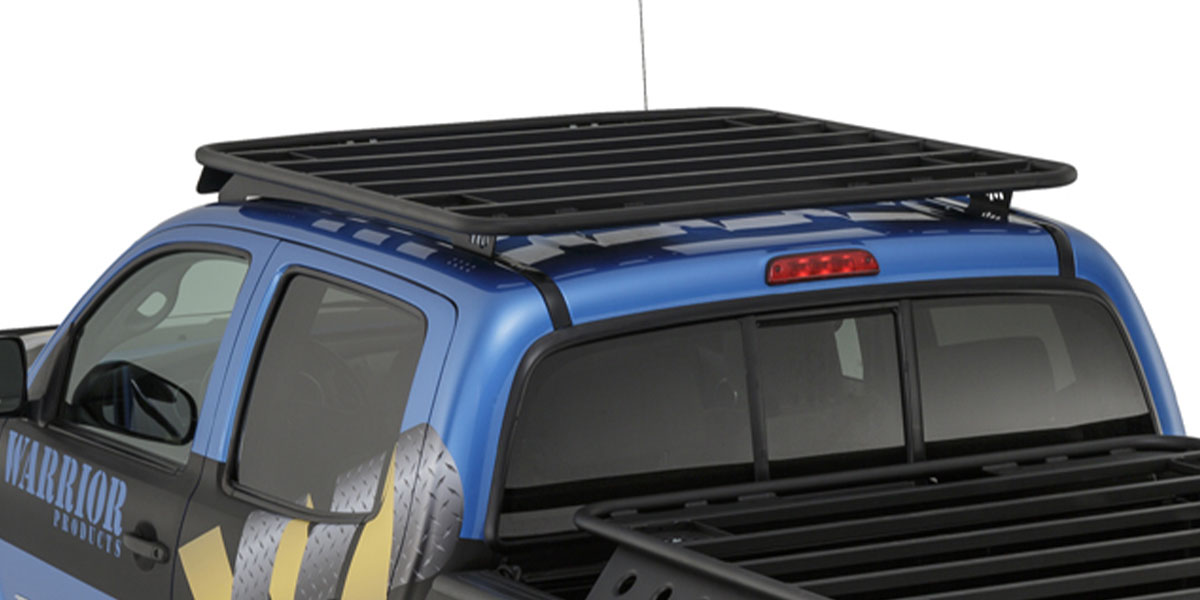 If you're looking for a roof rack that offers a very large platform to mount something large such as a rooftop tent, the Warrior Products Platform Roof Rack is the perfect solution. What's unique about this roof rack is a very wide platform compared to other roof racks.
As stated above, the extra-wide platform allows for mounting large items such as a rooftop tent. The entire rack is constructed from 1.25″ round tube and 1″ square crossbars. The platform itself measures at 57.5″ long and 51.25″ wide and supports up to 600lbs.
Like the other roof racks on this list, this roof rack is mounted using OEM bolt holes and doesn't require any drilling or custom work for installation. Unfortunately, the front air dam is sold separately, however, it functions the same as the air dam on other roof racks.
#5 Front Runner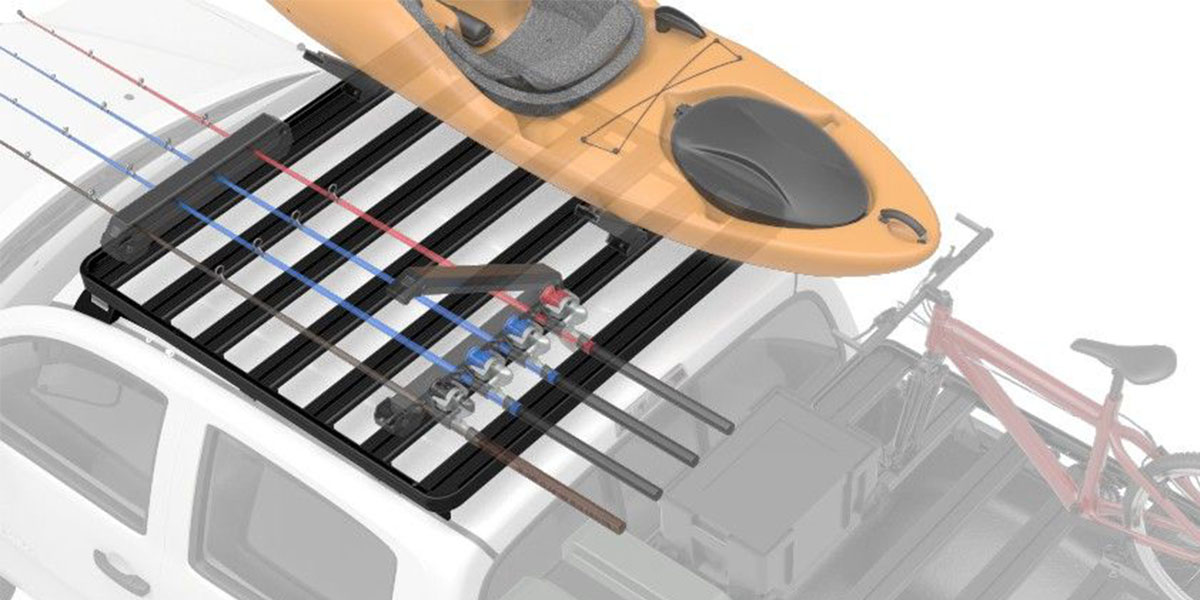 Last, but certainly not least, is the Slimline roof rack kit from Front Runner. What makes the front runner roof rack unique is the plethora of accessories Front Runner offers for the rack. From light brackets, bottle openers, hi-lift jack mounts, shovel mount, and much more. Front Runner makes it incredibly easy to accessorize your roof rack to your needs.
The Slimline II kit includes the Slimline II tray, wind deflector, and 2 foot rails to easily mount the entire package to your Tacoma. Like the other roof racks on this list, the Slimline II installs using factory bolt holes, eliminating the need to drill into your roof during installation.
The unique foot rails contain one opening to access a Front Runner under rack mount table. This allows you to easily store a Front Runner table under all the gear on your roof rack, saving a massive amount of space that would otherwise be needed for the table. All Front Runner Racks are backed by a Limited Lifetime Warranty.
Still Don't Know What You Need?
If you're still not sure which roof rack is right for you Tacoma, let our world-class performance specialists help you decide! Our specialists can help you find the perfect roof rack, equipment, lift kit, or anything else you need for you Toyota Tacoma! Connect with us by phone at 1-480-966-3040 or via email at sales@vividracing.com.