When the Chevrolet C8 Corvette entered the industry, it shocked the world with its style and features. People who bought C8 Corvette loved the car. Its performance, look, the feel were described as outstanding.
Quick History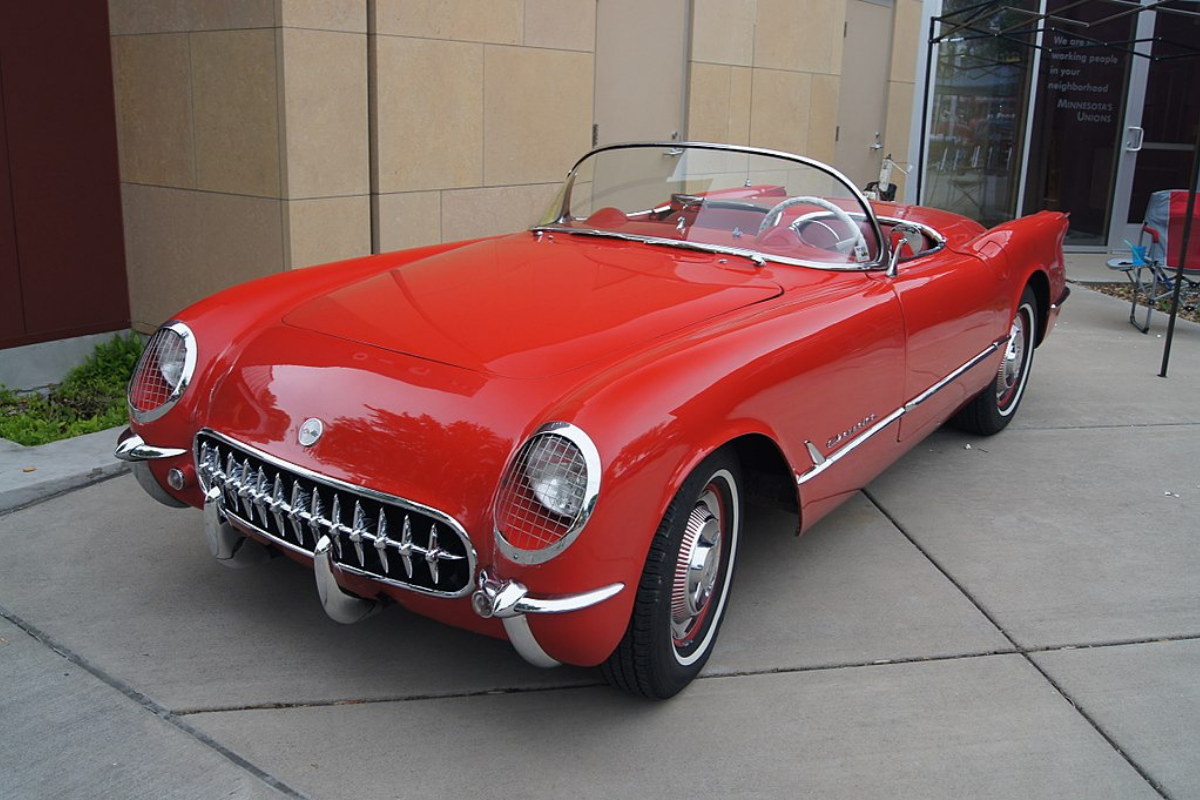 The first-generation Chevrolet Corvette debuted in 1953 and has remained the ultimate American muscle vehicle ever since. Corvette has seven generations, each bringing the elegant outward design and screaming power that the range has become renowned for.
The new eighth-generation Chevy Corvette C8, due in 2021, is slated to deliver the sport performance look that is instantly identifiable on Lakeland streets. Still, it's mixing things up with a novel mid-engine design.
Chevrolet Corvette Generations
First Generation
1953: Corvette's first-generation debut

1953, 1954, and 1955: were the only Corvettes equipped with a 3.9 L version of the second-generation Blue Flame inline-six rated at 150 horsepower.

1956: introduced a redesigned body with a fresh "face" and side coves.

1957: an optional "Ramjet" fuel injection system was made available.

1959–60: model years saw minor modifications, except less body chrome and more powerful engine options.

1961: includes a "ducktail." For many decades, the trunk lid and exposed headlights did not recur.

1962: The wraparound windscreen, solid back axle, and convertible-only body type were similarly phased out.
Second Generation
1963: The first year for a Corvette coupé.

1965: four-wheel disc brakes and a "large block" engine option were added.

1966: Chevrolet introduced an even larger 427 cu in (7.00 L) Big Block version.

1967: Side exhaust pipes were also available and remained.
Third Generation
1968: The C3 coupes were the first to employ detachable T-top roof panels.

1971: To accept standard low-lead gasoline with lesser anti-knock qualities, engine compression ratios were dropped, resulting in lower power ratings.

1972: GM switched to the SAE Net measurement, which resulted in lower but more realistic power ratings than the prior SAE Gross standard.

1974: With the introduction of catalytic converters mandating no-lead gasoline, the final natural dual exhaust system was removed on 1975 models.

1976: The fiberglass floor was replaced with steel plates to safeguard the catalytic converter's high working temperature.

1977: The previous year employed the tunneled roof treatment with a vertical rear window.

1978: The 25th Anniversary model debuted the fastback glass rear window and a revised interior and dashboard.

1980: The Corvette had an integrated aerodynamic makeover, which resulted in a considerable drag decrease.
Fourth Generation
1984: Corvettes had a Doug Nash designed "4+3" gearbox, a 4-speed manual with automatic overdrive on the top three gears.

1986: The second Corvette Indy Pace Car was made available.

1988: the 35th Anniversary Edition of the Corvette.

1992: The 300 bhp (220 kW) LT1 engine was launched, representing a 50 bhp (37 kW) boost over the L98 engine released in 1991.

1993: Corvette was also the first GM vehicle to use the Passive Keyless Entry System, making it the first GM vehicle.

1996: The GS was equipped with the high-performance LT4 V8, which produced 330 bhp (246 kW) and 340 lb-ft (460 Nm).
Fifth Generation
1997: The C5 was an entirely new design that included numerous new concepts and manufacturing advances carried over to the C6 and C7.

1998: The C5 was only offered again as a coupe, even though the new platform was built from the bottom up to be a convertible.

1999: The FRC might be a stripped-down variant with a V6 engine, according to one concept.

2002 – 2004: Later, the LS6 was increased to 405 horsepower (302 kW).
Sixth Generation
2006: The new Z06 arrived.

2008: The Corvette underwent a minor facelift, including a new LS3 engine with a displacement increase to 6.2 L (380 cu in), producing 430 bhp (321 kW) and 424 lb-ft (575 Nm) (436 bhp (325 kW) and 428 lb-ft (580 Nm) if bought with the optional performance exhaust).

2010: The historical name

Grand Sport

returned to the Corvette lineup.

2011: Buyers of the Corvette Z06 and ZR1 were given the option to help construct their powerplant.
Seventh Generation
2014: The Chevrolet Corvette is equipped with an LT1 6.2 L V8 (376 cu in) engine that produces 455 bhp (339 kW) or 460 bhp (340 kW) with the optional performance exhaust.

2015: Wide-bottom seats are standard in the redesigned cabin, with sportier versions with high side bolsters available. The Corvette's flag emblem for the new automobile has been altered, and a miniature casting of a stingray has been added to the car's decoration.

2017: Chevrolet once again introduced the Grand Sport (GS) model.
C8 Corvette Overview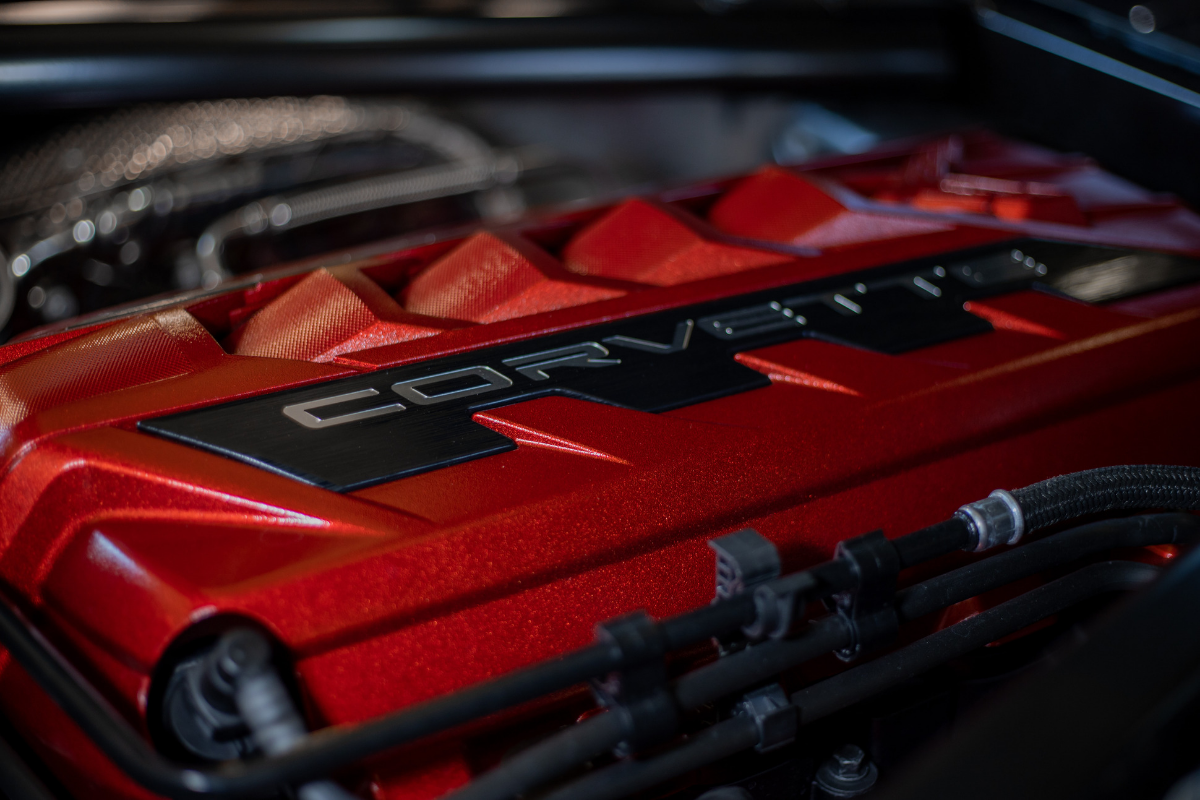 The features of C8 Corvettes have a vast difference from the previous design of Corvettes. Introducing an all-new aluminum design, a coil-over springs instead of leaf springs, used in earlier models, more aggressive aerodynamics exterior features, and larger air intakes with prominent side scoops.
Its trunk is located at the rear, with additional storage at the car's front. Adding them, they provide a 370 L or 13 cubic feet cargo space.
Due to the conversion to a mid-engine layout, the passenger cell has been relocated forward by 16.5 inches or 420 mm. The cockpit has been intended to be driver-centric, with several controls positioned on the center console and a redesigned hexagonal steering wheel.
Another characteristic of the C8 Corvette is its 12-inch digital screen, which replaces the instrument cluster and displays one of the six driving modes. It is joined by an 8-inch touchscreen. A special Z button is also placed on the steering wheel to quickly activate customized performance settings.
2022 C8 Corvette Specs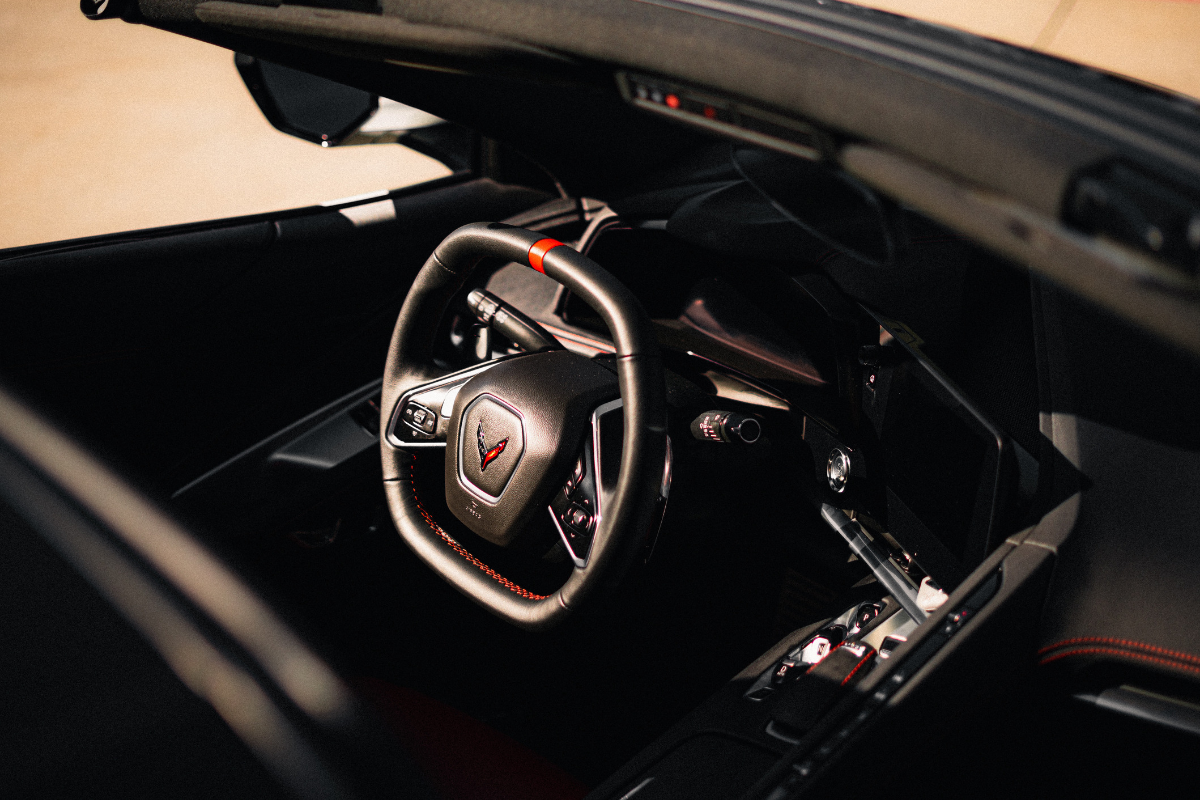 C8 Corvette will help your reach your desire to test your limit and get the most out of driving. Let's check what can the 2022 version offer with its design and engine performance.
Design
The famous performance of the Chevy Corvette C8 model is made possible by its strong engine under the hood. Still, so much more goes into making the Chevy Corvette C8 the car it is with its high-performance technological specifications and design features:
Mid-Engine Positioning:

The mid-engine location of the 2022 Corvette C8 model allows the cowl, hood, and steering wheel to be lower than usual, giving your forward visibility better than before.

Intake

: 8 equal lengths 210 mm long runners improve torque and airflow to each cylinder.

Exhaust Manifolds

: For maximum airflow, they used stainless steel headers connected to split-volume catalytic converters.
Engine Performance
To feel its breathtaking power at every turn when you start up the engine of the Chevy Corvette C8, check these performance specs to see how you can conquer the roads:
6.2L V8 LT2 engine

490 horsepower

465 lb-ft of torque

Power-retractable seats

Rear Camera Mirror Rear park assist and HD rear vision camera

Bose premium 10-speaker system

Chevrolet Infotainment 3 system

Standard 8-way power GT1 seat and power tilt and telescopic steering column

0-60 mph in 2.9 seconds

Top track speed of 194 mph

8-speed dual-clutch transmission

15 mpg city and 27 mpg highway
Must-Have Modifications for Your C8 Corvette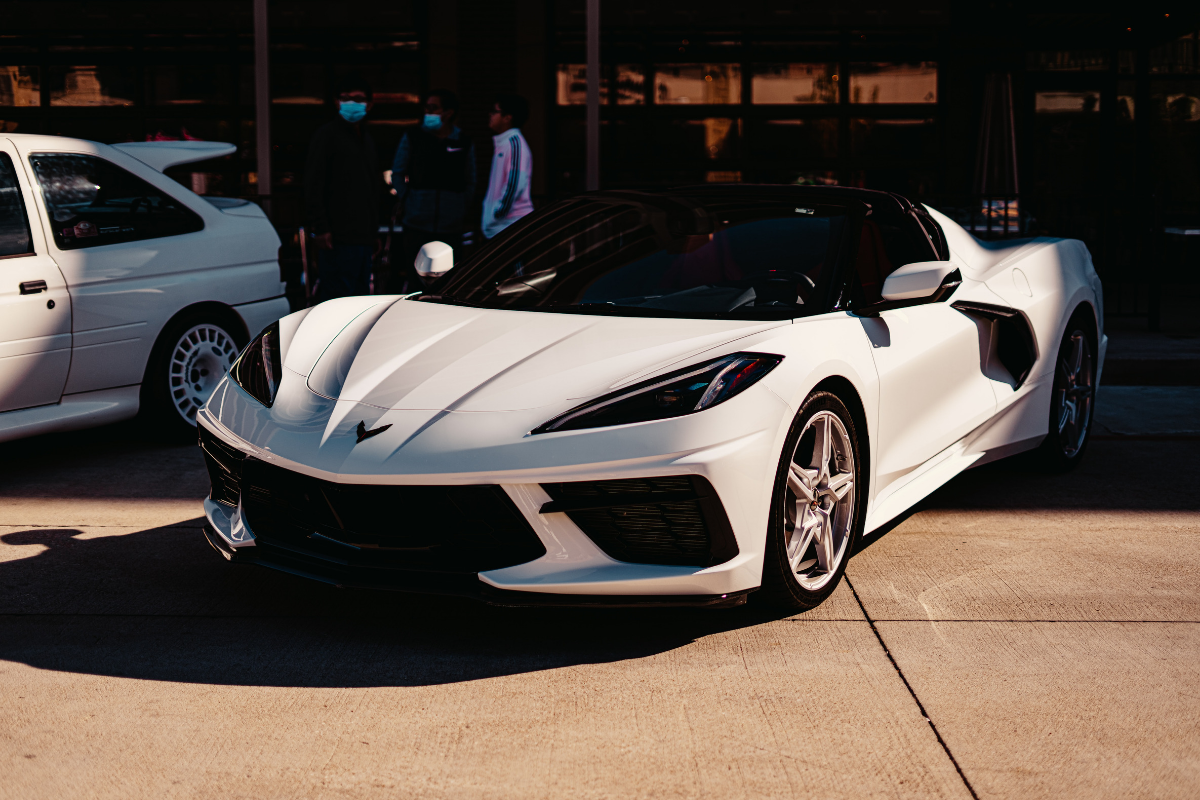 Although it's perfect as it is, you might want to add some modifications to it to make it look unique from others. Check out these suggestions we've found for you.
1. Ceramic Coating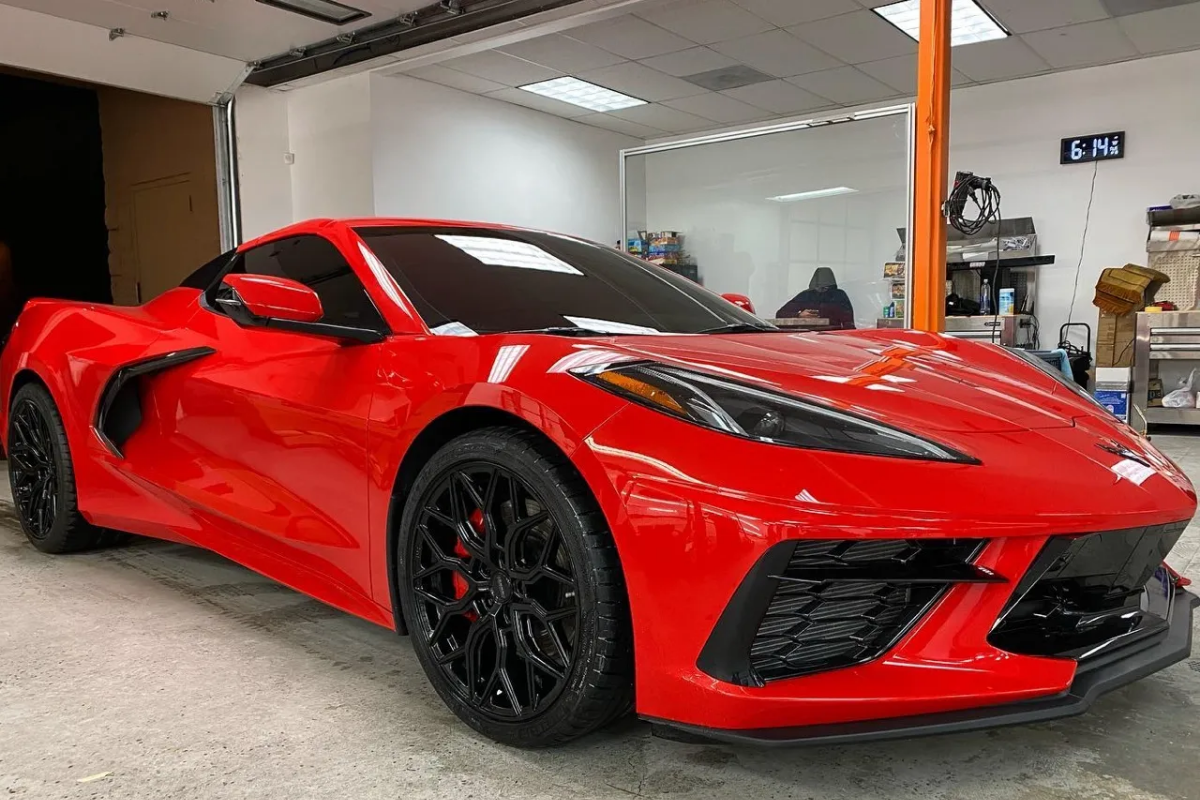 You can do as much as you want with your C8 Corvette to ensure it is well protected, and the perfect answer here is a cover its paint with a ceramic layer. You can get loads of benefits from the ceramic coating because it is a cost-effective invisible armor. An enhanced gloss look, UV protection, and a level of safety from harmful road grime.
2. Upgrade your Brake Pads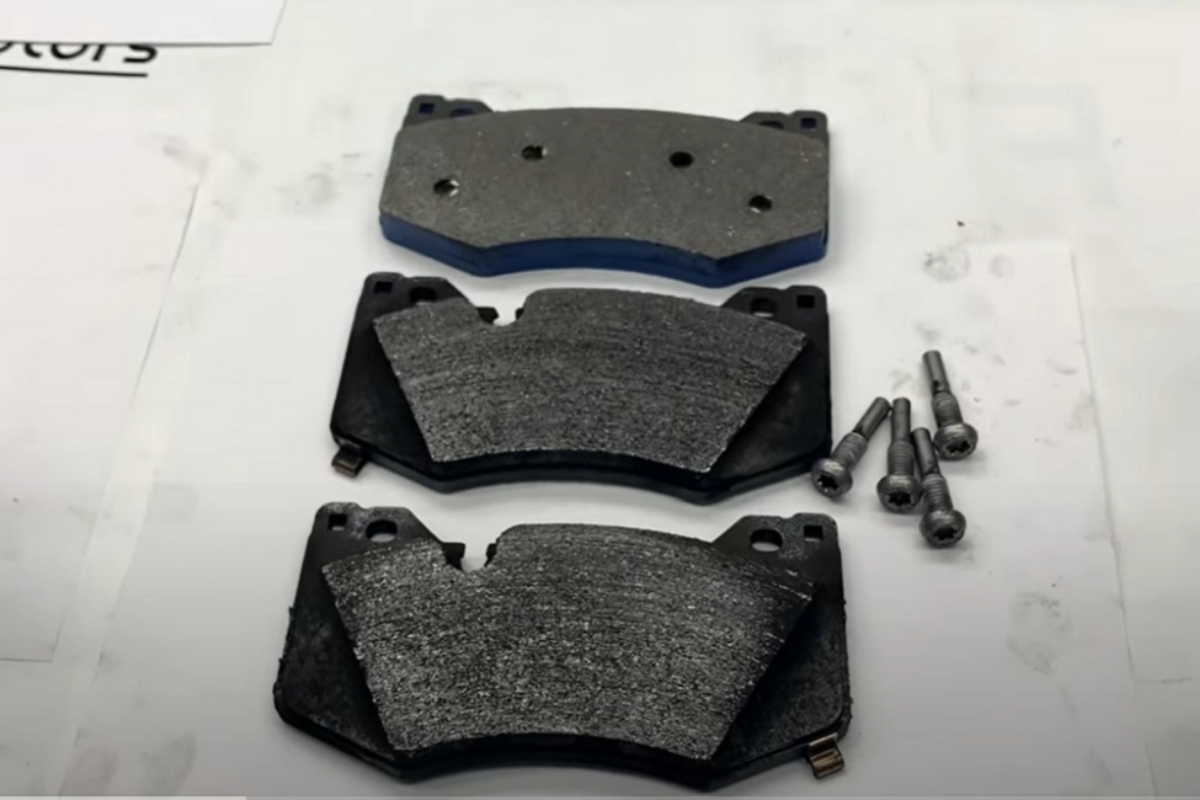 Though the OEM brakes pads provide a mixture of quiet performance and wear, they are also known to create a mess on the vehicle's wheels. Good thing, aftermarket solutions are available and will help you reduce the dirt and specks of dust without affecting the vehicle's performance.
Carbotech produces high-quality ceramic brake pads and is excellent alternatives to OEM pads, providing minimal brake dust and high-performance braking. If you choose to do it yourself, it is okay because they are easy to install. This update may cost between $480 and $650 for both front and rear sets of brake pads, and it's a terrific way to boost performance while also safeguarding your C8's wheels.
Shop All Chevrolet C8 Corvette Brake Pads Here
3. Lowering your C8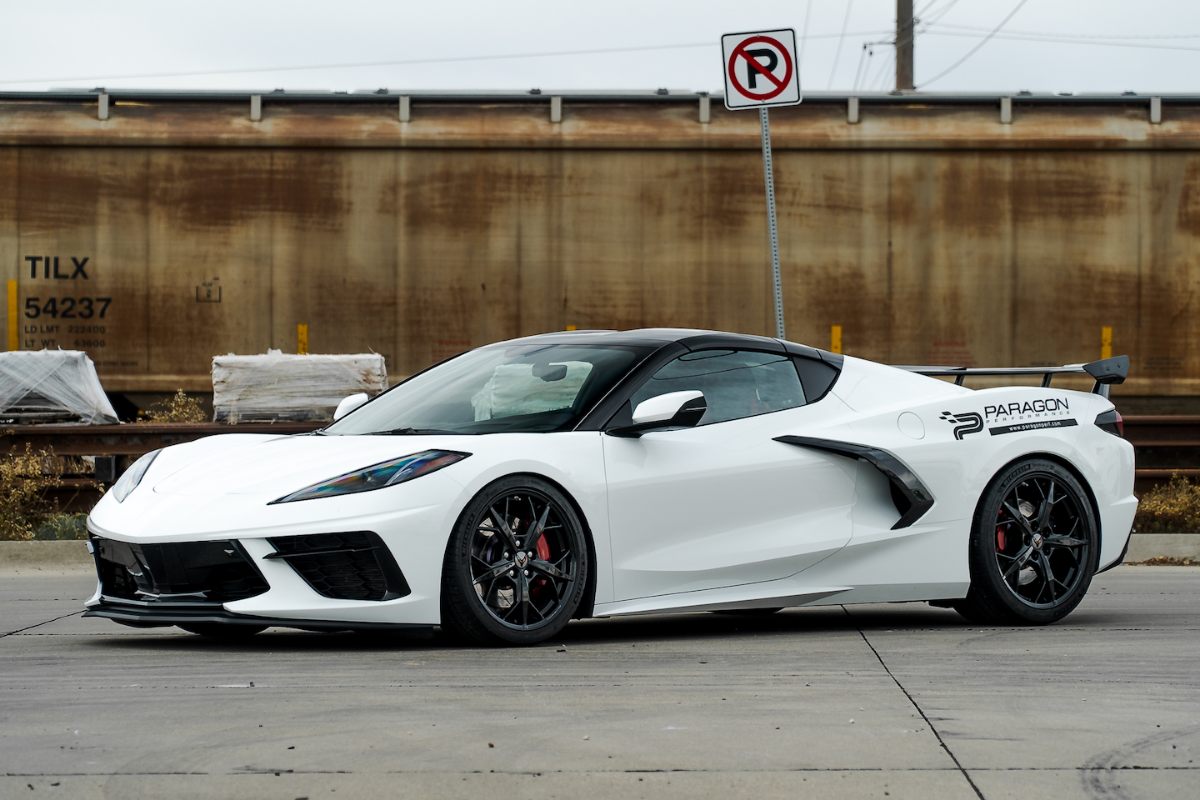 Lowering your C8 will give it a significant impact. Some people complain that the C8 might be a little high in its base form, and lowering it might help you feel comfortable riding it. Lowering the center of gravity by bringing the body down closer to the ground, minimizing the wheel gap, and increasing the space beneath the front and sides will improve its performance.
Cicio Performance introduced its front-end lowering kit for the C8 Corvette; it can lower the front-end by 1 inch without affecting the lift capability equipped on C8. They also sell the specialty tool for an additional $20, putting the total cost of the upgrade to around $230.
Shop All Chevrolet C8 Corvette Lowering Kits Here
4. Exhaust Systems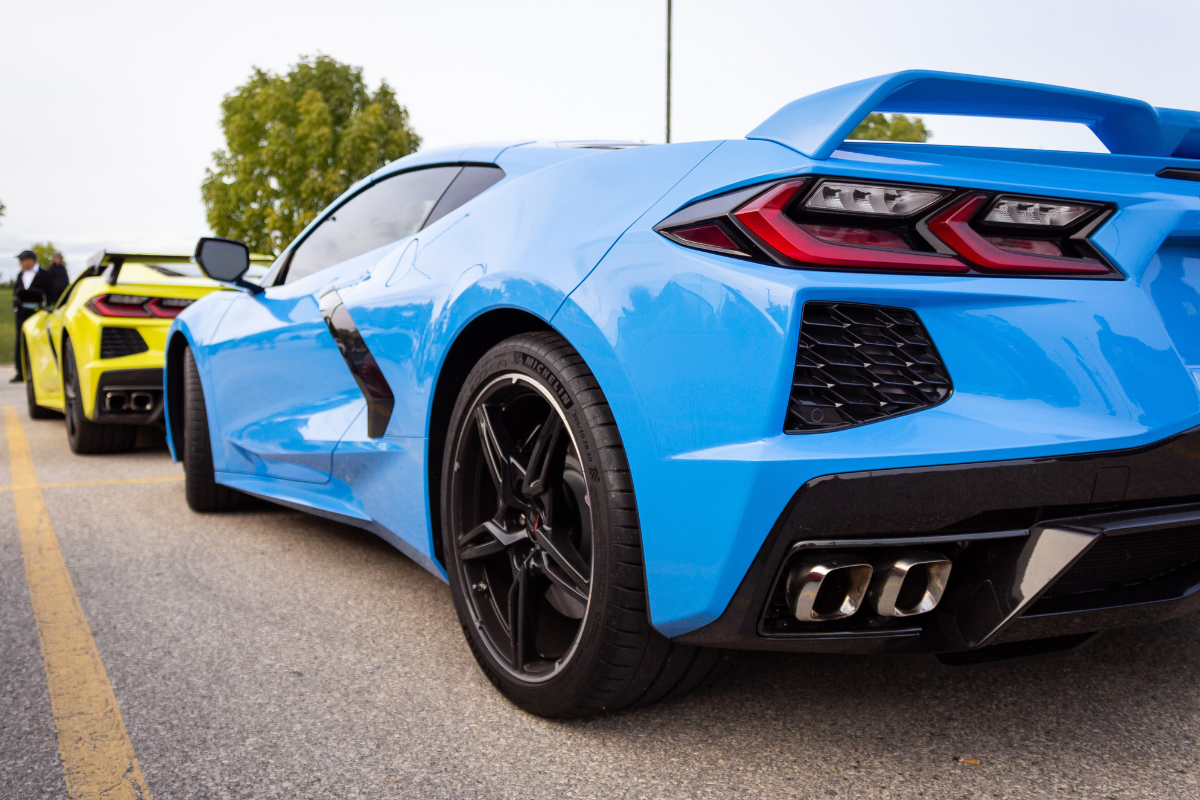 Adding an exhaust to your C8 Corvette will surely make it a blockbuster vehicle. And whether you love it or hate it, most car aficionados would love to put an exhaust on any car. Not only will it improve the engine's performance, but they also produce a great sound.
Whatever your reasoning, we can all agree that exhaust systems should be one of the first significant upgrades you make to your C8 Corvette. Most aftermarket exhausts, especially cat-backs, increase engine economy and the auditory department of your vehicle. Though great exhaust can be expensive, the gains you can draw are undeniably worth it, along with excellent benefits like superb material, weight reduction, and exhaust tips.
Great aftermarket exhaust includes aFe MACH Force-XP Catback Exhaust System, ARMYTRIX Stainless Steel Valvetronic Exhaust System, and Soul Performance Sport Exhaust.
Shop All Chevrolet C8 Corvette Exhaust Systems Here
5. Radiator Screens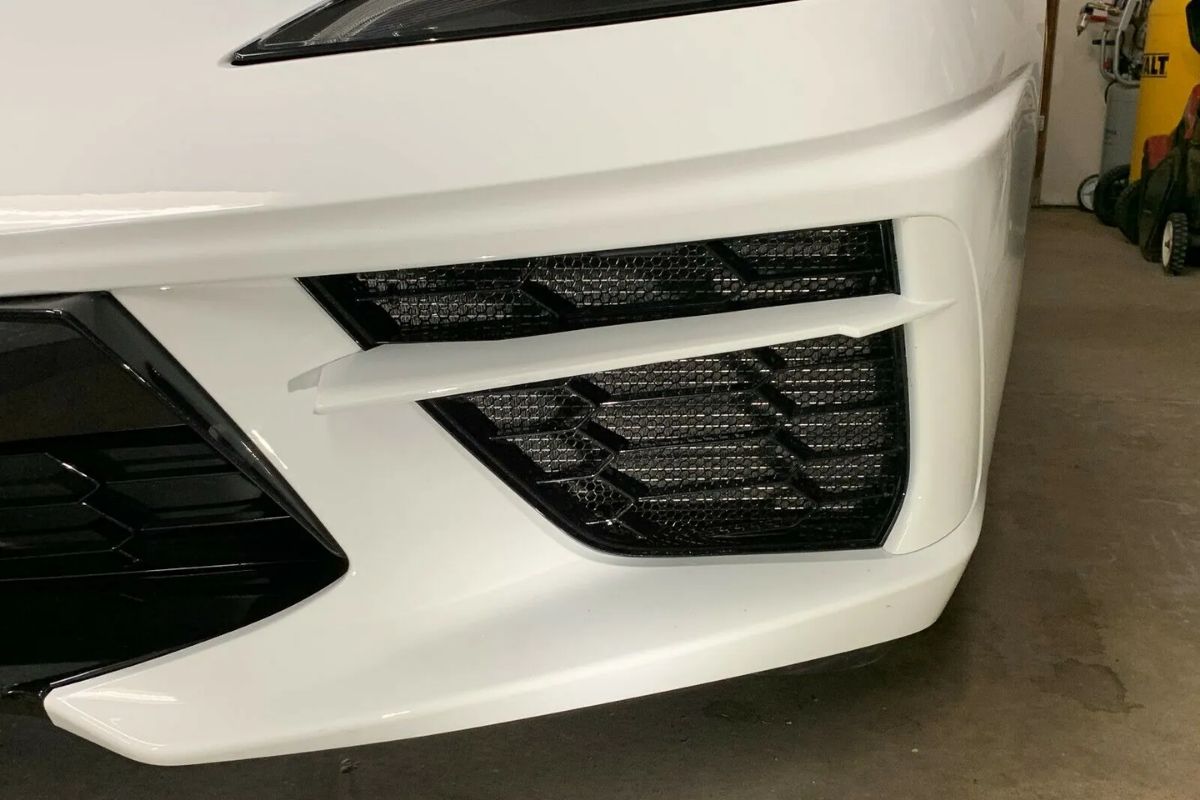 Most automobile enthusiasts are anxious to remedy one overlooked upgrade within the C8 Corvette community. Radiator screens, grille inlet screens, or whatever you want to name them are among the most essential pieces of a C8 Corvette. The wide-open front grilles allow debris to enter and harm the radiators placed behind them.
Many Chevrolet Corvette C8 owners dislike the wide-open grille inlets. GM maintains that the vehicle's air conditioning damage is mainly aesthetic. Still, owners aren't fooled and will cover it up with available aftermarket grilles. Because GM is unlikely to remedy this issue anytime soon, you may as well solve it yourself.
There are a lot of C8 Corvette grille screens available right now in most auto stores online, and you should acquire some. Of course, you can do it yourself, but a do-it-yourself solution may cause more harm than benefit. However, as previously said, if you want to save money, you can do it yourself.
Custom Car Grills Mesh Set and Zcargel Car Grille Bumper Mesh are great aftermarkets Mods for your C8 Corvette.