As you probably already know, the Jeep JT Gladiator has quickly become one of the most popular off-road vehicles in the world. It combines the off-road performance of the JL Wrangler with the additional functionality of a pickup truck.
Unfortunately, the majority of Gladiators currently on the road are equipped with the 3.6L Pentastar V6 engine. While this engine has been massively improved the years, it's a pretty underpowered engine for the size and weight of the Gladiator.
This creates the need for more horsepower and torque. One of the easiest ways to get more power from your Gladiator is with an aftermarket exhaust system. To help you find the perfect exhaust, we've compiled this short guide with our favorite Jeep JT Gladiator exhaust systems.
#1 Injen SES Cat-Back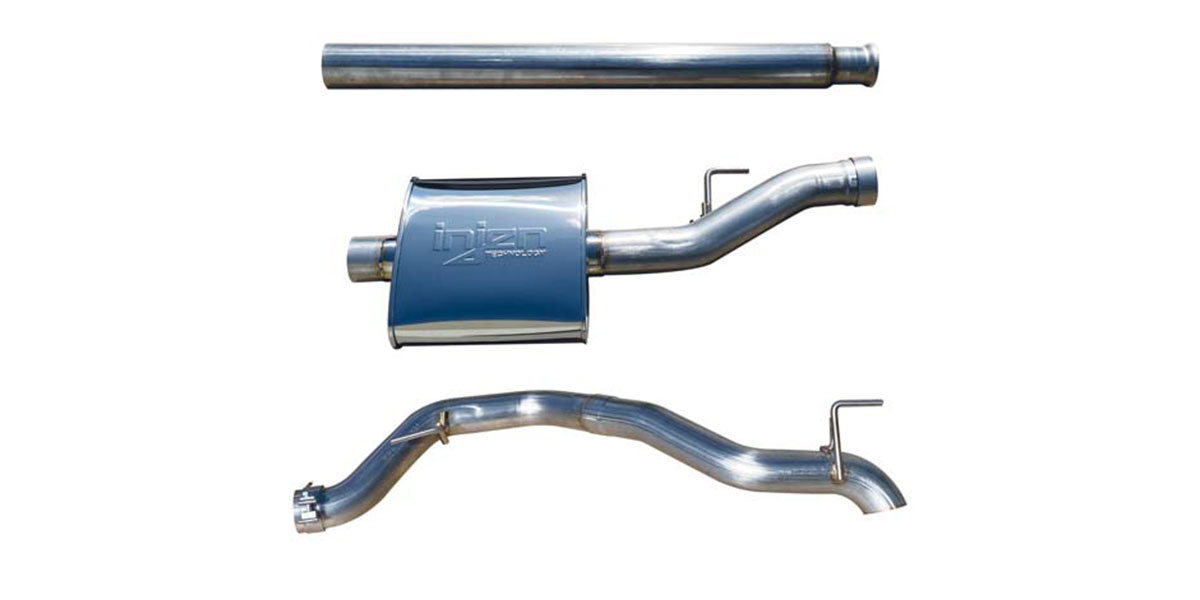 The first exhaust on our list comes from Injen. They might be best known for their aftermarket cold air intakes, but Injen also offers very high-quality exhaust systems at great prices. Their cat-back exhaust system for the Gladiator is unique because of its high-clearance design, single-exit design.
This exhaust doesn't feature a traditional exhaust tip, rather the exhaust simple turns down before the rear bumper. This improves ground clearance and allows for any rear bumper you want. The whole system is constructed from high-quality mandrel bent 304 stainless steel tubing with a single stainless steel muffler.
With dyno proven gains of up to 5hp and 5lb-ft, the Injen exhaust is a great way to increase power output and give your Gladiator a superb exhaust note.
Order your Injen exhaust here!
#2 Magnaflow Street Series Black Cat-Back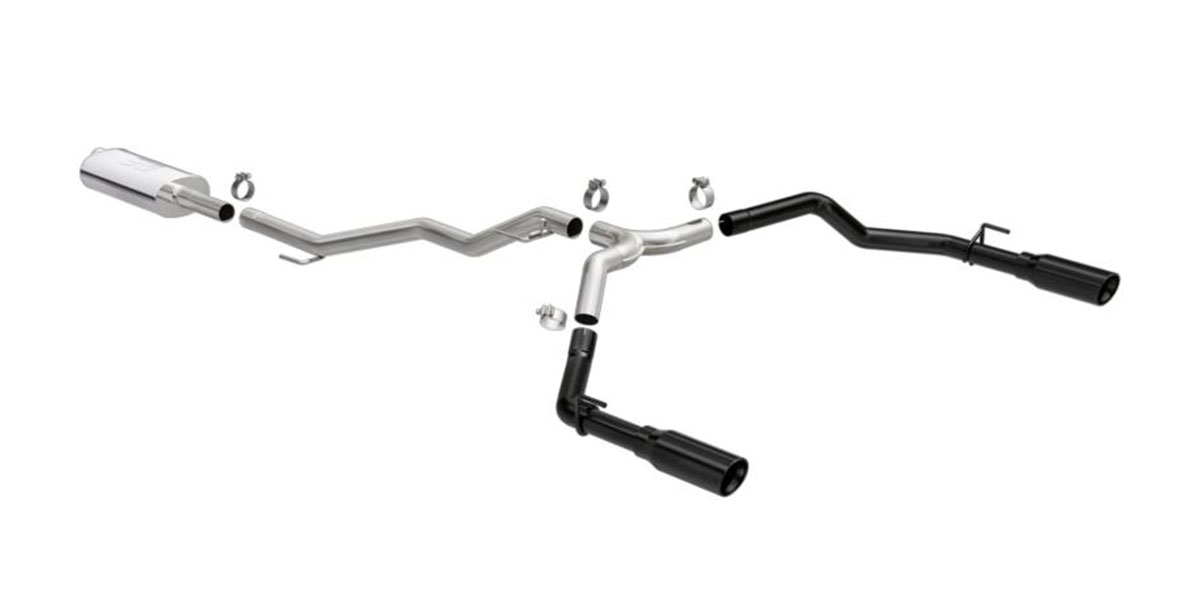 While the Injen exhaust listed above provides great ground clearance and a simple turn down exit, a lot of Gladiator owners aren't obsessed about improving ground clearance. If you still want to improve power and give your Gladiator a great exhaust note but also want to improve the look with exhaust tips, then the Magnaflow Street Series is perfect for you.
What makes this exhaust special, is the black tip dual exit design. It might slightly reduce total ground clearance, but it massive improves how your Gladiator looks and gives it a very aggressive appearance. The system is constructed with 3-inch stainless steel and features a single straight-through muffler.
Order your Magnaflow exhaust here!
#3 Flowmaster American Thunder Cat-Back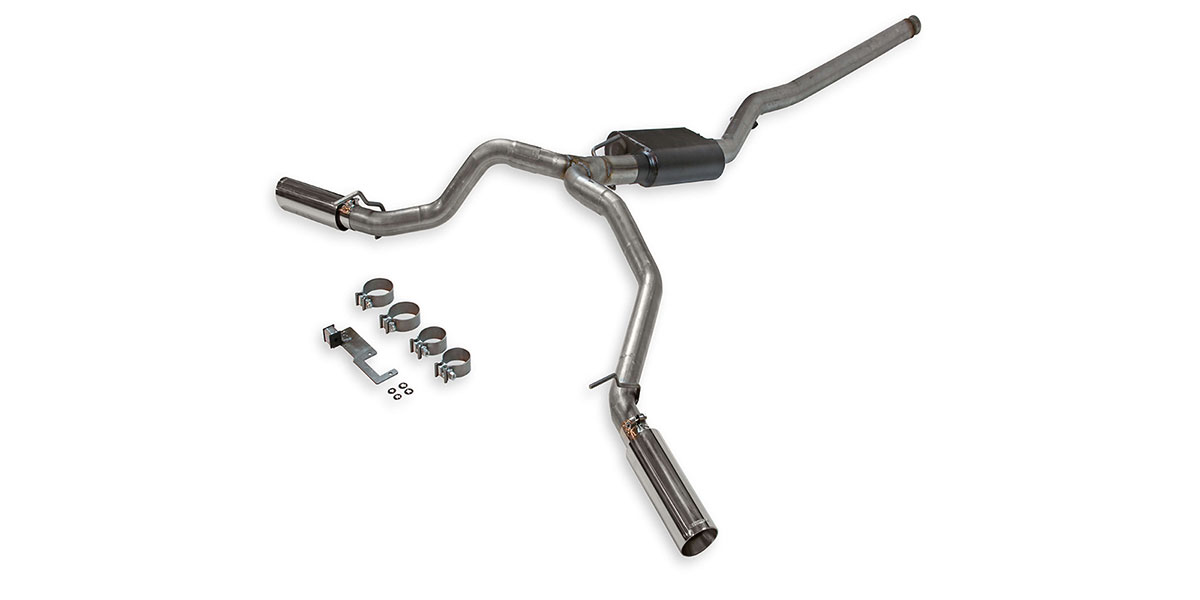 Another great option for a dual-tip exhaust comes from Flowmaster. What makes this different than the MagnaFlow exhaust is the angle and position of the rear tips. Where the
Aside from the unique dual tip configuration, the Flowmaster American Thunder exhaust features 3-inch mandrel-bent stainless steel tubing. Once installed, you can expect power gains of up to 5hp and 5lb-ft, as tested and proven by Flowmaster. On top of that, American Thunder Catback features a Lifetime Limited Warranty.
Order your Flowmaster exhaust here!
#4 Borla Cat-Back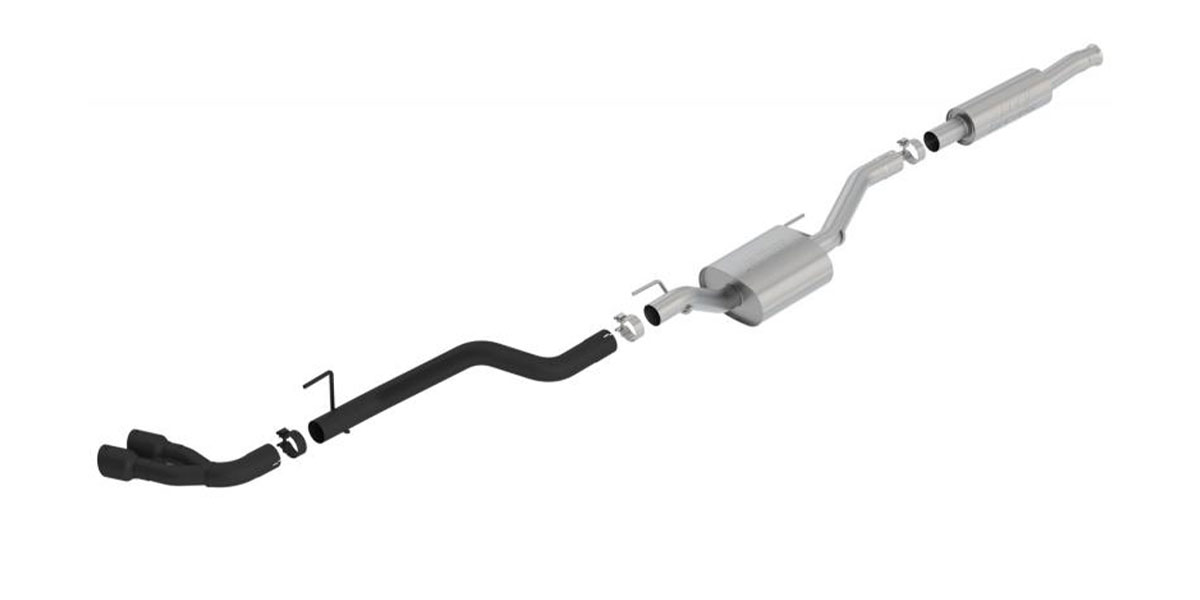 If you want to have multiple options for tips, colors and the sound of your exhaust, we recommend Borla. Their catback exhaust systems are available in three different configurations: Touring, S-Type, and ATAK. These configurations provide different levels of sound, making it easy to get the exhaust note you've always wanted for you JL
On top of the different sound configurations, you also have the option between a turndown tip or side exit tip, available in black or silver. Each configuration features 2.75″ T304 stainless steel tubing, which improves exhaust flow and power output. Unfortunately, specific power increases aren't available, however, you can expect up to 5hp and 5lb-ft, similar to other exhaust systems on the market.
Order your Borla exhaust here!
#5 Corsa Cat-Back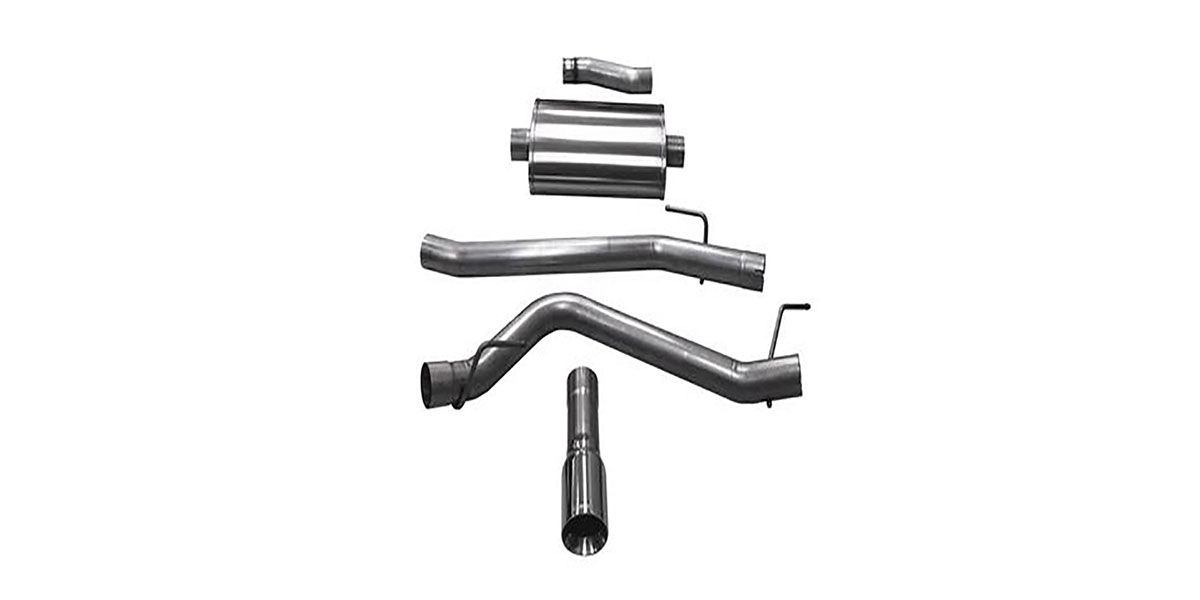 Another great option for a system with lots of sound and tip options comes from Corsa. Their exhaust systems are available with two sound configurations: Sport and Touring. Again, these different configurations allow you to purchase an exhaust with the exact level of sound you're looking for. Touring is slightly louder than stock and Sport is noticeably louder than stock
All Corsa exhaust systems from the Gladiator are constructed from 3-inch stainless steel with Corsa's Patented RSC Technology to reduce drone without compromising performance. Tip options include 4-inch polished, 4-inch Black PVD, and turndown.
Order your Corsa exhaust here!
#6 MBRP Aluminized Steel Cat-Back
If you're looking for the best value possible, exhaust systems that use alternative constructions such as MBRP's aluminized steel exhaust systems are great options. While aluminized steel might not be as shiny or rust resistant as stainless steel, it's significantly cheaper and ultimately reduces the purchase price of the exhaust system.
MBRP offers two different exhaust systems: dual exit and a single exit. The single exit exhaust uses a turndown tip, while the dual exit uses two conventional tips. Both systems use 2.5″ tubing available in either stainless steel or aluminized steel. The aluminized steel options are significantly cheaper, while still offering the same performance and nearly identical sound.
#7 Gibson Cat-Back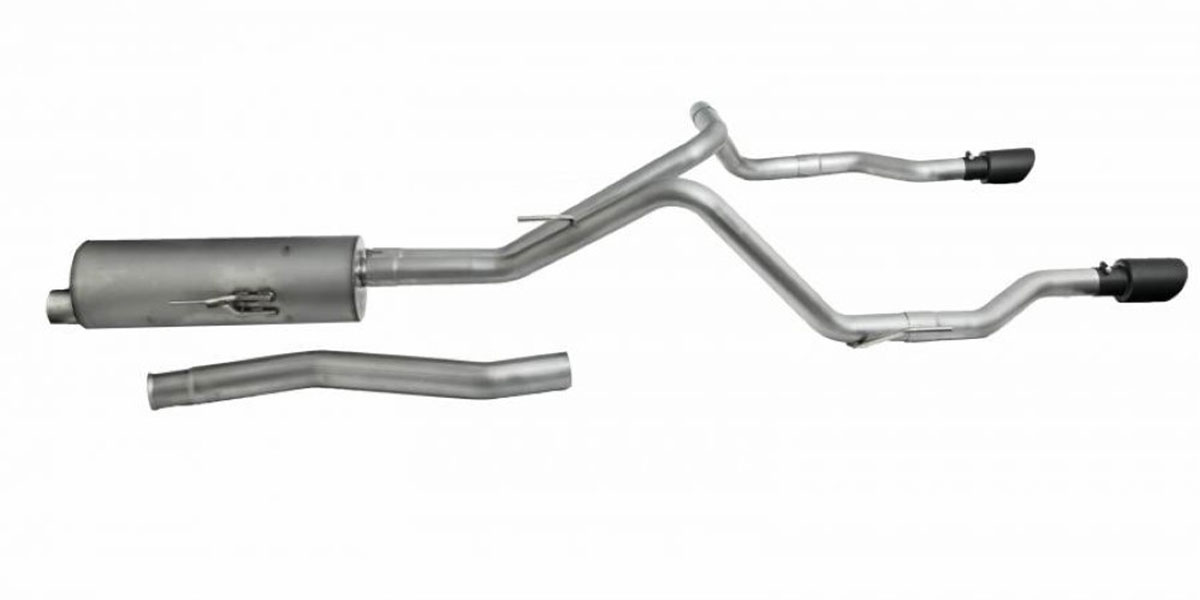 Another great option for a single exit or dual exit catback comes from Gibson. What makes their dual exit and single exit exhaust systems unique are the 4-inch black tips, which gives the Gladiator a very aggressive appearance.
Both systems utilize 3-inch and 2.5-inch mandrel-bent tubing throughout. Everything you need for install is included. The unique non-packed muffler reduces interior drone while still delivering an aggressive level of sound.
Order your Gibson exhaust here!
#8 AFE Downpipe and Y-Pipe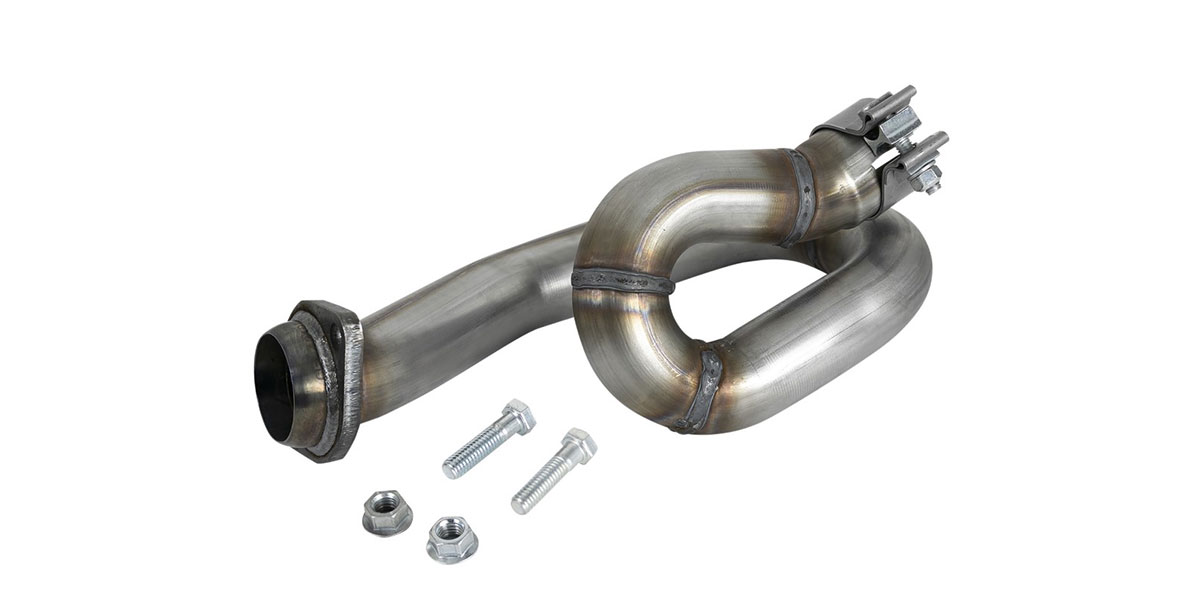 While replacing your OEM catback with an aftermarket catback is a great way to increase power, you'll still have exhaust restrictions further up the system. The OEM exhaust loop and downpipes are both points where you'll find a lot of restriction and eliminating these restrictions can result in significant power gains.
AFE offers everything you need to replace your downpipe, loop pipe, and Y-pipe. Their downpipes are available in a few different configurations, and the loop pipe can be deleted entirely with their loop-delete downpipe. Further back, replacing your Y-pipe with an AFE Y-pipe can greatly improve power. The AFE Y-pipe is compatible with most aftermarket cat-back exhaust systems.