Front and rear bumpers are in place to protect the important parts of your car, add clearance, and give your vehicle a certain look. Factory bumpers, however, can seem a bit lackluster in the last department, and in that case, the aftermarket exists. There are plenty of brands that make high-quality front and rear bumpers for the Jeep Wrangler JL that boast strength, protection, aesthetics, and off-road functionality. These aftermarket bumpers, especially those for off-roading, are engineered to take substantial impacts compared to the one equipped on your Wrangler from the factory.
Whether your bumper is damaged or you are merely looking for an upgrade, Vivid Racing has you covered. We carry an extensive array of both front and rear Wrangler JL bumpers from reputable brands across the country. Available in different styles, materials, accessories, and more, it can be a bit difficult to sift through the plentiful options and choose what's best for you. For that reason, we have listed the top 8 bumpers below for the Jeep Wrangler JL to help you along. Boasting durable constructions, off-road appeal, and the ability for more lighting, these bumpers will take your Jeep to the next level without compromising form or function.
1. Tyger Auto Fury Front Bumper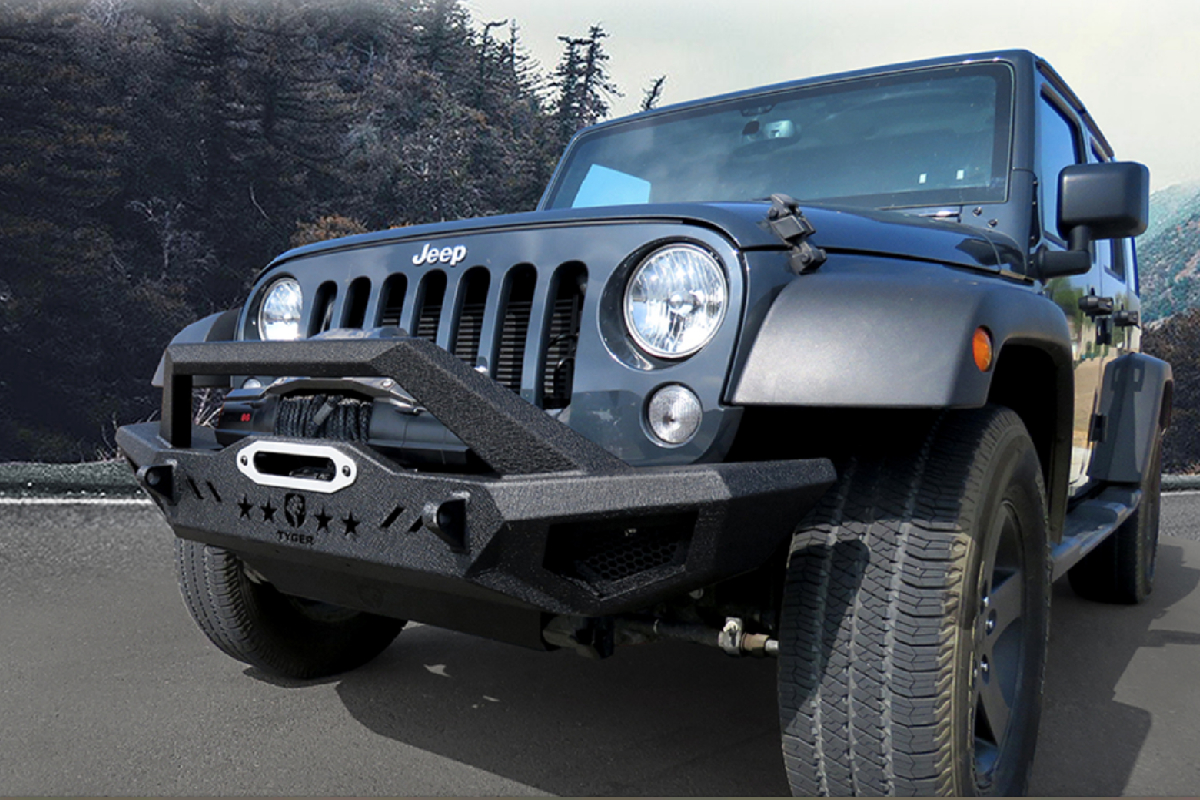 Make your Jeep Wrangler stand out among the rest both on- and off-road with the Tyger Auto Fury front bumper. Tyger Auto takes pride in offering excellent parts for your rig at competitive pricing. They focus on developing premium aftermarket parts that meet and exceed OE quality standards to deliver a complete package that checks all the boxes. The Fury front bumper for the 2018-2021 Jeep Wrangler JL is a great buy that will transform your truck's overall appearance while also providing a high level of practicality. Made from heavy-duty 5mm carbon steel, this front bumper is also powder-coated with a textured black finish for extreme rust resistance and protection against the elements.
The Tyger Auto Fury front bumper comes with an integrated winch plate, welded D-ring mounts, a skid plate, and license plate bracket. Should you choose to add some off-road accessories to your Wrangler, this front bumper fits up to 22-inch middle light bars and up to 3-inch side light pods. It is vehicle-specific and boasts an easy bolt-on installation. There is absolutely no drilling required and the DIY instructions come in the kit. On top of all that, this bumper comes with Tyger's No-Hassle 5-Year Warranty against any manufacturer defects.

2. Motobilt Hammer Series Front Bumper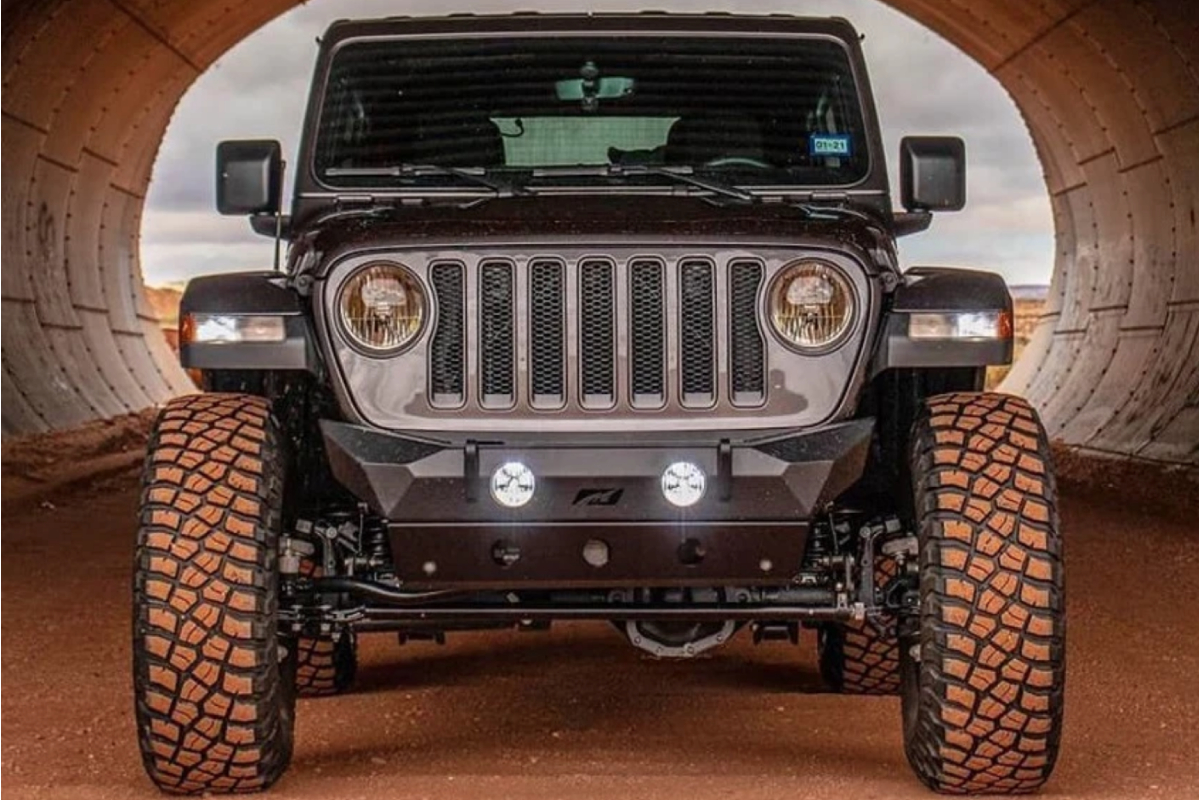 Motobilt now offers its Hammer Series Jeep Wrangler JL front bumper with a skid plate and LED fog light holes. This bumper features built-in provisions for factory-style fogs (OE or aftermarket) with a skid plate laser cut from 3/16-inch high-strength P&O steel and formed on a press brake. It also serves as a winch mount with bolt holes on the top side for a recovery winch. Proudly manufactured in the USA, the Hammer bumper measures 48.5 inches wide and boasts a sleek and tight-fitting design made specifically for your Jeep model. It has also been expertly crafted with 3D CAD technology to ensure the best possible fit for the 2018 and newer Jeep Wrangler JL models (2-door and 4-door Unlimited).
The Motobilt Hammer Series front bumper has front D-ring mounts that have been CNC cut from a 3/4-inch thick steel plate. They pass through the bumper where they weld to the mounting plates in addition to the bumper body. This was done for added strength to the recovery point so you can feel even more confident. Motobilt has also pre-installed rivet nuts for 10-24 screws in the factory bolt pattern. The ends of the Hammer Series also taper up for tire clearance and each cut in the bumper was purposeful as a means of keeping it secure to the frame rail for a better approach angle.

3. Addictive Desert Designs Front Bumper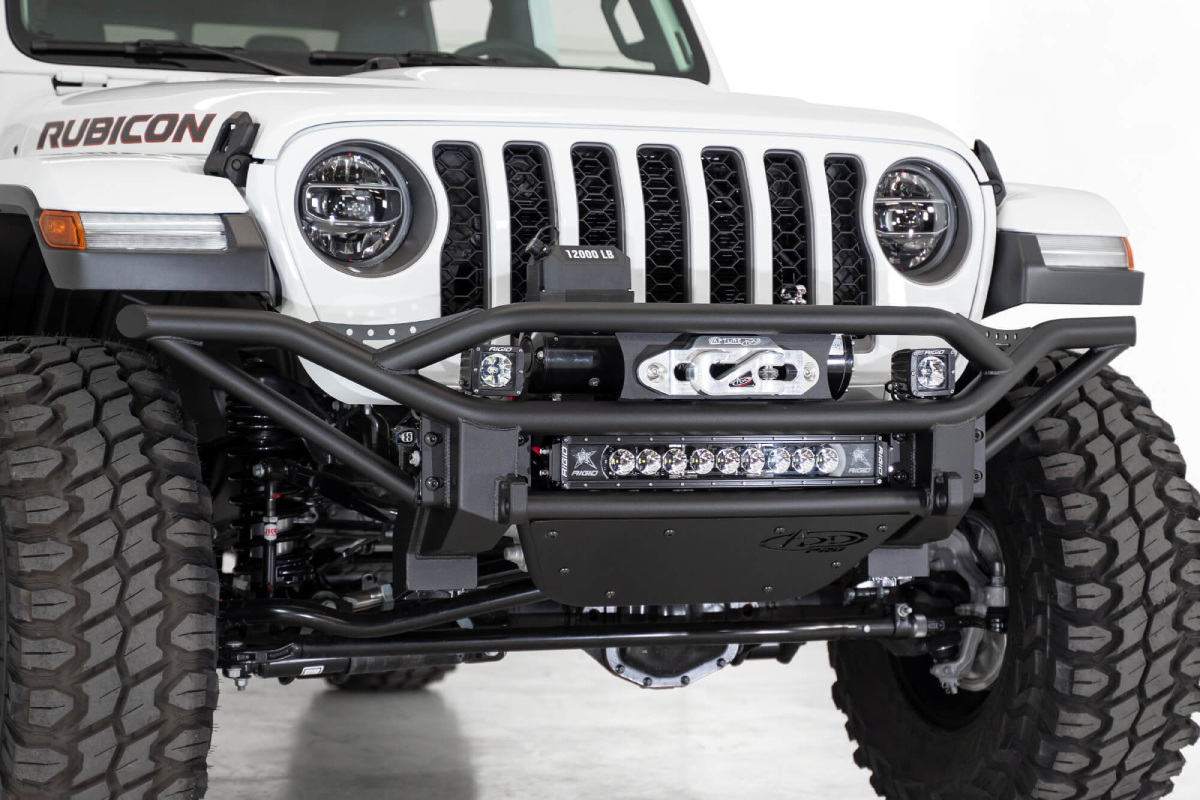 It's ADD's (Addictive Desert Designs) mission to create and build the best off-road products to fit seamlessly with the lines of your Jeep and perform at the highest level. ADD parts are engineered to withstand the elements of spirited and off-road driving. From design to the finished product, the brand makes all of its bumpers and accessories out of its facility in Mesa, Arizona. The Addictive Desert Designs Pro Bolt-On Front Bumper for the Jeep Wrangler JL is a top choice with its race-inspired pre-runner look that takes your truck to the next level. A formed full-width main tube keeps the bumper tight to the front of your Jeep while still giving it a unique appearance that flows well with the rest of its body lines.
The Pro bumper features a rugged Hammer black powder-coated finish with satin black panels that fortify the bumper assembly with added layers of protection against outdoor elements. The .120-inch wall steel tube construction delivers the ultimate strength so you can take on your next adventure with peace of mind and confidence. This complete bolt-on front bumper has a universal light mount in the center that gives the option of a 20-inch radius LED bar or up to five cube lights. There are two additional cube light mounts within the top hoop for extra illumination. Standard winch mount and reinforced D-ring mounts provide added utility. Designed to be a direct-fit part, this bumper installs using the factory mounting slots on your Jeep.

4. Quadratec Aluminum Brute Front Bumper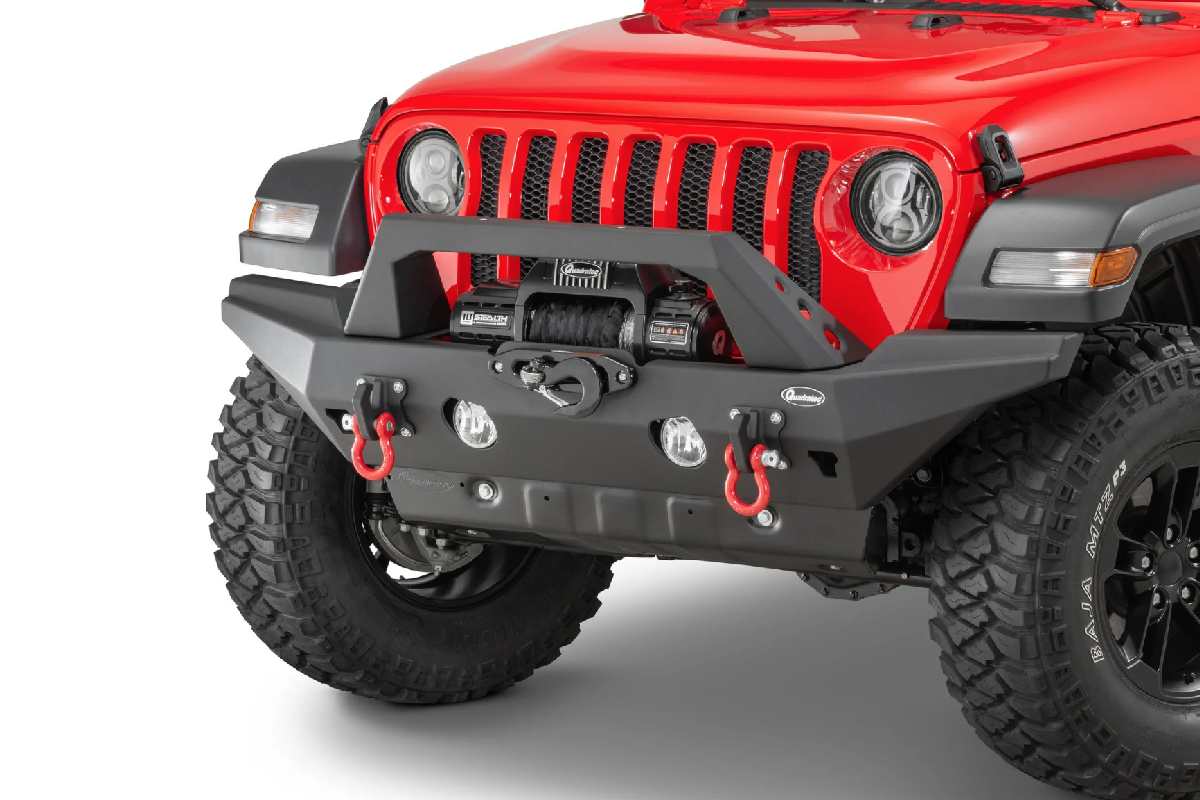 The Quadratec Aluminum Brute Strength Winch-Ready Bumper offers incredible protection for the front of your Jeep Wrangler JL. This premium bumper spotlights a fully welded one-piece outer construction using a 6mm-thick lightweight aluminum plate. Aggressively styled to suit the Wrangler, this Competition Bumper bolts directly onto the vehicle's existing mounting points without any drilling or modifications needed. The separate 5mm-thick steel winch plate provides a superior substructure and can accommodate most winches with up to a 12,000-pound capacity. This expert design offers significant weight savings over all comparable steel bumpers. After all, keeping the weight down on the Wrangler is the exact reason why Jeep chose to go with aluminum parts for the body. Apart from gas mileage reasons, not having the heavyweight of a steel bumper means you won't have to worry about the front end dipping when braking.
Quadratec's Brute bumpers are finished with an attractive and durable light textured black powder coating for added protection against the elements. They also feature fog light provisions to retain the factory fog lights and can be upgraded to the brand's high-performance plug-n-play LED versions. The Brute Strength Full-Width design (pictured here) measures 69 inches wide. The Stubby version measures 47 inches wide (see here). The bumper comes with a removable aluminum overrider hoop and features a series of holes and slots for auxiliary light mounting. The welded steel recovery plates feature tow hooks and D-Ring mounts for use with 3/4-inch D-rings with 7/8-inch pins.

5. Warn Industries Elite Series Rear Bumper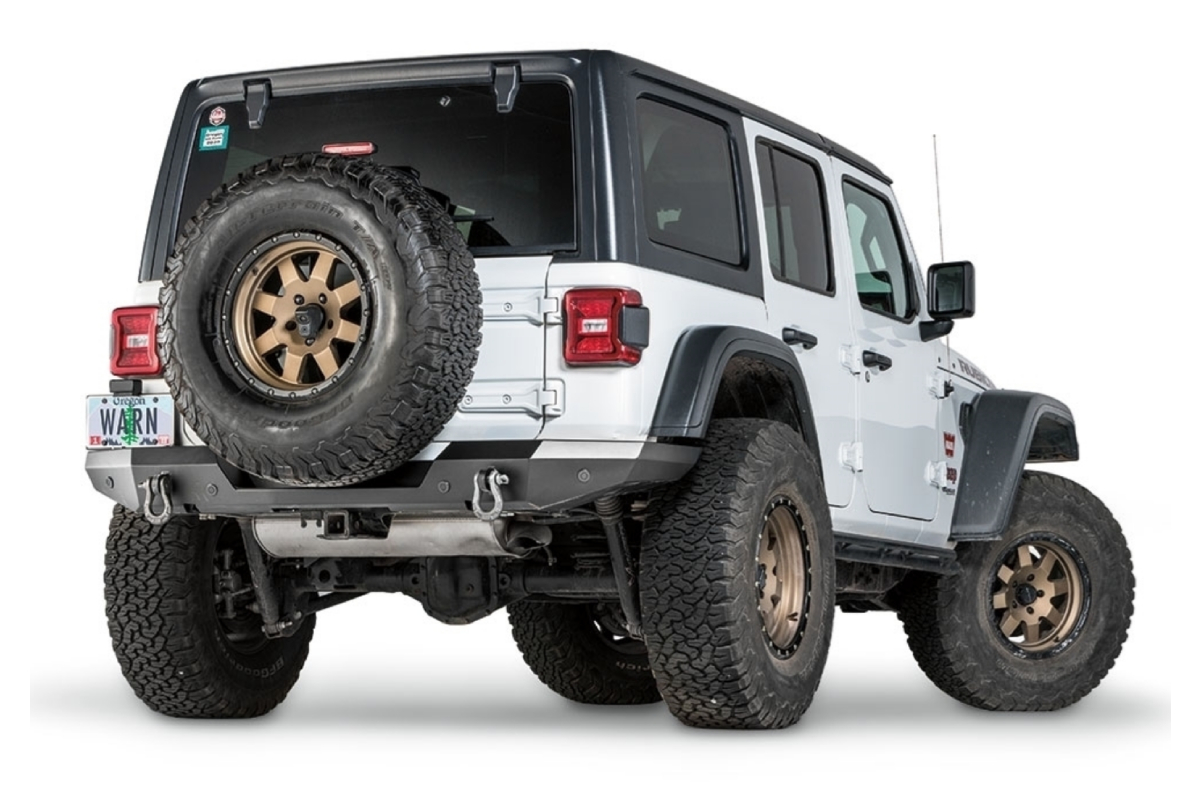 The new Warn Industries Elite Series is the most rugged line of bumpers available for the Jeep Wrangler JL. Whether you are planning an overland adventure or merely out exploring, this rear bumper is designed for the off-road life. It features a wrap-around design that offers the ultimate strength and style to deliver the best of both worlds. It clears 37-inch tires with only a two-inch lift and the factory wheel offset. The bumper meets the rear flares to create a convenient step and is available with or without a tire carrier. Furthermore, it is rear parking, and blind-spot sensor compatible and maintains the factory receiver. There is also a provision to relocate the backup camera.
The Elite Series rear bumper features a durable flat black powder-coated finish with a five-stage pretreatment process and zirconium nanotechnology. It is engineered to withstand 408 hours of salt spray testing and has an industry-leading 12,000 pounds of pulling force without deformation. There are recessed jack points for increased recovery options as well as eyelets for D-shackles. Mounting fasteners are hidden within the bumper for a sleek, clean finish with reduced corrosion. If you are looking for the ultimate bumper that delivers capability, protection, and versatility, this is it. What's more, all Warn bumpers undergo rigorous field testing and lab pull testing to ensure rigidity in the most abusive conditions.

6. Motobilt Crusher Series Rear Bumper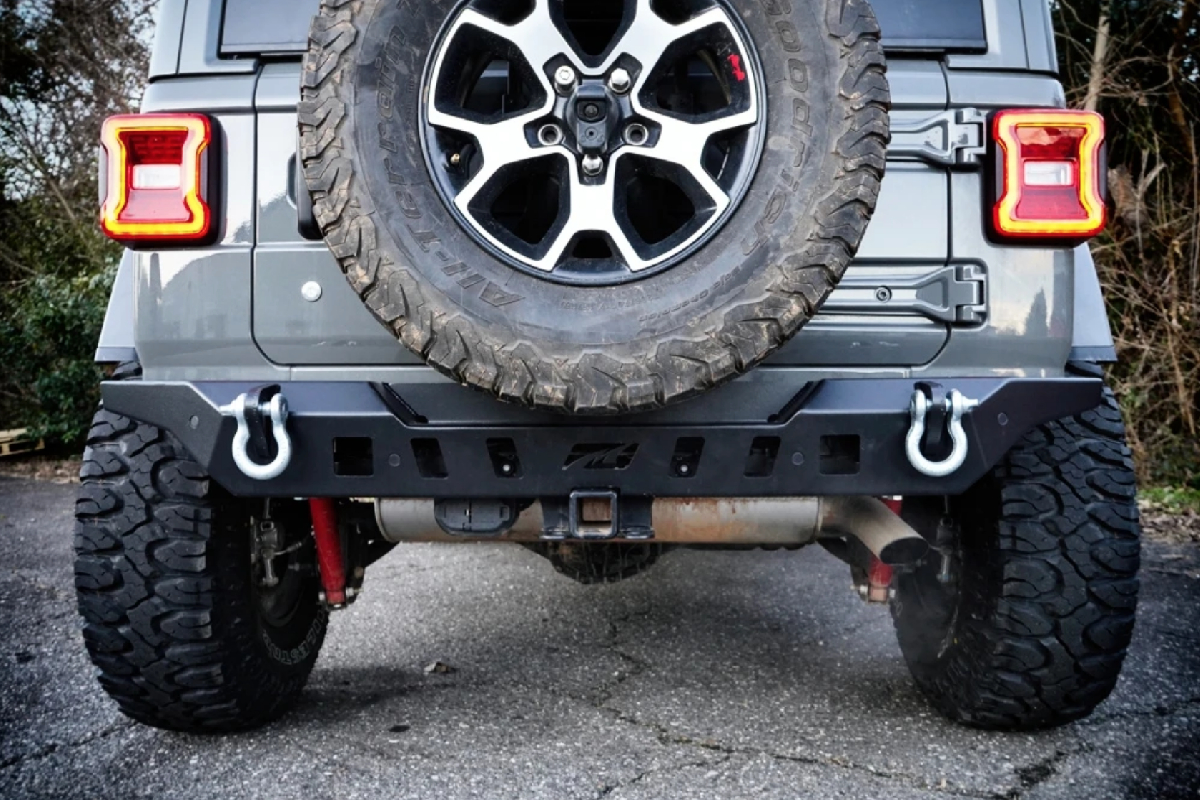 The new Motobilt Crusher Series rear bumper with light cutouts for the Jeep Wrangler JL was made to work with a spare tire. This bumper was designed to offer the most clearance possible while remaining a complete bolt-on piece. The Motobilt Crusher rear bumper boasts tons of clearance at the back and the latest version has been treated to several other details too. This bumper has been upgraded to include backup sensor cutouts to relocate your Jeep's backup sensors into the Motobilt version. It also comes with blank inserts if your truck does not come with proximity sensors.
The Motobilt Crusher rear bumper is a great choice that offers a lot of options in a compact package. The cutouts let you install 3-inch by 3-inch cube lights with internal mounts for standard stud-type mounting. The unique Crusher-style design provides much-needed protection to the JL's rear corners but also maintains the most ground clearance possible. It can accommodate tires up to 40 inches and works with the factory receiver hitch. This bumper includes all of the necessary hardware for a simple installation and ships in raw laser-cut steel, ready to be painted or powder-coated.

7. DV8 Off-Road High-Clearance Rear Bumper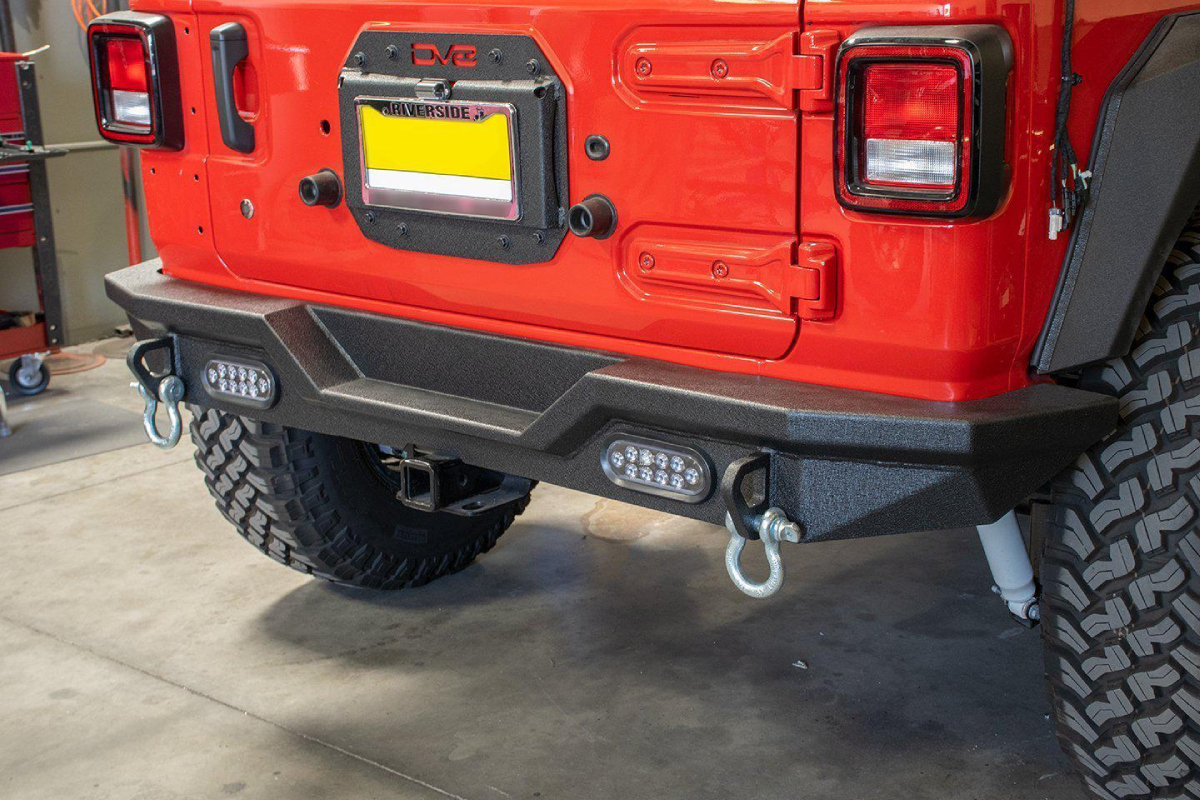 DV8 Off-Road is widely recognized for manufacturing some of the best-looking, most durable, and highly functional aftermarket Jeep products available. Its High-Clearance rear bumper for the Jeep Wrangler JL was designed to be tucked up and out of the way for traversing tough trails and coming off of rock ledges. The bumper includes two integrated LED backup lights for heightened visibility at night and features two recovery shackle attachments. The bumper also comes with the standard DV8 Off-Road textured black powder coat for added protection and corrosion resistance. As the name suggests, this product is designed to protect your Jeep's back end and rear fenders from various road debris and hazards.
The High-Clearance Rear Bumper for the Jeep Wrangler JL is crafted from high-grade steel that has been finished with a textured black powder coating to prevent any corrosion. This off-road bumper features a high tucked-up design so you won't get hung up when coming off of rocks or traversing steep hills. The high angle design is more than just purposeful though; it gives your Jeep a more aggressive overall appeal. DV8 also added two integrated LED backup lights for improved visibility at night together with shackle attachments for two more recovery points, should you need them. Another great feature is it has the ability to accommodate any backup sensors. Installation is a breeze as this is a simple bolt-on replacement that doesn't require cutting or drilling.

8. EVO Manufacturing Alumilite Rear Bumper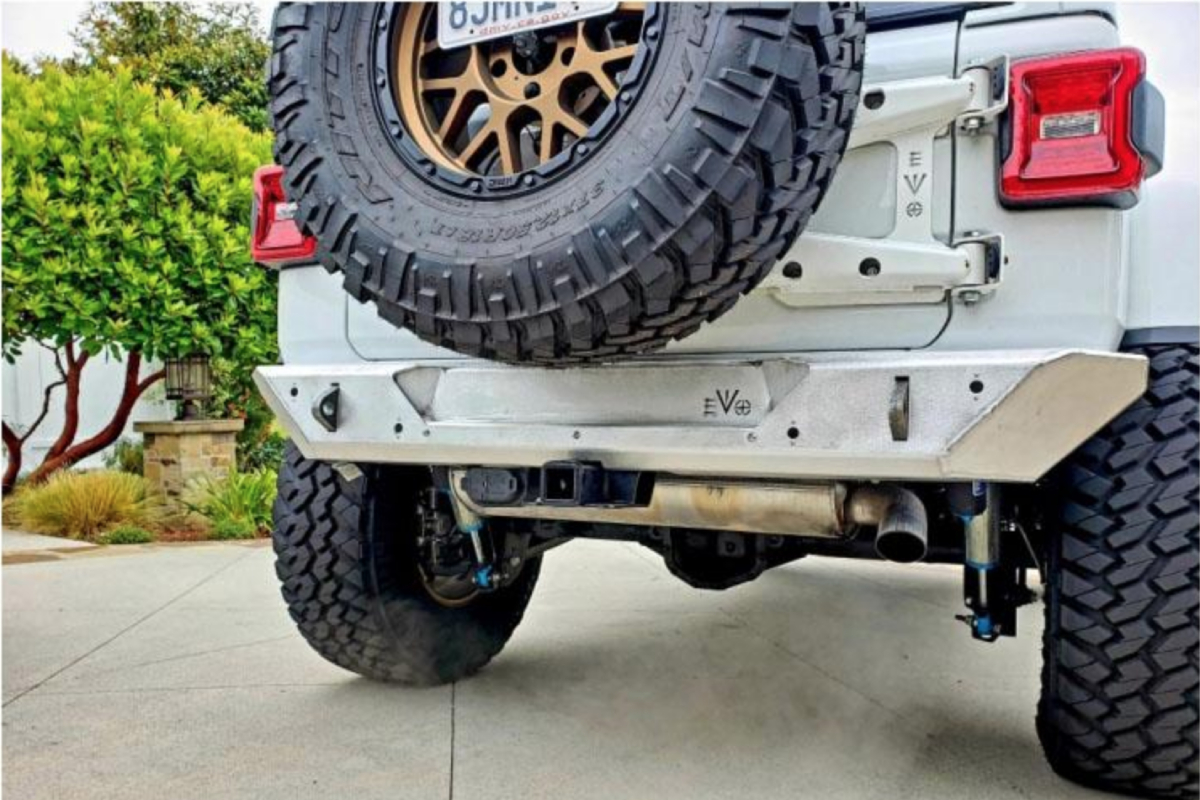 EVO Manufacturing specializes in off-road systems and accessories for Jeeps, among other vehicles. The innovation-driven brand takes pride in offering quality products made from top-grade materials designed to serve Jeep owners for years and years to come. Expertly made using the latest cutting-edge technology, EVO's Alumilite Rear Bumper will meet your needs and deliver great quality at an attractive price point. No matter whether you are going or what types of terrain you will tackle, do it with the style and durability associated with EVO Manufacturing's renowned bumper. This bumper boasts a high-clearance design to keep your departure angle at a maximum. It also provides the ultimate protection and corner avoidance thanks to its body width with narrow corner wrap.
The Alumilite Rear Bumper for the Jeep Wrangler JL has been CNC laser cut and formed with precision CNC press brakes and a TIG-welded 3/16-inch aluminum plate shell. is made from strong 3/4-inch thick steel with D-ring shackle tabs mounted directly to the frame. These are drilled for 7/8-inch and smaller shackles. The factory rear trailer hitch receiver remains compatible, keeping the OE towing potential of your Wrangler. This bumper is also compatible with and without the Jeep Park Assist Back-Up Sensors. Installation is simple and can be done using standard tools. It's important to note that this rear bumper ships as a bare aluminum bumper shell with black powder-coated steel shackle tabs and mounting plates.