As you probably know, the Honda Civic is one of the most tuned vehicles in the world. This is partially because of how plentiful and affordable to Civic is, but also because it's a lightweight chassis with a lot of potential. The Civic has changed drastically over the years, but regardless of what year Civic you own, there are lots of great modifications you should install.
To help you find the best mods for your Civic, we put together this short list covering the best bang-for-buck modifications out there.
#1 Cold Air Intake System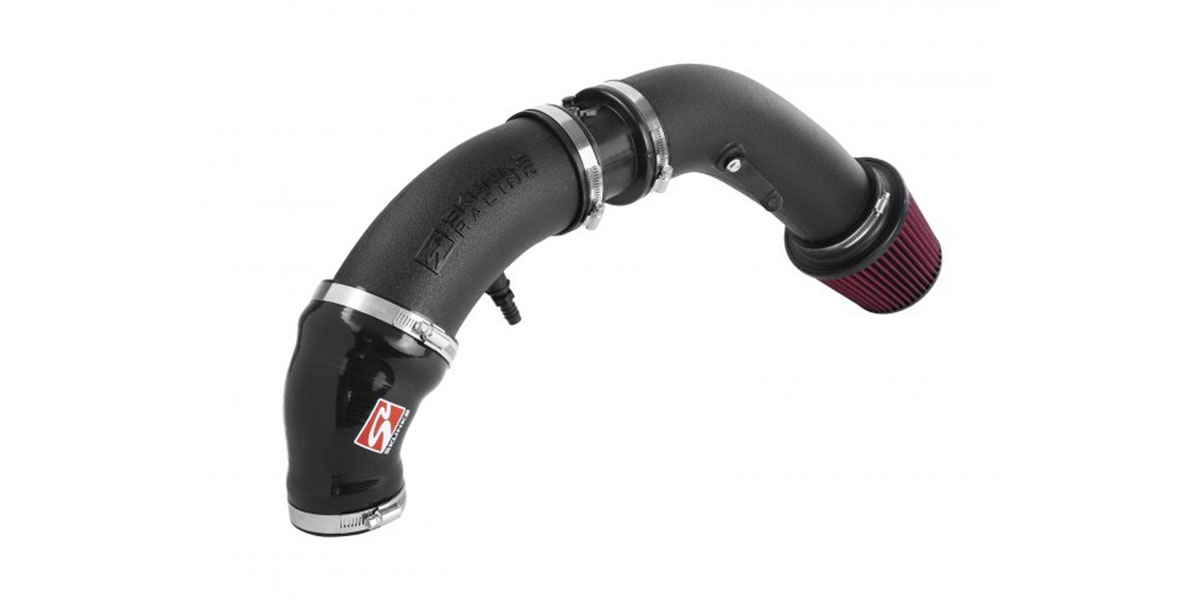 Regardless of whether you own a naturally aspirated or turbocharged Civic, an aftermarket intake system is one of the best ways to increase power output. By getting more air into the engine, you're ultimately allowing for more fuel to be adding and a larger a combustion to occur. It should be noted that not all air intakes are equal and ultra-cheap intakes may do more harm than good.
When you're shopping for a cold air intake for your Civic it's important to look for something which places the filter far away from the engine and in a location where it will pull in cold air from outside the engine bay. Ideally, you should aim to find an air intake system that offers a box that surrounds the filter and ensures only air from outside the engine bay is fed to the engine.
Without a filter box or placing the filter far away from the engine, the intake system will suck in hot air from under the hood. Hot air is less oxygen dense than cold air, and hot air is more susceptible to pre-detonation which can detrimental to your engine's long-term health. Some of the most popular brands for Civic intakes include PRL, Injen, AEM, and Skunk2.
Power gains from an aftermarket intake for a naturally aspirated Civic will be pretty mild (5-10hp), however, gains for a newer turbocharger Civic can be quite a bit larger, depending on if it's an SI or FK8 Type R.
#2 Catback Exhaust System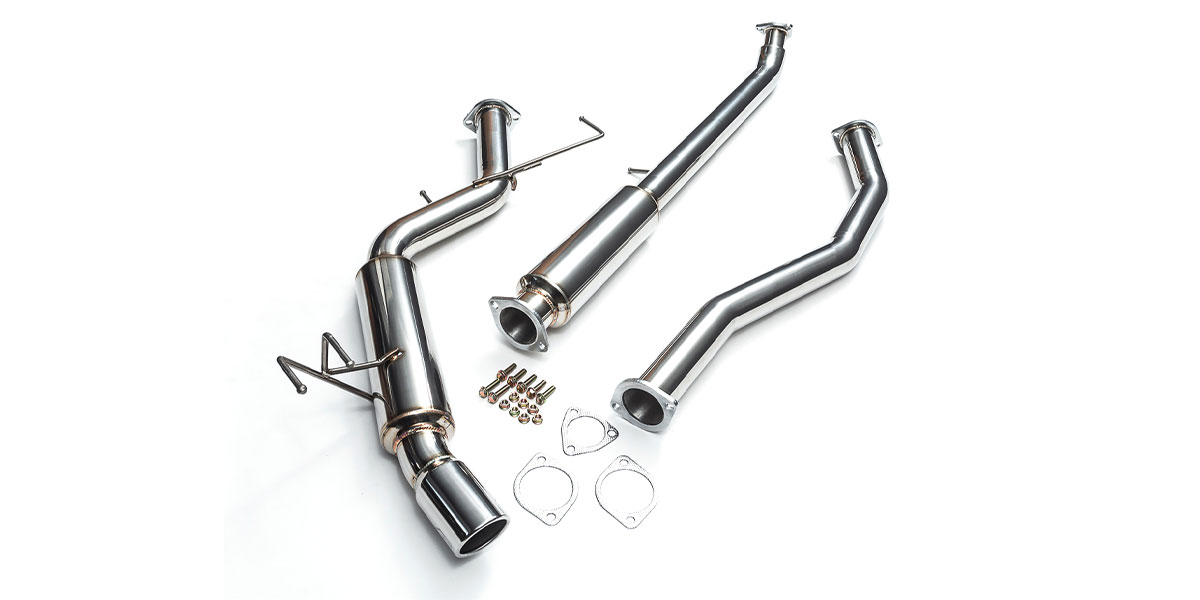 Just as it's important to get air into your engine, it's equally as important to get the air out of your engine. At the end of the day, your engine is functioning as an air pump, and poor exhaust flow can seriously hamper performance. Whether you're talking about an old D15 engine, a K20A2, or a new K20C1, they all massively benefit from an aftermarket exhaust system.
Aside from increasing horsepower and decreasing weight, you're probably also going to add an aftermarket exhaust to your Honda for the sound. While not everyone enjoys how Hondas sound, it's your car and you want to hear it scream when you're ripping through gears.
Generally speaking, the best place to start with upgrading your exhaust is with a catback system. These types of exhausts replace everything from the catalytic converter to the exhaust tip but don't replace the headers or catalytic converter. If you want the most performance possible, you'll also want to replace the headers (for N/A Civics) or downpipe (for turbo Civics.)
Some of our most popular brands for Civic exhaust systems include Skunk2, DC Sports, GReddy, Invidia, J's Racing, PRL, Remark, and SPOON!
#3 Coilovers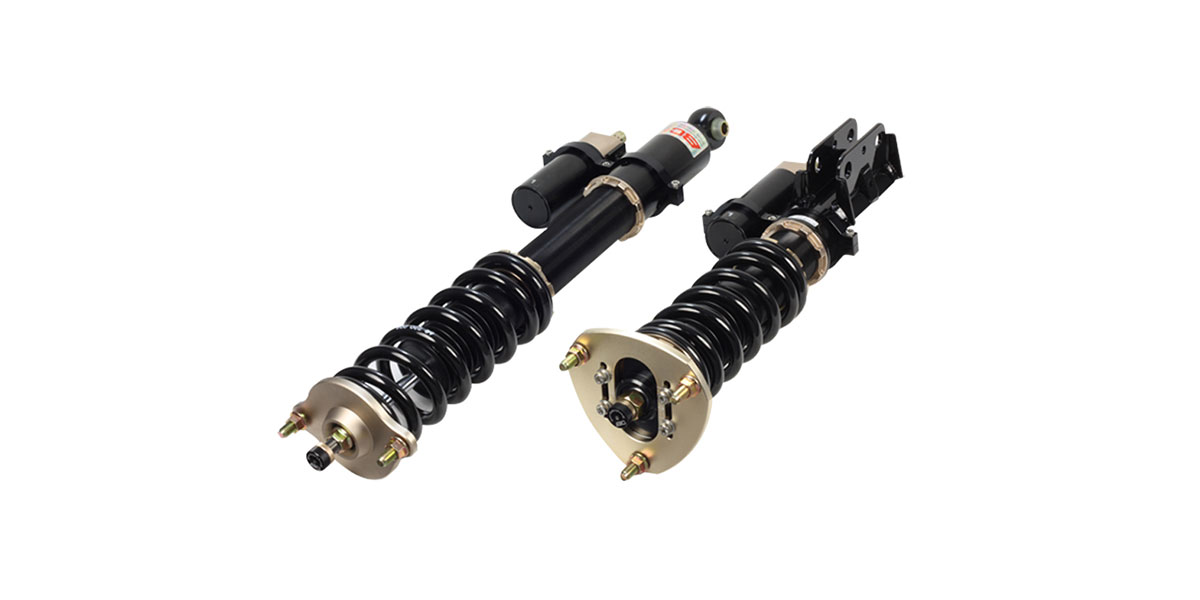 Your OEM suspension components are designed to provide superb ride quality, not the best performance possible. Ultimately, Honda has to build its cars to appeal to a wide variety of customers and stiff suspension isn't something the average consumer wants. If you want to get the best handling from your Civic, especially if you've installed sticky tires, aftermarket coilovers are an absolute must-have modification.
Deciding what coilovers are best for your Civic depends on what your goals are. If you just want a mild street car, you can run pretty soft coilovers to retain somewhat decent ride quality, but if you're building a track car you'll need much higher quality coilovers. Not all coilovers are equal and many of the super cheap options decrease performance.
It's important to purchase coilovers brand a brand name company, where the coilover has been chassis, road, and track tested to ensure great performance. Ideally, you'll want a coilover that offers ride height, spring preload, and damper adjustments, however, if you just want to install your coilovers and be done you may not want all those adjustments.
If you're looking to just lower your Civic without the performance increase, a set of aftermarket lowering springs is also a great option. Some of our most popular Civic coilovers are from brands like BC Racing, D2Racing, Eibach, Fortune Auto, F2, Ksport, Megan Racing, Skunk2, and Tein.
#4 Wheels/Tires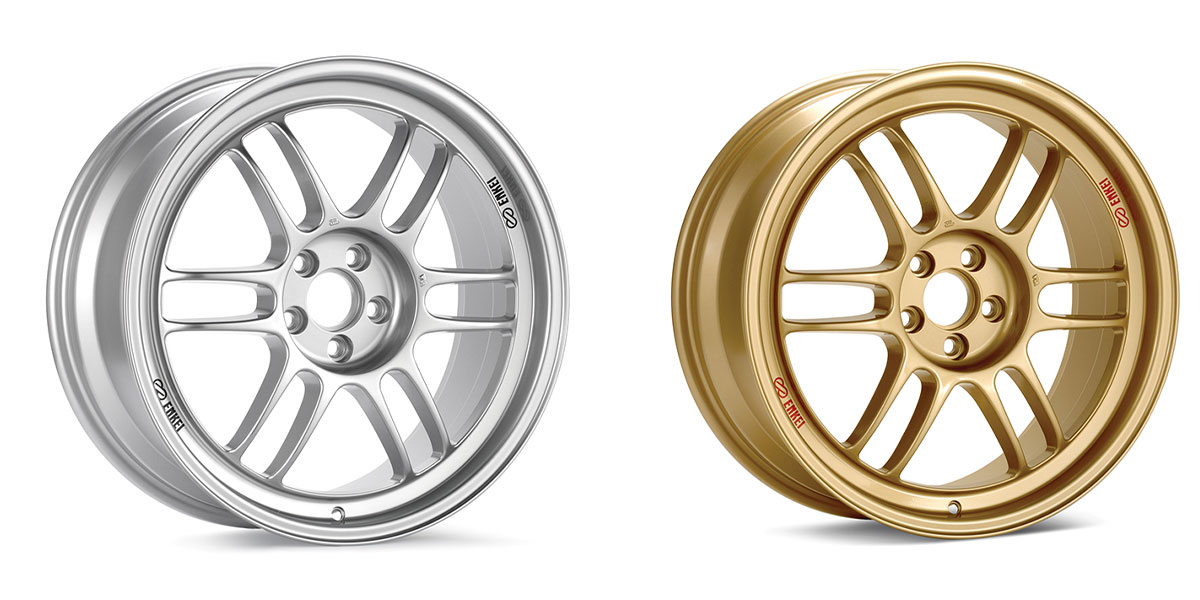 Aftermarket suspension won't make much of a difference without being paired with a set of sticky tires. Your tires are what's ultimately holding your Civic to the road and a high-quality set of sticky tires will make more performance difference than any other handling modification. That being said, you're probably not going to install sticky tires on your boring OEM wheels.
While aftermarket wheels are mostly installed for their visual appeal, they also offer a big performance benefit which is reduced unsprung weight. Unsprung weight has a big impact on how your Civic handles, and wheels aren't just unsprung; they're also rotational mass which has an even bigger impact on handling.
For the large majority of Honda Civic owners out there, cast or flow forged wheels will be more than strong enough for road and track usage. If you have the money to spend, fully forged wheels are much stronger and often lighter, however, they're quite a bit more expensive. Some of our most popular wheel manufacturers include Advan, Enkei, Volk Racing, Cosmis Racing, GramLights, Konig, and Weds.
#5 Intercooler (for new Turbo Civics)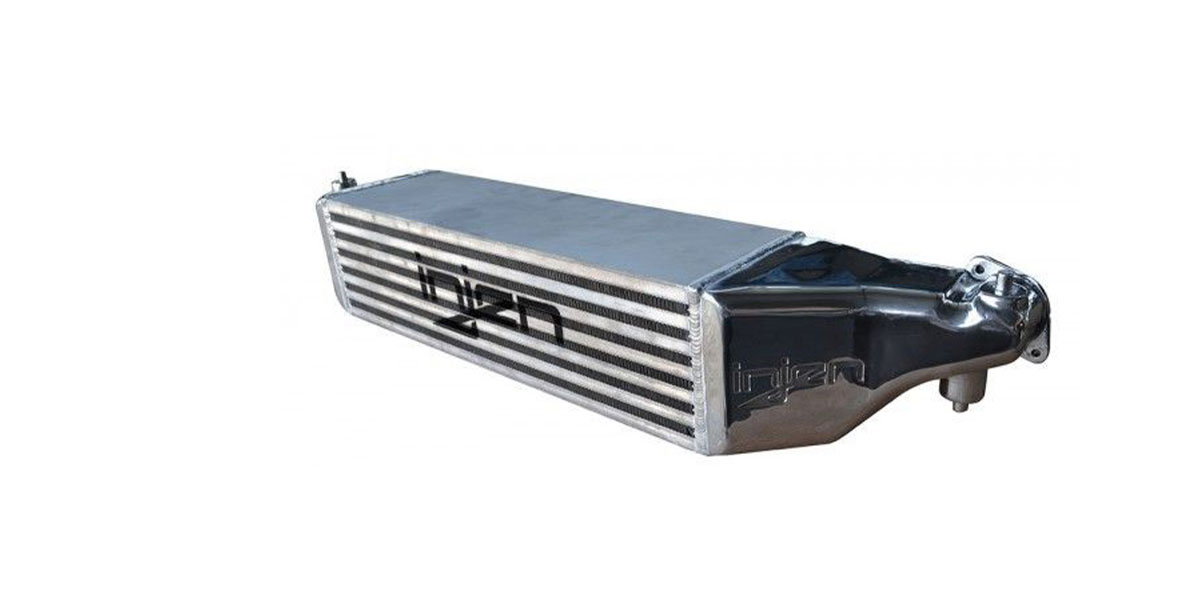 As you may know, Honda moving their lineup of vehicles to turbocharged engines. This includes the Civic, Civic SI, and the new Civic Type R. This move polarized many Honda enthusiasts since Honda was known for producing high-revving naturally aspirated engines. Regardless of how people feel about modern turbocharged Hondas, they all benefit from aftermarket intercoolers.
The job of the intercooler is to cool the hot compressed air from the turbocharger before it enters the engine. Hot air is less oxygen dense than cold air and much more likely to cause pre-detonation in turbocharged applications. As you increase boost pressure with tuning or aftermarket part, this heat problem gets worse.
With an aftermarket intercooler, you have a larger core and typically a larger surface area. For the most part, you aren't going to see massive performance increases with an aftermarket intercooler alone, but it does allow you to safely increase boost pressure and advance ignition timing.
#6 Front Lip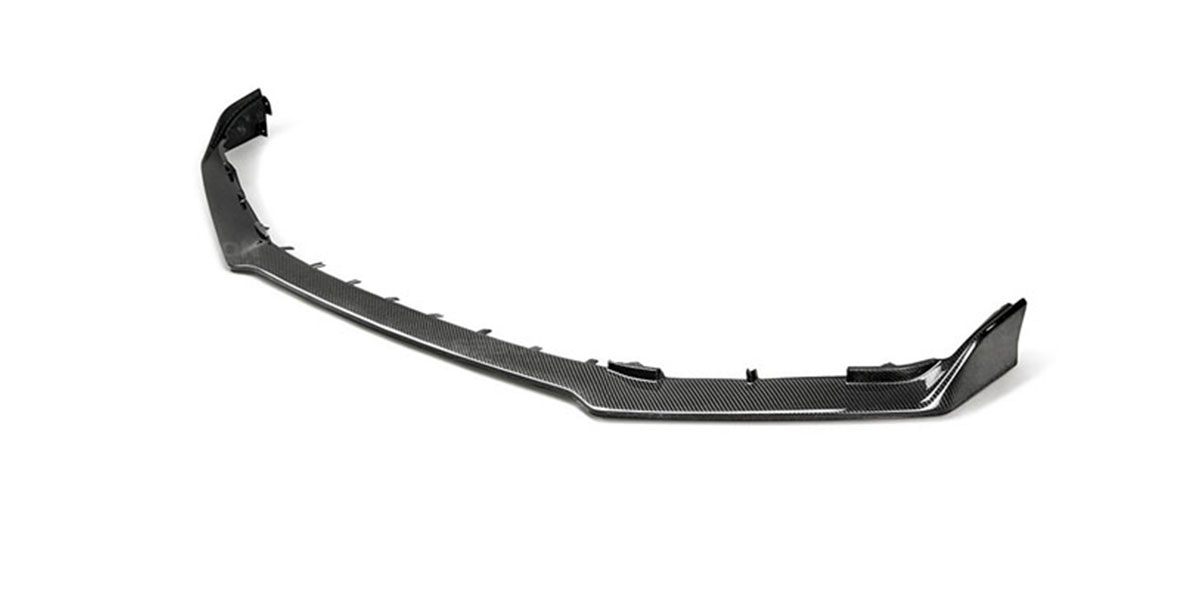 A great way to effectively make your Civic appear physically lower is with an aftermarket front lip. If you lower your suspension too much, you'll have very little suspension travel and exceptionally horrible ride quality. With an aftermarket front lip, you can keep your suspension at a moderate height while still giving it a super low look.
Aside from appearance, front lips can have a positive on aero, but that's typically not a benefit you'd experience unless you're regularly taking your car to the track where speeds are much higher than they are on the street. For maximum aero effect, you can also install a skid plate to help create a vacuum under the front end.
Some of our more popular Civic front lips come from APR, J'S Racing, ChargeSpeed, and Seibon.
#7 Camber Kit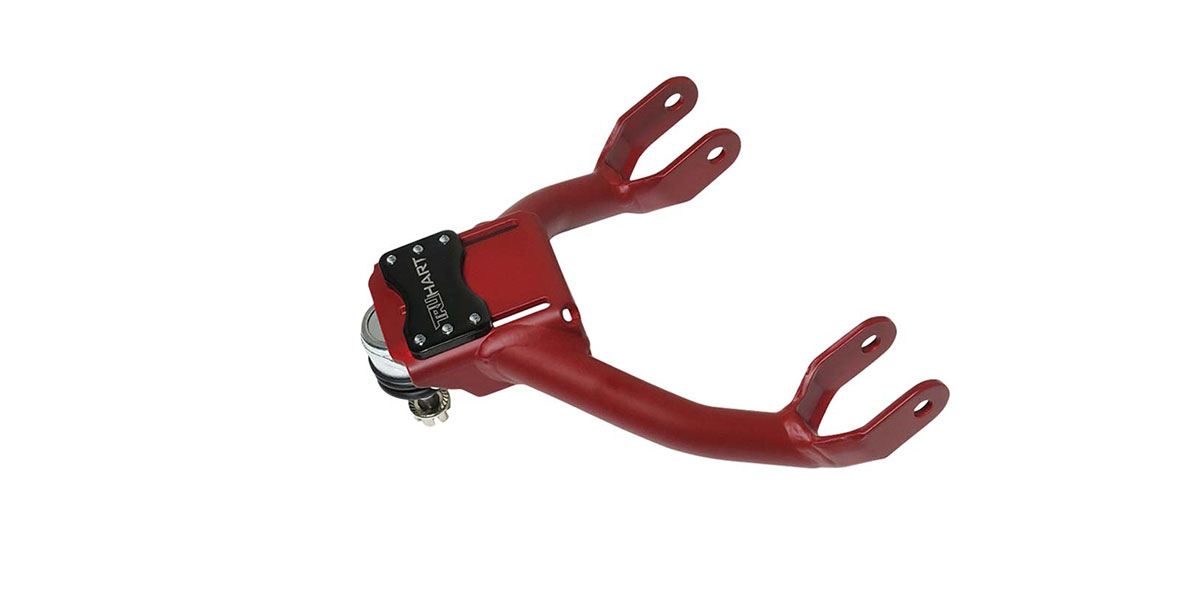 In combination with sticky tires and aftermarket coilovers, an aftermarket camber kit can help you dial in camber for optimum cornering grip. On the street, you don't need much camber since excessive camber will reduce braking distance, but on track, you need camber for proper tire contact patch while cornering hard.
Of course, you can also adjustment cornering camber with caster, but that gets into much more advanced alignment setups that are typically reserved for dedicated track cars. You can also run more aggressive wheel fitments with a camber kit since you can tuck the top of the tire into the fender more.
Popular camber kit manufacturers include F2, GodSpeed, J's Racing, Skunk2, Truhart, and Voodoo13.
#8 Tuning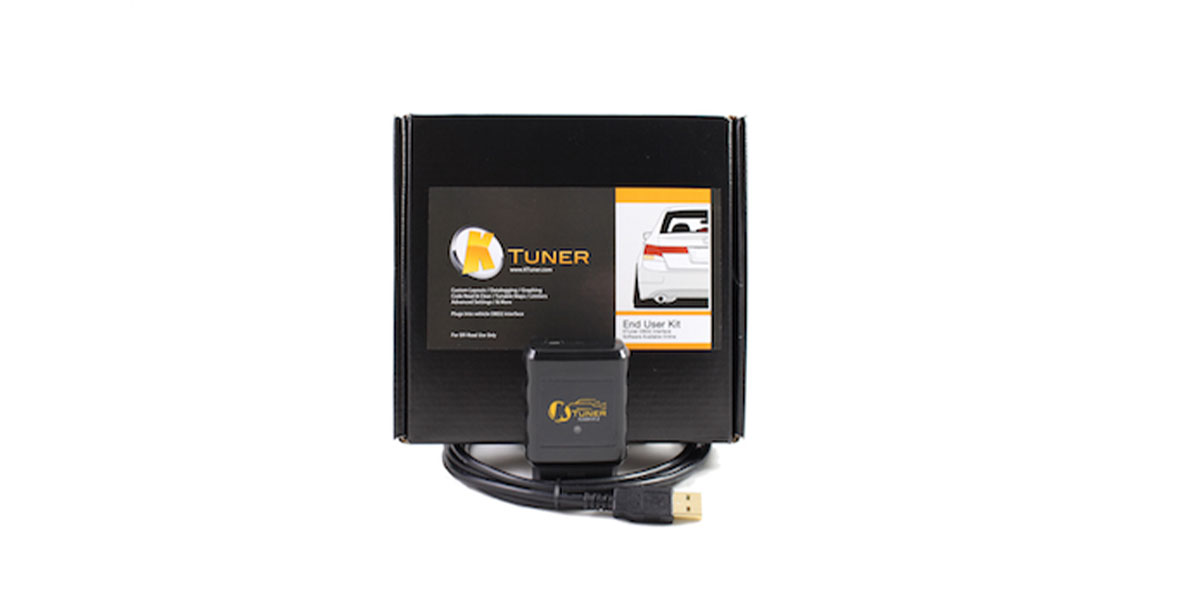 No engine modifications are complete without tuning. Your OEM ECU might not recognize that aftermarket parts have been installed and ultimately leave power on the table. Whether that power is left through AFR optimizations, ignition timing, boost, VTC timing, or anything else. This is especially true for new turbo Hondas, where a tune can increase power by over 20% from stock.
For naturally aspirated Hondas, tuning is still very important but arguably less important than it is for turbo Hondas. Regardless, if you want to get the most performance out of your aftermarket parts, a tune is the only solution. To put it simply, it's a must-have modification to add to any modified Honda.