As you may already know, Subaru has made a massive name for themselves in the world of rally racing. The technology used in their rally cars trickled down to the Impreza WRX, which is what made it such a successful road car. The WRX wasn't always super popular, though; but if you fast forward to today, the Subaru WRX is an extremely sought-after car among automotive enthusiasts. Some of the reasons for the WRX having such a devoted fan base include the car's all-wheel-drive reliability, affordable performance, safety features, and overall comfort levels as both a daily driver and a more spirited track car.
Just like pretty much every car, there are a number of modifications that can make the Subaru WRX much better than it was when it left the factory. In the short guide that follows, we are going to cover some of the best mods you can do to your WRX or STI to truly take it to the next level and get the most out of it. This includes everything from underhood upgrades to suspension tweaks and better tires. All of these eventually tie together to give you improved performance and a much more enjoyable driving experience.
8. Air/Oil Separator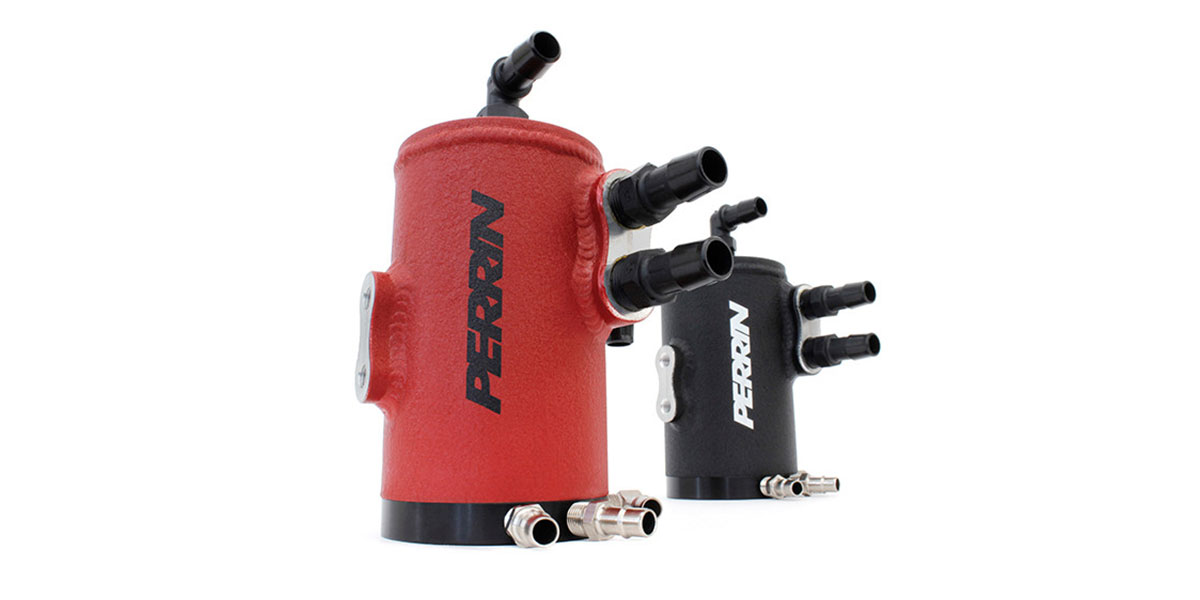 One of the major problems the WRX/STI faces is excessive oil in the engine ventilation system. Realistically, nearly all engines suffer from this issue, however, turbocharged engines are especially bad with this problem. Oil in your engine ventilation system is caused by excessive blow-by. Without an aftermarket air/oil separator, your oil level will slowly decrease. On top of that, excessive oil in the intake system increases the chance of engine knock and effectively reduces fuel octane, while also caking oil on the inside of your engine.
Luckily, this entire problem can be solved with an aftermarket air/oil separator, also known as an AOS. The job of your AOS is to separate oil from your ventilation air and stop it from passing into your intake system. AOS systems work by using centrifugal force to separate engine oil vapor from ventilation air. Once separated, the oil collects in a catch-can will need to be put back into the engine. Some AOS systems automatically drain this oil back into your engine, eliminating the need to drain the catch-can manually.
Reduces oil consumption.
Increase fuel octane by reducing fuel dilution with oil.
Improve overall engine performance!
If you want to improve the longevity of your WRX/STI and reduce oil consumption, an aftermarket air/oil separate is an absolute must-have modification! An AOS will automatically drain clean, separated oil back into your vehicle's engine without any maintenance required whatsoever. Simply install it and forget about it!
7. Upgraded BPV/BOV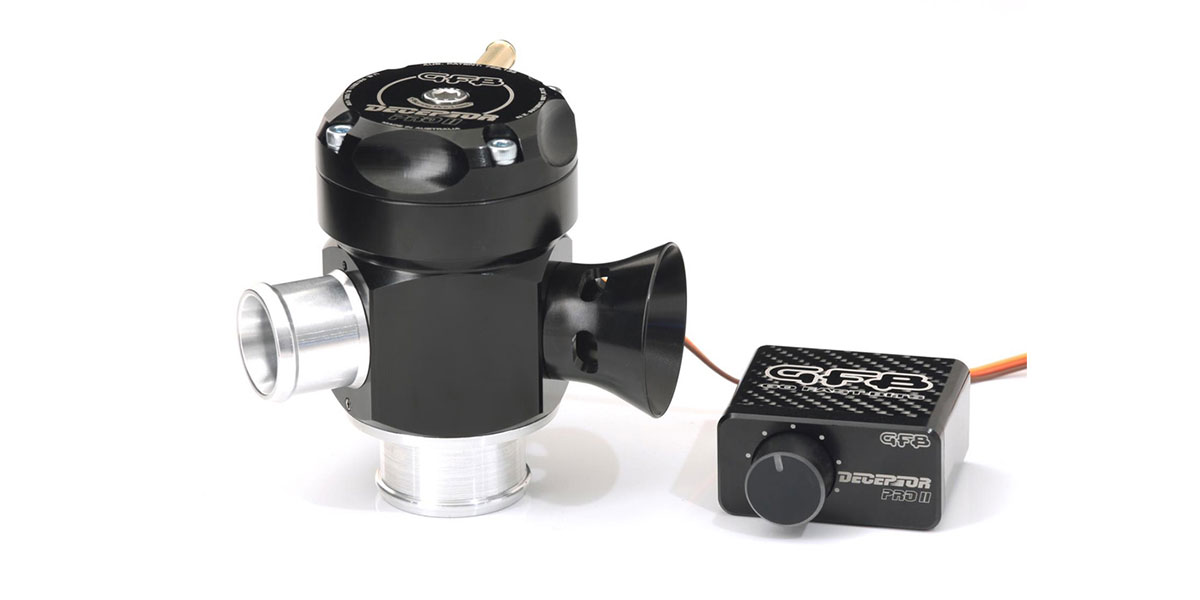 Although a larger turbocharger is an awesome mod, it's fairly expensive. For this reason, many WRX owners choose to stick with the stock turbocharger for as long as possible and increase the boost through tuning or an aftermarket boost controller. The problem with increasing the boost is running into the limitation of the stock bypass valve/diverter valve. This valve recirculates unused boost pressure when the throttle body is closed back into the intake. Without a bypass valve, boost pressure will spike when the throttle closes and cause your pipes to blow off.
Unfortunately, the stock valve can leak at high boost levels, causing your WRX/STI to run poorly and ultimately make less power than it should. The stock BPV may also not be able to flow enough air to let all the unused boost recirculate. If you want to avoid boost leaks or BPV failure, an upgraded bypass valve or blow-off valve is a great modification, especially if you're still using the stock turbocharger. This modification is even more important if you're using an aftermarket turbocharger or an upgraded OEM turbocharger.
OEM valve can prove unreliable and leak.
Helps turbo system function better.
Aftermarket valves offer more flow.
Flows more air, more consistently.
Get that iconic "psh" sound!
Upgrading to a blow-off valve will give you that iconic "psh" noise and a blow-off valve can also flow more air than a BPV (important for high-horsepower builds). It should be noted that changing to a blow-off valve can hurt throttle response, especially if you have a larger turbocharger. If you plan on running high boost levels, then a blow-off valve is a good choice. For moderate boost levels, a 50/50 bypass valve is a good choice. This will allow 50% of the unused boost to recirculate back into the intake, and 50% of the unused boost will vent to the atmosphere.
6. Cold Air Intake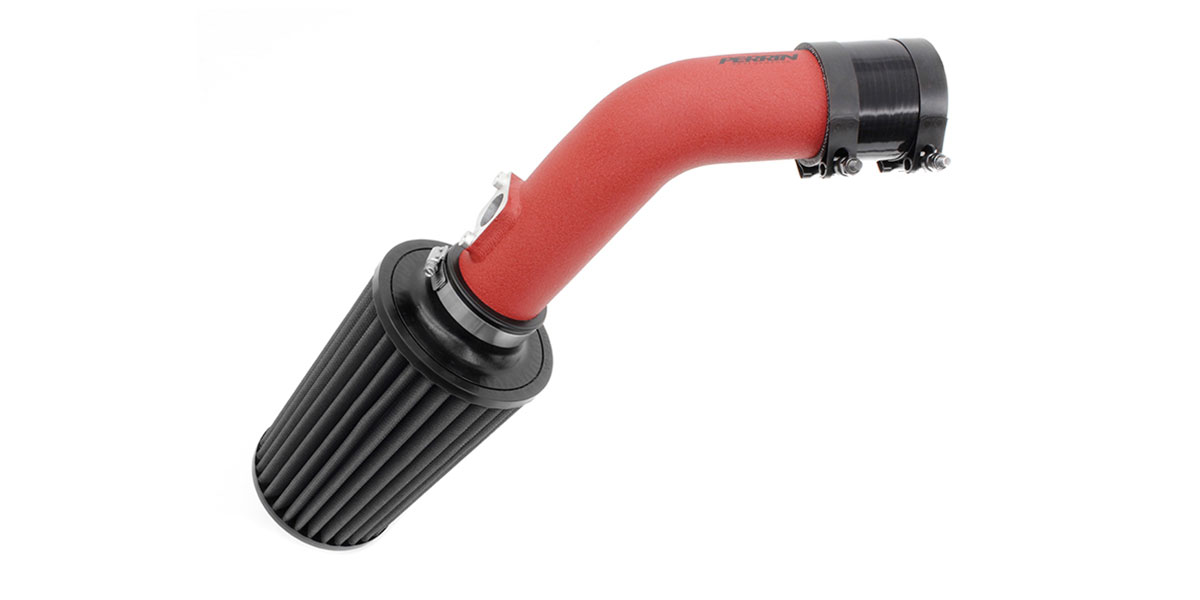 The whole point of a turbocharger is to push more air into the engine. By pushing air into the engine, more fuel can be added, and larger combustion will occur. This is all fine and dandy, assuming you can feed the turbocharger with adequate amounts of air. The problem is, OEM intakes have a restrictive design which limits what the turbo can do. The easiest way to fix this is with an aftermarket intake that uses a larger and more efficient filter. With more surface area, filtration can be improved while also allowing air to flow more freely – which consequently will improve overall power.
Stock filter limits flow to the turbo.
Enhanced power and overall performance.
Upgraded intakes offer better flow and great filtration.
A quality airbox helps reduce IATs.
Not all aftermarket air intakes are equal. Some use better filters than others, some have better designs than others, and some make more power than others. One of the most important things to look for is an airbox that will separate the filter from the rest of the engine bay. Without an intake box, the air intake will pull in hot air under the hood instead of cold air outside the engine bay. Hot air is less dense than cold air and hot air is much more likely to cause detonation, which is something you do not want happening.
It's also important to shop for a cold air intake that won't make your electronics unhappy. Subarus are notorious for being incredibly sensitive to aftermarket intakes, so it's important to shop for one that has been proven by other Subaru owners. The Internet houses a plethora of options with reviews and testimonials that can guide you in the right direction to get the most out of your ride.
Shop for WRX/STI Cold Air Intakes here
5. Front Mount Intercooler and Piping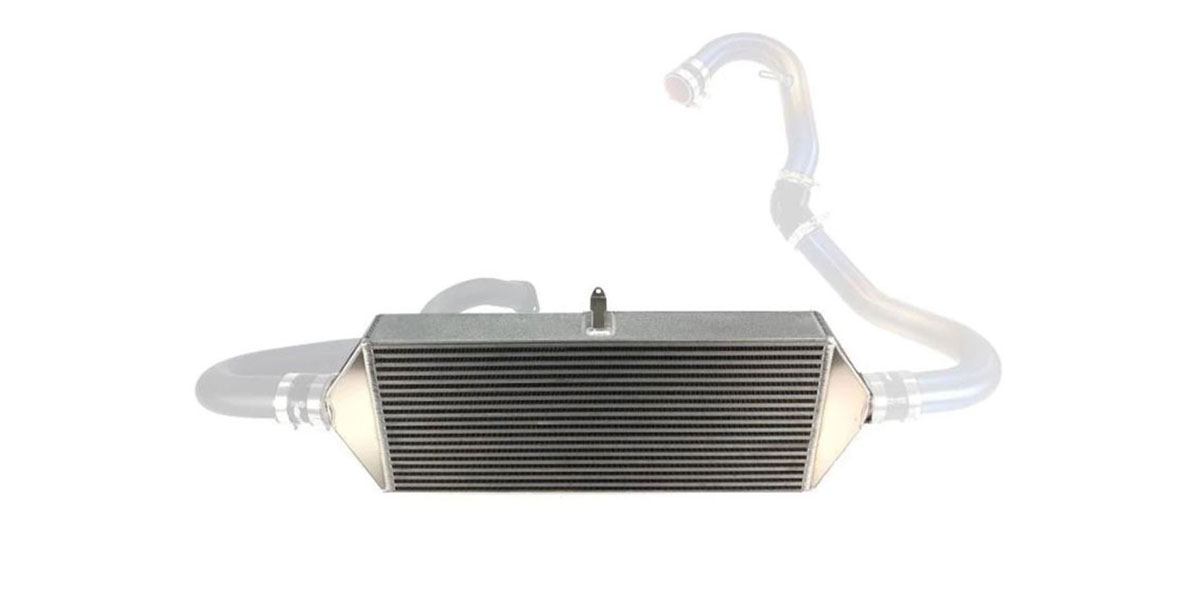 One of the unique features of the Subaru WRX and STI is the hood scoop which feeds the top mount intercooler. This is a great design because it frees up space at the front of the vehicle, which theoretically will improve the efficiency of the radiator. The problem with the top mount intercooler is that it's very susceptible to heat soak. Since hot air rises and cold air falls, a top mount intercooler deals with significantly more heat than a front mount intercooler, which compounds the heat soaking problem into an even larger issue.
When your intercooler becomes heat soaked, charge air temperatures rise dramatically, which can result in detonation and power loss. In some cases, charge air temperatures can rise high enough to effectively disable your car and make it run dangerously bad while in boost. When you factor in the addition of even just a few performance modifications into the picture, you've got enough heat under the hood to fry an egg on the stock intercooler. This is not ideal for performance, and so a front mount intercooler becomes a probable solution.
The easiest fix for this problem is to lower the intercooler in the bumper where most turbocharged cars have it. Changing the location of the intercooler might sound like a daunting task, but it's really not all that difficult. Plus, most front mount intercooler kits will include everything needed to relocate the intercooler to a much better location. A front mount intercooler will drastically reduce charge temperatures which will improve power and greatly reduce the chance of detonation.
More efficient than top mount intercooler.
Lower charge air temperatures.
More horsepower!
Of course, if you're upgrading to an aftermarket intercooler, you might as well upgrade the piping. There is one main benefit to upgrading the charge pipes, and that's improved flow. The stock pipes are designed to flow a certain amount and handle a certain amount of boost. Once you start throwing more boost at it, the lack of flow can hold your car back. On top of that, your OEM pipes are constructed from very cheap material and can crack/break with age and heat.
This generally does not result in a massive increase in power, but if you're already upgrading the intercooler, you might as well do the pipes at the same time. An upgraded intercooler also allows for more aggressive ignition timing and more boost pressure. To put it simply, there is no downside to upgrading to a front mount intercooler on your Subaru WRX/STi!
Shop for WRX/STI Intercooler and Piping here
4. Downpipe and Catback Exhaust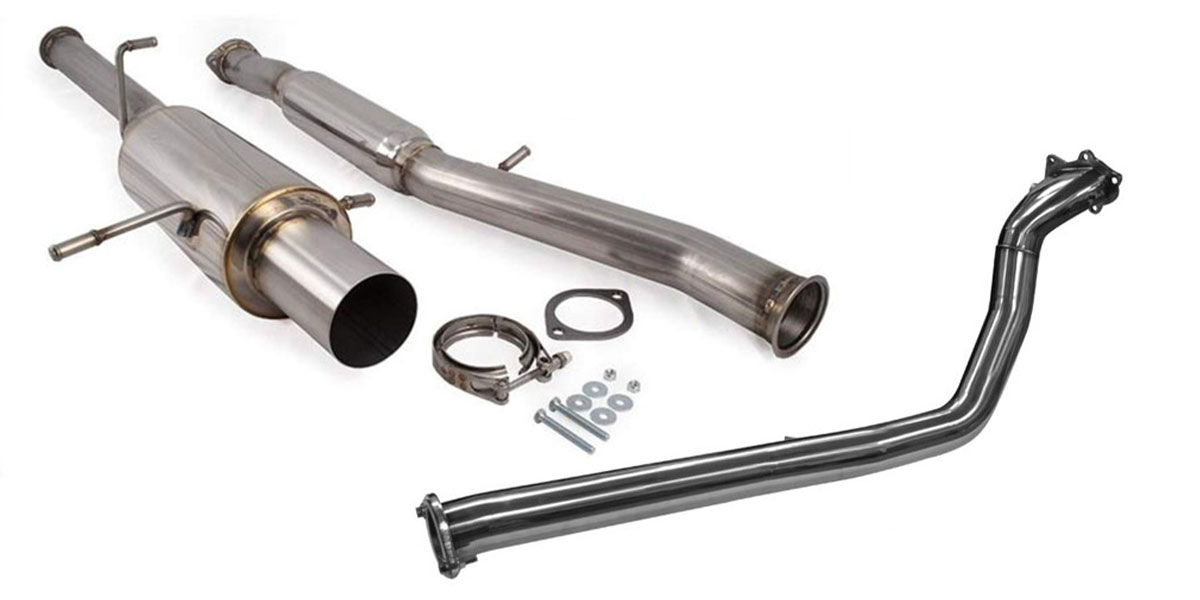 In case you didn't already know, Subaru uses unequal length headers on the EJ20/EJ25 WRX and STI engines (not the case on the new FA20DIT engine). This creates uneven exhaust pulses which can theoretically decrease peak horsepower. At the same time though, it creates a unique exhaust sound.
If you've ever heard a WRX or STI with an aftermarket exhaust, you know about the "Subaru rumble." If you're looking to make as much power as possible, then a set of equal-length headers might be a better option. Most Subaru enthusiasts, however, want to keep that iconic sound and choose to use unequal length headers.
Increased exhaust flow.
Reduced turbocharger lag.
More horsepower and torque.
Great soundtrack!
An aftermarket exhaust will allow the exhaust gases to move more freely throughout the system. This increase in flow allows your turbocharger to spool up faster and spin faster. This result is increased horsepower, torque, and throttle response for a more powerful and enjoyable driving experience.
Besides the performance benefits, an aftermarket exhaust on a WRX sounds amazing. Instead of the typically high-pitched four-cylinder sound, it sounds much deeper and better suited for a sports car such as the WRX/STI. A high-quality exhaust system is even more crucial if you upgrade to a larger turbocharger, where the limited flow can drastically limit power output.
Most aftermarket exhaust systems are designed as a catback system. This means the downpipe (the pipe that connects the turbocharger to the catback) is unchanged. Advantages of a catback system include more power, better sound, and improved fuel economy. The stock downpipe is often very restrictive and kills throttle response, as the turbocharger cannot spool up quickly. An aftermarket downpipe will often have a larger diameter than the stock unit and is typically available with a catted or race version for maximum flow.
Shop for WRX/STI Exhaust Components here
3. Tuning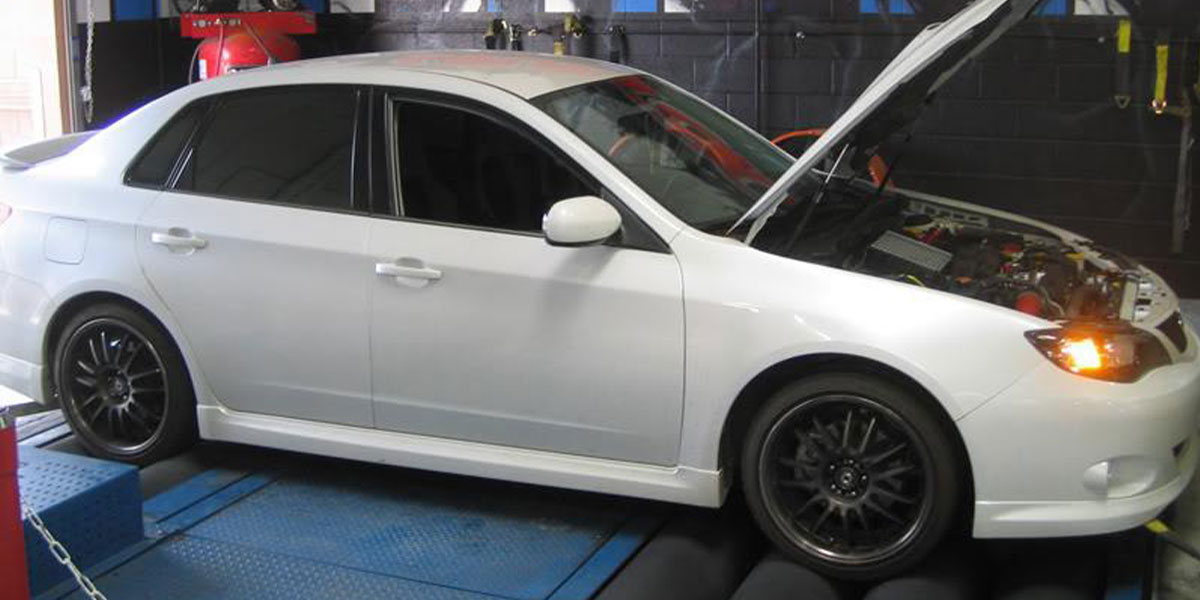 At this point, you may be running more boost, a better intercooler, and maybe an exhaust or intake. Although these modifications by themselves will increase power, without a tune you could be leaving a massive amount of performance on the table. Therefore, to get the most power potential out of your ride, doing a tune can make all the difference.
On top of that, installing modifications without proper tuning can leave your WRX/STI running poorly and can reduce power output in severe cases. Here at Vivid Racing, we are WRX/STI enthusiasts, so we went ahead and developed our own tune, however, there are plenty of other great options on the market too.
Keeps your engine running safely.
Optimized power output.
Improves fuel efficiency.
Better overall performance.
In addition to the aforementioned benefits, tuning also opens the opportunity of using alternative fuels such as ethanol. With ethanol, you can decrease the chance of knock and you'll have much more room when tuning. It should be noted that running different types of fuels may also require fuel system modifications.
The Vivid Racing Stage 1 power kit is perfect for anyone with a 2008-2012 Subaru WRX. This kit includes a lightweight crank pulley from Agency Power, a short ram intake that's also from Agency Power, and our very own custom tune file. This kit will add an impressive 40 horsepower and 45 lb-ft of torque. to your car For the price point, we are confident to stay that our Stage 1 kit is pretty hard to beat.
2. Coilovers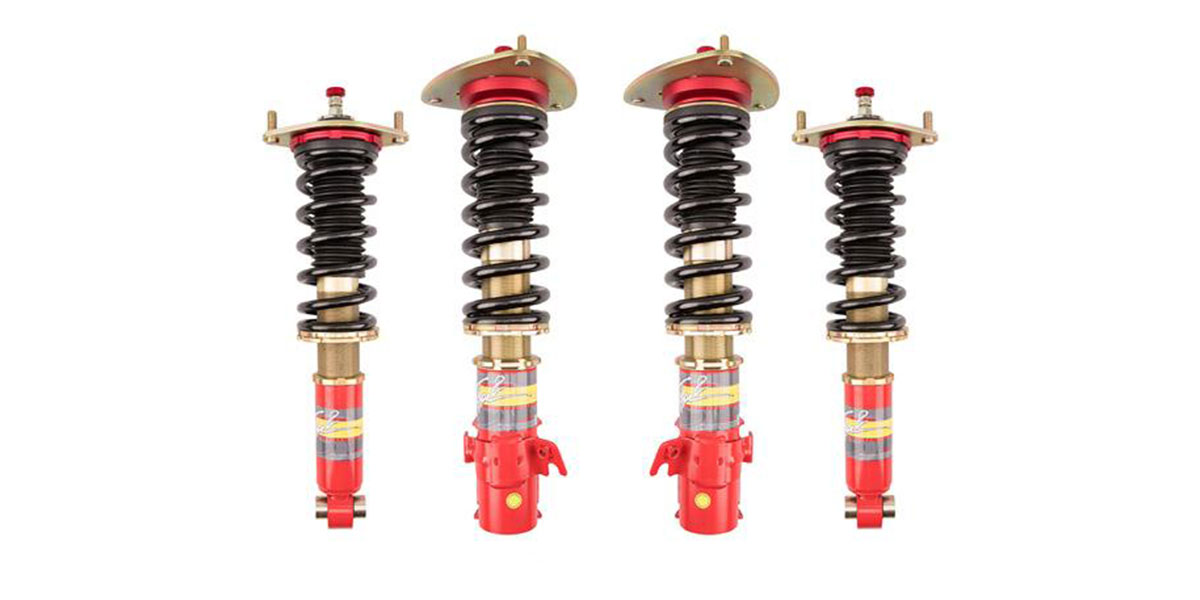 While the OEM suspension on your WRX/STI is pretty decent and provides a lot of performance, it can quickly become a limiting factor if you want to improve handling. Aftermarket coilovers open up a lot of suspension adjustments for ride height, spring rate, damping, camber, caster, and more. With these new adjustments, you can fine-tune your suspension to match your driving style and other modifications. Not only do coilovers provide height adjustability and enhanced handling, but they also take your ride's aesthetic to the next level with a more aggressive stance.
Of course, not all coilovers are created equal. Some coilovers are designed for street performance, some are designed for dedicated track cars, and others are geared for rally performance. For the large majority of WRX owners, a street performance coilover is sufficient and provides more performance than you'll typically need on the street. Coilovers that are engineered primarily for street use will come with pre-set rates for shock absorber compression and rebound, while those designed for more aggressive street use and/or racing will allow for additional adjustments.
Something to keep in mind is that aftermarket coilovers won't drastically increase performance unless matched with high-performance tires. Your stock tires likely won't overpower your stock suspension; but if you upgrade to aftermarket coilovers, then we highly recommend also upgrading to a high-performance tire to get the best use out of your coilovers.
Shop for WRX/STI Coilovers here
1. Tires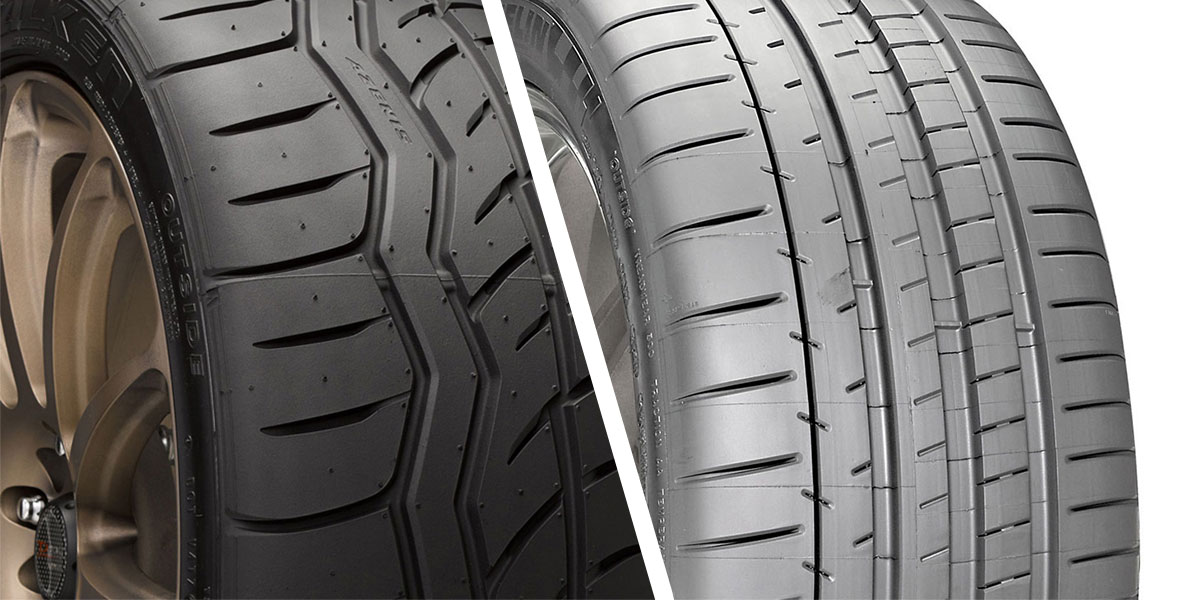 Your tires are the only thing holding your WRX to the road, quite literally. Many, though, find it tempting to upgrade their wheels to a new set (costing a pretty penny) and cheap out on the tires. Unfortunately, doing so will result in a car that looks cool, but when it times to hit a canyon road or Autocross event, it will be surprisingly slow. Tires play a pretty important role in the ride quality, performance, and safety of your vehicle, so it is never a good idea to neglect them or get a set just because the price looks good. It takes a bit of research and comparison to find the best ones for your car and driving habits.
If you want the most performance possible, you can run a sticky tire such as the Toyo R888 (200 treadwear rating) or Michelin Pilot Super Sport (300 treadwear rating) tires. These tires are extremely sticky and are specifically designed to be used for canyon driving and track days. If you also use your WRX for commuting, it may be better to invest in tires such as the Dunlop Direzza DZ102, which have a 460 treadwear rating that will last way longer.
Still Not Sure?
All the modifications we chose to include in this list are relatively cheap and will make a massive improvement in the performance of your Subaru WRX or STI. If you're still not sure what mods are best for you, connect directly with our performance specialists to find the best mods for your WRX! Reach us by phone at 1.480.966.3040 or via email at sales@vividracing.com.
Related Images: