The Ford F-150, often called America's pick-up truck, boasts a best-selling record and solid reputation. The F-150 consistently delivers impressive power, performance, off-road capability, and attractive styling. Over the years, Ford's flagship truck has continued to exceed customer expectations to become what is it today. The latest F-150 is purpose-built to be relentlessly tough with a military-grade, aluminum-alloy body and torture-tested, high-strength steel frame to get the job done and get it done smarter. Ford combined premium muscle with fine-tuned intelligence and a rugged design to check all the boxes truck owners want in one complete package. Even with that, many owners browse the aftermarket for ways to customize their pick-up to either set it apart from the rest or enhance its natural DNA. There are a plethora of options to take the F-150 even further in terms of looks, sound, efficiency, and proven power gains. The following is a list of the top 8 mods you can to do your Ford F-150 to bring it to the ultimate level.
1. Tonneau Cover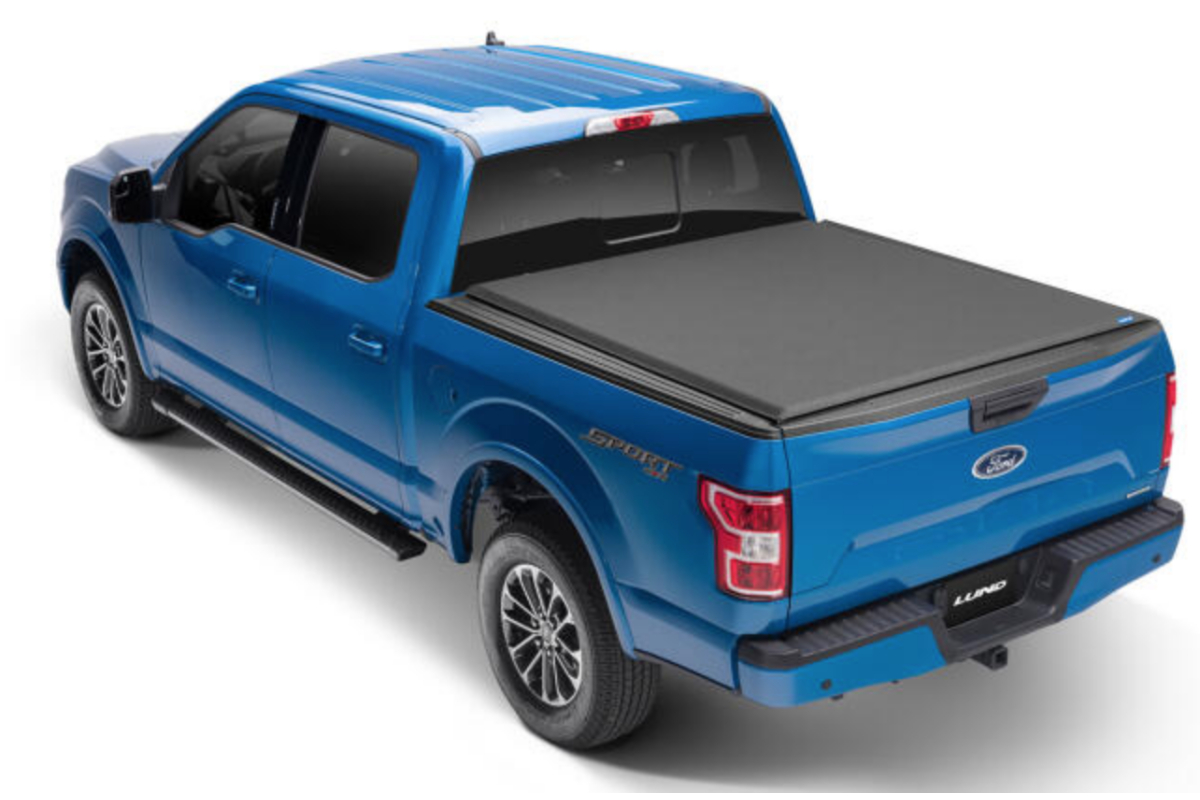 Add some versatility, along with a slew of other benefits, with a tonneau cover for your Ford F-150. While having a big truck bed can be great, it can also come with some negatives. Sure, you can haul around a large volume of gear, cargo, and equipment back there, but then comes Mother Nature and passersby with sticky fingers. It can be hard to protect your belongings when they are just out in the open like that in terms of both keeping them dry from the weather and secure from onlookers. An unprotected truck bed can also become damaged, itself, and corroded easily from exposure to harmful UV rays, heavy rain, and snow. Heavy winds can also blow some of your things out of the truck and cause debris to blow in and collect there.
A tonneau cover lets you have the best of both worlds with options ranging from soft and hard variants, rolling, retractable, or folding bed covers. Also, having one of the most popular trucks in the world, having a slew of options to choose from when it comes to functionality, styling, and price points are amazing. A tonneau cover will also add a sleeker and more streamlined appearance for your F-150's back end and can even add an aggressive look depending on the material you choose. On top of all that, an open pickup truck bed generates aero drag which can cause the engine to work harder and consume more fuel. A bed cover is a great investment for all the aforementioned reasons and improving your fuel economy too.
2. VR Tuned Flash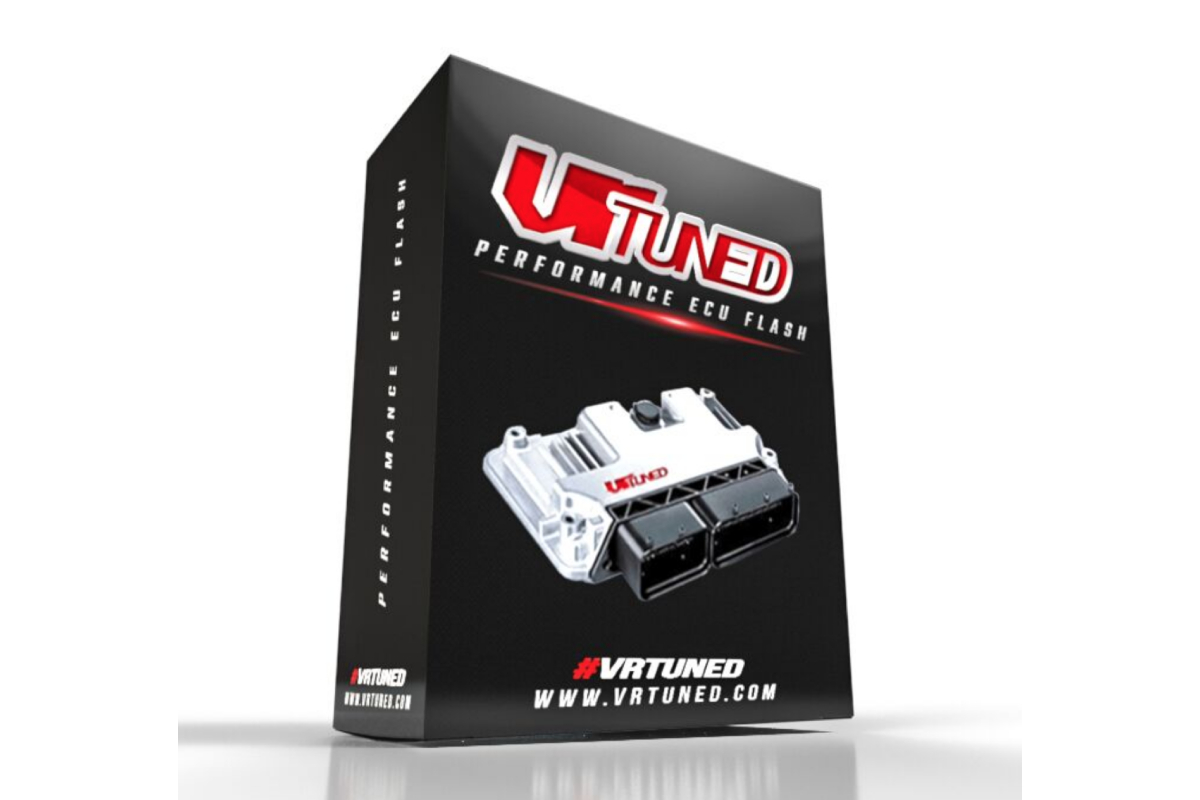 No matter if your Ford F-150 is equipped with the 2.7L EcoBoost V6, 3.5L EcoBoost V6, or the 5.0L Coyote V8 engine, a VR Tuned ECU flash can be highly beneficial. Our ECU upgrade transforms your truck to a whole new level offering a more enhanced driving experience. With a VR tune, you will experience quicker throttle response, increased torque, and more horsepower with top-end pull to redline. All in all, the driving characteristics and drivability of the Ford F-150 are vastly improved while providing you with additional benefits that your truck craves. After all, an ECU flash gives you reliable performance when you need it most and helps squeeze out the potential power of your vehicle – especially when paired with other mods.
The Ford F-150 has untapped resources and VR tuned can help get more power out of it with improved performance and dyno-proven gains. And, while dyno sheets are great to show where power is made, what is more, important is how it drives on the street. Enjoy better throttle response, quicker 0-60mph times, and a stronger pull on the highway. For automatic F-150s, their shifting is cleaned up while the rev limiter on both is raised to give you faster acceleration times. This is the optimal tune for 93 octane vehicles. 91 octane vehicles can expect similar performance but with slightly reduced figures. VR Tuned alters the factory timing and fueling maps to offer reliable, safe, and strong peak performance gains. All tuning is done via the OBD2 port using the new HPTuners MPVI2 system.
3. Air Intake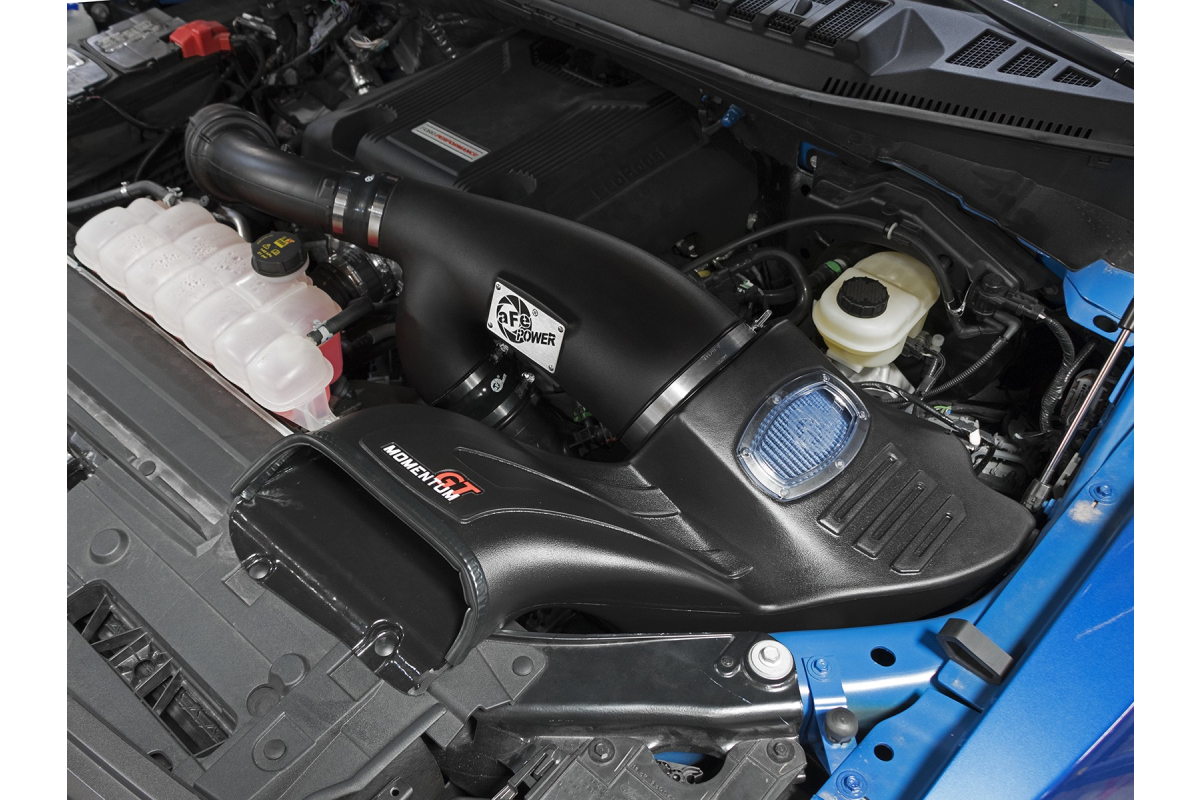 There is a reason why upgrading your vehicle's air intake is one of the first mods most enthusiasts look into. That's because it boasts a healthy list of benefits at a reasonable price point and is super simple to install. Swapping out the restrictive stock air intake system on the Ford F-150 is one of the cheapest ways to gain additional horsepower and torque while also improving overall performance. While an air intake alone will not add quite as much power as other engine products, it will help your engine in several ways like delivering better airflow, reducing air temperatures, and increasing fuel economy. On top of all that, it will also add a nice, throaty growl to your F-150 when you step on the gas.
Due to where your Ford F-150's factory air intake is located under the hood, your engine is breathing air that has been warmed by the heat of the engine. Warm air is less dense and has a lower oxygen content, while cool air is denser and contains more oxygen. More oxygen means a more complete combustion cycle and more power. This is why cold air intakes are so popular. They are designed to bring in cooler air that is not heated by the engine to improve performance and deliver added power gains. Other advantages include better acceleration and vehicle responsiveness, improved gas mileage, less frequent servicing (because of better filters), and a burly soundtrack.
4. Exhaust System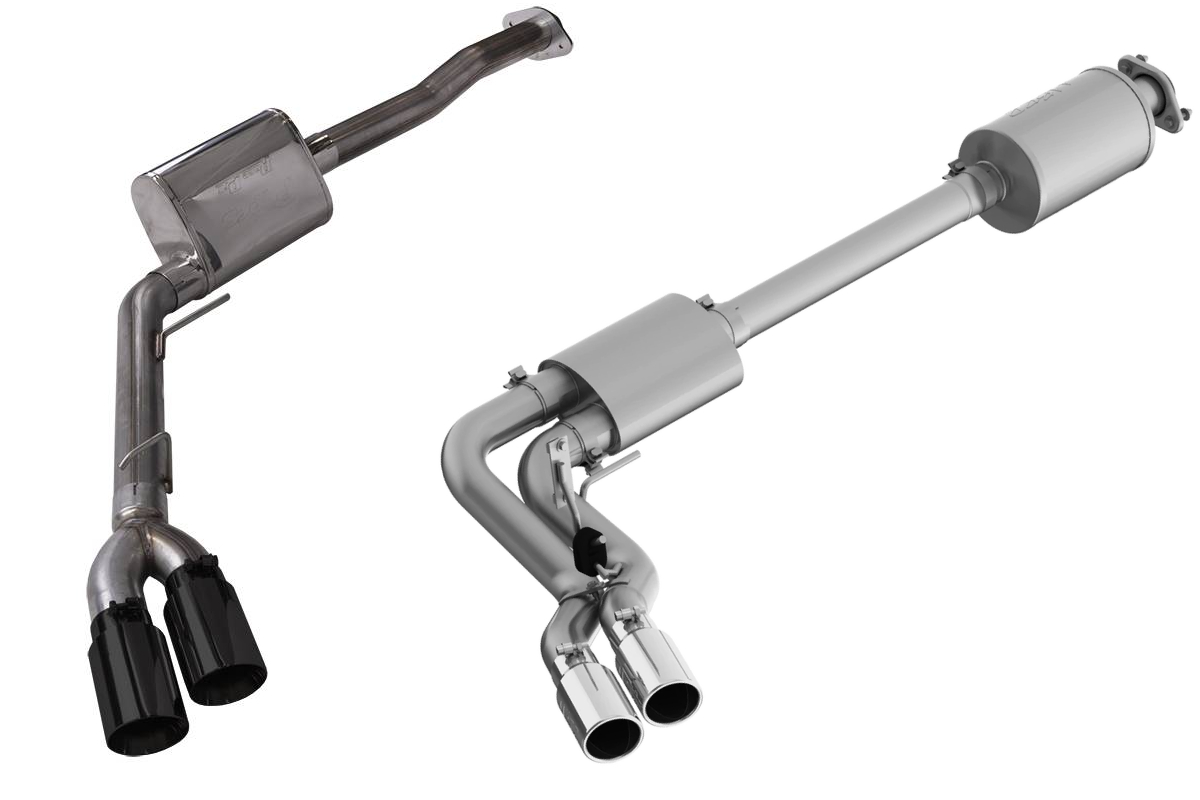 While Ford's EcoBoost V6 engine promises better fuel economy together paired with satisfying performance and adequate capability, it lacks in the aural department. Thankfully, the automotive aftermarket can improve the sound of your truck, and the easiest way of doing that comes in the form of an exhaust system. Upgrading the stock restrictive exhaust can elevate your driving experience and provide better airflow that translates to additional horsepower and torque along with higher fuel economy figures. A cat-back exhaust system is a common upgrade for the Ford F-150 as it is an affordable way of gaining better performance and sound with enhanced looks to boot.
Traditional exhaust systems are designed to be quiet, unassuming, and restrictive. Keeping in mind that the EPA focuses on virtually everything leading up to the catalytic converters, changing out the stock cat-back system for an aftermarket upgrade is a fast and easy way to transform the overall personality of your truck without sacrificing emissions. Implementing a cat-back system will allow the engine on your F-150 to breathe more freely, increase power, and improve gas mileage while adding a more stylized appearance and bolder exhaust note. They are also usually made from lighter materials that contribute to fuel efficiency and maximum acceleration while holding up to the elements better than the factory system.
5. Sliders/Nerf Bars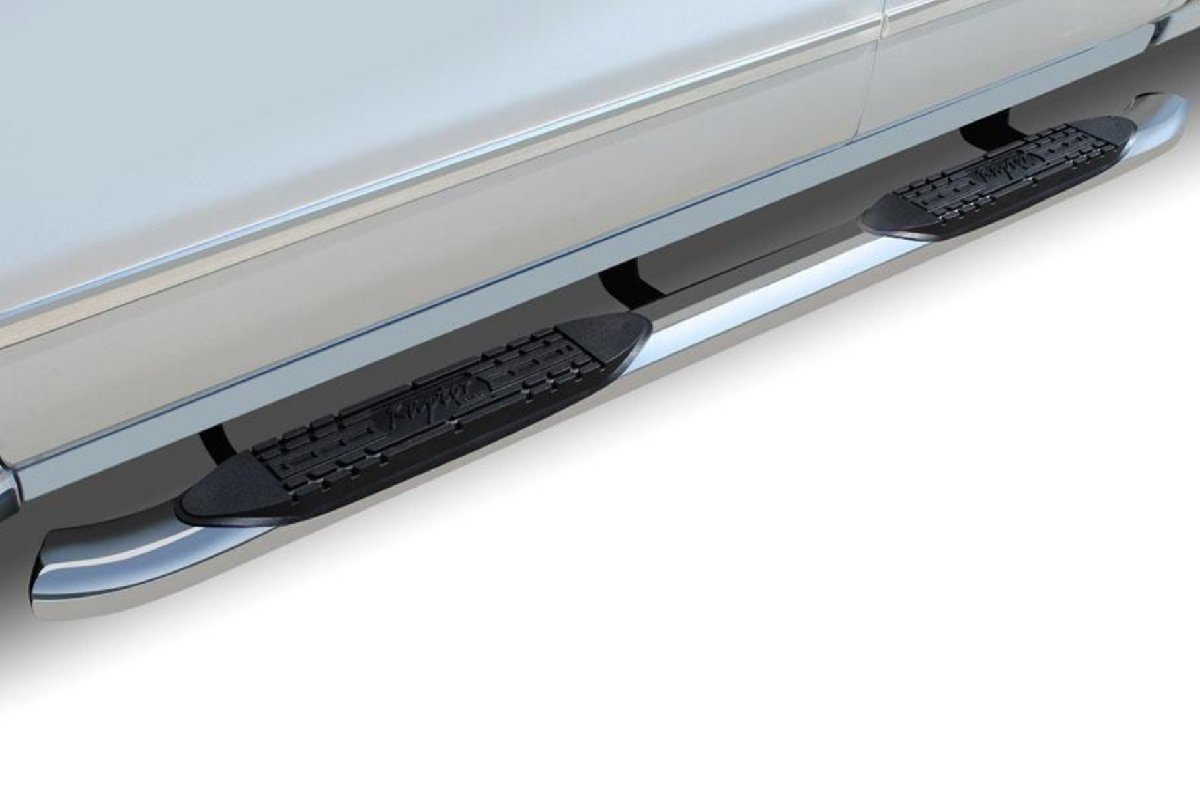 We can all agree that trucks have gotten much bigger within the past few decades. Even an average F-150, today, sits higher over traffic than it has before. So, if you aren't the tallest, have hip or knee issues, or have young kits that need to climb up into your truck, a set of nerf bars can come in handy. After all, they do say work smarter and not harder, right? The aftermarket offers a wide range of nerf bars, drop steps, running boards, and rock sliders for your Ford F-150. There are even power ones that drop down when the door opens to give you a step up and then tuck back away once you close the door again. No matter what your needs are or budget it, there are plenty of options out there for you.
Nerf bars are popular because of their sleek, yet rugged appearance. Compared to running boards, they have a narrower stepping surface. Standard nerf bars tend to be two to six inches in diameter, with a round or oval shape. Drivers can choose between different materials and finishes, including polished stainless steel, carbon, matte, textured, plastic, or aluminum. No matter what material or length you choose, you can be confident that nerf bars deliver a perfect balance of aesthetics and functionality.
Nerf bars make it much easier to enter and exit the truck while providing a stable place to step when accessing items on the roof or in the bed. Since nerf bars stick out slightly farther than the wheels and body, they offer a level of defense against scratches and other damage. For example, if the vehicle next to you accidentally flings their door open or a runaway shopping cart comes your way, the damage will be on the nerf bar rather than on the door or paint job. In the same fashion, nerf bars protect against rocks, branches, and other debris that may come up when traveling down the road or out on the trails.
6. Lift Kit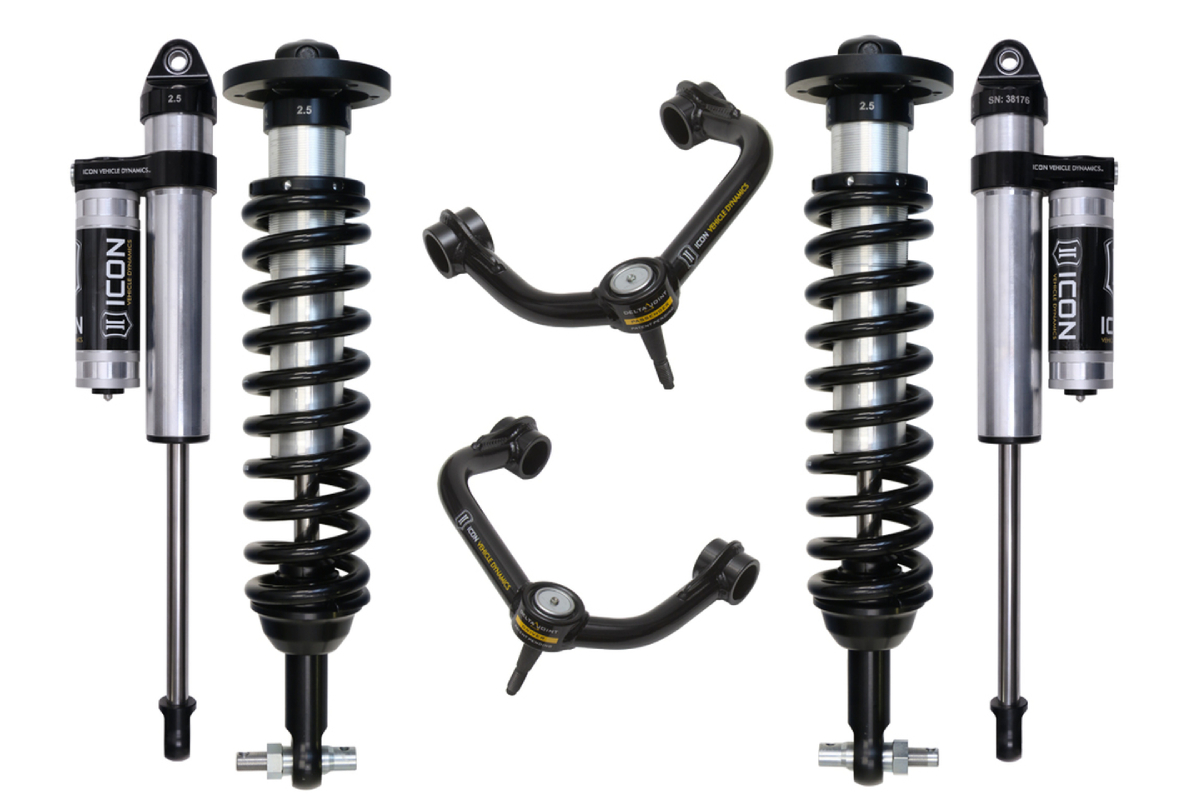 A lift kit (or leveling kit) can elevate the handling, overall capabilities, and ride height of your Ford F-150. This is a great mod to do if you are making cosmetics changes, like new wheels, or if you want enhanced off-road performance. Typically, lift kits are used to create more space to fit meaty tires as well as increased ground clearance for the trails. With a lift kit, you will experience anywhere from 3 to 12 inches of additional ground clearance which allows for wheels that measure up to 35 inches in diameter (or more)! Lift kits are certainly the best option for heavy-duty off-road enthusiasts, as they can greatly improve your truck's abilities in the mud, sand, snow, and other rugged conditions. Apart from the functional benefits of a lift kit, this package will also change the appearance of your F-150 to give it a more aggressive aesthetic at a mere standstill.
So, whether you are looking to upgrade your tires for more traction and wheel travel or you just want that meaner look without altering the towing capacity, lift kits are a great way to go. The aftermarket offers an impressive range of options and sizes from trusted brands that will have your Ford F-150 looking and driving its best. Body lift kits are designed to lift your truck two to four inches higher by using a high-grade nylon spacer between the body and the frame. Suspension lift kits, on the other hand, are designed to lift the vehicle as high as the owner is comfortable with. Choosing between the two mainly depends on what you are looking to accomplish with your truck. If you just want to sit up a little higher behind the wheel, body lift kits are a more affordable and practical option. However, if you are looking to really take on the great outdoors and add some massive tires to your truck, go with the suspension lift kit instead.
7. Wheels/Tires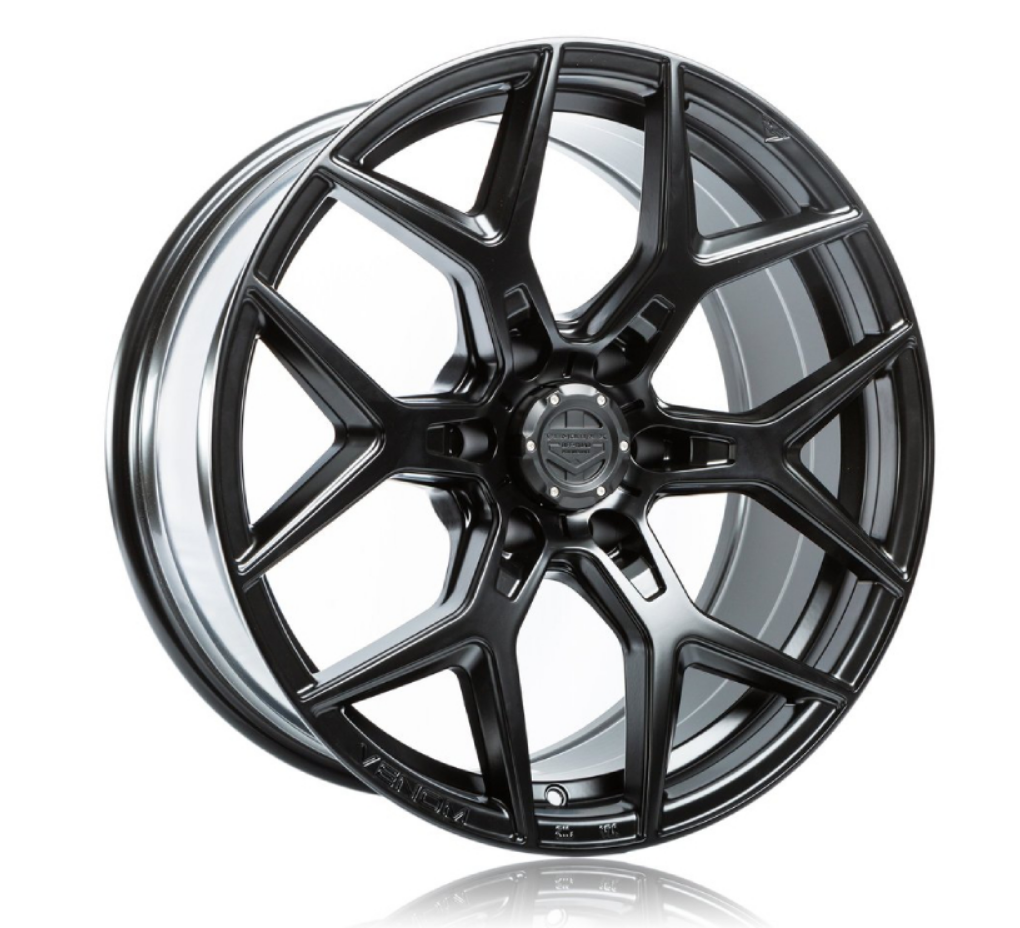 The Ford F-150 is America's top-selling truck and, for that reason, can be spotted virtually everywhere you go. If you are looking for a way to make your vehicle stand out among the rest of the herd, switching out the factory wheels is a simple and quick way to give your ride some added personality. Incorporating some new wheels gives your truck a customized look that makes a bold statement because we all know that the wheels can really make a vehicle. Just think of it as the shoes on a person – it can tell a lot about them. Whether you are in the market for a set of super-aggressive, rugged off-road, timeless classic, or minimalistic style wheels, there is something out there for everyone.
While browsing the aftermarket for wheels, you may also want to pair up that set with some beefy tires – especially if you have a lift kit. You need to decide how big of a tire you want, which will depend a lot on the type of driving you will be doing. For example, 33-inch tires are a great entry-level option for trucks that will spend most of their time on highways and paved roads. This size provides a more aggressive look and some off-road capabilities. Going up to a 37-inch tire will give your rig an aggressive lifted stance with added ground clearance and offer great off-road performance. The type of driving will also influence the type of tire you purchase, i.e. all-terrain vs. mud-terrain.
8. Custom VR Steering Wheel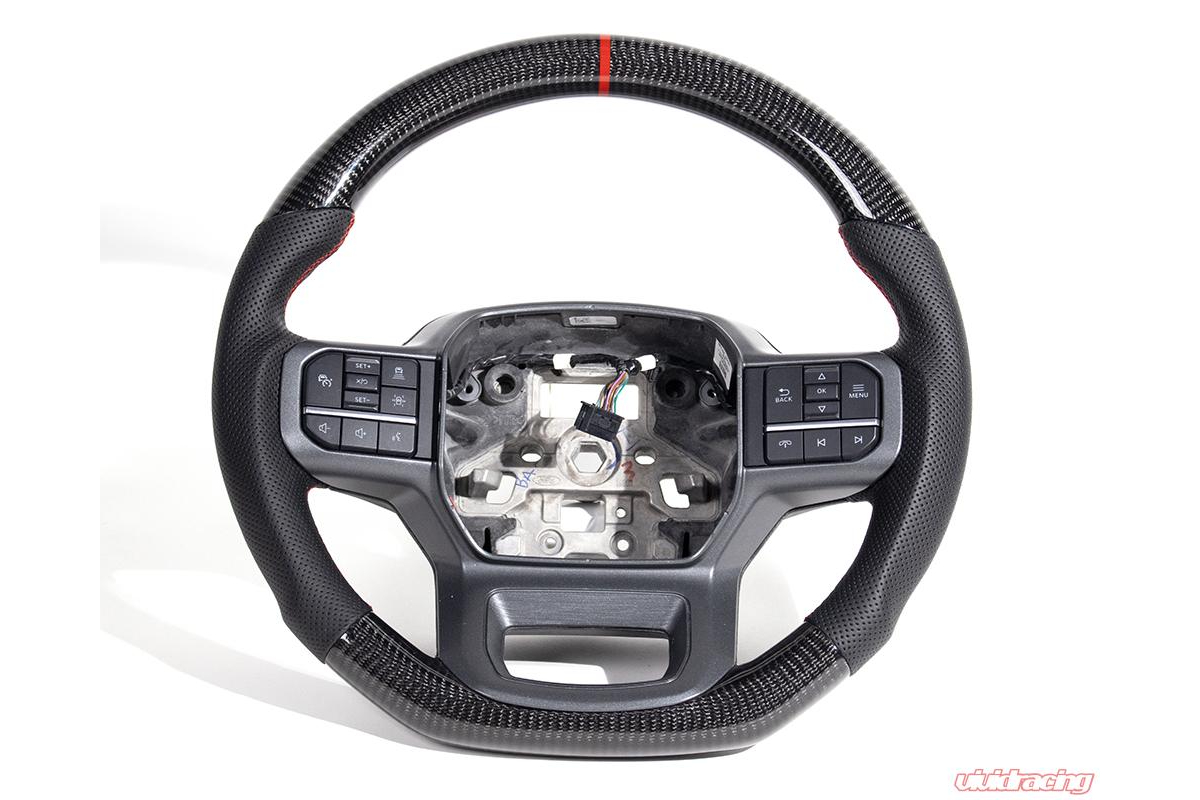 You spend hours behind the wheel of your Ford F-150 truck when commuting, at work, and for road trips, so you may as well take your driving experience to the next level! A VR steering wheel will do just that, providing added comfort for your hands and an elevated interior look that goes to show that the little details can sometimes make the biggest differences. Your new VR custom steering wheel will be based on the Ford F-150 or F-250 OEM steering wheel cores. So, no matter the year or buttons your model has, Vivid Racing can make an upgraded steering wheel for you. Our factory alters the shape while keeping the original inner ring for safety. The upgraded product features beefier hand grips at 9 and 3 positions to deliver a more enhanced and in-control driving experience.
The VR steering wheel shop boasts several different options to choose from so you can configure your wheel, including colored 12 o'clock rings, matching stitching, leather, carbon fiber, perforated leather, Alcantara, and more. And because these are crafted from a factory steering wheel core, you retain your original buttons and trim along with reusing your airbag. It's important to note that this is not a simple cover but a completely re-engineered steering wheel based on your personal taste and needs.